Mick Mulvaney Is Pretending Everything's Totally Normal at Work
The legal battle for control of the CFPB isn't stopping Trump's pick from assuming the role of interim director.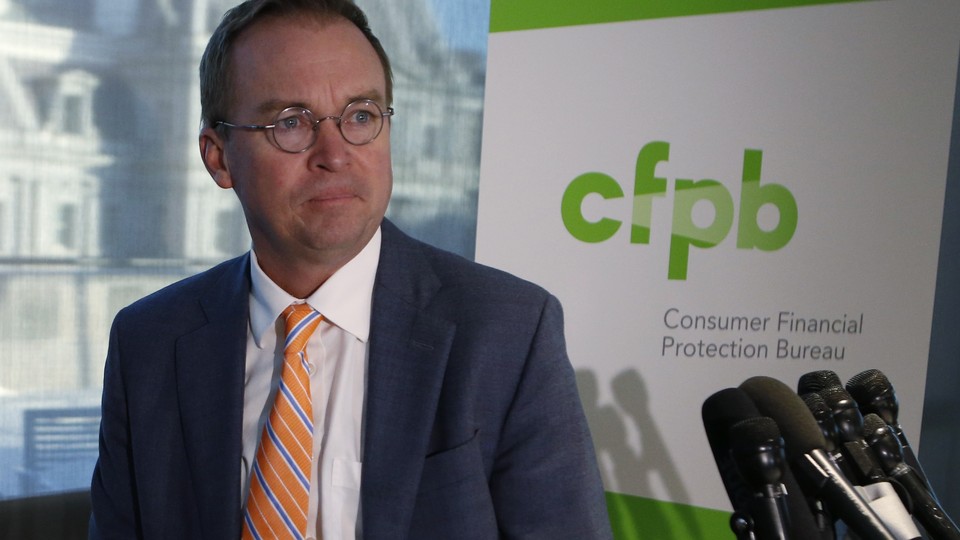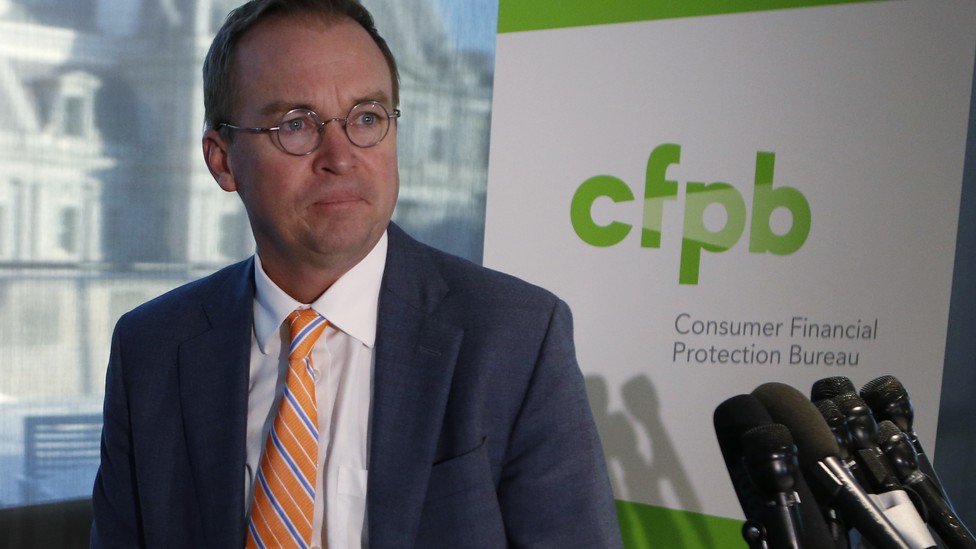 Updated on November 28 at 5:34 p.m. ET
There are currently two people claiming to be in charge of the Consumer Financial Protection Bureau. It's up to a judge to decide who's correct—Leandra English, who was promoted by the agency's outgoing director, or Mick Mulvaney, the Trump administration's pick. On Tuesday afternoon U.S. District Judge Timothy Kelly, who was appointed by Trump in September 2017, denied English's request for an emergency temporary restraining order. Though English is likely to continue to pursue her lawsuit, the judge's ruling means that for now, Mulvaney can continue to lead the agency.
And he's ready to change some things. "Rumors that I'm going to set the place on fire, or blow it up, or lock the doors, are completely false," Mulvaney, who is currently the director of the Office of Management and Budget, said in a press conference on Monday afternoon. "That being said," he added, "anybody who thinks that a Trump administration CFPB would be the same as an Obama administration CFPB is simply naive. Elections have consequences."
Those consequences took the form of some changes that are predictable from someone favored by an administration that doesn't like regulations. On Monday, Mulvaney instituted a 30-day freeze on hiring, rulemaking, regulations, guidance, and payments from the civil penalties fund (which is used to compensate Americans who have been harmed by financial institutions). "Anything that's in the pipeline stops," he said, and it's a move that isn't unusual during a leadership change at a government agency.
Mulvaney went out of his way to stress just how normal such a changeover is. During that press conference, he called the leadership transition an "ordinary course of business." He showed up for his new job early, with communications staff from the Office of Management and Budget snapping pictures of him in the director's office. And he pulled a typical new-boss move by bringing doughnuts with him and holding meetings to introduce himself to staff. By Tuesday, Mulvaney had even taken over the CFPB director Twitter account, and tweeted out a photo of him in the office with the caption "Busy day at the CFPB."
But the appearance of a typical day at the office was overshadowed by the fact that meanwhile, Leandra English was launching a legal battle to get a job she says is rightfully hers. As Mulvaney was giving his first press conference as acting director of the CFPB, lawyers representing Trump and English were making their cases during a hearing at a nearby D.C. District Court. Lawyers defending English have asked for a speedy resolution to determine whether or not the Dodd-Frank Act, which says the deputy director would be the agency's new acting director, supersedes the Federal Vacancies Act, which allows the president to name an interim director to an agency in many cases.
The question over who will lead the CFPB, at least in the short term, arose weeks ago when Richard Cordray, the Bureau's inaugural director, announced that he would step down by the end of November. The situation escalated last Friday, when Cordray elevated English to the position of deputy director in hopes of thwarting Trump's naming of a successor. After Trump went ahead with naming Mulvaney, English filed a lawsuit, and things have been getting more and more confusing ever since.
Lawyers representing the Trump administration don't feel a ruling in the lawsuit is as urgent as English insists; in fact, they argue, the two-boss dilemma doesn't constitute an emergency at all. That stance makes sense given that Trump's pick is the one currently winning the battle for control of the CFPB.