The Law Firm Playing Both Sides of the Weinstein Scandal
Boies Schiller Flexner LLP was reportedly representing The New York Times while simultaneously trying to kill one of the paper's stories.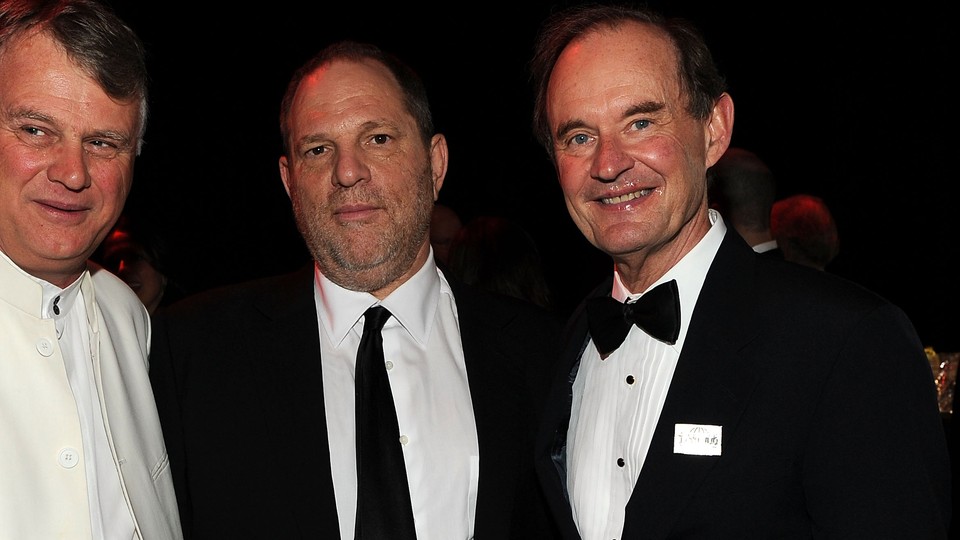 The first rule of crisis management, one might imagine, is to avoid becoming embroiled in the crisis yourself. That's a rule that the attorney David Boies, the chairman of the law firm Boies Schiller Flexner, broke this week.
On Monday, The New Yorker reported that Boies had helped Harvey Weinstein try to suppress a New York Times story that would name him in a series of sexual-harassment and assault allegations. With Boies's help, Weinstein allegedly contracted and paid private investigators, including former Israeli intelligence officers, to follow and reach out to women who were believed to be among the accusers.
According to reporting by Ronan Farrow, Boies personally signed contracts and executed payments to at least one investigative agency, Black Cube, on Weinstein's behalf. One contract that Boies signed reportedly described the project as an attempt to "provide intelligence which will help the Client's efforts to completely stop the publication of a new negative article in a leading NY newspaper" as well as "obtain additional content of a book which currently [is] being written and includes harmful negative information on and about the Client." The client, of course, was Weinstein. In order to generate information about who was speaking with the press and what their allegations might be, Black Cube employees reportedly disguised themselves as, among other personas, women's-rights advocates interested in working with one of Weinstein's alleged victims, Rose McGowan.
Complicating the matter is the fact that, at the very same time, Boies's firm was representing the very same paper in an unrelated libel suit: Even as The Times paid Boies Schiller Flexner to defend it from attacks against its work, the law firm was assisting in efforts to undermine its work. In a statement released Monday, the Times said, "We consider this intolerable conduct, a grave betrayal of trust, and a breach of the basic professional standards that all lawyers are required to observe. It is inexcusable and we will be pursuing appropriate remedies."
Boies has since apologized for his part in the attempts to silence Weinstein's accusers. "Had I known at the time that this contract would have been used for the services that I now understand it was used for, I would never have signed it or been associated in any way with this effort," Boies wrote in a letter to staff on Tuesday that the firm shared with The Atlantic.
Elsewhere in the letter, Boies says that Weinstein wasn't even his client at the time, though he had represented him in the past. Boies wrote, "While I told Mr. Weinstein that I was not in a position to represent him on these issues his request to contract with investigators seemed at the time, like a reasonable accommodation for a longtime client. I regret having done this." Boies, however, went on to maintain that working with Weinstein while also representing The New York Times was not a conflict of interest. In his letter to staff, Boies cites language from the firm's contract with the paper, which reads, "We have explained and you have agreed that as a result of the types of clients the Firm advises and the types of engagements in which we are involved, we may be requested to act for other persons on matters which are not substantially related to the Engagement, where the interests of the other persons, and the Firm's representation of them, may be against the client's, including adversity in litigation."
The outing of Boies Schiller Flexner as playing both sides of the Weinstein scandal comes as something of a surprise. But the fact that the firm was somehow involved in trying to aid Weinstein isn't that shocking at all. As one of the top law firms in the country, Boies Schiller Flexner is considered a hub of legal power, and, as such, its client list includes a number of rich and powerful companies and individuals—usually when they're in the midst of some pretty ugly legal battles. Among the high-profile defense clients represented by Boies Schiller Flexner are the banks Goldman Sachs and Barclays, and the biotech start-up Theranos, whose board Boies later sat on while still acting as legal representation.
(In fact, this isn't even the first time that the firm has been accused of trying to silence someone making allegations against its client. Tyler Schultz, a whistle-blower at Theranos who alleged that the company had ignored failed quality-control tests and falsified research told The Wall Street Journal that lawyers from Boies Schiller Flexner approached him at his grandfather's house and tried to intimidate him. He also said that he was followed by private investigators hired by Theranos.)
Boies Schiller Flexner is a firm that prides itself on cases that involve crisis management and what it calls "high-stakes" litigation. "We regularly take cases to trial," the firm's site boasts, a signal that differentiates them from many other big law firms, which often seek to settle costly or high-profile cases. "We also want attorneys who are eager to get into a courtroom or deposition as soon as possible rather than someone who would be more comfortable behind a desk," the firm stated in its 2015 report. The annual report from 2014 highlighted the growing field of crisis management, and centered the firm as an industry leader in the practice. "Whatever the cause … crises often have two things in common: they arise unexpectedly and, if not managed properly from the outset, they can quickly spiral out of control."
That's something the firm now has firsthand experience with.