The End of Gothamist Is a Terrible Sign for the Future of Local News
Last week, a network of vital urban media outlets suddenly shut down. Will anything take their place?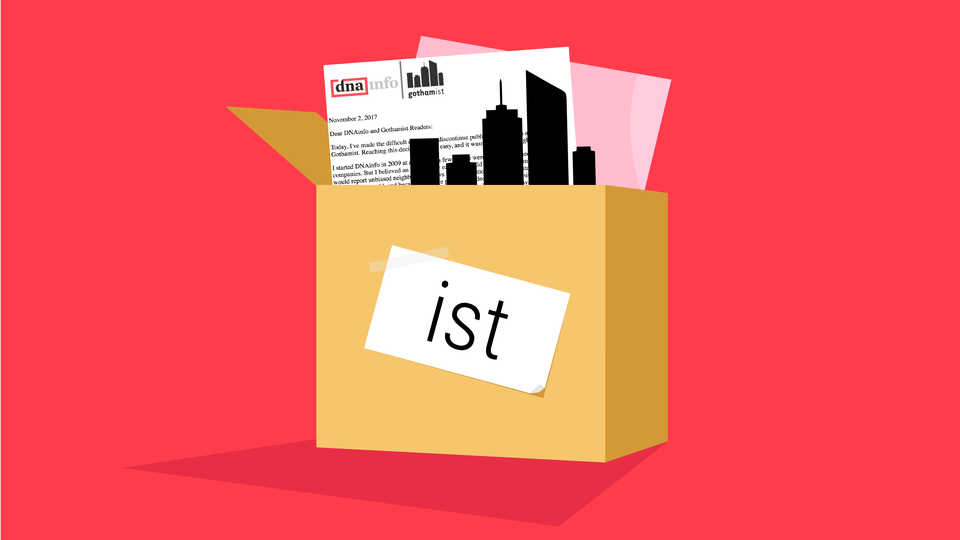 Late last week, while on my lunch break, I lost my job as editor in chief at LAist. I'd just finished a bowl of unmemorable office cafeteria chili and was sitting in the lobby of our WeWork when a coworker in New York sent me a three-word text: "Check your inbox."
At the same time, a writer who'd started with us a few weeks earlier was trying to preview a post but couldn't get the site to load. Another writer walked over to help her, but when he finally managed to refresh the page, her work was nowhere to be found. Instead, the entire site—which had been in operation for more than a decade—had disappeared. In place of 13 years of work, there was just a letter from our billionaire owner Joe Ricketts, informing readers that he had made "the difficult decision" to discontinue publishing DNAinfo and Gothamist, our parent site.
The message in my inbox, which I was still trying to make sense of, had little more explanation than the public letter. With what appeared to have been the flip of a switch, 116 journalists had lost their jobs, and LAist had been shuttered—along with our four sister sites in New York, Chicago, D.C., and San Francisco, and the DNAinfo sites in New York and Chicago.
The Gothamist and DNAinfo New York newsrooms had formally voted to unionize a week earlier, despite strenuous objections from management. And contrary to what Ricketts' letter may have said, the decision to close DNAinfo and the Gothamist sites (which Ricketts had purchased in March) was political, and not merely a question of finances: Although continuously turning a profit in the news business is notoriously difficult, the five "ist" sites, as we referred to them, had managed to operate in the black.
Gothamist, LAist, Chicagoist, DCist and SFist each fulfilled critical roles in their cities. Even as our hometown papers faced cuts and layoffs, we continued to cover local and hyperlocal news, find the relevant takeaways in hours-long public meetings, and strive to relay it all in a tone that was frank, compulsively readable, and often funny. Sure, it's sad that we all lost our jobs, and sad that it happened in such an undignified way, but sad things happen—especially in journalism, a career path that has never been for the faint of heart. The personal losses are just that. But there is a much larger loss here, one that should scare everyone (even those who've never read an ist site in their lives). At a time when local journalism is more crucial than ever, the closure of our sites effectively amounts to a silencing. There will now be less information for everyone, in each of those five cities.
Some of the work we did might have seemed small, but the "small" local stories we covered would often end up being part of larger patterns and louder stories—stories that our coverage helped build, and flesh out with context and nuance. During my time at LAist, we doggedly covered the way in which anti-immigrant, nationalist groups were targeting "sanctuary" cities in southeast L.A. County, disrupting city business with racist attacks. When an anti-immigrant protester pulled a gun after a city council meeting in Cudahy—a tiny, largely working-class and predominantly Latino city about 10 miles southeast of downtown L.A.—I was the only reporter there, probably because I'd been at every Cudahy City Council meeting for the previous few months. LAist shared our photos of the standoff with other outlets, and anyone Googling the incident could find a nearly 2,000-word feature tracing the growing tensions that we'd published a few weeks before.
In April, a popular Los Angeles City Council candidate was poised to unseat the incumbent (a true rarity in L.A. local politics) when LAist reported on a trail of deeply disturbing online comments that the candidate had left in some dark corners of the internet. Based on our story and for the first time in recent memory, the Los Angeles Times editorial board revoked their endorsement. Other endorsements quickly fell, and the candidate's chances soon evaporated. Without our writer Aura Bogado's tenacious reporting, the man would likely have been elected.
LAist was also the first to report on the case of Romulo Avelica-Gonzalez, a Los Angeles father detained by Immigration and Customs Enforcement (ICE) while dropping his young daughters at school. Avelica-Gonzalez's story received international coverage after we published a wrenching video that his then-13-year-old daughter had filmed of the arrest on her phone and shared with us. We exhaustively covered every update in Avelica-Gonzalez's case, hopefully helping to humanize his family's story and keep it in the public consciousness, and maybe even playing some tiny role in his ultimate release from immigrant detention.
Our staff was small and scrappy, but sites like ours were also afforded one great privilege: There was no gatekeeper standing between us and publication, deciding what counted as "news." At larger outlets, especially ones with dwindling resources, writers often have to justify the time they're spending on each story, and that can mean overlooking something that might not satisfy the higher-ups. If we thought something was meaningful—even to an extremely small contingent of people—we published it.
I never submitted any reporting expenses for reimbursement because I'm pretty sure management would have laughed. We were usually stretched extremely thin. The main reason I was able to attend those city-council meetings in southeast L.A. County was because they were held at night, meaning I could oversee the site, get up my three or five posts of the day, and still head out to Cudahy or Huntington Park or Maywood without missing too much of the workday. It wasn't ideal, but I also knew that if I found a story I thought was important—in this case, the fact that outsiders were making it almost impossible to conduct official business at council meetings in a little city most people in Los Angeles hadn't heard of—well, no editor was going to tell me I couldn't publish it.
We had incredible freedom, which, in retrospect, we probably took for granted. Generous, wise bosses put a great deal of trust in us. We could be deeply irreverent, take public figures to task, and also sometimes call up the National Weather Service and ask if the world was ending. We acted as curators and chroniclers of the near-infinite L.A. stories constantly swirling just below the surface. After a video of a Hollywood elote vendor's cart being overturned in an attack went viral, we published a nuanced portrait of the elotero that also used the incident to highlight the vulnerability of L.A.'s street vendors. We memorialized Skid Row legend Rickey "the Pirate" Taylor after his death with a longform profile that also captured a rapidly changing downtown. We introduced our readers to the recreational fishermen who somehow catch 35-pound fish in notorious MacArthur Park, the Korean radio station that served as a lifeline during the 1992 Los Angeles Civil Unrest, the bartender celebrating his 50th anniversary at the legendary Hollywood restaurant Musso & Franks, and countless other extremely specific, human pieces of the Los Angeles puzzle.
No single citizen can ever grasp the whole city around them: There is too much happening at any one time, and too much terrain to ever fully know. But local news is one of the few entities that can help make a city legible. It helps record and create civic identity and serves as a reminder that we were here, that we had a story, and that it was worth something.
The future of local news, especially here in Los Angeles, remains deeply uncertain. Our local paper of record, The Los Angeles Times, has faced very public struggles, amid corporate restructuring, layoffs, and drastic cost-cutting measures. Now, journalists at the Times are in the middle of their own battle to unionize, which has been met with the requisite union-busting efforts from their corporate owner.
A few weeks ago, back when I still had a job, I reported on the perplexing sale of LA Weekly to a mysterious and newly formed entity. Less than a month later, our city's storied alt-weekly remains operational, but we still don't know who now owns it. And LAist, after 13 years, no longer exists, a decision made by our site's billionaire owner.
A week before the LA Weekly sale, we reported on the resignation of longtime OC Weekly editor Gustavo Arellano, who left the paper after refusing to lay off half his staff. Last Sunday, Arellano emailed me with a story idea for LAist. We were thrilled to run such a renowned writer's work under our mantle, and to help ensure his trenchant voice still had a broad platform in Southern California. What we thought would be Arellano's second of many LAist stories was published at 9:45 a.m. on Thursday, less than five hours before our site suddenly and permanently went dark.
The day's news kept coming, even after we could no longer report on it. There are more important stories to tell than ever, and a contingent of moneyed power brokers have the ultimate say over the content—and life—of newsrooms.  If people aren't scared yet, they should be.