'Giving Tuesday' Is No Match for Black Friday
Charities want to reserve a day for donating at a time of year when people are buying more stuff.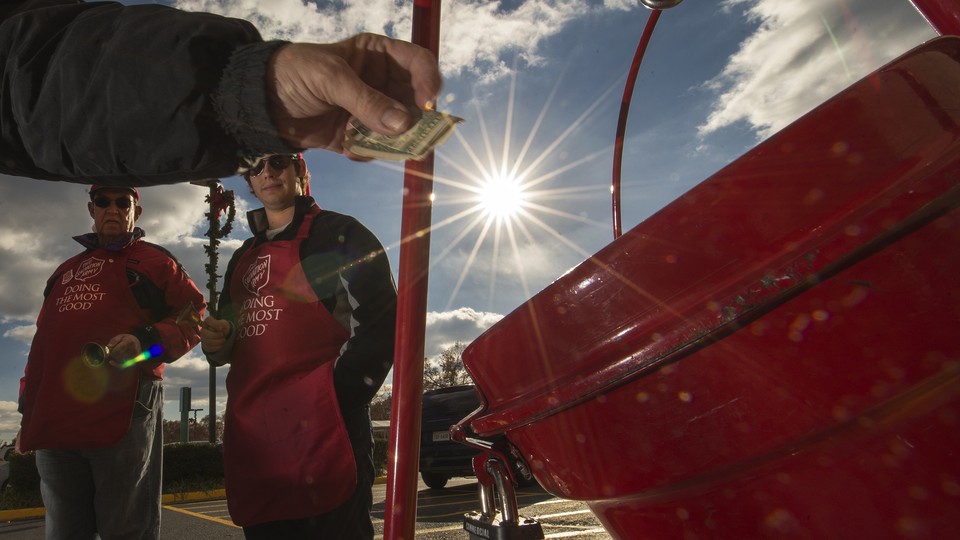 First, there was Thanksgiving. Then, a few decades ago, Black Friday came along. Next came Cyber Monday, which debuted in the '00s. Then, a few years ago, came a day decidedly not about consumption: Giving Tuesday, a "global day of giving" that is celebrated (mostly on social media) the Tuesday after Thanksgiving. Allison Janney celebrates it. So do Bill Gates, Jill Biden, and a host of other public figures.
Last year, charities big and small raised $180 million on Giving Tuesday, according to the 92nd Street Y, the organization behind the day. That's a significant increase from 2015's $116 million. This year, as per projections from the nonprofit consultancy Whole Whale, that number will likely grow to more than $200 million. Charities and nonprofits in more than 100 countries will take part in the effort, and organizations that have used the day as an occasion to launch an end-of-year campaign have seen significant increases in donations on the season.
That's not bad for a holiday that's been around only since 2012. Giving Tuesday was initially conceived by Henry Timms, now the chief executive director of New York's 92nd Street Y, in partnership with the United Nations Foundation. It was intended to counter the shopping frenzy that's increasingly come to pass for the holiday spirit. "It originally followed Black Friday and Cyber Monday here in the United States, as a day to think about giving back after two days of consuming," explains Asha Curran, the chief innovation officer and the director of the Belfer Center for Innovation and Social Impact at the 92nd Street Y.
Giving Tuesday also takes advantage of a reality in the world of charitable giving: Just under 25 percent of all donations received annually will be given in the roughly five-week period between Thanksgiving and New Year's, according to the Center for Philanthropy at Indiana University. For a not-unsubstantial 16 percent of organizations, giving in the final months of the year will account for half of contributions received.
There is another insight that drives the still-nascent day as well: According to Curran, the most common reason people donate money to a charity is because a friend solicited them to do so. Giving Tuesday takes that idea and updates it for the age of social media: Organizations solicit bids with the hashtag #GivingTuesday and, in turn, those who donated are urged to share too. "People are taking peer-to-peer fundraising online, and they are doing it in the form of saying, 'I made this donation,'" Curran observed. "That's a really powerful force for raising more money or attention or awareness for a cause."
Giving Tuesday, in other words, takes the oft-derided concept of virtue signaling and puts it to good use. Of course, the Giving Tuesday campaign is hardly alone on this—a study published in Nature magazine in 2012 demonstrated that Facebook's Election Day "I Voted" feature increased voter turnout.
Nonetheless, Giving Tuesday's importance shouldn't be overstated. This year's estimated $200 million charitable haul may sound significant, but it is tiny compared with the estimated $5 billion consumers spent on Black Friday, never mind the entire holiday season. And Giving Tuesday is not, on its own, significantly boosting overall charitable giving in the United States, which remains just a tick higher than 2 percent of the gross domestic product. It also can't disguise the fact that many people are giving less to charity than in the past. When the Institute for Policy Studies, a left-leaning think tank, studied the issue, it discovered that although those with six-figure incomes and higher upped their charitable donations over the past decade, households with less money coming in cut their giving by about a third, something the researchers mainly attributed to "economic inequality and insecurity."
However, in the longer run, it's possible Giving Tuesday could help counter (but probably won't reverse) these trends and raise overall giving. The majority of the day's donations are made by "small-dollar" donors, as they are known in the philanthropic sector. According to the day's backers, the mean donation made on Giving Tuesday in 2016 was for $107.69. "We are placing a particular investment in what we might call everyday givers," Curran says.
And there is lots of room for growth. According to a Harris survey conducted shortly prior to 2016's Giving Tuesday, three-quarters of Americans still don't have a clue the day exists. But another poll, this one conducted by Ipsos shortly after last year's Giving Tuesday event, found that 62 percent of those aware of the day say it inspired more giving.
That makes sense. Giving Tuesday offers people a way to feel a little less guilty about the stuff they've already bought and the stuff they plan to buy before year's end. If charities can benefit from that, it's most certainly a day worth celebrating.