Denver Built Up Its Public Transit, but Where Are All the Riders?
Thirteen years after a vote that poured resources into transportation, most residents haven't changed their habits.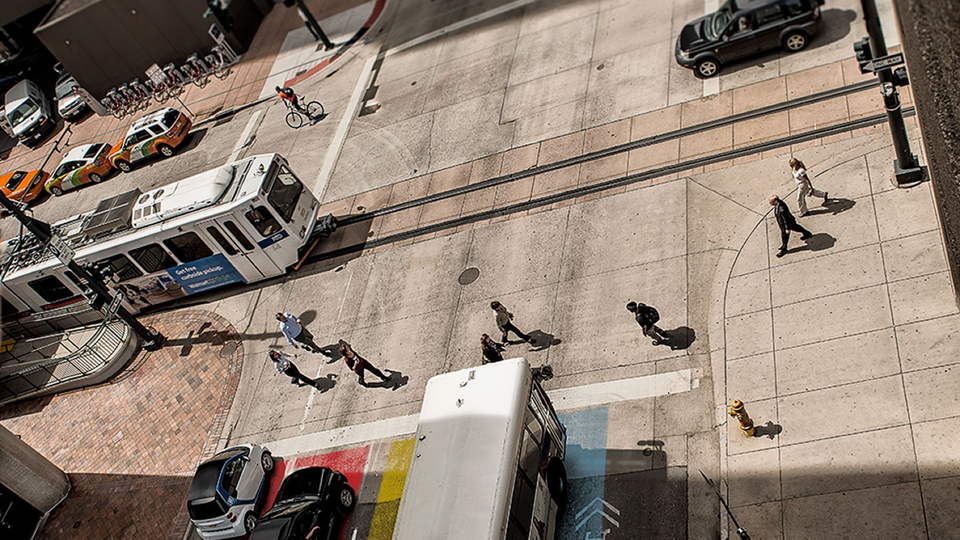 Denver punches above its weight when it comes to mass transit: It has the eighth-largest rail system in the United States, radiating out of what's only the 19th most populous American city.
That's because of a program called FasTracks. In 2004, in an attempt to cool congestion and prepare for growth, Denver and communities in seven surrounding counties voted to expand public transit to the tune of $4.7 billion, adding 122 miles of commuter, light-rail, and bus-rapid-transit lines across the region by 2018.
Since then, the Regional Transportation District (RTD) has undergone a transformation: Where once only a few rail lines served a handful of suburbs, train tracks and bus rapid-transit corridors now extend in all directions, from Boulder (28 miles northwest of Denver's downtown) to Aurora (11 miles east) to Jefferson County (26 miles west), with downtown Denver's Union Station serving as the central hub. Seven projects are complete, and five are still on the way.
But the expansion plan, which led CityLab to once call Denver "the most advanced transit city in the west," has yet to translate into greater transit ridership, or even reduced use of cars. In 2006, John Hickenlooper, then the mayor of Denver, described a hope that the city would reach 20 percent ridership by 2020. But in 2016, only 6 percent of people in Denver used public transit as part of their commute to work.
The Great Recession's impact on sales-tax revenue for FasTracks did delay construction. But even the existing lines have seen a decline recently, even as the economy rebounds. From 2010 to 2015, the system's per-capita boardings were down 4 percent. (Impressively, though, vehicle miles traveled went up 12 percent.)
So where did the grand plan fall short? We asked three people: a transportation advocate, an RTD spokesperson, and a public-transit consultant. Here's what they said.
---
The organizer: We're building a constituency for an urban core.
The trends in Denver fit with the national picture: From 2014 to 2016, transit ridership declined 4.5 percent across the U.S., while vehicle miles traveled have increased steadily in recent years, thanks mainly to cheap gas prices and the economy's uptick.
Even if boardings aren't as high as expected in Denver, the city has come far in its acceptance of transit, says Kathleen Osher, the executive director of Transit Alliance, an advocacy group. Observers, she said, should be patient while transit planners keep working on winning over riders.
Transit Alliance is a group that emerged after an earlier referendum for funding transit failed to pass in 1997. Transit Alliance campaigned hard to help pass FasTracks, and seven years later, it succeeded.
"The magnitude of FasTracks was unparalleled. We were the first to apply a regional approach to building a mass transit system since Washington, D.C., in the late 1960s," Osher says. "It allowed us to start to think about the regional lines on the map."
Given the breadth of that change, Osher says that it was going to take time to get Denverites to make public transit part of their daily lives. Not so long ago, cowboys rode horses around these streets; the famous cow town won't be easily prodded out of two-ton steel steeds. "I used to joke that 'multimodal' meant engaging your four-wheel drive in the high country," Osher says. Even the most avid transit riders still use cars for many of their trips.
Also a co-chair for the Denver Moves: Transit task force, Osher is working to design the city's first local transit plan. Under the banner of Denveright, a coordinated effort between three city task forces and the city's Department of Public Works, she's helping to figure out how to accommodate transit needs as the city plans for a denser, more transit-oriented urban core over the next 20 years. A vote in November to approve funding to expand a bus rapid-transit corridor on Colfax Avenue will be a test case for the city's appetite for broader plans.
Osher, who lives just south of downtown and works near Union Station, thinks she's living proof of the potential. "I always joke that I have this three-mile circle," she says. "Everything I need is in that three miles, mostly on foot or transit."
---
The spokesperson: There's a persistent stigma around taking the bus.
FasTracks's emphasis on shiny trains may have bolstered public support for the program, but it's actually buses that are the workhorses of the new system. They provide the critical connections between rail lines, and make up a larger share of the transit agency's service hours. Unfortunately, buses also get a bad rap, says Nate Currey, a spokesperson for the Regional Transportation District.
"I think there's an unwarranted stigma around the bus," Currey says. "People perceive it as a second-class service." But when they're done right, buses can be faster than rail, and a lot more flexible.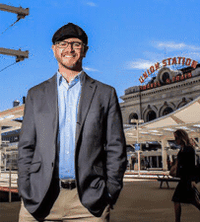 RTD serves eight of the 12 counties in the Denver-Aurora-Boulder metro area, with over 2.8 million people in 2,400 square miles. Rail connects the region, but it can't solve all of the region's transportation needs.
A transit system as sprawling as the Denver region's requires buy-in for multiple modes of transportation. Achieving that across 41 municipalities can be a daunting task, says Currey. To keep tax dollars flowing means enticing suburban drivers, and building out an option that's more psychologically appealing, but often less efficient at hauling the masses: light rail.
In that way, Currey says, rail subsidizes buses, which are more expansive and get the most use by lower-income riders who are more dependent upon public transit. With rail-line completion dates possibly as far out as 2044, buses will need to fill the gaps. It's a tricky tension, and some community advocates have criticized RTD for ignoring the areas of greatest need.
To keep up investment in transit for those who already ride it, the city needs to do a better job selling transit as a system, says Currey. "The storytelling side of it is important," he says. "People see rail lines and think service level is going to be the same everywhere, but we have to do a better job conveying other modes as options."
---
The consultant: Transit should look—and feel—geometric.
Denver's current transit service is also limited in its design. The rail system is a hub-and-spoke design, with lines spanning out from downtown. That makes the distances for many people to get downtown a bit circuitous. The quickest trips match the time of a car ride, and it only takes an ill-timed transfer to create significant delays. Tom Brennan, the principal consultant at the firm Nelson/Nygaard on the Denver Moves transit plan, says that spaced-out service limits ease of use. If rail lines and buses were arranged more on a grid, it would take out some of the guesswork and delay.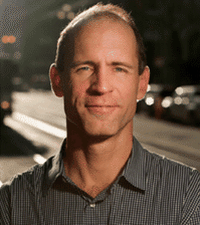 Within the city of Denver, only about 34 percent of people live within walking distance from stops where a bus arrives every 15 minutes or less, far behind cities like Seattle or San Francisco. Building on the rounded, wheel-like system, a geometric quilt of bus lines that stitches the rail together would close those distances, and help create the frequency and predictability that draws riders. Brennan agrees with Osher that reliable bus service is particularly needed in the urban core, which was not the focus of FasTracks from the start.
The cities that have seen the most success in building a transit constituency have simultaneously invested in rail and bus service, says Brennan. If Denver transforms from a limited rail system and a few major bus corridors into a ubiquitous high-service network, the system can easily become something people build their lives around.
Creating dedicated bus corridors that bypass congestion is difficult, requiring conversations about limited street space, Brennan says. Still, he feels that such projects have big potential: The Colfax Avenue project could double ridership along the route over the next 20 years, according to his estimates.
"The time is right for cities to double down on quality transit in urban corridors—realizing the benefits of excellent transit extend well beyond reliable mobility," Brennan says.
But as Colorado's ongoing highway expansions continue, the long-term question about public transit echoes what Denverites are asking themselves about their daily transportation choices: Is it worth the wait? Many rail lines only just opened in 2016 and 2017. While a few more are set for 2018, others have completion estimates as far out as 2030 or even 2044. It's still too early to tell how this system will change where people live and how they get around. There's just no fast track for that.