Thousands of Jobs Depend on the Wine Industry's Uncertain Recovery
As the Northern California wildfires continue, they pose risks to businesses that account for the majority of Napa County's economic output and employ almost half its workers.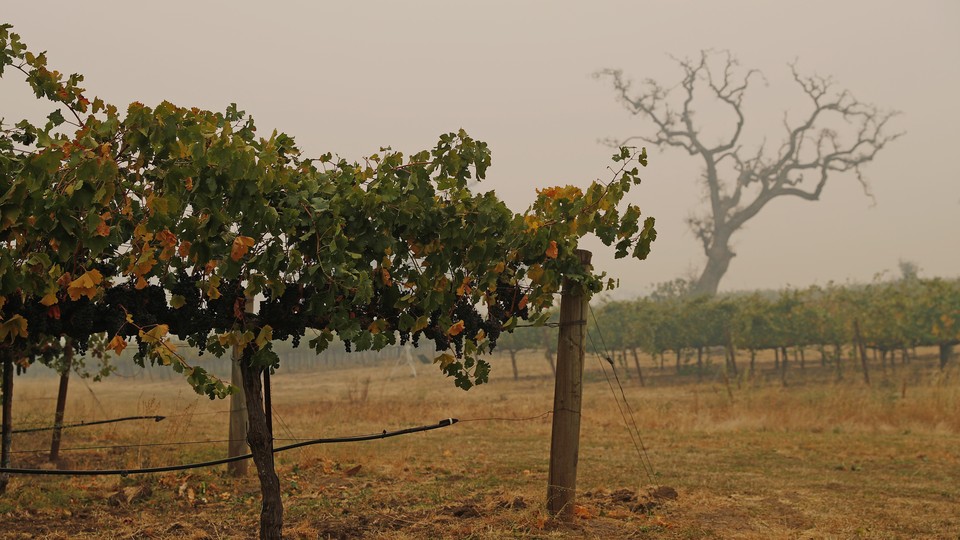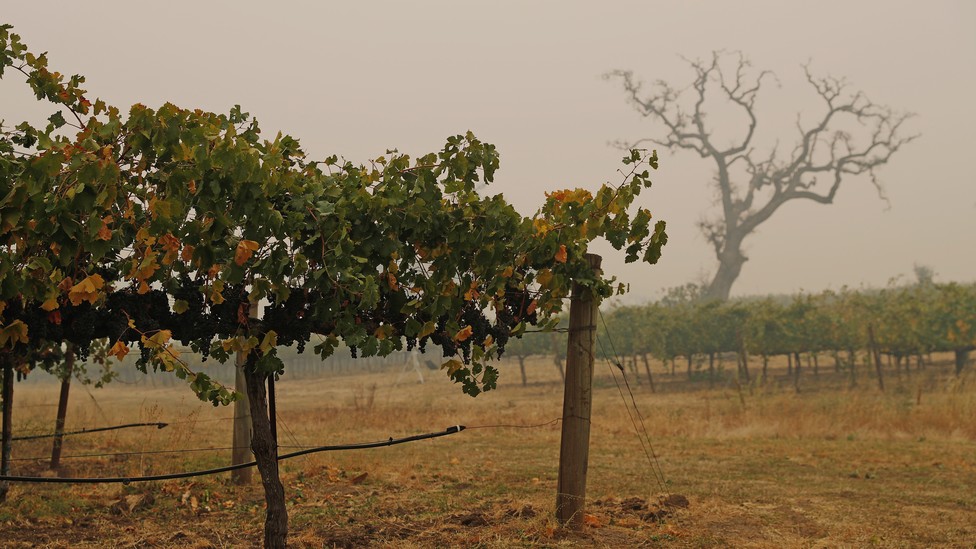 Updated on October 20, 2017
ST. HELENA, Calif.—When the winemaker Jean Hoefliger arrived at his small Napa Valley winery at 3:30 a.m. on October 9, the morning the Northern California fires broke out, he had a multimillion-dollar business decision to make. Two fires on opposite sides of the valley tore down the hillsides toward nearly $14 million worth of unpicked, almost-ripe Cabernet Sauvignon grapes at some of the vineyards scattered across the valley that supply or are owned by Alpha Omega Winery, where Hoefliger is the head winemaker. Smoke plumed high overhead, snowing ash down on some of Alpha Omega's most valuable grapes.*
That morning, Hoefliger faced a simple question: to pick, or not to pick?
It's a question countless other winemakers across Napa and its wine-producing neighbors, Sonoma and Mendocino counties, have had to answer as deadly wildfires carry on throughout the region for a second week.
Compounding the already tremendous losses of life and property in Northern California is the fires' blow to the region's most vital industry, which now faces crop loss, and, in some cases, harvests tainted by exposure to smoke. The businesses that make up this industry provide jobs and economic security to thousands throughout the area. Many immigrant workers, who make up the majority of the workforce in Northern California's wine country, could be forced to leave, as fires have reduced the region's already low supply of affordable housing—further bad news for a state whose agriculture industry has been in desperate need of more workers for years.
It is as yet unclear exactly what effect the fires will have on Napa's wine business, which, together with Sonoma County's, generates over $10 billion in annual sales and brings in billions of dollars more in tourism, according to Robert Eyler, a professor of economics at Sonoma State University. The wine industry employs roughly 40 percent of Napa County's workforce, Eyler says.
By sunrise on that first morning, Hoefliger, fearing the smoke would ruin the grapes, had his 23-person crew racing through thousands of trellises, yanking grapes off vines as the fires tore down the hillsides on either side of them. (He would have hired extra workers, but many had already fled the area.) In three days, as firefighters battled the flames, Hoefliger's crew picked 230 tons of grapes, which would normally take a team of the same size three weeks to pick. At times, the smoke was so thick, Hoefliger said, that the crew became disoriented, getting lost in the vineyard's rows.
"Smoke taint is like a sunburn. If you're at the beach, the only way to avoid it is to not be exposed," Hoefliger says while sitting on the winery patio, watching flames several miles away send black smoke pluming high above the valley floor. It's also like a sunburn in that the risk of smoke taint increases with exposure time and as the concentration of the smoke increases, according to Anita Oberholster, of UC Davis's viticulture and enology department. While not all grapes exposed to smoke will be unusable, a 2015 research paper by the Australian Wine Research Institute found that exposing grapes to heavy smoke for just 30 minutes was enough to produce undesirable aromas in the resulting wine. (That paper came in response to wildfires that led to millions of dollars worth of lost wine in Australia's Adelaide Hills wine region. Northern California's wine country was last hit by wildfire in 2008, when smoke caused many wineries to sell off the affected vintages in bulk or blended with non-smoky wines at lower prices.)
Oberholster says most winemakers, including herself, can't taste smoke taint by simply eating grapes off the vine. As a result, many winemakers are taking samples of their grapes to local laboratories to measure the levels of free guaiacol and 4-methylguaiacol, two compounds in smoke that can spoil the grapes.
Now, with the winery's fermentation vats already full, Hoefliger's grapes sit in hundreds of barrels scattered across the winery. He has been working anxiously to keep them cool. If the barrels get too warm, the wine could be ruined. Hoefliger has been using dry ice to cool the barrels, an effort that has cost his winery over $200,000.
Not all winemakers have gone the same route. Bruce Regalia—the head winemaker for Napa's relatively small Materra Winery, which employs about 30 people—also arrived at his winery in the early morning hours after the fire broke out. Regalia described a scene of flames surrounding the grapes, under a dark sky. "It was pretty spectacular," he said. At that point, he wasn't just worried about smoke taint; he was worried the whole property would burn.
But, unlike Hoefliger, Regalia's instincts led him to keep his grapes on the vine, believing they weren't ripe enough to make good wine. If he ended up with tainted wine, he reasoned, he'd attempt to filter the smoky aromas out by pumping the wine through a filter and then adding powdered carbon to further separate out the smoky compounds. But he said these measures wouldn't be guaranteed to work.
The rush to pick grapes and quickly turn them into wine before smoke taint sets in has the region's fermentation vats being used far more heavily than they normally would be. Materra, for example, has 48 vats that it rents out to clients across Napa Valley. Normally, Regalia processes, or "crushes," just over 20 tons of grapes per week for his winery and others. After the fires broke out last week, he crushed over 50 tons, working more than 15 hours a day. When electricity was scarce across the valley, he rewired the winery's switchboard himself to divert power from other parts of the grounds to help keep the vats cool.
For now, one of the biggest points of uncertainty for winemakers is how much their grapes—which would normally have been processed this fall, left to ferment for up to a month, and then sold one or several years later—have been impacted by smoke from the fires. Until the recently picked grapes are turned into wine, nobody can know for certain which vineyards' grapes were hit with the worst of the smoke taint. "Smoke taint varies greatly by location, even within the same region," says Jim Lapsley, an adjunct associate professor of viticulture and enology at UC Davis.
From a business standpoint, larger, mass-market wineries—which account for a relatively small proportion of Sonoma and Napa Valley's wine production, in monetary terms—are better positioned to absorb an economic blow, such as from a smoke-tainted yield, than smaller wineries. That said, wineries that produce lots of wine can be exposed to greater risk because they oftentimes have large long-term contracts to fill, according to Eyler, the Sonoma State professor.
"We don't know yet how many vineyards have been impacted," Eyler says, adding that the region will likely spend many months assessing the damage to harvests. That process has many winemakers' minds on possible insurance payouts, since most take out policies on their crops to hedge against the possibility of a bad harvest.
Regalia says he and other Napa Valley winemakers are bracing for what could be a tedious, drawn-out battle with insurance companies over the real value of grapes in the valley. While insurance plans differ, recoupment is widely based off what winemakers call the "Napa Valley average." Premium Cabernet Sauvignon grapes, for example, are assessed at almost $7,000 per ton. While that is far above the statewide average of $800 per ton, it creates problems for the valley's super-high-end winemakers, which value their Cabernet Sauvignon at upwards of $12,000 per ton and add hundred-dollar markups on bottles of wine made with essentially the same grapes grown by less prestigious wineries. "It's a value-added business," Regalia says. "If it wasn't, you wouldn't be here."
As he stood near rows of grapes, I asked Regalia how much his grapes had been affected by the smoke. He said he didn't know, but that his dog Arlo, a yellow lab who followed us around the winery and regularly eats mouthfuls of grapes off the crush-facility conveyor belt, may be the best judge. "He usually loves Malbec and Grenache," Regalia said. "But I tried to give him some the other day and he spit them right out."
---
Steven Johnson contributed reporting to this article.
* This article has been updated to clarify that Jean Hoefliger was making a decision about grapes at vineyards that supply or are owned by Alpha Omega Winery, not the winery's main location.