How Can the U.S. Spend So Much on Men's Soccer and Still Be So Bad?
On a day when fans are grasping for explanations, there's a hunt for some economic ones.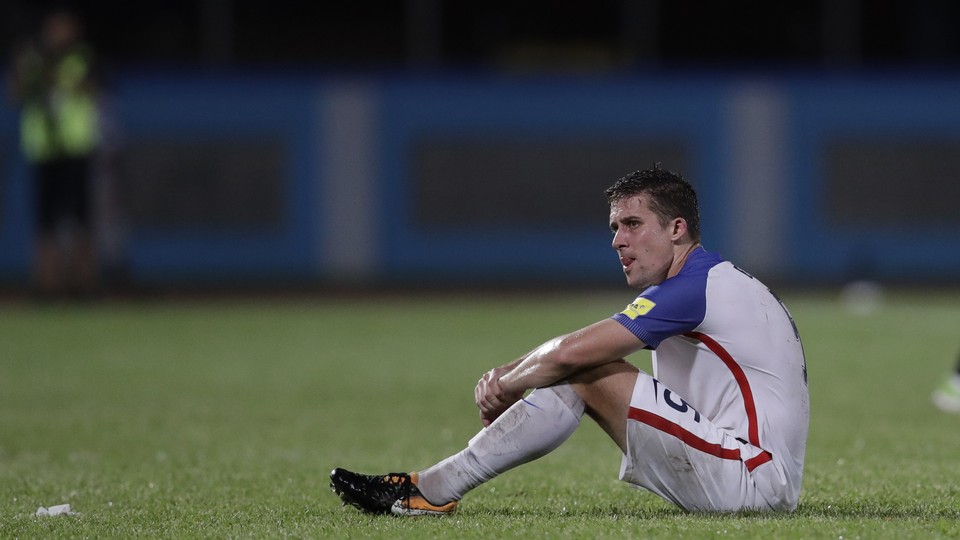 The U.S. men's soccer team's loss to Trinidad and Tobago on Tuesday night—which knocked them out of contention for next year's World Cup—was, to say the least, a disappointment. It was a disappointment to the players, who will be rehashing the game's events for years. It was a disappointment to the coaching staff, who failed to deliver what should have been an easy victory. And it was a disappointment to fans, who were looking forward to their sport of choice getting the burst of national attention that has come reliably every four years.
It was also, in a way, a disappointment for capitalism. The U.S. Soccer Federation (USSF), the governing body that oversees the national team, brings in and spends an order of magnitude more money than countries like Trinidad and Tobago, and puts considerable resources toward scouting out, training, and coaching the nation's soccer talent. The U.S.'s failure to qualify for the World Cup, then, challenges a core American idea: that throwing money at a problem should make it disappear.
Taylor Twellman, a former U.S. player and current TV commentator, suggested as much in an impassioned rant Tuesday night after the team's dispiriting result. "This is an utter embarrassment. With the amount of money that is in Major League Soccer and in this sport, you can't get a draw—a tie—against Trinidad?" he exclaimed. He was furious, adding, "That should have never happened with the billion-dollars-plus that is going into Major League Soccer and youth development. That should've never happened. And it did. And every single person should look at themselves in the mirror."
The "billion-dollars-plus" Twellman was referring to was likely the revenue—something in the neighborhood of a "billion-dollars-plus"—that Major League Soccer (MLS) now brings in over the course of each four-year World Cup cycle. His complaint, in essence, is that the MLS is an underwhelming generator of domestic soccer talent given how much money it brings in. He also seems to be arguing that the USSF isn't using its revenues—which in the past few years have typically been in the neighborhood of $100 million annually, mostly from ticket sales, sponsorships, and TV deals—wisely. (The USSF did not respond to a request for comment.)
There is some logic to the idea that money wins games. "When you look at the sort of factors that make countries successful at things like international soccer and at the Olympics, GDP per capita actually is a really, really strong predictor of how well people do," says Victor Matheson, a professor of economics at College of the Holy Cross (as well as a former MLS referee who says he has himself been on the receiving end of a Taylor Twellman rant, for penalties he's called). In general, the more money a country puts into its soccer program, the better its training program, the better its team.
Of course, money didn't do much to help the U.S. team on Tuesday night. "However they spent it, they were horrifically unsuccessful," Matheson says, adding that he'd be "shocked" if Trinidad and Tobago's soccer budget exceeded a 10th of the U.S.'s.
There are several possible explanations for the U.S.'s lackluster performance during World Cup qualifying games. One, which will be debated endlessly among fans and officials in the coming months, is the quality of the coaching and leadership. Another is that the current crop of players just happened to be unusually weak, as star players can come in waves.
But another explanation really does come down to money. It's a problem those on the organizational side of soccer refer to as "pay to play": Many, including Twellman and Matheson, argue that in the U.S., the cost for young people to play soccer is simply too high, limiting the pipeline of talent to those who can afford the fees and uniforms of their regional club teams. "The idea," Matheson says, "is that we've developed a lot of highly trained but mediocre rich kids while missing out on training lots of potentially fantastic poor kids." Perhaps the USSF could do more to seek out lower-income players—"probably disproportionately minority players, disproportionately immigrant players," Matheson says.
But even if the sport were made more economically accessible, what soccer in the U.S. is also lacking is a culture that puts it ahead of all other sports. To be sure, the country has developed a large group of devoted fans and young and professional players. But the fact that America's biggest sports stars play football and basketball means that those sports absorb a significant number of aspiring athletes who are mediocre point guards or quarterbacks but may have been been brilliant strikers. There may be some extravagant sum of money that could place soccer among football and basketball (and baseball) in the U.S. sports pantheon, but it is surely well beyond current spending levels.
Interestingly, what is a problem on the men's side, Matheson says, actually contributes to the incredible success of the U.S.'s women's team, which did not just qualify for the World Cup in 2015 but won it. "You have lots of other countries where there aren't people willing to do pay-to-play for girls, nor are their national associations spending a bunch of money training girls and training women," Matheson says. To oversimplify a bit, the American women outspend everyone else into submission.
But if the women's team represents capitalism at work, it also displays the economy's dark sides. Soccer's gender-pay gap is exasperatingly wide. For winning the most recent World Cup, the U.S. women's team was awarded $2 million from FIFA, soccer's international governing body; Germany, the winner of the 2014 men's World Cup, received $35 million. In fact, the American women's prize for winning was significantly smaller than the $9 million the American men received in 2014 after not even making it to the quarterfinals.
Last year, members of the women's team brought a complaint against the USSF to the Equal Opportunity Employment Commission, arguing that they should be paid equally to the men, because they had played (and won) more games. (That complaint is as yet unresolved, but the women's team did earlier this year receive a pay bump.)
In the next two years, the gap in American teams' FIFA prize money will be erased, though artificially and probably only temporarily. The women, who will almost assuredly qualify for the 2019 World Cup, will receive at least some money for participating in the tournament. As of Tuesday, the men won't even be able to collect the money teams get just for showing up.