Trump Is Turning the Fed Pick Into a Reality Show
Why, yes, the president of the United States did create an Instagram teaser for his forthcoming central-banking announcement.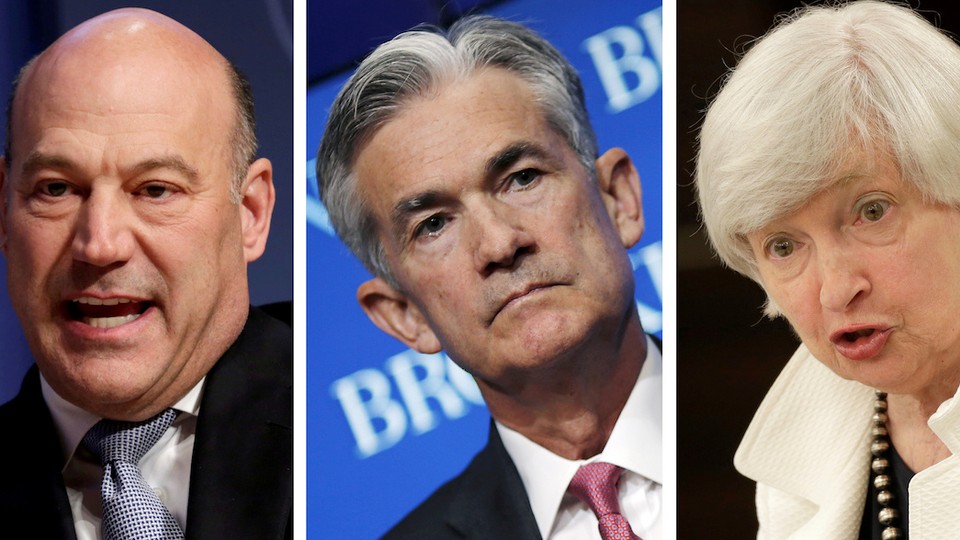 Will the next Fed chair be Jerome Powell, or won't it?
Before Trump was president, he was doling out brash criticisms and weekly drama on his reality television show, The Apprentice. Thus far, he seems pretty keen on bringing a similar flair, suspense, and tension to his presidency. Take, for example, his approach to appointing a new Federal Reserve chair—a choice that he's been teasing the American public with for months.
The New York Times and Politico are reporting that President Trump plans to announce Powell as his selection for the next chairman of the Federal Reserve Board as soon as Thursday. That timeline tracks with what Trump said in a video posted to Instagram, last Friday, which was a bit more of a dramatic approach than a press conference or run-of-the-mill press release.
The drama started ramping up earlier this summer when the rumored then-favorite Gary Cohn, who leads the National Economic Council, criticized Trump's response to Charlottesville. Soon after, it was reported that Trump was no longer considering him for the Fed role. That led to speculation about who could who could possibly fill the role.
In September, the president announced that he'd had meetings with four potential candidates for the head of the Fed, and said that he would decide within two to three weeks. Then, last week, Trump told Lou Dobbs that he had narrowed it down to two or three people and would be announcing his decision "over the next very short period of time." He went on to banter back and forth with Dobbs, asking whether or not the television host had a preference for top Fed slot. (Dobbs said he'd pick Yellen.)  Then on Friday, Trump released a trailer of sorts, promoting his upcoming announcement of the appointment, in which he said that his pick was a person who "hopefully will do a fantastic job." That's a lot of hype surrounding the appointment of a person that only 24 percent of Americans can correctly identify, according to a 2014 survey done eight months after Yellen's appointment.
So who are the finalists?
The consensus among Fed watchers is that Trump's pick will be Jerome Powell, who has been a governor on the Fed's board since 2012. Powell, a Republican who served in the Treasury Department during the George H.W. Bush administration, is considered a choice that people on both sides can feel good about. For Democrats who want a Yellen reappointment, Powell is a decent alternative given that he has shown support for many Yellen-issued decisions when it comes to policy, including the choice to maintain low rates through small and not-that-frequent rate hikes. But Powell's ideology may diverge from Yellen on a key issue for Republicans: the stringency of financial regulations. Yellen has largely maintained support for the regulations put in place after the crisis, saying that they have made the economy stronger and cautioning that any changes should be "modest." Powell, for his part, has seemed a bit more skeptical when it comes to those regulations, noting that some are perhaps too onerous and need to be pared back.
Then there's the dark horse candidate (and liberal preference), Fed Chair Janet Yellen. Yellen was pointed by Obama and her four-year term expires in February of 2018, but she is still eligible to serve another term. Before the election, that idea would have seemed ludicrous. Trump spent much of his campaign deriding the choices of the Fed under her tenure, saying that her policies of low rates were creating a false boom in the stock market that could ultimately hurt the economy. Democratic supporters, however, credit Yellen's slow and steady approach to rate hikes with the receding unemployment rate and continued economic recovery. But since he took office, he's seemed to change his stance. Trump invited to Yellen to the White House, as a candidate for the job. As recently as October, Trump told Lou Dobbs, in that same interview, that he was still considering Yellen for the position, saying, "I think she's terrific. We had a great talk. And we're obviously doing very well together, you look at the markets."
While that seems like a fairly glowing review, Trump's primary approach to governing thus far seems to be eliminating all vestiges of the Obama administration. "You like to make your own mark," Trump told Dobbs. "Which is maybe one of the things she's got a little bit against her."
Another option that's been floated is Kevin Warsh, a professor at Stanford and a Wall Street veteran who also worked for the Fed under George W. Bush. Warsh has been described as an inflation hawk, which could appeal to some Republicans who have criticized Yellen's slow interest rate hikes and expressed concern over potential inflation growth. (More rate hikes, in the opinion of conservatives, would have a dual benefit: tamping down inflation and benefitting investors. Liberals and progressives, by contrast, have recently supported fewer rate hikes, in exchange for the possibility of spurring growth and pushing the unemployment rate lower.)
Finally there's John Taylor, an economist who is also a professor at Stanford, and Warsh's mentor. The two share many of the same ideas on monetary policy and the potential direction of the Fed in the next few years. A Taylor pick over Warsh would mean that the administration is keen to pursue an especially aggressive strategy when it comes to interest rates. Taylor is the creator of the Taylor rule, which presents a guide for how interest rates should be set in relation to economic conditions. According to some estimates, application of the Taylor rule under current economic conditions, with the current inflation target of 2 percent, would more than triple current rates.
Whoever Trump picks to head the Fed will have the power, once confirmed by the Senate, to control monetary policy, which affects the lives of every American in significant ways and unseen ways. For millions, how they fare during the next recession or expansion will be the result of the policies and strategies this person believes in.