The Inequality Beneath the Sexual-Harassment Headlines
The problem is worse in low-profile, low-accountability, and low-wage industries.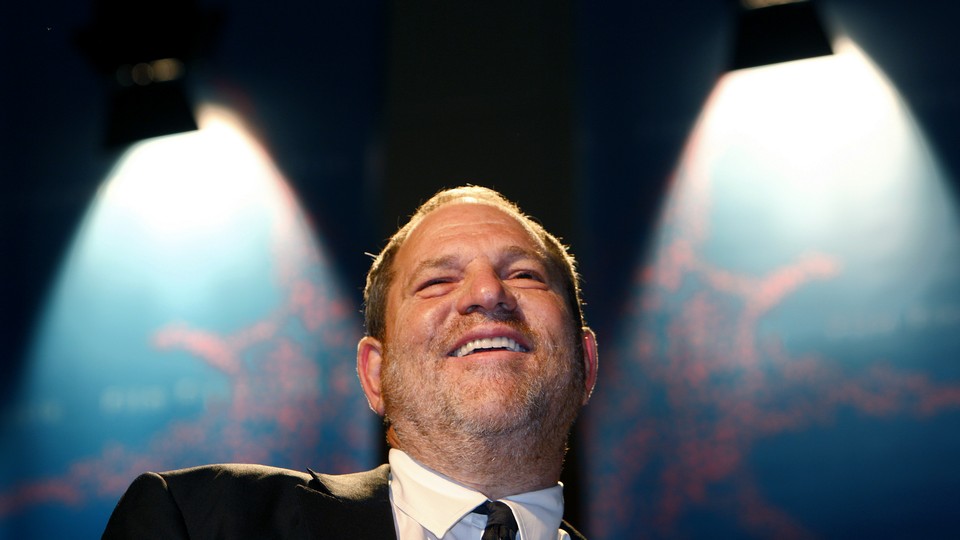 The Weinstein Effect strikes again. Following The New York Times and The New Yorker's revelations about the film executive and alleged serial sexual harasser Harvey Weinstein, Lockhart Steele of Vox Media, the screenwriter James Toback, the critic Leon Wieseltier, and, on Thursday, Mark Halperin of MSNBC have found themselves outed and, in some cases, fired for alleged past behavior. Preceding Weinstein were reports about alleged harassment at Tinder and Uber, and the alleged predatory behavior of Bill O'Reilly, Donald Trump, and Bill Cosby, among others. Many more disclosures are likely to come, as the politics, technology, news, and entertainment industries come to terms with the pervasive problems of gender discrimination and sexual harassment in their ranks.
Of course, those industries are hardly the only ones in which harassment is a big problem—indeed, they are not outliers in the American workforce. Up to 85 percent of women say that they have been sexually harassed at work, according to the Equal Employment Opportunity Commission. The problem appears to be particularly acute in service industries, in which employees rely on tips and interface frequently with customers; in low-wage industries, in which employees have little power to begin with; and in industries dominated by men, like construction.
Why aren't these industries at the forefront of the current conversation, then? The answer seems to be in part because of the public scrutiny and media attention they receive, and the momentum that builds as more and more victims come forward with their stories. There are big names in politics and Hollywood and the news, and there is consistent interest in what is happening at the Ubers and Apples and Googles of the world. High-profile women, like Gretchen Carlson, Megyn Kelly, and Gwyneth Paltrow, have shared their accounts. A trucking supervisor getting fired or a waitress getting better workplace protections rarely merits a headline.
Still, there's a lesson for all industries to be learned about what is happening with the revelations and repercussions happening in news, politics, and tech. When it comes to harassment, transparency helps women, workplaces, and broader society recognize the problem of harassment, and react to it. But only to a point: There are Weinsteins everywhere, but only in a few industries is there a Weinstein Effect.
Sexual abuse is a consistent and pervasive feature of the modern workforce, but despite how consistent and pervasive harassment is, there is scant data and public information about it. Women tend to keep the knowledge of such incidents to themselves, for one. They more often than not do not report them, due to a fear of not being believed, a sexist culture in the workplace, a belief that nothing would happen or change, and reasonable concerns about retaliation. Indeed, they themselves often seem to forget these incidents or shut them out: The share of women who report being harassed increases if they are prompted to recall specific behaviors, like unwanted touching. It stands to reason that a given individual might not say she was sexually harassed, but could easily recount an incident in which a supervisor propositioned her or a customer assaulted her.
Within workplaces, too, a lack of recognition of the problem is common as well—helping foster a lack of accountability and a lack of repercussions for harassers. Take the case of Wieseltier, for instance. Numerous women have said that he had touched them, propositioned them, or made inappropriate sexual comments to them while he worked at The New Republic. (Wieseltier has apologized for "offenses" that made his former colleagues "feel demeaned and disrespected," and Emerson Collective, which owns a majority share in The Atlantic, has cancelled his forthcoming publication.) In a piece by Jason Cherkis at HuffPost, former New Republic editors described a workplace culture in which male leaders declined to act on what was happening.
When incidents are reported to human resources, companies tend to keep them as quiet as possible as well. Nondisclosure agreements added to big-dollar settlements kept the behavior of Weinstein and Bill O'Reilly of Fox out of the news for years. Plus, companies often require accusers to go through a quiet arbitration process rather than seeking public recompense in a court of law. "I think it hinders the free flow of information," Ellen Pao, who famously sued the venture-capital firm Kleiner Perkins Caufield & Byers for discrimination, told Time about arbitration clauses. "It's supposed to be designed to allow for faster, cheaper resolution. But it often ends up covering bad behavior."
The hush-hush nature of workplace harassment has fed into a lack of firm-wide and economy-wide understanding of the problem—and what could be done to fix it. There are hundreds of high-quality economics studies of wage discrimination, for instance, but virtually none on harassment in the workplace. The surveys of harassment are generally inexact, and there is little data on best practices to protect women. Indeed, training designed to reduce harassment oftentimes does not work, and might, according to researchers, reinforce gender stereotypes rather than alleviating them. "Much of the training done over the last 30 years has not worked as a prevention tool," concludes a 2016 Equal Employment Opportunity Commission report. "It's been too focused on simply avoiding legal liability. We believe effective training can reduce workplace harassment, and recognize that ineffective training can be unhelpful or even counterproductive."
The flood of public revelations about bad behavior in tech, media, and politics—from Susan J. Fowler's whistle-blowing on the workplace culture at Uber to the stories about Weinstein and others to the Cosby allegations—has shown that sunshine can sometimes act as a disinfectant. Women coming forward to share their stories begets other women coming forward to share their stories begets consequences, in some cases and in some industries at least. To that end, eliminating confidentiality clauses for sexual harassment cases and publicizing the stories of bad actors in other industries to help increase awareness seem like good steps, and the country as a whole needs more research into preventing harassment and data on the scale of the problem. The hope is that over time, change will come for women in less elite professions too. As bad as the problem is with high-profile names at famous workplaces, for those waitresses and health aides and truckers, it is far worse—and for them, there won't be much if any of a Weinstein Effect.