The Mascot All the Other Mascots Look Up To
For almost 30 years, Dan Meers has built a professional community founded on radical kindness as Kansas City's KC Wolf.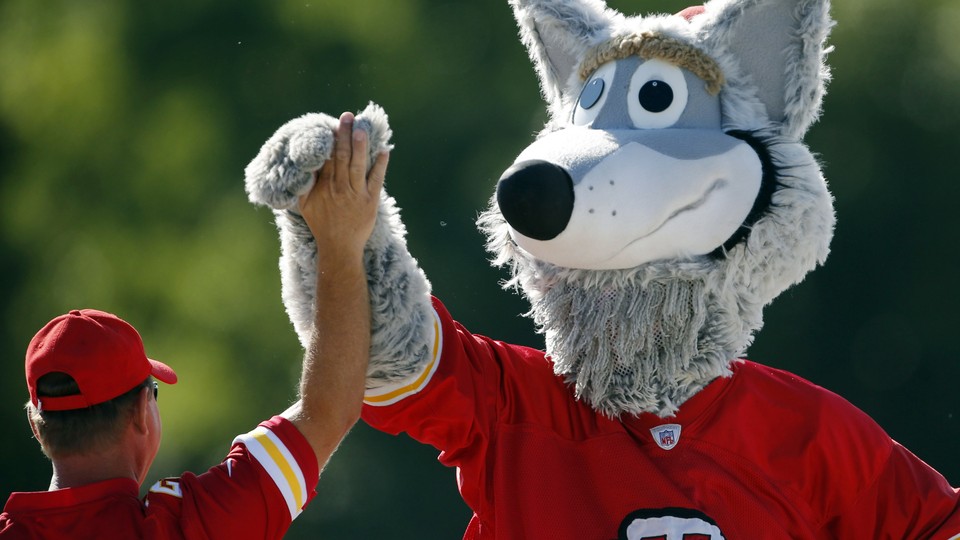 There weren't many people working full-time as NFL mascots in 1989, when Dan Meers became the Kansas City Chiefs' KC Wolf. In the almost 30 years since, he's seen the mascot community grow into a small corps of hyperactive 20-somethings who churn out appearances at hospitals, schools, and nursing homes across the country. They tend to retire in their 30s. At 50 years old, Meers still fits in as many as 500 engagements a year, and isn't looking to stop anytime soon.
Since he started as KC Wolf, Meers has built what Trey Mock, the mascot for the Indianapolis Colts, called "the best mentorship program in the business." Meers once picked a fifth-grader, Andrew Johnson, to try on his costume at an event in Kansas City. Johnson later became Toro, the mascot for the Houston Texans. Now, Meers cultivates a small crew of backup mascots—to fill in for him when he has too many appearances lined up on a given day—that includes an elementary-school principal, a counselor, and a pastor.
In November 2013, Meers suffered a catastrophic fall from a bungee cord during a stunt rehearsal. In the months it took him to recover, he wrote a book about the experience, Wolves Can't Fly, the proceeds from which he puts toward global charitable causes.
In recognition of Meers's return to the field and his lifelong accomplishments, the NFL mascot community announced a new honor at its summit last year in Indianapolis: the Dan Meers Lifetime Achievement Award. "I thought, 'If it's named the Dan Meers Lifetime Achievement Award,'" said Meers, "'I might have a good chance of winning this one.'" He did.
I spoke with Meers for The Atlantic's series on mentorship, "On the Shoulders of Giants." The conversation that follows has been edited for length and clarity.
---
Steven Johnson: You do lots of appearances every year that aren't at football games. Do those take a different skillset than being on the field?
Dan Meers: It's funny you should say that, because I had a guy yesterday who called me, and he's like, "Yeah, I really want to get into being a mascot. I've dressed up like the Chick-fil-A cow." I'm thinking, "Well, there's a little more to it." [Laughs] The thing I enjoy about the mascot business is that you have to have a general knowledge about a lot of things: We do a lot of marketing, promotion, and community relations. There's more to it than throwing on a costume and being entertaining.
I tell this to guys all the time: You got to be good in costume, because that's where people are going to see you—but if you really want to make [a mascot program] go, what you do out of costume is just as important as what you do in costume.
Johnson: There are really deep rivalries between NFL teams. Are mascots competitive in the same way?
Meers: We all get along really well, and we try to share ideas: what's been successful, and what hasn't been successful in our markets. They're committed not only to being good on the football field, but to excellence off the field and in the community as well.
That's the kind of stuff that makes this job fun. The best part of this job are the relationships you build with people. The Pro Bowl's fun, going to Hawaii, and Florida, and other trips you take are a whole lot of fun. But when I sit and I look at my career, the stuff I will remember the most are the relationships I've built with people and the fans.
Johnson: What does mentorship among NFL mascots actually look like?
Meers: I heard a quote one time from John Maxwell [a pastor and motivational speaker], who said, "Leadership's not about titles, positions, or flowcharts. Leadership's about one life influencing another." As a mascot, we've got a platform. It's a crazy platform—I'll be first to admit it—but we've got a platform that is very recognizable. People may not know who Dan Meers is in Kansas City, but they know who KC Wolf is.
Johnson: Are there any mentees of yours who stand out?
Meers: Andrew Johnson, for the Houston Texans. He used to bring his high-school mascot costume to the grocery store that I was making an appearance at, and he would follow me around in his costume at the same time. At first I thought, "Well, this is kind of odd."
About five years later, he was his college's mascot. I started watching him and I thought, "This kid's pretty good." Then I got to know him. I knew he was passionate about being a mascot. He used to be my backup here in Kansas City, and I knew he was going to be my backup for only a short period of time—he was too good.
Johnson: What did you try to impart to Andrew?
Meers: The thing I always used to talk to Andrew about is that—and it's kind of our KC Wolf mascot mission statement—our goal is to be a character with character. And by that I mean, I not only want to be a good mascot who's fun, who's entertaining and makes people laugh at the games, but just as important, I want to be a good role model in the community, with the young people that we interact with and the fans.
Johnson: And what have you learned from fellow mascots?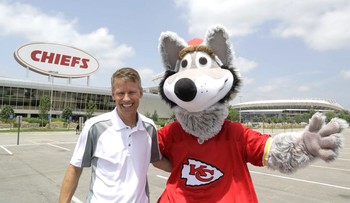 Meers: The Philadelphia 76ers used to have a mascot named Big Shot. He had a huge waist, just like KC Wolf has—great big hips. I used to love to watch his moves because his costume was built a lot like mine, and the dude was a great dancer.
You learn little tricks of the trade through the years. Maybe I'm telling you more than you need to know—a thing that drives a mascot crazy is when you go to a kid's birthday party, and you have a bunch of 10-year-old kids pulling your tail, and they won't let go. Well, how do you take care of that? Another mascot told me, "You just reach down and act like you're shaking their hand, and while you shake their hand you squeeze their knuckles real hard," to communicate "Hey, you better quit doing this, kid, 'cause you're driving me nuts." [Laughs]
Johnson: I understand that your faith is an important part of your life. Does it impact how you mentor others?
Meers: I don't hide that fact that I'm a follower of Christ, and that I try to live my life the way he taught me to. Every morning my goal doesn't change: to get out and to love people—not to judge people.
That, I'm convinced, is what helps lead to a very successful mascot program. Yeah, we're NFL mascots—that's kind of a unique club to be involved with. But when it boils right down to it, we're just a bunch of guys who put carpet on our bodies, run around, and act like nuts for a living. I try to keep that in mind: not to get too big a head because you're an NFL mascot. Learning to be humble and just learning to treat others the way you would want them to treat you, and to show love to other people.
Johnson: What do you hope your mentees will remember about you or what you've taught them?
Meers: I think I've been able to hopefully leave a little bit of an impact on some of the guys. You know, I've been around for 28 years—the next closest mascot is probably 15 or 16 years. I think they all look at me as the old dude. I definitely don't know it all, but I have learned a few things through the years. I try to pass that along, especially to the younger guys who are just coming into the league.
My parents taught me this: Your life is like your finances. You're going to do one of two things with money. Money you spend, you never see again; money you invest, that multiplies, and that's going to come back to you. A life that's just spent selfishly is wasted, but a life that's spent investing, and influencing, and encouraging others—that's going to bear fruit for a long time. I try to encourage people, whether you're a mascot, no matter what occupation you're in, to look for opportunities to influence and mentor others, because it's a rewarding way to live.