How Mentorship Can Be Life-Changing for People Living With HIV
"By having HIV and living with it for so long, I [am] able to support, encourage, and inspire somebody else."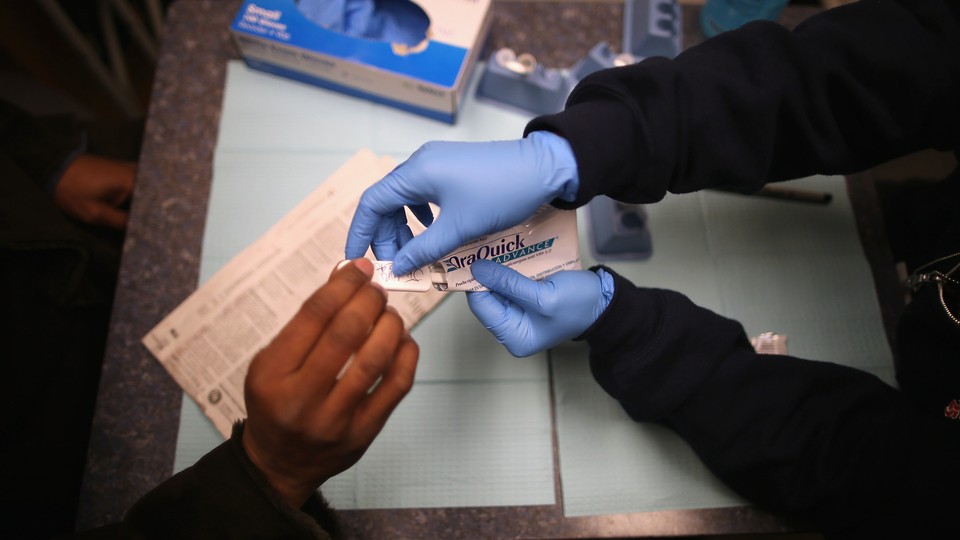 Derrick "Strawberry" Cox found out that he had HIV on March 14, 2011. He's been managing the virus ever since, an effort that's supported by his mentor, Tony Burns—who has been managing his own HIV for nearly three decades. Their relationship centers not just on how their antiretroviral-therapy drugs are working for them, or how nutrition factors into the success of their care, but also on making sure that life remains bigger than their diagnosis. "People ask me if I'm positive," Cox told me, "and I'll tell them, HIV is not me, I have HIV."
Cox and Burns met through the +1 peer-mentor program at Whitman-Walker Health, a nonprofit community-health center in Washington, D.C. The organization is open to all patients, but emphasizes health-care accessibility for the LGBTQ community and people living with HIV—two groups that have often experienced discrimination from medical professionals when seeking care. The +1 peer-mentor program pairs people who have been newly diagnosed with those who have been dealing with HIV for years and have experience finding the right treatment, managing stigma, and building a supportive community.
For The Atlantic's series, "On the Shoulders of Giants," I talked to Cox and Burns about adjusting to their diagnoses, cultivating intergenerational support, and the power of visibility to challenge assumptions about what life looks like with HIV. The conversation that follows has been edited for length and clarity.
---
B.R.J. O'Donnell: Tony, you started mentoring others well before you met Derrick. How did you first become a mentor?
Tony Burns: This was a decade ago. I hadn't really ever thought about mentorship before. One day, I was at Whitman-Walker and the two founding managers, Justin Goforth and Meghan Davies, came to me and said, "Tony, we've got someone here who tested positive for HIV." This young man was having a really difficult time handling it, and Justin and Meghan thought, "Let's get him somebody to talk to right now, somebody who has been through it," and so they came and got me. As God or fate would have it, that young man was 31 years old, which is the same age I was when I was diagnosed. And at that point in time, I had been managing HIV for the better part of 17 years.
I told him, "It's not going to be an easy road, but if you are willing to try, and muster up the strength to fight, you can still live well." Here is the thing: Either you're going to acquire the strength, and acquire the team of support to help you—or you're going to fold.
O'Donnell: Do you feel like you were able to connect with that young man?
Burns: I told him, "I know a little bit of what you are feeling. There were a lot of years when I was just waiting to die. My wish for you is that you can sit across the room and speak to someone the same way I'm speaking to you one day, maybe 17 years from now." Before I said that to him, I could see his mind was racing, but [those words] landed, and he lifted his head and looked me straight in the eye, and then a connection began. That moment was a revelation to me as well. Something happened to me that day, that I don't think I'd ever experienced before, and it was the benefit, and the blessing that I came to understand—that by having HIV and living with it for so long, I would be able to help support, encourage, and inspire somebody else.
O'Donnell: Derrick, what's your relationship like with Tony?
Derrick Cox: Meeting Mr. Tony for the first time was awesome. He helped me to use my positivity for something else other than just keeping it to myself. Me and Mr. Tony, he's like that uncle that's always there for you. He calls to talk to me, and I can call to talk to him. He'll check up on me and make sure I'm good, and make sure that the mentees I have on my own team are good, so we are in constant communication with each other. He keeps it real, no matter what. That's one strong virtue that I definitely love.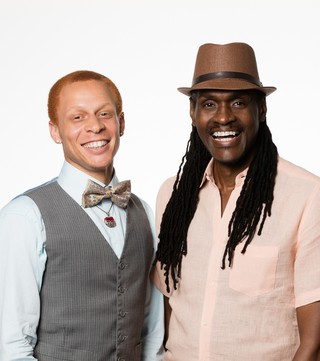 O'Donnell: What's a typical meet-up with Derrick and your mentorship group like?
Burns: We meet up at a restaurant, so that we get out of a clinical setting and into a social one.
Cox: Even though we can all meet up and explain what we are going through, it's so important to have a night to step outside of just focusing on HIV. Yes, people staying on their meds is important, but we have to do something other than just focusing on that. We can still check in and make sure everyone is good, and if they're not, we address it. But let's have fun, let's show there is a life after HIV, a life during HIV.
O'Donnell: Can you tell me about the beginning of your relationship with Derrick?
Burns: I'm very proud of him. I can remember when he first came on board as a mentee that he was having problems with employment and housing. One of the things that I believe in is there has to be a practical approach. Is your housing stable? Do you have a job? What about school? Are you in a safe place? All those kinds of considerations matter because if those things are not in sync, then there will be challenges to you staying adherent to your HIV medication and staying engaged in your care.
O'Donnell: What are your thoughts on how mentorship can be a weapon against stigma impacting people living with HIV? How do you and Derrick talk about managing stigma?
Burns: Even to this day stigma is still very much alive and well, and Derrick and I have talked about that. In Washington, D.C., in the African American community, we have experienced really high levels of HIV. I agreed with some organizations that thought, "Let's show people how to manage HIV, let's give them the support that they need, and for those who wouldn't mind sharing their stories, let's give them a space to do that." And I think that using those strategies are some of the ways that we can combat and confront stigma. One of the things Derrick and I have done together is that we partnered with Whitman-Walker for their media campaign called "I See You." That media blitz is one of the ways where we put our faces out there, and our stories out there.
O'Donnell: Derrick is mentoring other people now. What are the lessons that you want to pass on to Derrick about being an impactful mentor for other people learning how to manage their own HIV?
Burns: What I have said to him many times, is that we are not the be-all and end-all, and we cannot save anybody. Those same folk who will sometimes put you on a pedestal, they can still be quick to tear you down. Yet I tell him it's undoubtedly worth it to be a mentor. He's still in his 20s, so he's still growing and maturing. There is a responsibility that comes with this. It's a balancing act when it comes to visibility and advocacy and just living well.
O'Donnell: How do you reach those who are finding their HIV diagnosis traumatic?
Cox: I would say to them that they are still the same people today. Any time I talk to a newly diagnosed person, I will let them know that, like your doctor said, or your therapist said, it's not a death sentence. It's okay, you can still live. I tell people I see my ART like a men's One A Day, like a vitamin pill. And if you have any type of stress or trauma behind anything, you have people that you can talk to. I'll let them know that they are definitely not alone: Whether you experience a good or bad thing, trust me—you're not the only person that's been through it.
O'Donnell: Tony, what does mentoring mean to you now, a decade after you sat with that young man in a doctor's office and realized you wanted to become a mentor to other people dealing with HIV?
Burns: I will say this to you. Last year, I had the experience of being diagnosed with early-stage cancer, and while I was waiting to find out what stage of cancer I had, I had 72 hours to mull over what I had done with my life. And Friday and Saturday were really rough for me, but then that Sunday came and went, and I began to think about what I had done with my life as it related to HIV.
I think that being a mentor is one of the most rewarding things I've ever done. Mentoring has given me a gift that I never could foresee coming. I've seen folks who were in temporary housing get their own place. I've seen folks who didn't have a job get a job, and go on to go to school. I see their eyes become clearer when they have figured out a way to get through the fog of HIV. It is just the best thing, one of the best things I've ever been a part of, or had a chance to witness. I have been able to fight stigma and confront it in real life, in real time, with my faith, my story.