How Legal Agreements Can Silence Victims of Workplace Sexual Assault
The law forbids sexual harassment and assault on the job. But it can also discourage employees from speaking up.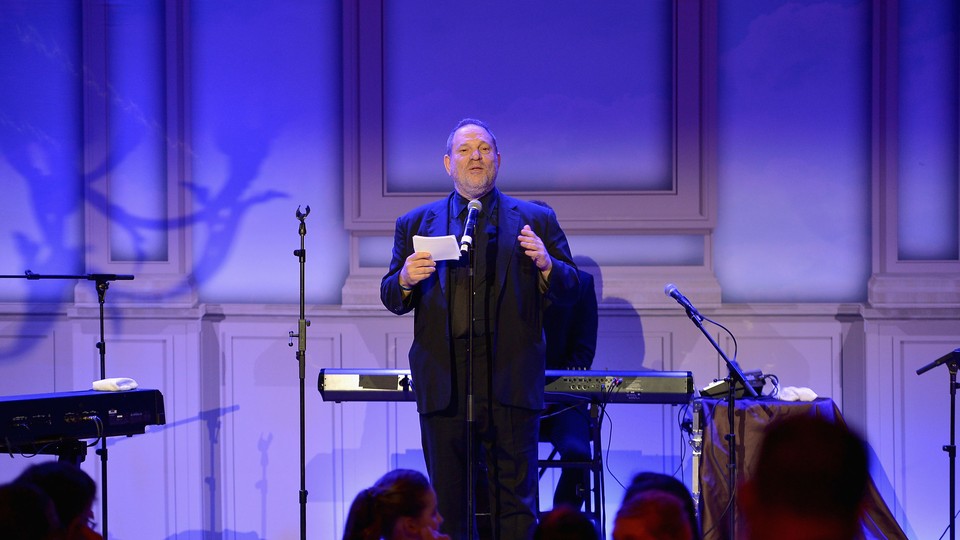 On October 5, The New York Times detailed the Hollywood producer Harvey Weinstein's alleged decades-long campaign of buying sexual harassment victims' silence through nondisclosure agreements and confidential, out-of-court settlements. These secret deals, according to the Times' reporting, buried stories of abuse, extending from Weinstein's alleged harassment of young assistants, temps, employees and executives at the Weinstein Company and Miramax to allegedly assaulting actresses who appeared in films he produced or distributed.
The revelations that led to Weinstein's downfall—he was fired from his namesake company and has resigned from its board—provoke a key question: Did the law help expose the abuse or push it deeper into the shadows?
There is no question that labor and employment law (not to mention criminal law) forbid sexual harassment and assault at work. But the law also plays an important role in protecting workers' right to speak out about harassment.
For example, under the National Labor Relations Act, employers are not allowed to prevent workers from talking about sexual harassment or even gender-inequity complaints at work or when they relate to work. The same is true for non-disparagement provisions in employment contracts: It's an unfair labor practice to have employees agree not to "publicly criticize, ridicule, disparage or defame" a company or its "directors, officers, shareholders, or employees." So while these provisions still persist in boilerplate form in most employment contracts, they can violate federal labor law if put to use.
Moreover, Title VII of the Civil Rights Act, the federal law that protects employees from sexual harassment and sex discrimination at work, invalidates settlement agreements that prohibit settling employees from filing charges with or assisting the Equal Employment Opportunity Commission (EEOC) in its investigation of any sexual-harassment charges. Because the EEOC acts not only on behalf of private parties but also "to vindicate the public interest" in preventing employment discrimination, such settlement terms would impede the enforcement of Title VII. As one court explains: "In many cases of widespread discrimination, victims suffer in silence. In such instances, a sprinkling of settlement agreements that contain stipulations prohibiting cooperation with the EEOC could effectively thwart an agency investigation."
There are still obstacles to securing these rights, of course. When employers censor, threaten, and retaliate against employees that publicize abuse or take collective action to fight harassment, they often do so with impunity. For a range of reasons—including the dramatic decline in union membership in the private sector—this realm of labor and employment law is generally underenforced, meaning the task of enforcement often de facto falls to companies' human-resources departments. But internal compliance structures are notoriously weak: As is alleged to have happened at the Weinstein Company, those who enforce anti-harassment protections can even be complicit with the harassers. Workers whose employers outsource their HR departments—something that's increasingly common—are no doubt less likely to share sensitive allegations that could end their careers.
Confounding the problems of underenforcement is a network of legal rules that act at cross-purposes with laws encouraging transparency. These include rules governing how to interpret confidentiality requirements—specifically, those in non-disclosure agreements (NDAs), out-of-court settlements, and arbitration provisions—that can limit what employees are allowed to say about sexual harassment. (While Weinstein reportedly deployed NDAs and settlements to silence alleged victims or prevent supervising employees from speaking about reported misconduct, other employers—like Fox News, in response to claims made by Gretchen Carlson, and Sterling Jewelers, to name a couple recent high-profile stories—have reportedly invoked arbitration provisions requiring confidential adjudication of harassment claims.)
The first of these approaches is NDAs, which employers regularly include in employment agreements. While NDAs are unenforceable when used to silence workers' discussion of sexual harassment at work and in legal claims, they can and are enforced to silence employees' public speech. Employers originally used NDAs to secure control over employees' knowledge of trade secrets. At the end of the 19th century, courts expanded the scope of what NDAs could cover from only the most highly confidential pieces of information to a "general prohibition on using a wide range of firm-specific information" and to publicly disclosing information about employer misconduct, short of actions that were illegal. State courts now generally enforce these provisions if they're deemed "reasonable," but they can be struck down as unenforceable if an employee's interest outweighs an employer's or they're found to go against public policy, such as when they would prevent enforcement of state criminal law.
But it's not as clear whether confidentiality agreements could be enforced when sexual harassment is at issue. Many courts apply balancing tests to determine whether employees can provide evidence in open court against, for example, sexual harassers when doing so would otherwise violate confidentiality agreements with employers. Without the benefit of legal counsel, and when, as may turn out to be the case with some of the Weinstein allegations, sexual harassment does not rise to the level of criminal sexual assault, workers are right to be uncertain about what NDAs prohibit. That, along with the accompanying risk of getting fired, can discourage employees from speaking up.
Out-of-court settlements represent a second obstacle to transparency. In the vast majority of cases, settlement agreements resolving sexual harassment claims in exchange for monetary payments require that victims not speak publicly about the settlement's terms or any details of the circumstances giving rise to the litigation. If, for example, women who have signed such agreements with Weinstein publicly disclose information covered by those agreements' confidentiality provisions, they face a substantial risk of being sued for breaching them. Such a breach could cost them millions. (Some lawyers and legal experts have started questioning whether drafting such settlement provisions is ethical when they concern conduct such as sexual harassment, because it may constitute "conduct that is prejudicial to the administration of justice." But there's currently no legal sanction on lawyers for doing so.) Further, while the EEOC can strike down confidentiality provisions that restrict employees' compliance with its investigations, there is no enforcement authority that, in the absence of a criminal case, can do so for agreements a firm or executive reaches with non-employees.
Given all this, workers who want to disclose confidential information protected by settlement agreements end up with limited options. However, if an alleged harasser publicly discloses or makes denials about the same information, then under confidentiality agreements that are mutually binding on both parties, the harasser could be sued for breach of contract and prevented from being able to in turn sue victims for the same. Herman Cain, for example, made himself vulnerable to a lawsuit when, during his presidential run in 2011, he derided women who went public with their sexual-harassment claims against him, rejected their allegations as false, and denied settlement amounts reached in litigation they brought. Further, when, as in the Weinstein case, the story is so explosive, suing alleged victims for a breach of confidentiality may be too costly in public-relations terms.
And third, most employment contracts contain arbitration provisions that move lawsuits from a public forum to a private, usually confidential, proceeding. The Supreme Court is currently considering whether such provisions violate federal law when they prevent employees from collectively pursuing claims, but the Court's recent rulings in favor of arbitration suggest that they will likely survive legal challenge even under those circumstances. Still, some arbitration provisions only apply to claims against employers, not claims against individual executives. This means employees can sometimes bypass arbitration provisions and file sexual-harassment suits in court that would be subject to public scrutiny (though these are usually followed by quick resolutions through settlement, as in Carlson's case against Fox's Roger Ailes).
These features of employment contracts are emblematic of a broader erosion of employees' right to control information at work, including information about pay. Compounding this, the rise of the gig economy and the prevalence of outsourcing and subcontracting has not only exempted countless  workers from legal protections but has also ruptured the solidarity and cohesion that makes it easier for workers to share information about workplace abuses. (The allegations of Emily Nestor, a temporary employee at the Weinstein Company, provide a case in point.)
So what can be done to better protect employees? Only systemic fixes could limit serial harassers' currently broad impunity. Ensuring that workers are aware of their right to share information is a first step. But government agencies like the EEOC would need more resources to investigate and sue employers responsible for both sexual harassment and retaliations against employees for speaking out. In addition, it'd be important to expand legal protections for people hired as gig workers or subcontractors. Finally, state courts and legislatures could narrow the application of NDA provisions and make defenses for their breach more readily available in sexual-harassment cases. They could also render unenforceable boilerplate language, lurking in so many contracts today, that automatically relegates resolution of sexual harassment claims to private arbiters.