Americans Are Sending Too Much Stuff to Houston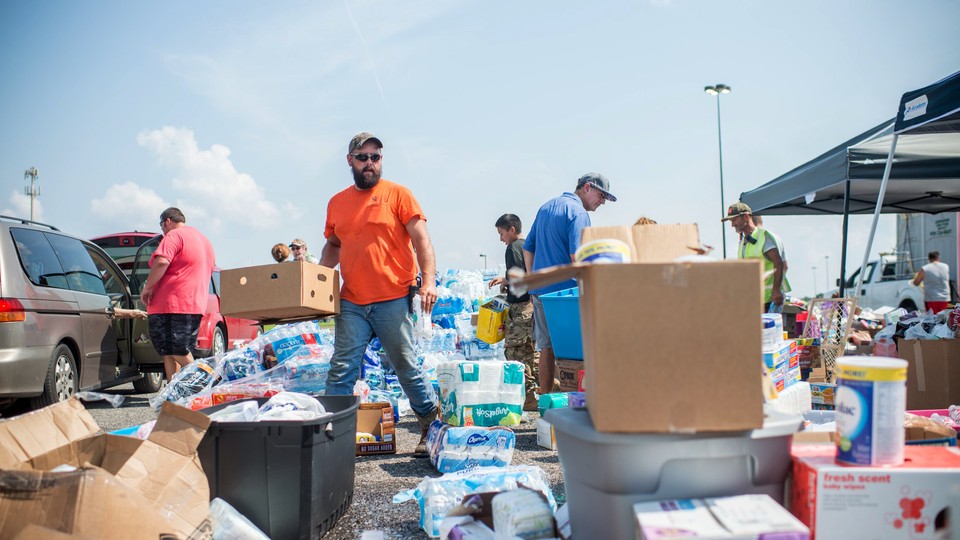 ROSE CITY, Texas—Six weeks after Hurricane Harvey hit, on a humid evening in early October, mold was growing up the sides of houses. Workers had stripped the town hall down to its studs, tossing out the soaked paper, ruined electronics, wet drywall, and warped boards. Outside, bottles and bottles of water were stacked near gallons of soap and lotion. Inside, Mayor Bonnie Stephenson surveyed the empty shell of the municipal building, leaning on a post where the court verdicts used to be given out. A few feet away, an elderly town resident, Carroll Lee, sat down on a camp chair to talk to a nonprofit worker who had arrived in town in Harvey's wake. Her predicament was plain: "I evacuated to my son's house and now we have nothing."
Perhaps no place was hit harder by Harvey than Rose City, a tiny community tucked between the sprawl of Houston and the Louisiana border, where Lee has lived for about four decades. The town's families are mostly older and mostly low-income. When the Category Four storm stalled on the Gulf Coast, it dumped roughly four feet of rain onto the area. Levees straining and the ground soaking, authorities released water from a nearby dam, flooding the town. Houses were submerged up to their eaves; trailers and sheds floated like rubber ducks; cows and goats were washed miles away; people, unaware of the dam release and the imminent danger to their lives, were evacuated by their neighbors in air boats. Stephenson estimates that 268 of the town's 270 structures, including all its houses, were damaged or destroyed. Lee, along with all her neighbors, found herself homeless.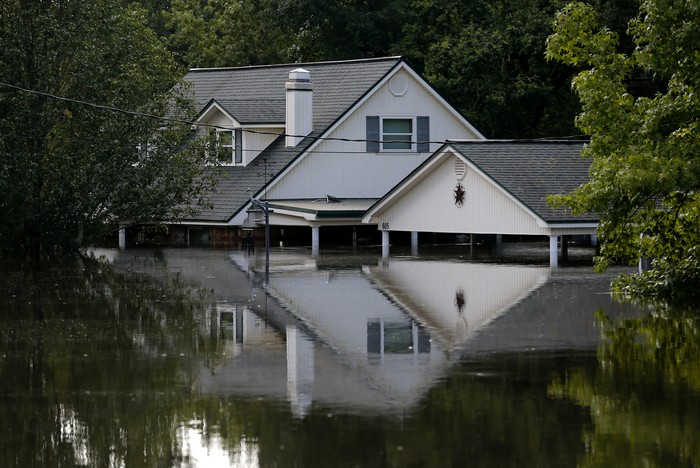 "How long were you at your son's house?" Steph Palla, the aid worker, asked.
"Y'all are asking me about time, and I'm crazy, I don't know," Lee said, pausing for a second. "I am still there. How many days is that?" (It came out to 45.)
"Are you thinking about coming back? What is your next move?"
Lee started sobbing as she said she would never be in the financial position to rebuild.  "I am 71 years old. I have nothing," she concluded.
In the wake of the storm, NGOs and government officials have descended on Texas' Golden Triangle region, helping to strip down and muck out houses and businesses, rehome families, and distribute hot meals. Donated goods arrived from around the United States, too: pallets of water from churches, bags and bags and bags from office clothing drives, groceries and cleaning supplies from businesses—all a testament to American generosity and an acknowledgement of the extraordinary need Harvey created. Palla, who works for an organization called GiveDirectly, had brought something unusual—Visa prepaid debit cards, each loaded up with $1,500. The group planned to give one to every single family in the devastated town, as well as to all the families in up to 15 additional communities on the Texas coast.
In doing so, GiveDirectly and its donors wanted to address that extraordinary need. They also wanted to do so more efficiently and effectively than other charities, churches, and aid groups. To be sure, the residents of Rose City needed water, clothing, groceries, and cleaning supplies—as do the residents of Puerto Rico, the Virgin Islands, Santa Rosa, and elsewhere. But handing out cash would help them get exactly what they needed, and without lots of hassle or cost, GiveDirectly argued. "You talk to each individual, and their needs are individual," Michael Faye, the nonprofit's cofounder, told me. "It's not a place where debit cards aren't working and the stores are still closed. It's a place where things are destroyed and people need money to rebuild their lives."
The group is one of many pushing cash, not stuff, as the best way to help communities afflicted by natural disasters—or just plain poverty. In the Houston area, the Red Cross is providing $400 cash grants, along with its other goods and services. In Puerto Rico, local NGOs are asking mainland Americans to remit money, not just to ship over stuff. The United States Agency for International Development now recommends that Americans stop giving goods and start giving money to disaster areas, whether here in the United States or abroad. "How can you make the greatest impact in the lives of others this hurricane season?" its advisory for post-hurricane giving says. "The answer is surprisingly simple: Give cash to relief organizations that work directly with people affected by disasters."
The idea is that money is more flexible and low-overhead than goods are, easier for organizations to handle, and more valuable to afflicted individuals. Money lets aid groups and families buy what they need, when they need it, with as little hassle as possible. It also lets them address the needs that they see as most urgent. To that end, Palla asked Lee what she was planning to spend her money on. "Two weeks after the hurricane, I trashed my transmission," Lee said. "That's more than likely where it will go."
"That seems to make a lot of sense," Palla said. She handed the Visa card over to Lee. They hugged, then Lee hugged her mayor, then she took off for her son's home as more rain clouds rolled in.
+++
The argument for sending money, rather than stuff, might seem counterintuitive, particularly after a disaster. In Texas, families lost their homes and everything in them. In the immediate aftermath of the storm, many urgently needed clean water, warm clothing, sanitary items, medicine, meals, and household goods. But the case for helping with money, rather than stuff, seemed obvious on the ground in Texas in the weeks after the immediate disaster had eased.
In the nearby town of Orange, Denise Cox, who runs a boys' home for foster children, stood outside of a cobwebbed warehouse, looking at an eighteen-wheeler. "This is the truck that I kept telling y'all is coming, that we have to unload," Cox said to two friends. "They just parked it here."
"A mystery truck filled with mystery items!" said Joy Jacob, one of the friends, nodding with approval.
"It's a blessing!" said Misty Bornholdt-Winder, Cox's friend from church and a cosmetologist, pointing a manicured finger to the sky. "Our cup does overflow!"
In the wake of the storm, the three women had started an organization—really little more than an enthusiastic effort and a Facebook group—called Three Business Women of Southeast Texas to accept and distribute donated items and marshal volunteers for Orange County, home to Rose City, Orange, and a number of other tiny and hard-hit towns. Weeks out from the hurricane, the informal group was one of the predominant aid organizations on the ground, coordinating with churches, residents, and local officials; giving out hundreds of thousands of dollars worth of goods; and accepting donations from far-flung relief groups.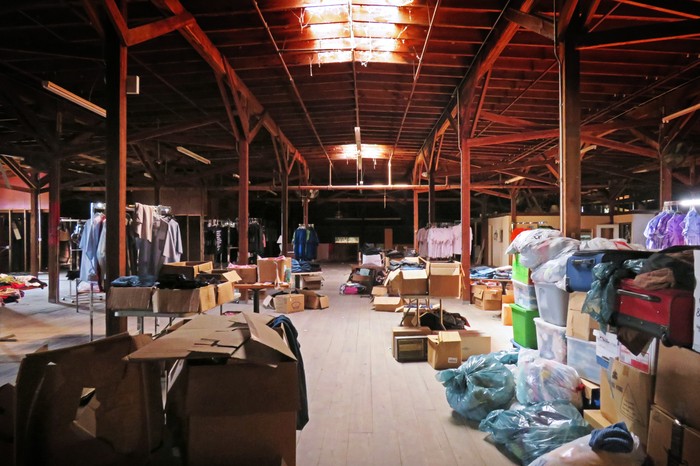 Inside the warehouse were hundreds of bottles of water, rack upon rack of clothes, piles of building materials, and other donated items. "We have $300,000 worth of Tommy Hilfiger blue jeans right there," Cox told me. "[Hilfiger's] brother has a clothing line along with him and we had a group come in from New York, and they had some connections through him, so they gave, I guess, out of their warehouse," Jacob explained.
The Three Business Women relief effort had done a tremendous amount of good, local residents I spoke with said: putting diapers on babies, food in mouths, fans in houses, and clothes on backs. Still, the effort demonstrated some of the essential problems with giving stuff, rather than money.
First, unlike money, stuff takes significant time and resources to deal with. The Three Business Women had spent countless hours opening up trucks, picking through goods, organizing the items, and handing them out. "Thank goodness for Joy's warehouse," Cox said. "Or else, where would we have put all of this?" The same is true in most post-disaster situations. "Unsolicited donations can hinder relief efforts by diverting relief workers' attention, clogging up already-limited work space and requiring equipment and time to manage," the USAID advisory on post-disaster giving concludes.
Second, there  is the deadweight loss of moving donated items to disaster areas, rather than letting people in disaster areas buy items themselves—boosting the local economy and piggybacking on the logistics already bought and paid for by the Walmarts and Home Depots and Targets of the world. The eighteen-wheeler outside the warehouse had come from Illinois. Someone had sent an old, sweat-stained sofa all the way from Wyoming. Church groups had spent thousands and thousands of dollars paying to move goods down to Orange County, the Three Business Women guessed.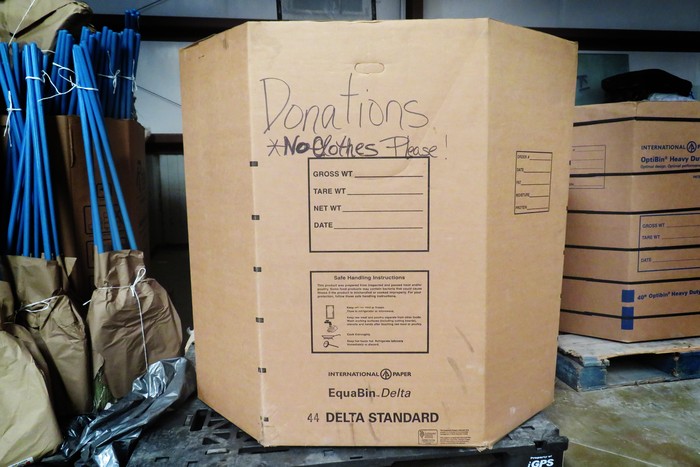 Third, donated goods tend not to provide what communities need, when they need them. Rose City had been overwhelmed by secondhand clothing, for instance. There were piles of molding garments in church parking lots, and rack upon rack of them in warehouses and army surplus tents around the town. Local residents were grateful for other Americans' generosity, but generally said that they did not want the used items, nor did they want to bother picking through them to find clean things that fit. "I'll buy my own damn pants," Richard Conner, a machinist whose home was severely water damaged, told me.
Bottles of water had also kept pouring in, despite the fact that the local towns had restored the public supply and clean water was flowing through taps. "It gets pretty depressing taking bottles of water and pouring them out into buckets to wash the church down with," Tony Wilcoxson, the pastor at Rose City Baptist, told me, sitting near a huge pile of donated bottles.
At the same time, local residents were not receiving donations of things they really wanted—mostly building supplies, including vinyl siding, cement, sheetrock, and cabinetry. "What we're focusing now on is getting in building materials and getting people to rebuild," said Bornholdt-Winder, gesturing to a few pallets of building materials in the warehouse. "That might look like a lot of sheetrock, but that's nothing. Three of those columns will do one house."
Nor do donations tend to address individual families' most urgent needs—unlike cash. Lee needed a new transmission, for instance. An older woman named Serena Picard choked up talking about how she just wanted some kitchen supplies so that she could make a cake and feel like herself again. "I've been cooking at work," she said. "Some days I just want to bake something, something sweet. I can't stand to think of what we lost." She added that one of her stepsons had been sending her and her husband money to help rebuild. But he lives north of San Francisco, in an area hit hard by wildfires. "My husband talked to him yesterday because it was his birthday, and he was looking at the wildfires from his back door. He's like, 'Well, we may be askin' y'all for our money back.'"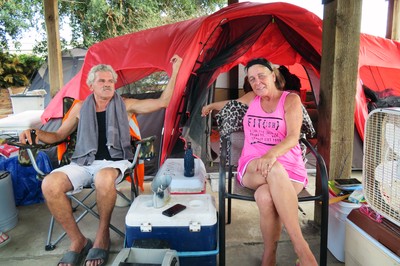 I also visited a couple named Kathi Norton and Daniel Williams at the Boomtown USA trailer park in Rose City. The couple had lost their trailer in the flood, and were living in a tent near where it had once stood. A friend of a friend had "bought us this tent we're staying in back here," Norton told me. "Another friend done and came by and said, 'No, not you and the dogs in that tent! It's too small!' and he went and bought us our condominium tent here. That's what I call it, our condo! We're moving on up." Still, the couple most urgently needed cash for medicine for Williams' chronic obstructive pulmonary disease and money for transportation, she told me.
Cash also has an immediacy that donated goods do not have. In the nearby city of Port Arthur, the local government had set up a tent city for residents who found themselves homeless. It was offering shelter, showers, food, and laundry machines, as well as access to caseworkers. Steve Hanneman works for Baptist Child & Family Services, the Texas nonprofit managing the tent city. "I got someone out there trying to buy a burner phone right now," he told me. "We have folks who have apartments but no means of buying food. We have some who have food but no apartment. We got HEB cards," he said, referring to a local grocery store. "But HEB isn't everywhere in Texas or Louisiana. What are you going to do with a HEB card if you can't find a HEB?" (A few Orange County residents mentioned that many more people were applying for food stamps in the wake of the storm, and they was an active food-stamp-for-cash market.)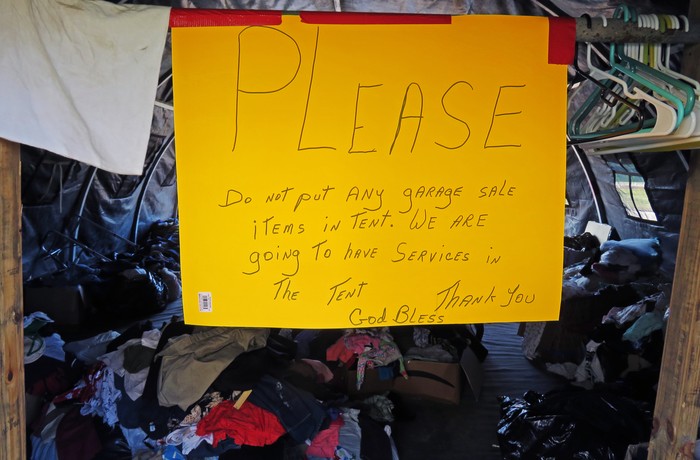 Non-cash donations also tend not to aid families who need services, rather than goods. Joan Sensat and her husband live in a low-slung home largely destroyed by the flood, and had stripped it of all of its goods, appliances, and drywall when I visited. They had gotten a $400 gift card from the Red Cross that they had used at the local Walmart, but had not picked up many donated goods. "We're okay, doesn't seem right," she said, matter-of-factly. What they needed were funds to help them start to rebuild. "It's scary, and it's very costly. We don't live an extravagant life," she said. "We're going to try to do as much as we can ourselves. I'm going to spray for mold and then get some sheetrock up. But we don't have the time to do everything."
Organizations, not just families, also prefer cash donations for many of the same reasons: Cash donations keep them from turning into logistics warehouses and provide them with ample flexibility in determining a given disaster's needs. "We certainly don't want anyone else's problem," said Bornholdt-Winder told me, gesturing to the mystery eighteen-wheeler from Illinois with its unknown contents deposited outside. "In a disaster area, donations can be a disaster within a disaster."
+++
GiveDirectly normally operates in Kenya, Rwanda, and Uganda, giving cash grants out to people in villages living on pennies a day. In the wake of the storm, a number of current or potential donors had reached out in the hopes of aiding communities in Texas too. The choice to start up an American giving program was not easy, its workers said, given that GiveDirectly focuses intently on the world's bottom billion. "We believe that a dollar goes further with those who have fewer dollars," Faye told me. "Those in East Africa have meaningfully fewer dollars than pretty much everyone in the United States." But the organization also argues that cash is low-overhead, fungible, valuable, and scalable—and given donor interest in Texas, it decided to scale to the Golden Triangle. Palla relocated from Kenya to Houston, and the organization hopes to reach about 3,000 families in the coming weeks, giving out about 90 cents on every dollar raised.
A Houston-based billionaire named John Arnold was one of the donors interested in granting cash in Houston, and provided $5 million to GiveDirectly for the effort. "Immediately after the storm, everybody wanted to help," he told me. "There were long lines to drop off donated items, and long lines to volunteer. We gathered up our extra clothes, the stuff the kids had outgrown, and went and gave that and committed $5 million to the mayor's fund," he told me. "But we didn't fully comprehend what the need was. The denominator of need is so great. The question is: With a denominator that big, what's the role of charity? How can a dollar be either strategic or be complementary to the efforts that are being run by the NGOs or government?" Just giving cash to poor families seemed like the best way to meet needs the Federal Emergency Management Agency, insurers, and big NGOs might not address, he told me.
That same argument applies around the United States, and the world. Granted, just because providing cash can be more efficient and scalable does not necessarily mean that doing so always is. The Red Cross' cash-transfer program in Houston, for instance, has faced harsh criticism for failing to reach many poor families, with local officials complaining that its approval process is slow and opaque, undercutting many of cash's inherent advantages. Nor does cash help in disaster situations where there are immediate and dire needs. Still, increasingly, aid groups that provide help to the global poor, to refugees, and to the survivors of disasters are also asking for and distributing cash, pointing to an ample of growing body of evidence on its efficacy.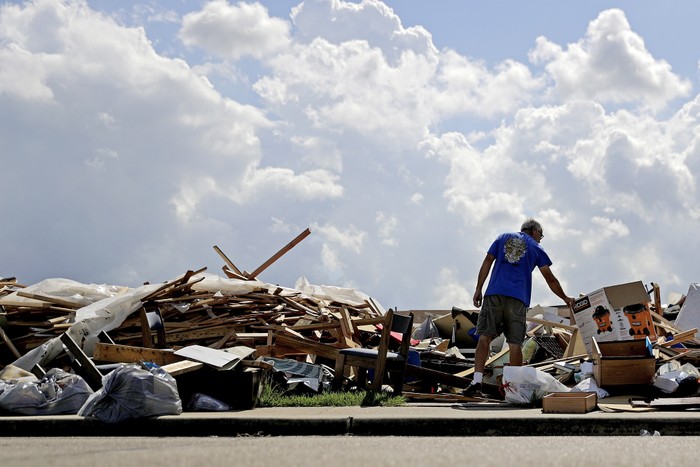 In Rose City, though, the question of how charities were giving seemed to pale in comparison to the question of whether there were enough resources to go around, full stop. Williams, who was living with Norton in the trailer park, had lost his job. His tent was pitched close to a highway, making it too loud to sleep, he told me. After a big meal provided by the Red Cross, he fell asleep on the job. "They walked me right out the gate," he said. "I don't even know if I can go to work right now until I get me a trailer." A few days later, he would receive his $1,500. But he had been denied help by FEMA, and said he imagined that he and Norton would be homeless for the foreseeable future.
Dozens of other town residents were facing the daunting costs of rebuilding or rehoming themselves, without much help. "It's not good," Esther Bernal, a school worker, told me, describing the damage in her mobile home. "I got seven feet of water in my house. The ceiling is already getting mold. It's moldy and black, and it is still wet inside, damp inside. I still owe money on it, about $23,000." She was unsure how her family would make ends meet and fix their lives up, too.
Better charity would help, but not enough. Disaster relief funds from the department of Housing and Urban Development are likely to take months or years to arrive, and hundreds of thousands of Texans remain displaced or homeless. One thing that could make a significant difference would be a broader national effort to address the disruption and poverty caused by climate-related disasters. To that end, the Obama administration had started work on a program to aid the so-called domestic "climate refugees" in its final year. But with hurricanes ravaging homes and wildfires raging, no additional work has been done.