It May Not Matter What the Weinstein Company Knew
Board members could face legal consequences for exposing investors to significant financial risk, whether negligently or knowingly.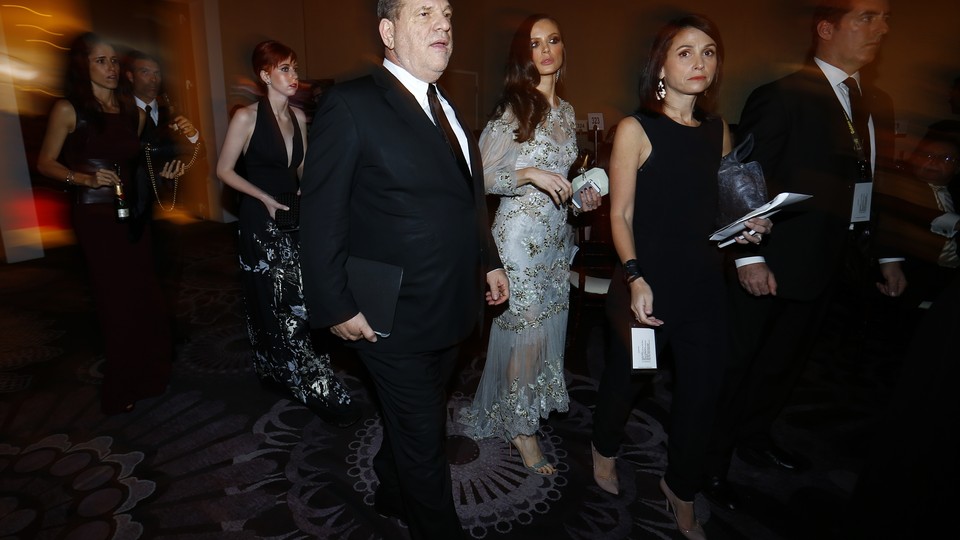 Members of the board of the Weinstein Company are resigning as sexual assault and harassment allegations against the firm's co-founder, Harvey Weinstein, proliferate. Stepping down may help them preserve their reputations, but these former directors—as well as the current ones—might not be able to escape legal consequences for their apparent failure to address Weinstein's allegedly widespread pattern of sexual misconduct, which may ultimately lead to the company's demise.
Specifically, the company's board members could be found liable for a breach of their fiduciary duty to investors—that is, for exposing the company to unreasonable financial risk, whether negligently or knowingly. Lawsuits alleging breaches of fiduciary duty can be brought by investors, and while Harvey Weinstein and his brother Bob own 42 percent of the firm, there are still several outside investors who may seek millions of dollars in damages from former and current members of the company's board—including from Harvey Weinstein himself.
Aside from the potential financial fallout, a lawsuit against the Weinstein Company's board could raise larger questions about the legal duties (to say nothing of the moral ones) of corporate directors in cases of sexual misconduct by top management. While courts have said that a corporate board generally has no duty to monitor a corporate officer's personal affairs, the Weinstein episode illustrates the possibility that a pattern of sexual assault and harassment by a top executive may reach the point that it threatens the company and triggers liability for the directors. (The Weinstein Company did not respond to a request for comment.)
Not all of the facts relevant to a potential fiduciary-duty claim are public, but here's what's known so far: At least two dozen women have accused Weinstein of sexual harassment, and four more have reported rape or sexual assault. (To be clear, a fiduciary-duty claim by investors would be separate from any legal recourse, criminal or civil, that these women might seek against Weinstein.) The alleged incidents extend as far back as 1984, and at least eight came after Weinstein and his brother Bob broke away from Miramax Films in 2005 and founded the Weinstein Company. Several of the cases resulted in legal settlements in which Weinstein's accusers agreed to confidentiality clauses that barred them from speaking about their experiences.
The Weinstein Company's board has said that the allegations of sexual assault and harassment came as "an utter surprise" to its directors. "Any suggestion that the Board had knowledge of this conduct is false," the board said in a statement late Tuesday. That statement was attributed to the board's four remaining directors: Bob Weinstein, Lance Maerov, Richard Koenigsberg, and Tarak Ben Ammar. Four other directors have stepped down already: the film executive Tim Sarnoff, the publishing heir Dirk Ziff, and the hedge-fund managers Paul Tudor Jones and Marc Lasry.
Just hours after the board professed ignorance, however, The New York Times reported that according to Weinstein's onetime lawyer, the directors were informed of at least three confidential settlements with women. One of the remaining board members, Maerov, told the Times that he knew about multiple settlements but had thought they were being used to conceal consensual affairs. The Times also reported that an outside attorney reviewed Weinstein's personnel file in 2015, and that the board renewed Weinstein's contract after the attorney assured the directors that there were no pending claims against him.
Neither Weinstein nor the company has disclosed the terms of his contract, but the website TMZ reported on Thursday that the contract explicitly addressed the possibility of future misconduct claims against the producer. According to TMZ, Weinstein promised to reimburse the company for any settlements or judgments arising out of his misconduct and to make an additional payment to the company for each instance. The contract also added that the company would not fire Weinstein for misconduct as long as he made the requisite payments, according to the TMZ report.
These revelations—if true—suggest that former and current members of the Weinstein Company's board could find themselves in legal jeopardy—either for failing to respond to warning signs of Weinstein's misconduct or for consciously allowing his behavior to continue. The Weinstein Company Holdings LLC is a privately held Delaware limited-liability company, and although Delaware law is director-friendly in many ways, investors still enjoy certain rights and protections. While the identities of the company's outside investors are not publicly known, they have in the past included the asset-management firms Fidelity and Wellington, the investment bank Goldman Sachs, and the Dallas-based billionaire Mark Cuban. Assuming these investors have retained their stakes, they are potential plaintiffs in a breach-of-fiduciary-duty lawsuit.
Perhaps the most obvious target of such a suit is Harvey Weinstein himself, since he ran the company along with his brother. The suit would be governed by Delaware law, under which the fiduciary duties of "care" and "loyalty" generally apply to managers of an LLC just as they do to directors and officers of a corporation. The claim against Weinstein would seem to be straightforward: Directors and officers of a corporation or LLC breach their duty of loyalty if they "act in bad faith for a purpose other than advancing the best interests" of the company. Presumably it counts as "bad faith" if a co-chairman were to use his position of power at the company to harass and sexually assault potential and actual employees while at the same time endangering the firm's reputation.
And even if Weinstein had been paying any settlement or judgment out of his own pocket, he still could be found to have put the firm's finances at risk. Indeed, one of the company's largest creditors, AI International Holdings, reportedly demanded immediate repayment of a $45 million loan it made to the Weinstein Company last year, and other contracting parties, including Apple and Amazon, are seeking to distance themselves from the company. Variety reported on Thursday that the firm is teetering on the brink of a bankruptcy filing or fire sale.
One complication, though, is that breach-of-fiduciary-duty claims against a company's officers generally must be brought by the company itself rather than by its shareholders. And it's not known yet whether the remaining board members—one of whom is Harvey's own brother—will choose to sue the ousted co-chairman. If the board won't act, the only recourse for outside investors would be to file what's called a "derivative" action, meaning a lawsuit brought by shareholders on the company's behalf. And to proceed with a derivative action, the investors would need to demonstrate that the remaining directors could not have exercised their "independent and disinterested business judgment" in deciding whether the company should file its own suit. That's usually quite difficult to prove.
But outside investors have another possible path to pursue: They could bring a derivative suit, styled as what's called a Caremark claim, against the entire Weinstein Company board. That name comes from a 1996 case involving allegations of Medicare and Medicaid fraud at Caremark, now a subsidiary of CVS Health. The argument would be that the directors breached their fiduciary duty through their failure to monitor Harvey Weinstein, that this breach of duty renders them liable to outside investors, and that the directors' own potential liability prevents them from exercising "independent and disinterested judgment" in deciding whether to sue the company's ousted co-chairman.
Prevailing on a Caremark claim is usually not easy. Indeed, Delaware courts have described it as "possibly the most difficult theory in corporation law upon which a plaintiff might hope to win a judgment." Under the Delaware Chancery Court's decision in Caremark, "only a sustained or systematic failure of the board to exercise oversight—such as an utter failure to attempt to assure a reasonable information and reporting system exists—will establish the lack of good faith that is a necessary condition to liability."
While that's a high standard, what happened at the Weinstein Company might be one of the few Caremark claims that meets it. Delaware courts have said that Caremark liability may arise when "red flags … are either waved in one's face or displayed so that they are visible to the careful observer." Here, red flags flew all around. Harvey Weinstein's unwanted sexual advances had become such an "open secret" in the entertainment industry that the television show 30 Rock joked about Weinstein's misconduct in a 2012 episode and the comedian Seth MacFarlane alluded to Weinstein's behavior at the Oscars the following year. A female executive circulated a memo in 2015 that, according to The New York Times, informed directors that Weinstein had created a "toxic environment for women" at the company. And if the directors did indeed approve a 2015 contract that expressly contemplated the possibility of further claims against Weinstein—all without dipping into his personnel file themselves—then it is difficult to see how they could defend themselves against a Caremark claim.
Conceivably, the board members could argue in their defense that they knew about Weinstein's misconduct but decided that keeping him as co-chairman was still in the company's best interest. Delaware courts generally defer to a board's informed "business judgment," absent a showing of "gross negligence" or "bad faith." But such a defense would contradict the board's public statement that its members knew nothing about the claims against the former co-chairman. And while there is no precedent precisely on this point, it's likely that judges in Delaware would find it to be gross negligence at the least—and potentially bad faith—for directors to consciously allow a serial sexual predator to remain in a position of power over female employees. Moreover, such a defense could expose the company to liability for "negligent supervision," which applies when an employer "is negligent or reckless … in the employment of improper persons or instrumentalities in work involving the risk of harm to others."
To be sure, the financial consequences of any lawsuits may not be devastating for the Weinstein Company's directors. It's standard practice for Delaware companies to indemnify directors against negligence liability, and directors and officers usually have their own insurance that protects from exposure for other types of claims. Moreover, several of the directors who might be defendants in a lawsuit are billionaires, including Jones, Lasry, and Ziff. For them, the financial impact of a settlement or judgment may be minimal, though the reputational consequences could be severe.
Ultimately, though, the most important result of a lawsuit against the Weinstein Company's board may be the message it sends to other corporate leaders. While not every allegation of sexual misconduct against a top executive will trigger liability for directors under Delaware law, the most egregious oversight failures may. The case against the Weinstein Company's board could serve to underscore the fact that if corporate directors ignore allegations of sexual harassment and assault at their companies, they do so at their own peril.