From Girl Scout to Girl Scouts' CEO
Anna Maria Chávez, the former leader of an organization she loved as a child, on the mentors who shaped her career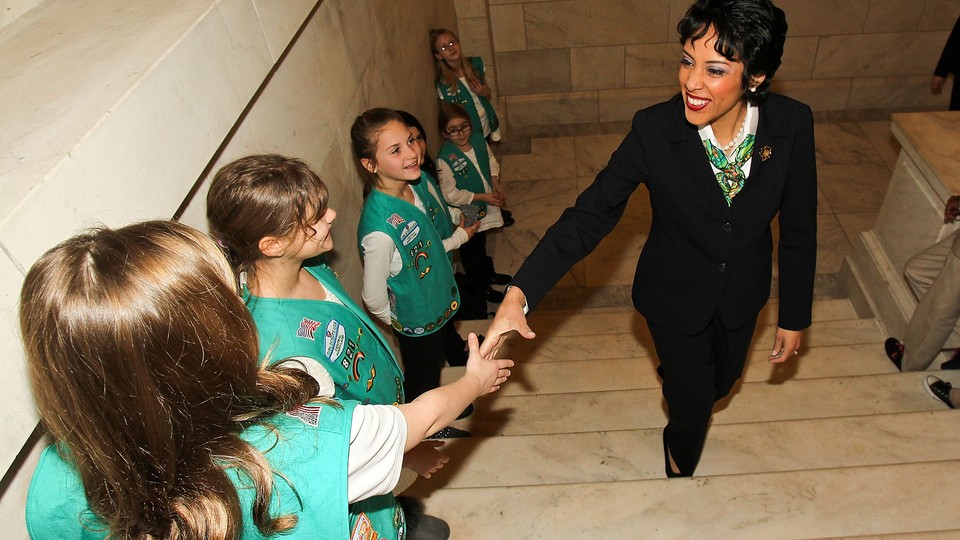 Anna Maria Chávez joined her local Girl Scout troop in Arizona when she was 10 years old. In her 40s, she would return to the Girl Scouts to begin her tenure as the first woman of color to lead the 105-year-old nonprofit. That was after she graduated from Yale and the University of Arizona's law school, and after she worked as a lawyer in the Clinton White House and as the director of intergovernmental affairs for Arizona, under Janet Napolitano, then the state's governor.
It was in 2011 that Chávez started as the CEO of Girl Scouts. There, she led a push to start selling Girl Scout cookies online and oversaw the organization's partnership with Sheryl Sandberg on a campaign against the use of the word bossy, an often gendered term that can put down girls who demonstrate ambition.
Chávez's relationship with the organization that she had loved since she was a child wasn't always easygoing. She was at times criticized for her management style and the group's declining membership. Last year, Chávez stepped down from her position, moving from an organization focused on youth to one focused on the elderly. She is now the chief strategy officer at the National Council on Aging, a nonprofit.
Chávez maintains that even good leaders can get negative feedback and credits her mentors in politics for preparing her for a stint as the head of an organization. I spoke to Chávez for The Atlantic's series on mentorship, "On the Shoulders of Giants." The following interview has been edited for length and clarity.
---
Elisha Brown: Before we get to main topic of our conversation, I wanted to ask you about Wednesday's news regarding the Boy Scouts. Do you think it's a step forward that now girls have the chance to join either Girl Scouts or Boy Scouts?
Anna Maria Chávez: I believe it's important that all children have access to organizations where they have mentors to encourage them as they learn and grow as leaders.
Brown: Toward the end of your tenure at Girl Scouts, you faced criticism for your leadership decisions and management style. How did you handle this negative feedback?
Chávez: If you're not getting feedback, either negative or positive, then you're not leading. When I started, membership was in decline … I was [recently] talking with Dawn Prasifka, the CEO of Girl Scouts Diamonds of Arkansas, Oklahoma and Texas, and she mentioned that membership and cookie sales are up now. The tough decisions that our team made five years ago had a positive impact on the organization as a whole.
Brown: Who do you look to for guidance?
Chávez: My bosses and my teachers. Jerry Malone, an attorney from Arkansas, was one of my first bosses. He gave me assignments that stretched me, but [he also] told me to slow down a bit. The best mentors teach what to do and what not to do. When you're just starting in your career, you don't have a barometer for how you pace yourself.
Brown: What did you learn from Janet Napolitano when she was the governor of Arizona and you served under her as the state's director of intergovernmental affairs?
Chávez: She is one of the bosses who has had the biggest impact on me. She mentored me on issues that I didn't have experience in. She trusted me to ask the right questions, to come to her, and to ensure that my political instincts were on target. She allowed me to advise her on housing issues and Latino affairs. Because of that experience, I was able to move on and be a CEO.
Brown: You were a first-generation college student at Yale. Did you find it difficult to adapt to that environment?
Chávez: I learned very quickly that it was good to find others who were going through similar experiences. Latino students from different parts of the country came together. I became president of the Latino Student Association, and then coordinated conferences and mentorship events across the Ivies for other Latino students. Many of us had never been away from home; I'd never seen snow before. I felt isolated, but I had comfort knowing that I had my peers with me.
Brown: What lessons about leadership have you learned from your family?
Chávez: My nana Vicenta use to share dichos with me, to give me context and advice, especially when I was having a hard time. Normally, others had experienced similar situations and had learned great lessons from these tough situations. She wanted to teach me that we are often tested in life and my job was to learn lessons, to apply these lessons in the future, and to understand that God is preparing us for future opportunities both in good times and bad.
[My grandmother] was very honest with me about the path I was about to go on as a female Latina leader—it was going to be unpaved, and there wouldn't be a rule book.
Brown: What would you say to young people who don't have advocates in their professional or personal lives?
Chávez: I met a lot of those children on my path. A lot of people don't realize we have Girl Scouts in [immigration] detention centers. All girls want is someone to listen to them and be in their lives—and not sporadically. There are individuals in your community that display leadership, like a teacher or senior in your high school. They don't have to be the CEO of a major corporation to help you.
Brown: You talk about "moral leadership" in your speeches. What does that mean to you?
Chávez: I always look at how leaders bring their ethics to the table. How do they lead in crisis and controversy? Leadership requires taking actions that are uncomfortable or unpopular.