In Less Than a Year, the Federal Reserve Could Look Dramatically Different
With the opportunity to fill more than half of the board's seats, President Trump could substantially alter the course of monetary policy.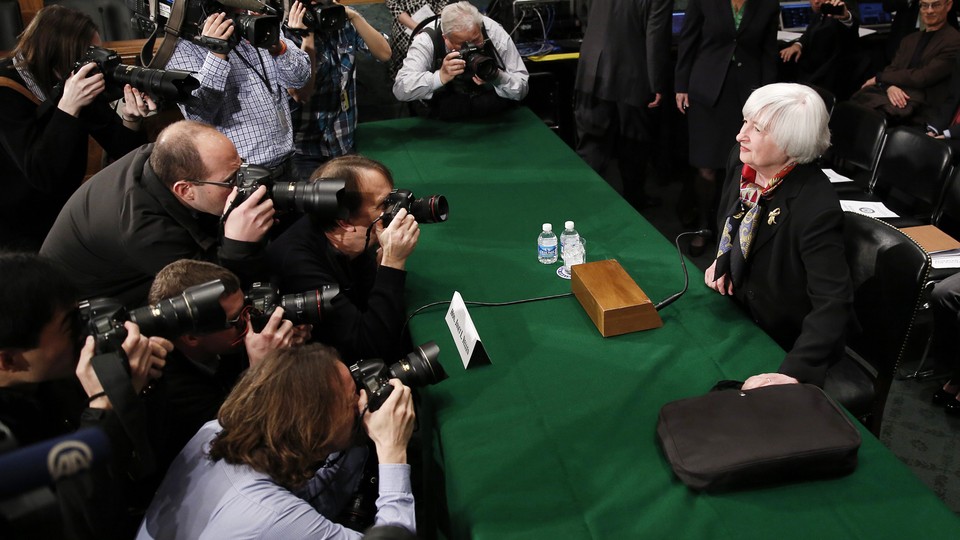 There are seven seats on the Federal Reserve's Board of Governors—the group of people who make the most consequential decisions about American monetary policy—and President Donald Trump will have the opportunity to fill an unusually large number of them. One seat opened soon after he took office, when the former comptroller of the currency, Thomas Curry, stepped down. Then Governor Daniel Tarullo resigned in February. Between one more announced resignation since then and another standard term expiration, at least two more spots will have opened up by February of next year. If and when Trump's nominees assume their new roles, they could drastically change the Fed's monetary policy and oversight of banks.
The most notable vacancy will come when current Fed Chair Janet Yellen's term expires in February 2018. It wouldn't be unheard of for a president to reappoint a Fed chief installed by his predecessor, and Trump, who criticized Yellen during the campaign, has softened his tone after taking office, saying that he respects Yellen and would consider keeping her on. That remains a possibility, as a recently released schedule of Yellen's shows that she met with Trump's daughter Ivanka over the summer. Still, it would not be a surprise if Trump, as he has already done in several other realms, unwinds a decision made by Obama and appoints someone else to the position.
If Yellen gets replaced, who might take her spot? For some time, many guessed Gary Cohn, the president's senior economic advisor and a Goldman Sachs alum. But after Cohn criticized Trump's response to the white-supremacist rally in Charlottesville in August, the speculation has been that Cohn's prospects have diminished. Other possibilities that have been floated by analysts and economists include Kevin Warsh, a Wall Street veteran who worked for the Fed under George W. Bush; Jonathan Taylor, a professor at Stanford; Marvin Goodfriend, an economist; and Glenn Hubbard, a professor at Columbia University. Each of these people have been critical of some aspect of the Fed under the Obama administration and during Yellen's tenure. Their gripes have included the use of prolonged expansionary policy (which aims to increase money supply and spur economic growth), the increasing regulation of financial sector, and the reliance on the Fed for economic support in the post-recession years.
The end of Yellen's term has been known for a while, but recently another key Fed position opened up rather unexpectedly. Earlier this month, a year before his term ends, Fed Vice Chair Stanley Fischer announced that he'll be resigning in the next month. (He cited personal reasons, but didn't elaborate on them.) Around the same time, the nominations of Trump's first two picks for the board finally made their way through the Senate banking committee, and are now expected to be fully confirmed in the Senate. Those include Randal Quarles as vice chair of supervision, to oversee the U.S. banking system, and Joseph Otting as comptroller of the currency, who watches over the day-to-day operations of some of the nation's largest banks. Fischer will likely depart before those nominations go through, which will leave the board with only three of its seven seats filled, the lowest number in Fed history.
Trump's picks—both the ones he's made and the ones he will make—say a lot about the direction his administration wants to push the Fed in. Those in the running might differ in some of their views, but they all likely will have the same end goals, says Michael Strain, an economist at the American Enterprise Institute, a conservative think tank. Those goals likely include a shift in monetary policy, from infrequent and small interest-rate hikes (in the hopes of triggering lower unemployment and more growth) to more aggressive rate hikes (in the hopes of hitting target inflation and benefiting some investors and lenders). There would also like be a focus on slackening regulation and oversight of the financial sector. Josh Bivens, an economist at the left-leaning Economic Policy Institute, says Americans should be particularly concerned that a remade Fed might do less monitoring of Wall Street. "They're going to be really hostile to financial-sector regulation," Bivens says. "I think that's absolutely going to be a key characteristic of people who are appointed." Another worry Bivens has is that in the event of another recession, a firmly conservative Fed board may be less willing to employ the quantitative-easing strategies that the Fed did under Yellen.
To that end, Trump's selection of Otting and Quarles are telling. They fit the established mold—upheld by this administration and previous ones—of elevating banking executives to bank-oversight positions. Quarles worked at the Treasury Department during the George W. Bush administration and has run a private investment firm. Otting is coming from OneWest, the bank formerly led by Trump-appointed Treasury Secretary Steve Mnuchin. Otting and Quarles appear to espouse ideologies that fit neatly within Trump's stated goal of deregulating the financial sector and rolling back 2010's Dodd-Frank legislation, the post-subprime regulatory framework implemented by Obama.
But there's another potential outcome with the Fed's vacancies: The administration might fail to quickly nominate replacements and the Senate might refuse to confirm them, leaving positions open for prolonged periods. "The Fed is already understaffed," says Strain. "That's causing problems for the Fed's ability to manage itself and to execute as well as possible." Strain cautions that leaving seats empty for too long could create problems—from making decisions on monetary policy to the running of day-to-day operations—at every level of the Fed.