Toys Aren't Us
Millennials may have loved the big-box chain as kids, but as parents, they'd rather shop online.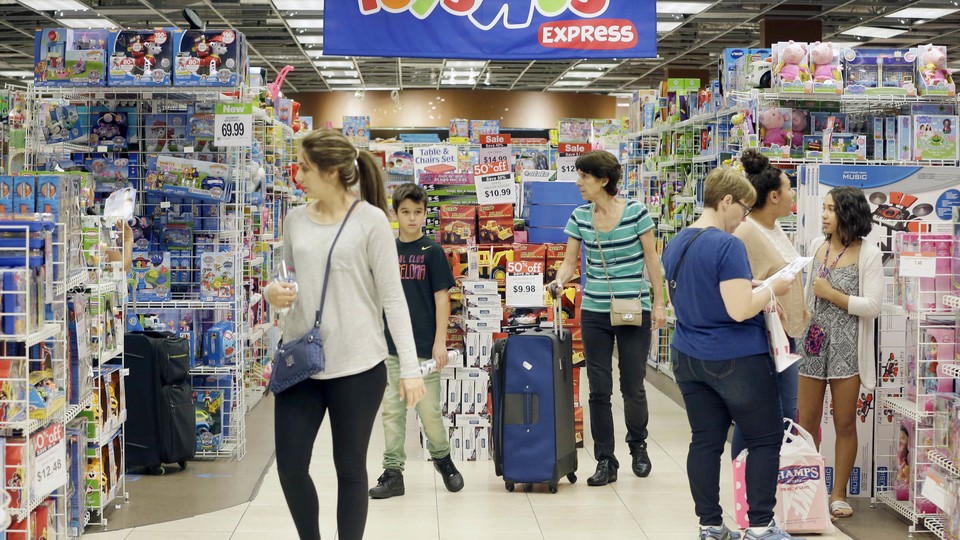 In a year of constant bad news across the retail sector, Toys "R" Us has become a little engine that couldn't, filing for bankruptcy in a federal court in Virginia Monday night. As part of its bankruptcy plan, the company will continue to operate most of its stores through the holiday season, when the company has traditionally pulled in the most revenue.
The bankruptcy marks a new phase for a chain that has struggled to find its way online, a vulnerability for a company whose primary customers are parents. While the convenience of online shopping is a boon to most consumers, for parents it may be even more of a draw. According to the Bureau of Labor Statistics, the vast majority of households do not have a stay-at-home parent. After a full day of work, there's dinner to be served, baths to be drawn, and bedtime rituals to be undertaken at length. Squeezing in a trip to the store is often impossible.
(Exhaustion aside, parents may dread merely entering a Toys "R" Us with a child in tow, as it is a guaranteed way to forfeit the next 20 minutes of one's life to saying no to an ever-escalating series of requests. The best way to avoid this, all parents know, is to avoid this. Another option is to tell your children that the store is not a store at all but a museum, as my parents did to me. The problem with this is that children will not believe you.)
Companies like Toys "R" Us are left with two options: Build a great online shopping experience or remake the stores to offer something beyond just plain, old shopping.
On the first count, Toys "R" Us has been in a financial situation that constrained its options. Back in 2005 the chain was bought out by Vornado Realty Trust and two private-equity firms, Bain Capital and Kohlberg Kravis Roberts, which saddled the company with an enormous debt. That debt left Toys "R" Us unable to invest substantially in online retail. In a June 15 conference call, the company's CEO noted the kludginess of its baby-gift registry tool and the absence of a subscription option for items like diapers and formula. Ultimately this meant that it ceded millions of customers and billions of their dollars to competitors like Amazon; according to The Wall Street Journal, Amazon brought in $4 billion in toy sales last year, up 24 percent over 2015. Making matters worse for Toys "R" Us, it's difficult to compete on price against an enormous, deep-pocketed company like Amazon that can afford to sell its products at very low prices and ship them for free.
As for remaking its stores, Toys "R" Us is going to try: According to a report in The Wall Street Journal, the company will convert "its remaining locations … to be more experienced-based, incorporating amenities such as in-store play areas," a gambit to be not just a place where parents can get things for their kids but one where they can entertain them. This move places the store in line with many other retailers in this moment, claiming they are not, in the end, shopping destinations but places to have "experiences"—something Millennials are believed to prefer. As my colleague Joe Pinsker reported last week, retailers from Apple to Starbucks to Nordstrom are pivoting to providing spa services, classes, restaurants and cafes, and so on.
Catering to Millennial parents is not an impossible task, says Jeff Fromm, a partner at the ad agency Barkley and the co-author of Millennials With Kids, a book on how to market to Millennial parents. For example, Trader Joe's has made itself wildly popular with this demographic by offering unique goods and a personal, charming consumer experience while still being relatively price competitive. If Toys "R" Us could have reinvented itself with more one-of-a-kind products and a high degree of customer care, Fromm says, it might have found a way to survive. Millennials, he argues, will "pay a small premium for exceptionally easy-to-use brands, exceptionally strong brands—brands where they feel like, 'They get me.'"
That, of course, is tough to do when working under a giant debt burden and investors who want to see a quicker return. Most Millennial parents just aren't going to pass on the convenience and prices offered online, even for a brand whose aisles seemed like heaven when they were growing up.