Soledad O'Brien on the Power of Showing Up
The former broadcaster compares mentorship to a good gym habit—it's not just about working out today, but every day for years.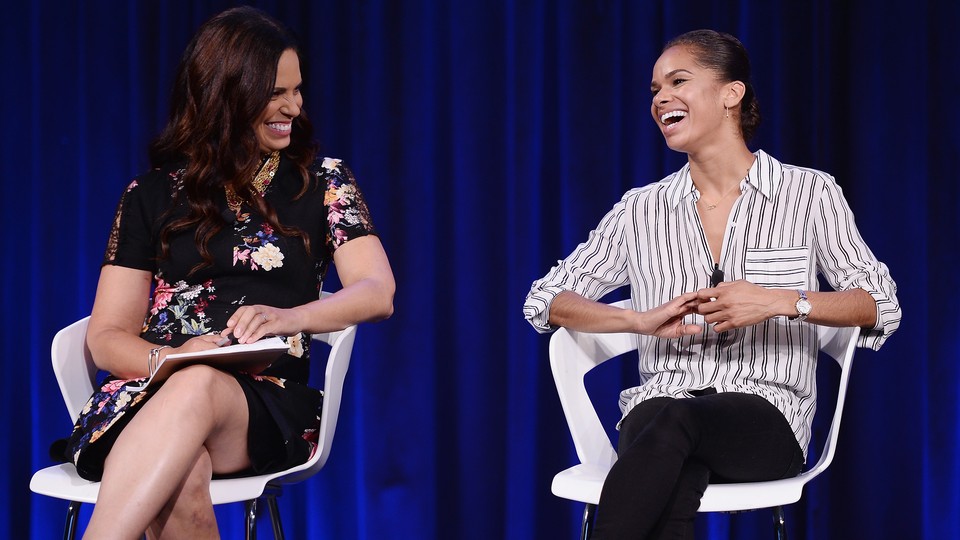 Soledad O'Brien worked for years to become one of America's most recognizable broadcasters, at NBC and CNN. And then she made an abrupt career change.
In 2011, she created a production company, Starfish Media Group, that makes documentaries and TV shows. Having worked as a journalist, O'Brien knew plenty about media and storytelling, but she says that it was critical that she sought out guidance as she embarked on the new challenge of running a business.
For The Atlantic's series, "On the Shoulders of Giants," I talked to O'Brien about the kind of guidance she sought out for her new endeavor, as well as her work with the PowHERful Foundation, an organization she founded that mentors and financially supports young women seeking to earn a college degree. The conversation that follows has been edited for brevity and clarity.
---
B.R.J. O'Donnell: When you launched your own media-production company, did you look to others to help you in that transition?
Soledad O'Brien: It probably took me about a year before I realized that I could ask smarter questions about the help I needed. I was blown away by how willing people were to share their experiences. Everybody had a philosophy and a strategy that they had come to—and they were just so willing to share it. People would break it down and say, "Listen, this is what you should think about." I was amazed at how willing everyone I asked was to show me how they structured their business by sketching it out on the back of a napkin. And now, when someone comes to me and says, "I'm an entrepreneur and trying to start something," I sit them down and ask, "How can I be helpful to you?"
O'Donnell: What was the most counterintuitive advice that you got when you were in the middle of that process?
O'Brien: As a journalist, you're very comfortable thinking on the level of a single story. But instead of just thinking as a journalist, people would ask me to think about the overall structure of what I was doing. If you are building a media-production company, it can't be that you are just running out on assignments—it's not an assignment desk. So you have to think at the 35,000-foot level: What are you trying to build?
O'Donnell: How have your perceptions of mentorship changed over time?
O'Brien: I think good mentorship is about consistency. It's like going to the gym. It's not about asking, "Did you work out for 45 minutes today?" It's about asking, "Over time, did you just consistently go, and go, and go some more?" For me, that's how mentoring is. You develop a relationship with someone, and eventually you look up and you say, "Wow, we've known each other for five years." That's how you get a great mentor.
O'Donnell: Why did you decide that PowHERful would include a mentorship component in addition to financial aid?
O'Brien: When people are struggling, it can be death by a thousand paper cuts. It's not that they don't want to go to class—it's that they can't afford the $125 to fix their car to get them there, and so then they start missing class. It's this spiral of things that go wrong. And it's often because they just don't have the padding to make it through. I remember when I was first starting out, if I had to pay a babysitter extra to stay later, I could, because I had a good job. But if you don't, you're stuck. For a lot of our young women at PowHERful, they were stuck. I realized that, first, we needed to help people financially, but second, we also needed to give them mentors that would help them grow and succeed.
O'Donnell: You recently put out a documentary with Ice-T about the killings of the rappers Tupac Shakur and the Notorious B.I.G. Was that project shaped by any advice you've gotten from mentors in the past?
O'Brien: This project was very different for me. I had mentors who told me, "Don't worry about what everyone else is doing—what are you interested in doing?" They told me, "Do the projects that you are interested in and then do them well." When I started a production company, it wasn't just about doing news, but figuring out what stuff you want to accomplish before you die. Making "Who Shot Biggie and Tupac?" is one of those projects for me.