The Next Challenge for Puerto Rico's Recovery
The island will likely get the short-term help it needs. But that will do little to help its ongoing fiscal crisis.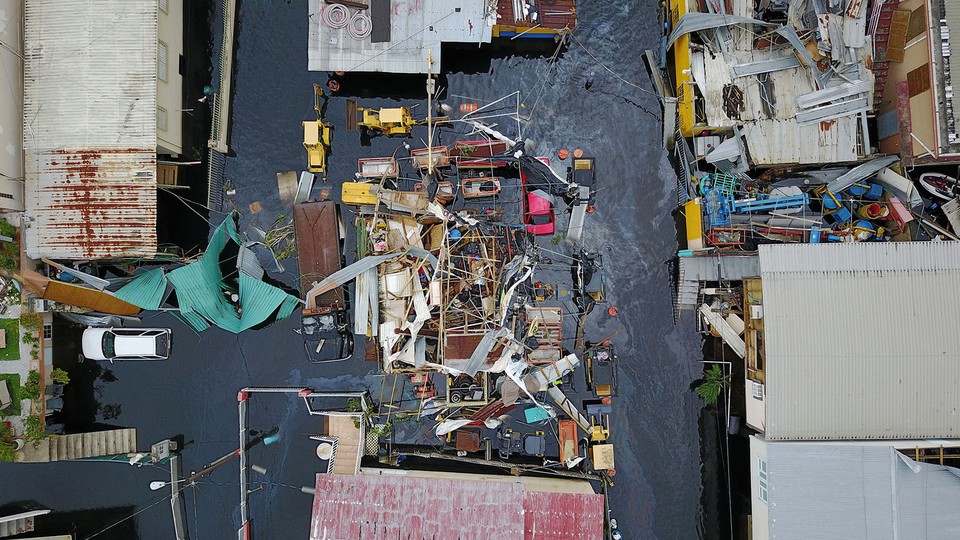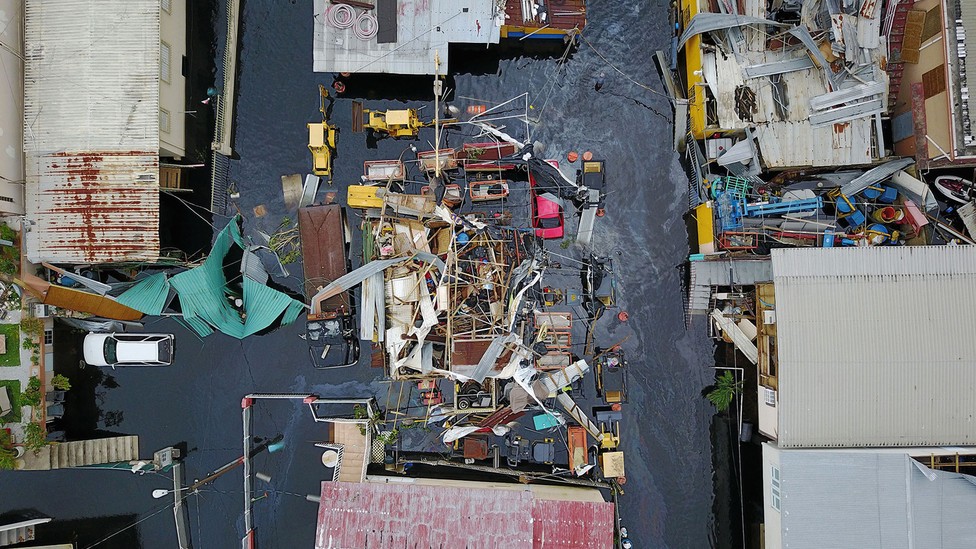 The depth of the crisis in Puerto Rico following Hurricane Maria is apparent from the island's obliterated roads, downed power lines, tainted water, and nonexistent cell service. Grief and dismay over the widespread destruction has led to calls for aid and assistance for the ravaged island, but long after the shock fades, the staggering task of rebuilding the island will remain.
That's a challenge made markedly more difficult by the poverty of the island's people and its government—it's not clear where the necessary money will come from. The crisis makes clear the uncomfortable tension inherent in the island's status as a commonwealth; Puerto Rican officials have no congressional power when it comes to making decisions about their own survival during such a dangerous time, and the U.S. government has repeatedly declined to do anything that would change that. So, once the U.S. citizens who populate the island are given relief for their most immediate problems—as they very likely will be—the biggest worry is that the territory will be left to flounder, given enough money to restore basic necessities but not enough to set the island on course in the long run.
Managing the immediate humanitarian crisis is the first large recovery expense. In the aftermath of the storm, all of the island's 3.4 million residents were left without power, communication on the island was severely hampered after the storm destroyed cell towers, and many were left without clean drinking water. Addressing those critical problems is made more difficult and more expensive by geography, says Steven Kyle, a professor at Cornell who studies economic development. One example, Kyle says, is that many of the workers who will help to repair and rebuild the electrical grid can't just drive down to the disaster site with their equipment, the way they might be able to in Texas. Instead, they will need to be flown in, with some equipment shipped—which will bring up the cost of even the most basic repairs. "All those things could be dealt with if [the government] wanted to," Kyle adds. "But I don't think Puerto Rico's at the top of their list in Washington."
The economic lift of managing Puerto Rico's recovery is hard to overstate. For context, the cost of making repairs in the wake of Hurricane Harvey, which inflicted most of its damage on Texas and Louisiana, is estimated to be somewhere between $70 billion and $180 billion. IHS, a research and analytics firm, estimates the cost of rebuilding from Maria to be between $40 billion and $80 billion in Puerto Rico. But that's a very early estimate, and damage to the island continues to unfold. And while Harvey's damage might amount to more in dollars, the devastation of Hurricane Maria was concentrated in Puerto Rico, which had already sustained at least $1 billion worth of damage during Hurricane Irma. That means that Maria likely inflicted far more damage per capita.
Puerto Rico Governor Ricardo Rosello has said that he's asking the Treasury Department and the federal government for loans to help in the cleanup and rebuilding efforts. He emphasized that he expects "equal treatment" and "reasonable rates" when it comes to those loans. And whether or not those terms are met will be a critical factor in the island's future.
The federal government has taken measures to meet some of Puerto Rico's most immediate financial necessities. The president has declared the island a "major disaster" area, which makes it eligible for much-needed FEMA funds. On Thursday, after appeals by politicians, the government moved to suspend the Jones Act—a requirement that goods shipped between U.S. ports are carried by U.S.-flagged and -staffed ships—which critics said was making relief slower and more costly (but proponents said helps keep American sailors safe). And then there's the possibility of a disaster-relief bill, such as the one that followed Hurricane Harvey, though it's not clear yet about how large that relief package might be.
Still, the Trump administration continues to draw criticism for its response to Hurricane Maria, which many have said has been slow and inadequate. The president has yet to visit Puerto Rico, though he recently planned a trip for next Tuesday. And his tweets about the success of relief efforts stand in contrast to photos and reports of devastation and desperation on the island, where many have been without power, water, and necessities for upwards of a week. More than that, many of the efforts made by the administration have come only after activists, politicians, and concerned families have spent days imploring the federal government to provide more help.
In the longer term, there are numerous difficulties when it comes to rebuilding an island that was already struggling economically before the storm. How the federal government and the creditors Puerto Rico was already indebted to choose to deal with that rebuilding effort will determine whether the island will have a good chance of improving its economy going forward.
Even before Hurricane Maria destroyed much of the island's critical infrastructure, Puerto Rico was facing $70 billion of municipal debt that it was unable to repay. And despite Congress's passage of the Puerto Rico Oversight, Management, and Economic Stability Act (PROMESA) in July of last year, the island's economic future remained fragile and uncertain. As recently as this summer, the territory's electric utility, Puerto Rico Electric Power Authority (PREPA), filed for bankruptcy to escape billions of dollars of debt it said it couldn't repay. Now, months later, PREPA, the island's only marginally functional utility, has essentially been destroyed, and is still deeply in debt.
While PROMESA helped to stave off Puerto Rico's most immediate fiscal crises, it installed a board of mostly outsiders who get to determine the best course of action for the island. And the act does little in the way of making plans to fundamentally fix the commonwealth's broken economy or to prevent the current economic crisis from repeating itself in the future.
Indeed, some of the most promising long-term solutions for how to fix critical infrastructure in Puerto Rico require a significant initial investment. Anamitra Pal, an engineering professor at Arizona State University who specializes in power and energy systems says that, though devastating, a destroyed power grid is an opportunity to rebuild a system that's more dependable. Pal says that in rebuilding, Puerto Rico should look at the microgrid system used by Hawaii, which uses renewable sources and stores excess energy to be deployed when needed. Plus, such a system is cheaper in the long run. "Eventually, the return of investment is fairly quick—we're talking about a period of the next 10 to 20 years," Pal says. But that means that an initial investment would be required in order to install solar panels or establish wind farms. And without political or private-sector will, it's unlikely that the island could pay for it.
Investments like that are something Puerto Rico's government can't produce on its own, the federal government isn't offering, and private creditors would want a return on. This leaves an opening for the island's existing creditors—collectively owed some $70 billion—to try to cut deals of their own. The opportunity they see is to loan them cash now—adding to Puerto Rico's debt—in the hopes that doing so will improve their chances of seeing their original investments, from well before the storm, get repaid.
On Thursday, for instance, Puerto Rico's Fiscal Agency and Financial Advisory Authority received an offer from the creditors of PREPA for a $1 billion loan and a discount on a very small portion of the utility's existing debt—from $8.1 billion to $7.95 billion. While PREPA unquestionably needs cash now, this type of small-scale relief, coupled with the addition of more debt, will not increase the likelihood that the utility unwinds its debts any sooner—something the fiscal authority was well aware of. In a statement about the rejection of the deal, the board said, "Such offers only distract from the government's stated focus and create the unfortunate appearance that such offers are being made for the purpose of favorably impacting the trading price of existing debt." The statement goes on to request that creditors "refrain from making unsolicited financing offers at the expense of the people of Puerto Rico."
After the hurricane, it's vital that people currently suffering get the help they need. Once they do, the biggest worry becomes that Puerto Rico is given support for its short-term needs, and nothing more—that the relief provided by creditors and the federal government will ultimately maintain the economic status quo that left millions of residents impoverished and fleeing to the mainland in the first place. Undoing that will require a much more ambitious plan for investment and infrastructure than currently exists—and the political will to pursue it.