New Census Data Shows More Americans Emerging From Poverty
But it also lays bare the geographic and economic divisions growing in America.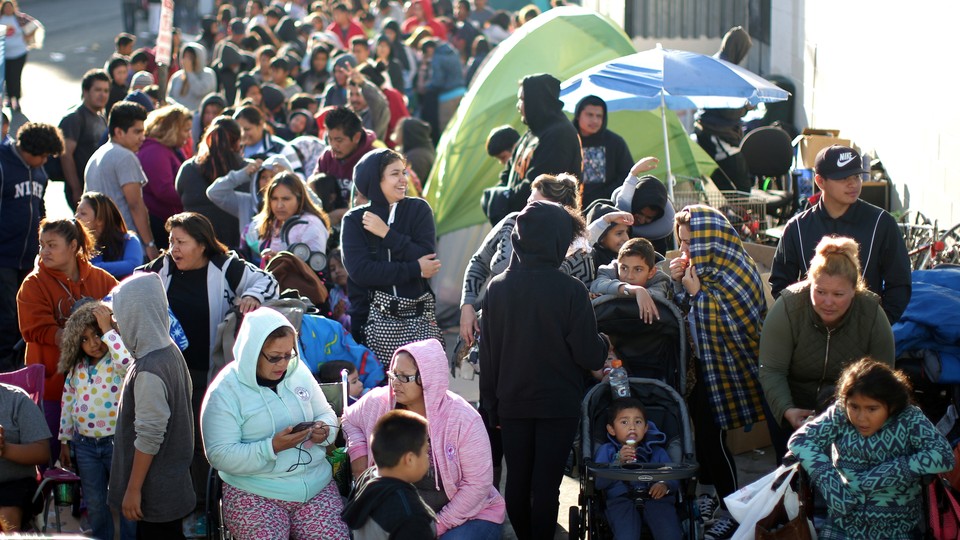 Eight years after the end of the Great Recession, more of America's poorest families are beginning to emerge from poverty, suggesting that the effects of a booming job market and an expanded safety net may finally be helping the country's most vulnerable residents. Census data released today show that the number of people living in poverty has finally returned to pre-recession levels, with poverty declining for all ethnic groups.
This doesn't mean poverty is anywhere near disappearing in America: There were still 40.6 million people in poverty last year, and the poverty rate was 12.7 percent, down from 13.5 percent in 2015. And in some cases, people are still doing worse than before the recession; the average income of people in the lowest 20 percent of households remains down from what it was a decade ago.
But, despite this, the Census data points to improvements in the poverty rate for the people who had been struggling the most: African Americans, single mothers, and those without a high school diploma. "It looks like the labor market growth is finally reaching down to some of our most vulnerable populations," said Scott Allard, a professor at the University of Washington and the author of the book Places in Need: The Changing Geography of Poverty.
The decline wasn't just the result of an improving economy. Safety-net programs including Social Security, refundable tax credits, food stamps, and housing subsidies also helped to reduce the number of people in poverty, the Census data show. Social Security, for example, reduced the number of people in poverty by 8.15 percent last year; refundable tax credits like the EITC reduced the number of people in poverty by 2.55 percent.
This indicates that the situation of people in poverty remains precarious as Republicans in Washington and in states across the country consider restricting eligibility for these very safety-net programs. Earlier this year, Republicans proposed adding work requirements for Medicaid, a program that has been shown to decrease poverty by reducing out-of-pocket medical expenses. Many states now require that recipients of food stamps, housing, and cash assistance work or volunteer to receive such benefits. Republicans have also proposed putting every American applying for the earned-income tax credit through a mini audit before they could get their refund. "I worry that the good economic news will take away from that message that the things that we know matter for poverty are on the chopping block in D.C. right now," Allard told me. "We are seeing lots of positive developments, but that doesn't mean we should be cutting our safety net."
Education continues to be an essential factor in determining whether or not Americans are living in poverty. Nearly a quarter of people without a high-school diploma were still in poverty last year, and the poverty rate for people with a high-school diploma and no college was 13.3 percent. Just 4.5 percent of people with at least a bachelor's degree were in poverty last year.
As millions pass from below the poverty line to above it, it does not mean they find themselves in stable, prosperous economic positions. DeAndre Hawkins, 29, is a Chicago resident with just a high-school diploma who has long struggled to pay his $350 a month in rent; sometimes, he told me, he goes without food so he can have enough money for rent and bus fare. After getting laid off from a job as a hotel clerk in 2011, he strung together part-time jobs doing food deliveries and working for fast-food restaurants. It was only last year, with the help of a Chicago nonprofit, Metropolitan Family Services, that he was able to find a more stable job with a landscaping company. It's not what he wants to do in the long run, but it's an improvement from scraping together enough money to eat. "It's pretty hard to find a real job where you can support your family and start a savings account," he told me.
The declining poverty rate is closely related to Americans' ability to earn a good wage in today's economy, and the Census data showed that Americans' earnings are, after more than a decade of stagnation, increasing: Median household income grew 3.2 percent between 2015 and 2016, to $59,039, the second year in a row that the figure has increased.
A few other notable points from the report:
Regionally, economic growth was uneven.
The median household income in the Midwest grew just 0.9 percent from last year, which is not a statistically significant amount. In the South, by contrast, the median income grew 3.9 percent; in the West, it grew 3.3 percent. "The Midwest is the place where we should have the greatest worry in part because we didn't see any significant growth," said Mary Coleman, the senior vice president of Economic Mobility Pathways, a national nonprofit that tries to move people out of poverty. Median household income was also stagnant in rural areas, growing 13 percent, to $45,830. In contrast, it jumped significantly inside cities, by 5.4 percent, to $54,834, showing that cities are continuing to pull away from the rest of the country in terms of economic success.
Women made some progress compared to men.
Women made 80.5 percent of what men did last year, but women are slowly catching up to men. The female-to-male earnings ratio was 1.1 percentage points higher than it was in 2015, the first time the ratio has experienced an annual increase in a decade. In 1990, by contrast, women made only 70 percent of what men did. The median earnings of all women last year was $41,554, compared to $51,640 for men.
African Americans and Hispanics experienced significant gains in income, but still trail far behind whites and Asians.
All ethnic groups saw incomes rise between 2015 and 2016, the second such annual increase in a row. The median income of black families jumped 5.7 percent between 2015 and 2016, to $39,490. Hispanic residents also saw a growth incomes, by 4.3 percent, to $47,675. Asians had the highest median household income in 2016, at $81,431. Whites saw a less significant increase than African Americans and Hispanics, of 1.6 percent, but their earning are still far higher, at $61,858.
The poverty rate for black residents also decreased last year, falling to 22 percent, from 24.1 percent the previous year. The poverty rate of Hispanics decreased to 19.4 percent, from 21.4 percent in 2015. In comparison, 8.8 of whites, or 17.3 million people, were in poverty in 2016, which was not a statistically significant change from the previous year, and 10.1 percent of Asians, or 1.9 million people were in poverty, which was also similar to 2015.
Health insurance coverage is continuing to expand.
More and more Americans have health coverage as Medicaid becomes available to more people. About 91.2 percent of Americans had health insurance last year, up from 86.7 percent in 2013, the year before many of the significant changes from Obamacare went into effect. The increases in coverage were the most significant in states that accepted the federal expansion of Medicaid under Obamacare, the Census data show, where the uninsured rate dropped to 6.5 percent last year, compared to 11.7 percent in states that did not expand Medicaid. Around 62 million people are now covered by Medicaid, up from 55 million in 2013.
Income inequality isn't disappearing anytime soon.
Despite the improvements in poverty and income across ethnic groups, the American economy is still characterized by significant income inequality; while the poor are finally finding more stable footing following the recession, the rich have been doing well for quite some time now. The average household income of the the top 20 percent of Americans grew $13,749 from a decade ago, while the average household income of the bottom 20 percent of Americans fell $571 over the same time period. The top 20 percent of earners made 51.5 percent of all income in the U.S. last year, while the bottom 20 percent made just 3.5 percent. Around 13 percent of households made more than $150,000 last year; a decade ago, by comparison, 8.5 percent did. While that's something to cheer, without a solid middle class, it's not indicative of an economy that is healthy and stable more broadly.