Steven Mnuchin's Defense of Trump's Tax Plan
The Treasury secretary makes more-muted promises than his boss, but agrees that the White House's latest proposal will yield "enormous" progress.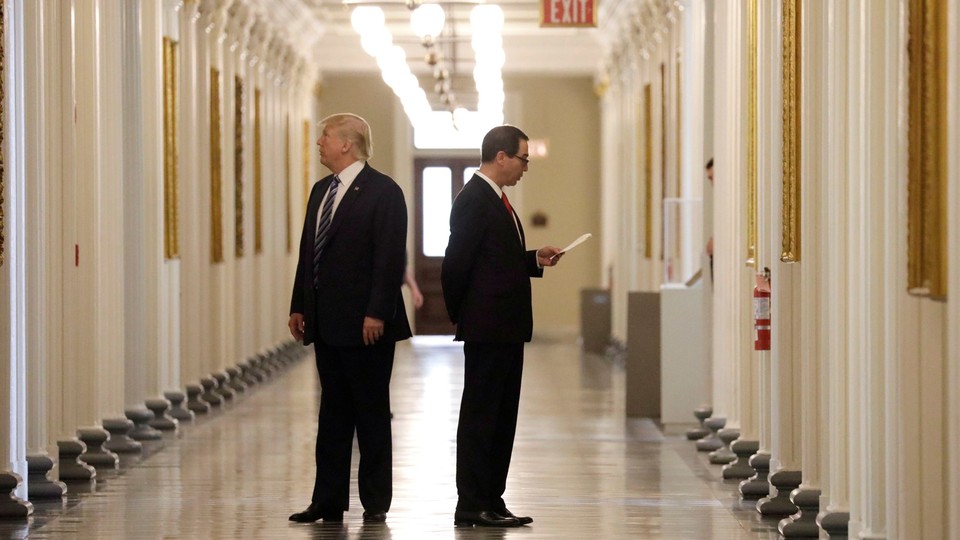 It's been difficult to figure out what economic policy under Donald Trump's administration will look like, because for the most part the White House's proposals have been light on details. Despite that vagueness, when Donald Trump discussed the latest version of his proposed tax reform, he said that the policy would provide "tremendous" economic growth—at the upper end of his projections, U.S. GDP could expand by as much as 5 or even 6 percent.
Trump's Treasury secretary, Steven Mnuchin, stands by the proposal, but doesn't exactly endorse it in those terms. Speaking on Thursday at the Washington Ideas Forum, an annual conference presented by The Atlantic, Mnuchin called 6-percent growth "optimistic." Instead, he said he expected growth closer to the lower end of projections, at between 2.9 percent and 3.2 percent annually over 10 years, later emphasizing that he was "very comfortable that we can get to higher than 3 percent." Most economists think predictions that fall in the range Mnuchin originally cited are reasonable, but even 4 percent growth is considered quite high.
It's not clear that Trump's proposed tax cuts will help everyday Americans. Lower taxes for many individuals and businesses may spark some growth, but they won't necessarily produce a higher median wage and more jobs. And, at the same time, a tax cut means a significant drop in government revenue. Those are the tradeoffs that come with pursuing this particular proposal.
As for the specifics, that plan includes many and varied tax cuts, as my colleague Annie Lowrey reported on Wednesday:
The proposal … doubles the standard deduction that most Americans take; increases the child tax credit by an unspecified amount; eliminates the alternative minimum tax; and gets rid of many itemized deductions, save for those for mortgage interest and charitable giving, as well as incentives for work, higher education, and retirement.

On the corporate side, Republicans are calling for slashing the top tax rate to 20 percent from 35 percent. The plan would also bring the top "pass-through" business rate down to 25 percent from its current level of 39.6 percent. That is the top rate that sole proprietorships, partnerships, and S corporations—meaning many small businesses—pay. It would also encourage businesses to bring back profits stashed overseas with a special rate cut.
Those cuts, many contend, could hurt the average American family while giving business owners and wealthier Americans a pretty big break. The tax rate for the lowest income bracket, for example, would actually increase, from 10 percent to 12 percent.
Still, Mnuchin defended the tax cuts as promoting growth and thus leaving everyone better off. He argued that lower taxes would actually add revenue in the long run, and would change the behavior of businesses and individuals. "People spend a lot of time trying to figure out how to get around taxes when they're 35 percent. There's no question that companies spend too much time trying to figure out how to keep money offshore," he said (though it's not clear that lowering the corporate tax rate will, in fact, make corporations or their owners less likely to try to minimize their tax bills). When Mnuchin added that "we'll create enormous capital investment and enormous jobs and revenues," he sounded quite a bit like his boss.