The Uncertainties of Being Asked to Work During a Hurricane
As some people evacuate for Irma, they wonder if leaving town might cost them their jobs.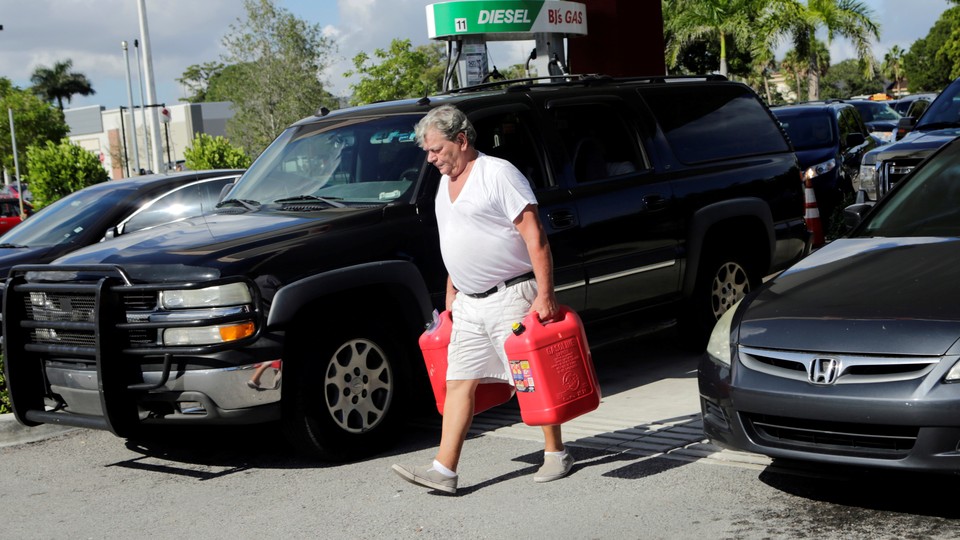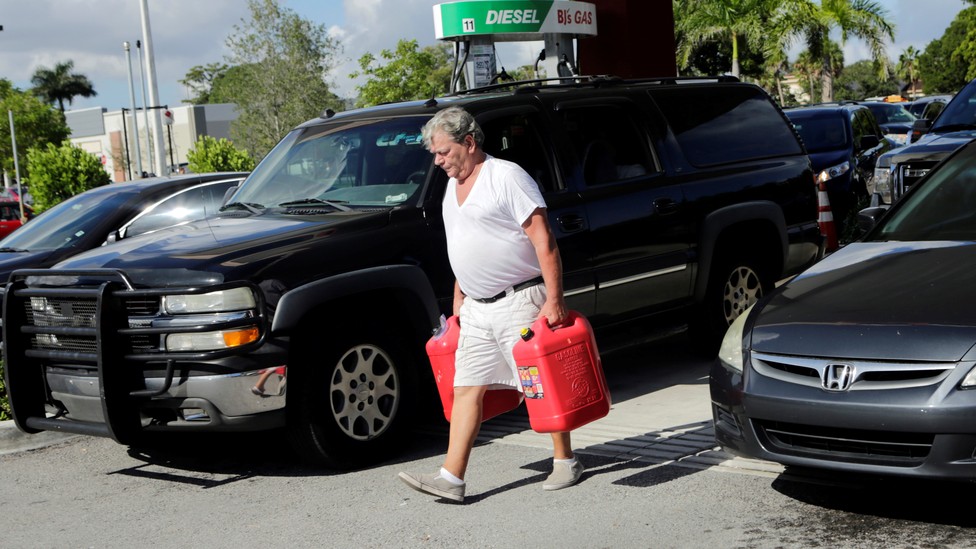 People who live in the possible paths of Hurricane Irma, which could make landfall on American shores as soon as this weekend, face the difficult decision of whether to stay in place or flee. In addition to weighing the costs of leaving town, many also have to consider whether evacuating could put their job at risk.
Almost as soon as government officials started warning residents of many parts of South Florida to get out of Irma's path, people began seeking advice on social media on what rights and protections workers have during the storm. One of the most common questions surfacing on Reddit and Twitter was whether workers could be fired for not showing up to work because they had left town ahead of the storm.
The answer to that question, in many cases, is that they can indeed be fired. Sharon Block, the executive director of the Labor and Worklife program at Harvard Law School and a former Department of Labor employee, says a major storm, even one that yields a state of emergency, doesn't suspend labor laws. This means that laws that protect workers' pay still stand, but because in Florida, workers are employed at-will, it also means that (barring a collective-bargaining agreement or contract stating otherwise) workers can still be fired for their absence. "You can be fired for a good reason [or] a bad reason—as long as it's not an unlawful reason, which is usually discrimination," Block says.
There are also those who worry less about showing up at work and more about how long they will be stuck there. Some workers at hospitals that will remain open during the storm are being asked to stay on the job until it passes. At least one hospital in South Florida, Baptist Health South Florida, is doing that. The hospital says this is a normal procedure that it has put in place for similar events in the past, and that it makes preparations for staff and their families to stay onsite, or nearby, during the hurricane.
But confusion around these issues has been a problem in the past, including in Florida. In 2005, Orlando's Florida Hospital was ordered by the Department of Labor to provide approximately $2 million in back pay to workers who were told to stay onsite during storms in 2004, but not paid for all the hours they remained at the hospital. Block, the law professor, says the law is clear on this: "If you are obligated to be at work and your discretion on how to use your time is limited because of responsibility that your employers asked you to take on, you have to be paid."
An administrator at Baptist Health South Florida says there's no question about payment in these cases. "No matter how long they're here they're compensated for at least 24 hours, even if they left at 20 hours," says Wayne Brackin, the hospital's chief operating officer. "In no case ever would they be here for that period of time and not be compensated."
Major weather events bring other work-related considerations too. Block notes that when people can't physically get to their jobs—say, because of flooded streets or downed trees—whether or not they end up getting paid for the missed days depends on their wage status. Salaried workers stand the best chance, but hourly workers only have to be paid for the hours that they are actually working, which means that they will likely lose out on pay even if a missed workday isn't their fault.
The end of the hurricane won't necessarily mean the end of questions similar to these. In the aftermath of a storm there's always a struggle over who will bear the cost of shuttered businesses, rebuilding efforts, and missed workdays: workers, employers, or the government. Block notes that in the wake of a major disaster, the government can choose to suspend certain worker protections, like those for safety or wages, to help businesses recover. A prominent example of that, according to Block, was when the George W. Bush administration decided not to strictly enforce safety and health protections for some rescue workers after September 11th, 2001. The result, she says, was that many workers became gravely ill from hazards at the site. A similar problem arose post–Hurricane Katrina, she says, when Occupational Safety and Health Administration protections weren't harshly enforced for workers doing recovery and rebuilding work.
After the devastation of Katrina, regulators became more attuned to worker protections, particularly for those aiding in rescue and recovery efforts. So, while storms bring devastation and uncertainty, they can expose weaknesses and gaps in the laws meant to protect workers—and that can sometimes lead to improvements before the next disaster.