What Caused Hollywood's Summer From Hell?
The blame for the industry's horrendous last few months lies with a decades-long shift in the economics of making movies.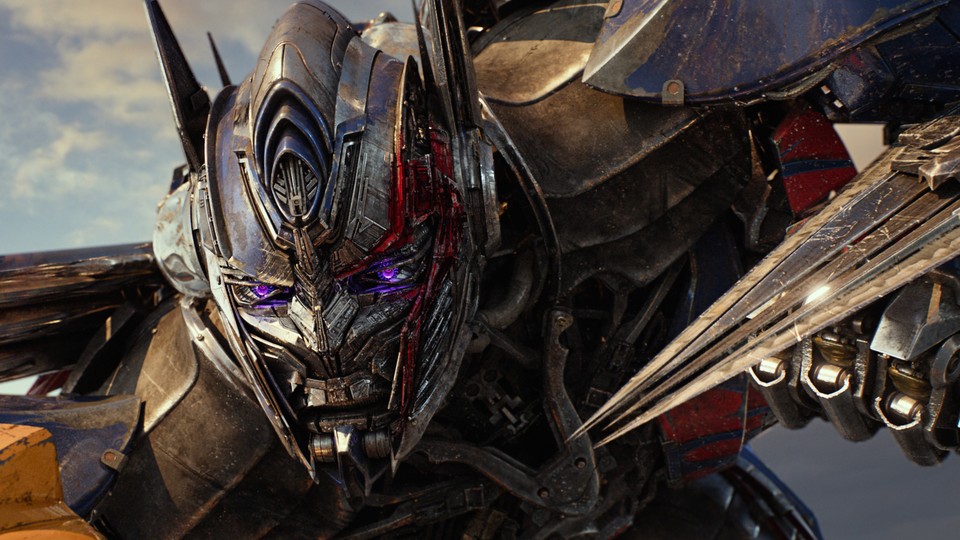 Hollywood is heading into the season of horror after a summer from hell. The past few months were the worst box-office summer in more than a decade. This Labor Day weekend's haul was the lowest in nearly 20 years.
To explain the bad news, movie executives are trying out fresh excuses (blame … Rotten Tomatoes?), while journalists are rehashing familiar criticisms (people are bored with sequels!).
Both of these explanations are wrong. The subtler truth is that the domestic movie market is in a slow, decades-long structural decline. To lasso millions of busy and distracted people into movie theaters, the major studios are spending more money on fewer films. This has led, predictably, to spiky returns—huge hits, huge flops, and less in between. As a result, entire quarters can hinge on the success of one or two movies. Rather than react hysterically to every single bad month or weekend, it's more useful to consider the bigger picture.
Start with Rotten Tomatoes, an online aggregator of movie reviews, which distills the critical consensus to a single percentage that determines whether a new film is "fresh" or "rotten." In a recent New York Times profile of the site, the director and producer Brett Ratner blamed the website for "the destruction of our business." Other executives bemoan the influence of Rotten Tomatoes as well.
This is a weird criticism, because there isn't much evidence that Rotten Tomatoes has had much of an effect on the movie business. Some 2017 blockbusters seem to have been sensitive to negative Rotten Tomatoes scores, like the recent bust of King Arthur, and some smaller films have been buoyed by strong numbers, like Baby Driver; meanwhile, The Emoji Movie had a strong opening despite awful reviews, and Detroit struggled despite great reviews. The idea here—that film criticism moves audiences at the margin but isn't determinative—has always been true.
What is the Rotten Tomatoes effect, industry-wide? Here is a graph of the number of movie tickets sold each year this century. (In this count, 2017's tickets sales are annualized, since the year isn't over yet.) Rotten Tomatoes was launched in 1998. See if you can spot the website's "devastating" effect.
---
Annual Movie-Ticket Sales in the U.S., 2000-2017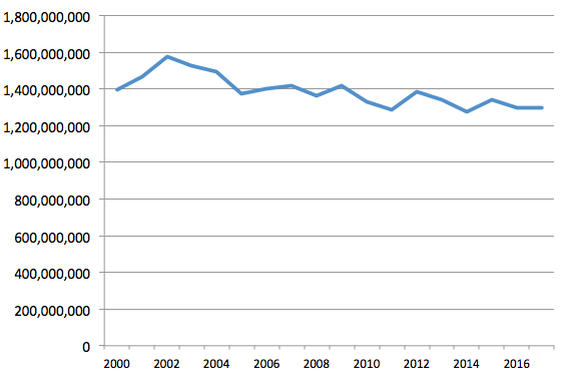 ---
I certainly don't see it. That looks more like a slow and steady decline in an age of proliferating entertainment options—the extension of a decades-long trend, not a sudden shift.
What really happened this summer? It might be as simple as bad timing. The box-office champion of 2016, Finding Dory, came out in July, so its revenue fully counted toward the summer box office. But the biggest film of 2017 so far, the live-action version of Beauty and the Beast, came out in March. If Finding Dory is subtracted from 2016's summer box office—or if Beauty and the Beast is added to the 2017 summer box office—there is very little difference between the summers of 2016 and 2017. Once again, this is predictable: Entire seasons hinging on the success of one or two blockbusters is exactly what one should expect from the franchise-blockbuster strategy currently en vogue in Hollywood.
And what about that strategy? Variety is the latest to claim that people are "tired" of sequels and reboots. The claim is either vapid or wrong. First, "sequels" is not a movie, and no first date has ever said, "Would you like to see a reboot with me this weekend?" Audiences aren't tired of sequels. They're indifferent toward bad films. The entire concept of video entertainment that extends or updates a familiar character or story is not invalidated by the ostensible failure of one Transformers movie. In fact, episodic video entertainment that recycles or develops characters and stories across many, many hours is the definition of a television show. And nobody seems to be making the argument that audiences have had it with TV.
Second, to the extent that one can make any hard claims about the economic value of sequels as a business strategy, it's awfully difficult to quantitatively prove that audiences don't want to see them. The seven highest-grossing films of 2017—Beauty and the Beast, Wonder Woman, Guardians of the Galaxy Vol 2, Spider-Man: Homecoming, Despicable Me 3, Logan, and The Fate of the Furious—are all sequels, reboots, and franchise extensions. In a year when The Lego Batman Movie out-earned a historic indie hit like Get Out, it's hard to argue that American audiences are desperate for entirely original stories.
As I've written, the problem for Hollywood isn't that audiences are ignoring sequels, adaptations, and reboots. The problem is that audiences are ignoring everything else. The most important rule of the film industry is pretty simple: Film is poker, and each film's box-office potential is overwhelmingly determined by the cards (film rights) the studio already holds. If it controls one of a handful of dependable franchises—like The Avengers, Star Wars, Batman, X-Men, or Despicable Me—the studio is starting with a high pocket pair. If it holds the rights to reboot a dormant but formerly popular property—like Wonder Woman, Baywatch, or King Arthur—it starts with an ace-two: high risk, high reward. But if it's starting from scratch, that's like a seven-two: Without an excellent strategy or terrific luck, the overwhelming likelihood is no hit.
The idea that Rotten Tomatoes is killing Hollywood assumes that critics, in the aggregate, are killing the Hollywood blockbuster strategy. But, again, the biggest movies of the year are almost all franchise extensions with huge built-in followings, and those aren't the sort of nuanced and deeply original films that most critics champion. In the final analysis, the critics aren't winning. Terrible filmmaking isn't winning, either. Instead, strong intellectual property and talented mass-media storytelling is winning. And that's probably the way it should be.