The Future of Retail Is Stores That Aren't Stores
"Honey, I'm about to run to the town square—you need anything?"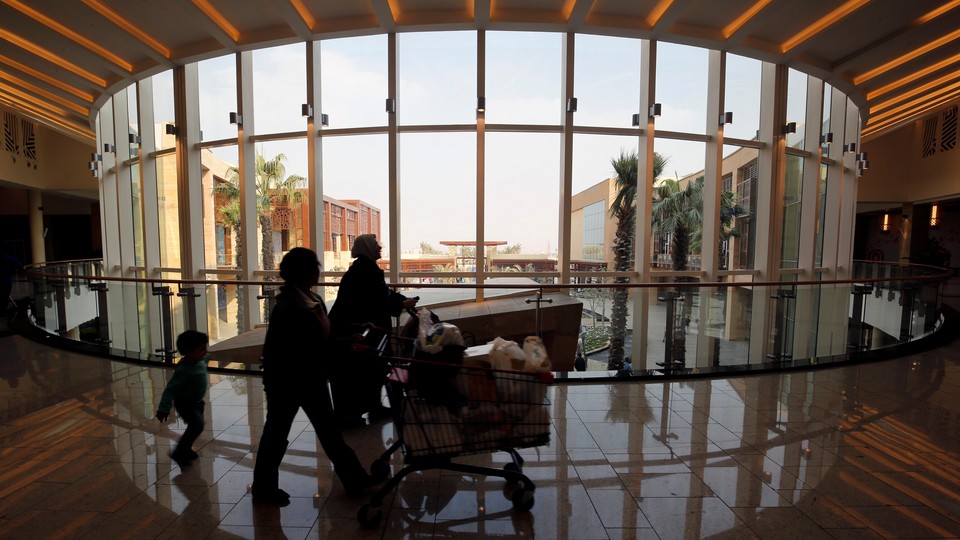 "We actually don't call them 'stores' anymore—we call them 'town squares.'" That was an executive at Apple, speaking about the company's largest stores during its afternoon-long product-release event on Tuesday. In these "town squares," aisles will be "avenues" and trees will provide customers shade from overhead fluorescents. The company dreams its flagship stores will become "gathering places," complete with classes on coding, music, and photography.
Earlier, this week provided another such glimpse of the strange future of retail, in which going to a store is just as much about buying things as it is about being in a nice place—an "experience," if you will. Nordstrom, a day before Apple's event, announced that it will be opening a Nordstrom Local concept store next month in West Hollywood, in Los Angeles. The store will not stock clothes, or much of anything else. But it will have spa services, tailor, personal stylists, and a bar that serves beer, wine, coffee, and juice.
Retailers are, very consciously, promoting these in-store "experiences"—or at least, they are doing so at the flagship stores in big cities that they like to draw attention to. It's a reaction to the fact that buying is now something that can be done anywhere, and that reaction can be detected in a linguistic shift. "There is no question that people are trying to get away from the use of the word store as well as mall," says Leonard Schlesinger, a professor of management at Harvard Business School. "They are increasingly perceived as remnants of a retail world which is increasingly under siege." Schlesinger thinks companies with physical stores will have trouble if they don't adjust to the fact that the internet has taken away many consumers' reasons for visiting physical locations in the first place.
That fact seems to be the motivation behind a few other companies' initiatives announced in recent years. Starbucks, watching with distaste the rise of high-end competitors like Stumptown and Blue Bottle, a couple years ago opened a 15,000-square-foot "roastery" in Seattle. "We're going to take the customer on a journey, immersing them in an interactive environment where they'll be introduced to handcrafted, small-batch coffees within feet of where they're being roasted," Howard Schultz, Starbucks's CEO, told The New York Times. (The company plans to open more roasteries in other cities starting later this year.)
In a less intuitive outgrowth of a company's core business, the Philadelphia-based retailer Urban Outfitters announced in 2015 that it'd be acquiring Pizzeria Vetri, a beloved local restaurant chain. Investors were initially baffled—Urban's stock declined sharply after the announcement—but the idea is that pizzerias might be placed near, or even in, the stores. "Now you can order a sofa on the internet," Marc Vetri, the chain's founder, told Bloomberg, adding, "if you want to eat at the hot new restaurant, you have to leave your living room and you have to venture out."
This is exactly the thinking that more retailers should be experimenting with as they adjust to the buy-anywhere reality of the internet, according to Oliver Chen, the head of retail and luxury equity research at the investment-research firm Cowen and Company. Two questions he says retailers are asking are, "What are modern consumers enjoying doing, and then how can retail solve into that experience?" And "that experience," he says, usually means "eating and drinking and working out and concerns about health and wellness."
A juice bar or a pizzeria might give a retailer an edge at a time when competitors are scrambling to adapt. But what happens in the longer run, once "experience" is prioritized more widely? Does downtown become just a string of corporate "town squares" and wine tastings? Chen says that a retail experience that emphasizes human interaction and pleasant environs could just become the new normal, much like how rapidly shifting consumer expectations have pushed online retailers to make free, two-day shipping standard. Still, he says, "There are things we may have to do where a robot can't really do it to us"—there will probably be brick-and-mortar businesses, like tailors and hairdressers, that remain impervious to these trends.
The funny thing about stores-as-experiences is that, even as a notion that is shaping retail's future, it also represents a return to its past. "Apple might be interested to know that the first post-WWII malls often used similar rhetoric about public squares," Tracey Deutsch, a professor of history at the University of Minnesota, wrote to me in an email. "Victor Gruen, who designed Southdale (the first indoor mall) and who really created the look for many of these shopping centers, saw himself as creating new public space. That's surprising in retrospect, but not if you understand retail the way he did—as a key site for public encounters." Gruen imagined malls serving roles in society similar to "the ancient Greek Agora, the Medieval Market Place and our own Town Squares," and in the '50s and '60s some malls had auditoriums, meeting rooms, and ice rinks.
In the 19th century, the creators of early department stores, too, were attuned to the experiences of shoppers, particularly the middle- and upper-class women they catered to. Deutsch notes that these stores had cafes and tea rooms in which customers could rest, along with plenty of attendants to help carry any purchases. "One reason they promised this," she says, "was because shopping was an experience—and sometimes that experience was uncomfortable or caused anxieties for folks worried about conservative gender norms. (Think, for instance, about the encounters that could happen walking from a store to a restaurant, or looking for a place that would serve women at all.)" Indeed, well into the modern era there have been onsite dining options at high-end stores like Bloomingdale's and Barneys.
But an important break with the past, Deutsch says, is that this shopping experience, once it opened up to a more-diverse group of shoppers, used to be more democratic. "What's striking to me is that now these retailers are trying to associate certain experiences—learning, conversation, personal attention—with high-end consumer goods and services," she says. "It used to be the norm for all consumers to have access to these things."
The journalist and historian Marc Levinson offered another historical precedent for experiential retail. He told me about the Great American Tea Company, which set up a coffee-roasting plant in Manhattan's Greenwich Village in 1865 that aimed to dazzle people walking by with its sights and smells. (Levinson says the idea was inspired by the spectacle of P.T. Barnum's nearby American Museum, which displayed live animals and freak shows.) "A few years later," Levinson explained, "the company, renamed Great Atlantic & Pacific Tea Company"—aka A&P, which would later become the largest retailer in the world—"played up its supposed connection with Chinese tea growers by painting its stores in vermillion and gold leaf, adding Chinese wall hangings and oriental lanterns, and turning the cashier's station into a pagoda. Customers were meant to experience a bit of China as they bought their tea." It's not unlike that roastery in Seattle—just 150 years ahead of Starbucks.