The David Carr Generation
More than a dozen mentees of the late journalist remember the lessons he imparted.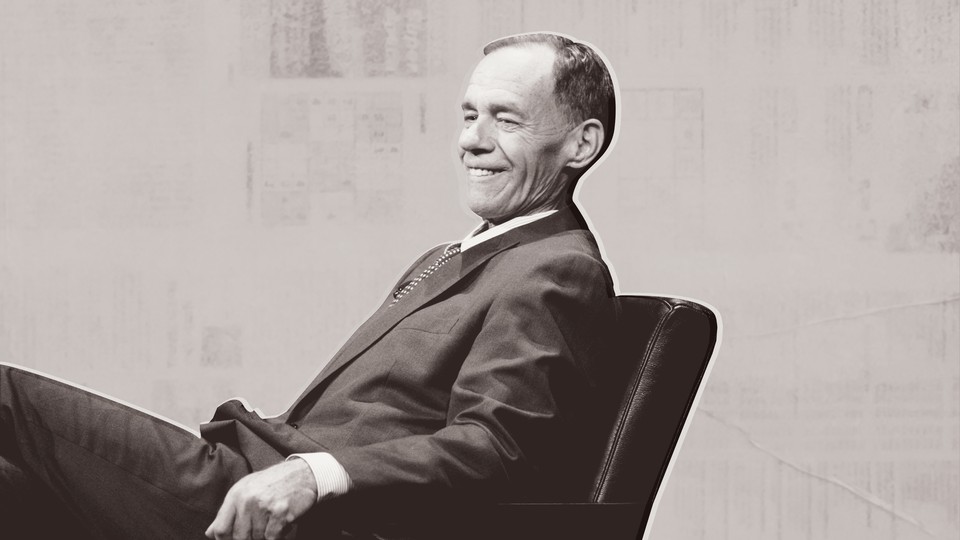 At the time of his death in early 2015, David Carr was a prominent media columnist for The New York Times. He edited the alt-weekly Washington City Paper in the mid-1990s, where he cultivated some of the great journalistic talent of our day. He was both a blunt and colorful writer, with a gift for similes that would make readers snigger with pleasure. "To call something the most popular podcast might seem a little like identifying the tallest leprechaun," he wrote in one of his Media Equation columns for the Times.
Carr got his start in journalism at the Twin Cities Reader, where he eventually became editor. He then went on to edit the Washington City Paper. Years earlier, he'd struggled with addictions to crack and alcohol, and he eventually turned those rank memories into a bestselling memoir. Along with his duties as a columnist, Carr taught a course on new media at Boston University, where I was his graduate teaching assistant. Amid his kaleidoscope of accomplishments and obligations, Carr still found the time to guide dozens of young people in the arduous process of shaping careers of their own. He did it for me: Carr set me up with the interview that would turn into my first real job in journalism. He died just two weeks before I got my offer letter.
Carr had an unusual gift for recognizing young talent, and an equally unusual willingness to pull that talent up the ladder with him. He hired us for internships and jobs, edited our stories, sent out emails on our behalf, invited us to meetings we were really too junior to be a part of, and introduced us to his most successful and famous friends. But most important of all was this: He told us again and again that we had something special. We were smart, he told us. We were worthy. And we believed him, because he was the best guy we knew.
For The Atlantic's series on mentorship, "On the Shoulders of Giants," I spoke with over a dozen of the writers, thinkers, artists, and family members who benefited from Carr's guidance. What follows are their stories about when Carr acted as their champion, and what he taught them about being a mentor.
The following responses have been edited for length and clarity.
---
Amy Chozick, reporter and former colleague of Carr's at The New York Times:
Courtesy of Amy Chozick

David was drawn to people who didn't take the usual route to the Times. I think he liked that I was from South Texas, that in college I'd worked at a snow-cone stand and flipped tortillas at a Tex-Mex restaurant. Nothing about either of our resumes screamed that we'd work at the Times one day. When I started there, he took me out to a hole-in-the-wall ramen joint on Ninth Avenue and said he was going to "implant the chip." He meant that by the time he got done with me, I'd be as giddy and proud to be working at the Times as he was. After that, he'd come by my desk and ask, "Is the chip implanted?"
---
Ta-Nehisi Coates, author and national correspondent for The Atlantic, former intern at Washington City Paper:
Before I got to The Atlantic, I was bombing out of all these jobs. It was tremendously hard, and there were a lot of times when I really wanted to give up. Every time something bad happened, Carr would tell me, "It's them, not you." I never knew David to be soft on me—he was the most difficult boss I've had—so when he gave encouragement, it had to be true. He allowed me to feel like it was the world that was fucked up, not me, and that I would be okay eventually. So when I didn't have faith in myself, I would put my faith in him.
---
Neil Drumming, producer at This American Life, former writer at Washington City Paper:
Once I was reporting a story about a young rapper in D.C. who was trying to get famous. When it came out, Carr complimented me on the piece, and I felt really good about how it turned out. A little while later, I ran into the rapper and his manager at a concert, and the manager punched me in the face because he didn't like the story. It was awful—I had two huge black eyes, and had panic attacks about it afterwards. But Carr took a leadership role, and made me feel like I was taken care of—like I was part of the team and was going to be okay. He also called the owner of the record label that represented the rapper and laid into him while I listened in his office. That felt good.
---
Andrew Rossi, filmmaker, directed a documentary about The New York Times:
Toby Canham / Getty

I remember at the 2010 South by Southwest conference in Austin, David saw the film Tiny Furniture, directed by Lena Dunham. He instantly saw that Dunham had an important voice. I remember him running over to meet her and her producer Alicia Van Couvering—he was so excited. SXSW was really a playground for him. There were so many young and talented people in tech, film, and music, and they all flocked to him like a guru. It's because he was so open and generous, not just with flattering advice, but real, concrete help and connections. Ultimately, he played a key role in Dunham meeting Judd Apatow, who would become the executive producer of her groundbreaking HBO show, Girls. And I guess the rest is history.
---
Jake Tapper, CNN news anchor, former reporter at Washington City Paper:
I remember one time, I misattributed a quote in a story I wrote for Carr. After it was published, we got a letter about my error. Carr was extremely clear about making sure I understood exactly whose fault it was, and how unacceptable it was. While I can't say I've never made a mistake in the 20 years since, I will say that I hear his voice all the time in my head when I'm making sure that what we're doing on the show is right.
---
Amanda Ripley, journalist and author, former writer at Washington City Paper:
Courtesy of Amanda Ripley

I've had great male bosses since him, but very few spend as much time with female writers as they do with male writers. I think many men just feel more comfortable with other men. But with Carr, I never felt left out. He treated me and everyone else like he had big plans for us, like we might one day do great things together. I remember we went to a Liz Phair concert together one time at the 9:30 Club in D.C. Another time, he took me to a fancy dinner with a publisher, and he brought me with him to an alternative newspaper conference in Montreal. Looking back on it, those events mattered a lot for my confidence and career. I wish I had told him so.
---
Michael Schaffer, Washingtonian magazine editor, former reporter and editor at Washington City Paper:
He bought books for all the City Paper's new hires—a literary-journalism anthology, a D.C. history book, and a copy of Joseph Mitchell's Up in the Old Hotel. At times, it felt like a rolling journalism class. He had all these turns of phrase which he repeated endlessly: "Sometimes you're writing, and sometimes you're typing. Now go type." "Be a stand-up guy." "What's in your book of business?" All of it seemed like indications of how he took even junior staffers or no-name freelancers seriously, which I try to do now that I'm an editor. I parrot my own versions of his sayings, and carry this lesson of his with me: Take your people seriously. It's the best way to get them to take their work seriously.
---
Sydney Ember, business reporter at The New York Times:
I met David the summer before I started college, at one of his book readings. When I went to college, I sent him some of the first articles I wrote for my college paper. He responded, and told me I needed to work on my leads. We stayed in touch, and one day he told me that if I really wanted to become a journalist, I should start a media blog. I did it, thinking, "What do I have to say? I'm a 19-year-old college kid. No one will care." But David really liked it, and he started linking to it occasionally in his articles. A few years later, he helped me get my first gig at the Times, and really pushed to get me hired full-time. I don't know what he saw in me. I really wish I knew.
---
Natalie Kitroeff, journalist at the Los Angeles Times, formerly at The New York Times:
Courtesy of Natalie Kitroeff

I still hear Carr's voice in my head every time I write, even if it's just an email. He was not always the sweetest editor. "I SEE LOTS OF GOOD WRITING FROM YOU, BUT I ALSO SEE A TENDENCY TO SETTLE FOR A CLICHÉ RATHER THAN WRITING YOUR WAY THROUGH SOMETHING. STOP DOING THAT," reads one of his comments on an early draft I had sent him for one of my first New York Times stories. He used to tell me that I was a "good writer, who could be a great one." He taught me that becoming a better writer is not the inevitable outcome of keeping your head down and working. You have to force yourself to learn.
---
Jason Cherkis, Huffington Post reporter, podcast host, writer at Washington City Paper:
You would see him in the office, working on a Saturday, and you'd be motivated to work. But you'd also see him with his wife and daughters, and the way he acted showed you what a man and a dad could be like. I was still in my 20s, and I was really irresponsible in the rest of my life. I couldn't wash a dish, and would smoke cigarettes in my room and leave them in coffee cups. But I saw how he could turn off the obsessive editor thing and just be a parent. As dedicated as he was to the City Paper and editing a good story, you would hear and see things that let you know he had a wider life. That was the future you wanted.
---
Jelani Cobb, New Yorker essayist, professor, former intern at Washington City Paper:
I learned about his history with addiction the day I met him. At my interview, I came into his office and the light was off. I had my story clips with me, and I assumed he was going to need a light to read them, so I turned on the light. And he said, "No no, turn it off. I used to spend a lot of time in dark crack houses and I still can't deal with overhead lights." And that was my introduction to David. He was very upfront about his backstory, and tremendously self-aware. He might have come about that self-awareness at a high price, but it provided him with a degree of humility that is rare in our field.
---
Brian Stelter, CNN host, former colleague of Carr's at The New York Times:
Courtesy of Brian Stelter

While I was learning an enormous amount from Carr, he also claimed to be learning from me. He would seek out younger reporters like me so he could learn more about the digital-media world and technology. He would even ask me to read his column ahead of time and give him feedback. The fact that he would seek out input and ideas made you feel valuable and important. That's what was unique. It didn't necessarily feel like I was being mentored, but I was.
---
Brett Anderson, food writer, former reporter at Washington City Paper:
One day, I was walking across the street in Adams Morgan in D.C., when David drove by in his Ford Explorer. He rolled down his window and yelled, "Hey man, that was a great story you did!" about something I'd just written. He was a sharp-elbowed guy, and he didn't shy away from damaging your ego by telling you a piece wasn't up to snuff, but he also always made sure to pat you on the back if you did something good. In journalism in particular, it's so competitive, and journalists often have a problem with admitting other people are good. David was never like that.
---
Starlee Kine, radio producer and host, and friend of Carr:
I didn't know him as well as others knew him, but even so, his encouragement meant so much to me. We'd go to dinner, and he'd follow up with an email before he'd even gotten home, telling me how excited he was about something I was working on, and how he couldn't wait for my project to come out. That email was always the capper to the night, and the reason it meant so much was because I respected him. He made you believe in yourself because you respected him.
---
Sridhar Pappu, journalist, former intern at Washington City Paper:
I went to go see him in late January 2015 for lunch at the Times, during a workday. People were coming up to him in the lunchroom, and he just shooed them away, telling them, "I'm having lunch with my son." I was having a rough time with something at the time and he just kept saying, "I'm not worried about you. I'm not worried about you. You'll be fine." We went downstairs afterwards, and I remember it was raining. He lit a cigarette, and we talked for a few more minutes. Then he hugged me, told me he loved me and went back inside. That was the last time I ever saw him.  He just worked so hard, and yet, helping and mentoring me always seemed just as important as anything else he had to do.
---
Erin Lee Carr, documentary film director and Carr's daughter:
My dad was one of the busiest people I knew, but he always made time for people. In part, his extra hours came from being a sober person: He could work when other people were drinking or going out. He also only averaged about four or five hours of sleep a night. But he also had an incredible ability to manipulate time. One of my goals for this year is to be more generous with my own time. It's easy to get tunnel vision about the latest project you're working on, but mentoring is one of the things I'm trying to prioritize. I think we all can make a little more time in our lives for that.