The Cozy, Overcrowded, Keg-Filled Future of Work
The ethos of togetherness promoted by companies such as WeWork is essentially a bet on explosive population growth in the world's metropolises.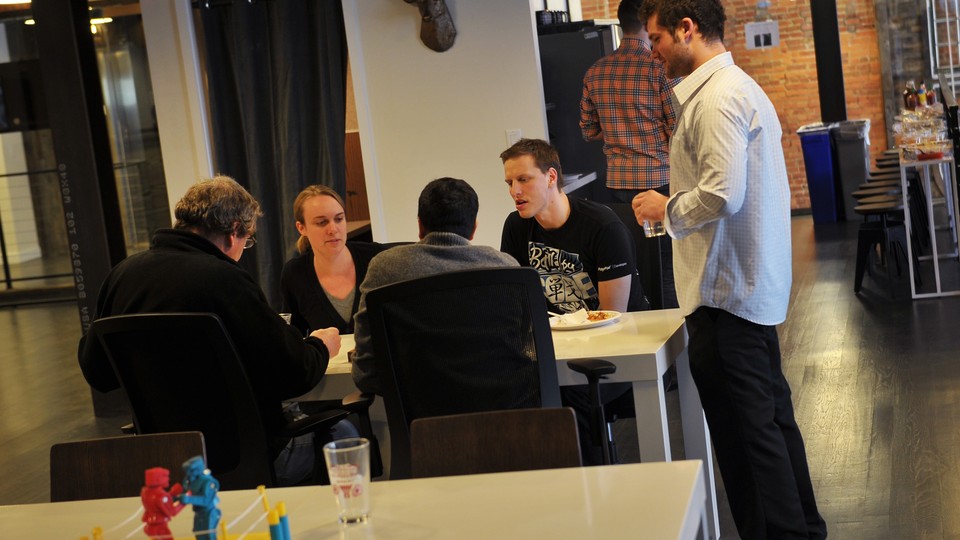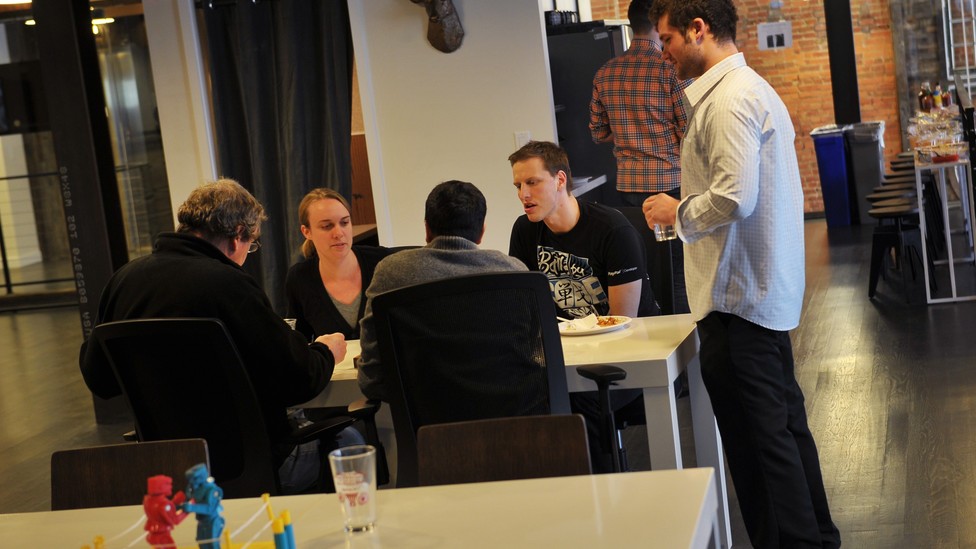 The United Nations projects that, by the year 2030, roughly 1 billion more people will be living in cities than do now. As of last year there were 31 cities with more than 10 million residents, and in about a decade, there will be 41.
These demographic trends are a source of fascination for urban planners and theorists around the world. Those who study what these shifts will mean view the coming era of urban mega-density with both excitement and fear. Others, however, see a clear business opportunity. Adam Neumann, the CEO of WeWork, a firm that rents out office space and apartments, puts it this way: "We don't have enough room."
Neumann says he isn't scared by this prospect. Speaking at the Washington Ideas Forum, an annual conference presented by The Atlantic, he said he's betting on the increasing crowdedness of city life as he thinks about his company's future. As more and more residents flow in—Neumann predicts that the bulk of the urban-population gains will be concentrated in roughly 200 cities—people will need to "find a better way to live together."
WeWork has sold access to lavishly designed office space since it was founded in 2010; it has several competitors in that realm, some of which similarly offer tenants amenities such as coffee, beer kegs, and highly Instagrammable lighting and plants. More recently WeWork has transposed its aesthetic onto communal-living apartment buildings called WeLive. These are not unlike dormitories: Residents have their own bedroom, kitchen, and bathroom but share common spaces.
The company's vision of working and living, then, is that people will do so alongside each other more so than in the past: In WeWork's world, workers rent out neighboring desk spaces at a long table, and then retire to neighboring apartments abutting a communal kitchen. Often, this coziness has been viewed as the result of a cultural or economic shift—reflecting, say, Millennials' affinity for group housing or the exorbitant cost of rent in major cities. What Neumann's describing, however, is a change that has as much to do with physical space as it has to do with social or economic forces. Sometime soon, he suggests, there simply won't be enough room for many people to approach working and living in any other way.
Some might see this proximity as forced, but Neumann frames it as fulfilling a deeper existential need. "Human nature wants this closeness," he said. "The more tech disconnects us, the more people in their hearts will want to be closer."
There's a sheen of PR spin on all this, of course. Where city planners see potential problems with congestion, Neumann sees the warm-and-fuzziness of people coming together to live their best lives. His business model may well thrive in the city of the future, but office beer kegs and WeLive's communal "family dinners" with vegetarian meatballs and black-truffle gravy address only a relatively affluent slice of those 1 billion new city dwellers. "One number that isn't referenced often is that two-thirds of [2030s urban] population will be poor," Pedro Gadanho, who worked as an architecture and design curator at New York's Museum of Modern Art, told Wired in 2014. Cities such as San Francisco already have high levels of economic inequality and long-standing affordable-housing crises; they do not appear to be as well positioned for an increasingly dense urban future as WeWork is.