The Best Business Reads of August
The month's most interesting stories about money and economics from around the web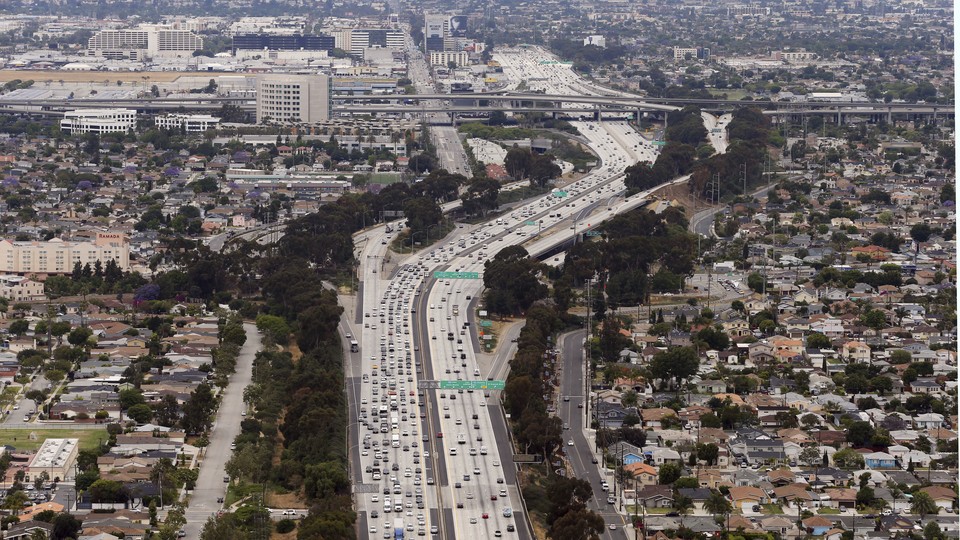 Each month, the editors of The Atlantic's Business Channel share the most interesting pieces of journalism about money and economics from around the web.
This month's picks include a commentary on segregation in Los Angeles, the tech investor Ellen Pao writing on sexism in Silicon Valley, a look at how NBA stars are investing their money, and an analysis of how Elon Musk's proposed Hyperloop might alter commutes.
If you've missed previous roundups, you can find recent ones here and here.
---
Alec MacGillis | New York Magazine
HUD faced an existential crisis. The new president's then–chief strategist, Steve Bannon, had called in February for the "deconstruction of the administrative state." It was not hard to guess that, for a White House that swept to power on a wave of racially tinged rural resentment and anti-welfare sentiment, high on the demolition list might be a department with "urban" in its name. The administration's preliminary budget outline had already signaled deep cuts for HUD. And Donald Trump had chosen to lead the department someone with zero experience in government or social policy — the nominee whose unsuitability most mirrored Trump's lack of preparation to run the country.
* * *
"Why Los Angeles Is Still a Segregated City After All These Years"
Richard Rothstein | The Los Angeles Times
We tolerate residential segregation because we're convinced that it happened informally—because of personal choices and private discrimination. But what cemented our separate neighborhoods is something most of us have forgotten—government's unconstitutional and systematic insistence on segregated housing in the mid-20th century, establishing patterns that persist to this day.
* * *
"'Hotter,' 'Lesbian,' 'Feminazi': How Some Economists Discuss Their Female Colleagues"
Elizabeth Winkler | The Washington Post
[Alice] Wu, who will begin doctoral studies at Harvard University next year, mined over a million posts on the anonymous online message board, Economics Job Market Rumors, to analyze how economists talk about women in the profession. The website, a popular forum for graduate students and faculty members to gossip about jobs and hiring, offers a window into conversations that are otherwise almost impossible to document. And as Wu explains in her paper, "Anonymity presumably eliminates any social pressure participants may feel to edit their speech, and thus creates a natural setting to capture what people believe but would not openly say."

. . .

The 30 words most uniquely associated with women are (in order): hotter, lesbian, bb (Internet terminology for "baby"), sexism, [a vulgar term for breasts], anal, marrying, feminazi, slut, hot, vagina, [another vulgar term for breasts], pregnant, pregnancy, cute, marry, levy, gorgeous, horny, crush, beautiful, secretary, dump, shopping, date, nonprofit, intentions, sexy, dated and prostitute.

The terms most associated with men are rather different. They include: mathematician, pricing, adviser, textbook, motivated, Wharton, goals, Nobel and philosopher. Indeed, the only derogatory term in the list is a slur used against gay men.
* * *
"This Is How Sexism Works in Silicon Valley"
Ellen Pao | New York
Before suing, I'd consulted other women who had sued big, powerful companies over harassment and discrimination, and they all gave me pretty much the same advice: "Don't do it." One woman told me, "It's a complete mismatch of resources. They don't fight fair. Even if you win, it will destroy your reputation."

Renée Fassbender Amochaev, an investment adviser, told me she'd been miserable from the moment she filed her lawsuit. She became an outcast and a target. Her co-workers started a petition to have her leave. Every morning, she would get to the parking lot and throw up.

"You have to prepare for it to be harder than you can even imagine," she said. "Do you regret it?" I asked. There was a pause. "No," she said.
* * *
"Why Even the Hyperloop Probably Wouldn't Change Your Commute Time"
Emily Badger | The New York Times
The curious stability of the half-hour average commute means that when bullet trains—or autonomous vehicles, or whatever innovation comes next—link two places by that much time, they won't just open up plausible new weekend getaways and airline alternatives. They will also potentially restructure daily life: where people live, what jobs they hold, how cities expand over time.
* * *
"The New Off-Court Play for NBA Stars Is Startup Equity"
Ira Boudway | Bloomberg Businessweek
"Ten or 15 years ago, what did all athletes invest in? Car dealerships, franchising, and real estate," [Andre Iguodala] says. "They couldn't get outside that scope."

Since joining the Warriors in 2013, Iguodala, 33, has quickly become part of the vanguard of NBA players and other athletes making financial forays into Silicon Valley. He and his business partner, Rudy Cline-Thomas, own stakes ranging from $25,000 to $150,000 in about 25 startups, including the health and beauty brand Walker & Co.; mattress online retailer Casper; personal-finance app NerdWallet; Derek Jeter's digital publishing company, the Players' Tribune; and Mayvenn, the hair extensions supplier they met at Andreessen.
* * *
Jacob Goldstein and Noel King | Planet Money
Earlier this summer, a European official walked into a roomful of reporters and answered a question that some people have been asking for a long time now: Is Google abusing its power over the Internet?
* * *
"D.I.Y. Artificial Intelligence Comes to a Japanese Family Farm"
Amos Zeeberg | The New Yorker
The Koikes have been growing cucumbers in Kosai, a town wedged between the Pacific Ocean and the brackish Lake Hamana, for nearly fifty years. Their crop, which fills three small greenhouses, grows year-round. Koike's father, Harumi, plants the seeds; Koike oversees their cultivation; and his mother, Masako, sorts the harvest. This last job is particularly important in Japan, which is famously discerning about its produce. Nice strawberries can fetch several dollars apiece in some markets, and a sublime cubic watermelon can go for hundreds. Vegetables hold a less privileged place than fruits, but supermarkets rarely stock produce that is at all irregular in shape or size. The Koikes send their better cucumbers, the ones that are straight and uniform in thickness, to wholesalers. The not-so-perfect ones go to local stands, where they are sold at half price. ("They taste the same," Koike said.) Masako judges the vegetables one by one, separating them into bins. Though she devotes only half a second to each cucumber, the task takes up most of her work time; on some days, she goes through around four thousand of them.