Trump's Faux Breakup With His Manufacturing Council
The president is getting along just fine with big business.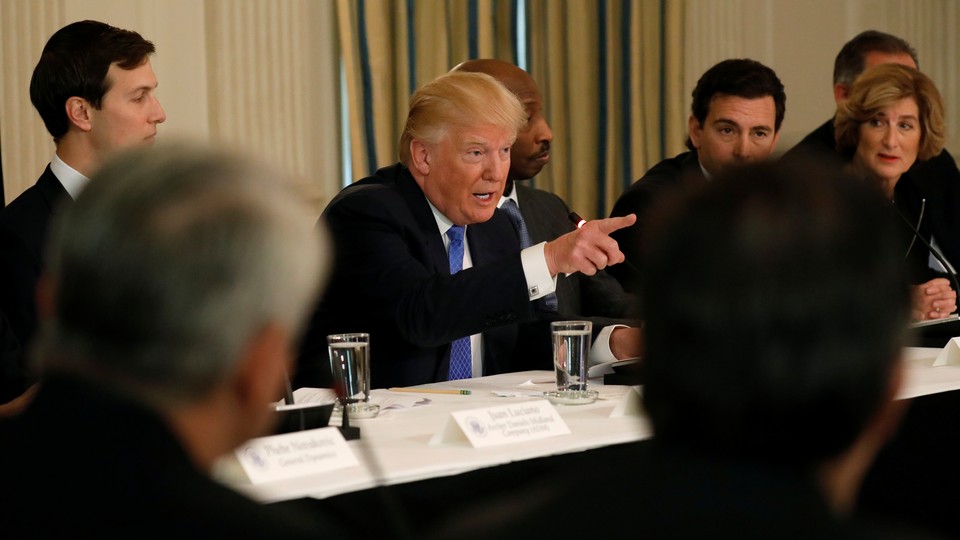 It was a quick turn for 26 hours' time. On Tuesday morning, President Trump blasted Kenneth Frazier, the chief executive officer of Merck Pharmaceuticals, for leaving a White House advisory council in protest of Trump's equivocating statement on the white-nationalist violence in Charlottesville. On Wednesday afternoon, after more than half a dozen CEOs joined Frazier in publicly refusing to work with the White House (and others reportedly quietly indicated they might do the same), Trump abruptly disbanded two advisory panels.
The question of who dumped whom aside, the breaking-up of the two panels did not make for the best optics for an often chaotic White House. That said, the development seems unlikely to change the course of policymaking in Washington. The panels were largely ceremonial, and the Trump administration has shown a remarkable willingness to heed the demands of big business, even if big business has this week shown a remarkable willingness to chide the Trump administration.
Both the manufacturing council and the strategic and policy forum—a group of top executives from a broad range of industries, representing Boeing, General Electric, and JPMorgan Chase, among other firms—were launched with significant fanfare. In a statement, the then-president-elect said that "pioneering CEOs" would help "create new jobs across the United States from Silicon Valley to the heartland." Soon after, the White House held a few splashy events with the corporate executives who signed on, eager to get the president's ear.
But it was never clear exactly what the councils were doing other than providing photo opportunities. There has been little to show from their meetings, and from the start, virtually all of the news about the councils involved controversy, with various members quitting in protest: Travis Kalanick of Uber due to the Muslim ban, Robert Iger of Disney and Elon Musk of Tesla over Trump pulling out of the Paris climate agreement, and then Frazier and many others over the Charlottesville incident. With every withdrawal, the remaining CEOs found themselves forced to explain why they continued to work with Trump. In many cases this led executives to repudiate his policies and stress that they were staying on for the good of the economy.
The dance was always an awkward one. "It's a tough situation for CEOs," Mark Cuban, the owner of the Dallas Mavericks, told Fort Worth's Star-Telegram. "You want to make nice with the president because you're a public company and you have shareholders, and it's hard to balance doing the right financial thing versus doing what they think is the right thing, whatever your political beliefs are." (Trump and Cuban are often at odds. Once, Trump said Cuban "backed me big-time but I wasn't interested in taking all of his calls. He's not smart enough to run for president!") With Trump condemning the violence on "many sides" and saying that there were "fine people" marching with the white nationalists in Charlottesville, that dance became untenable.
Frazier quit. Trump lashed out. "They're not taking their job seriously as it pertains to this country," he said at a news conference held in Trump Tower. "Some of the folks that will leave—they're leaving out of embarrassment because they make their products outside" the country, he added. Brian Krzanich of Intel and Kevin Plank of Under Armour also quit, and were soon joined by Scott Paul of the Alliance for American Manufacturing, Richard Trumka of the AFL-CIO, and Inge Thulin of 3M. According to The New York Times, executives on the business panel agreed they should disband it on a conference call on Wednesday morning, and members of the manufacturing council were reportedly planning, before Trump's announcement, to hold a similar call on Wednesday afternoon.
While the relationship between Trump and these individual executives soured in an extraordinary public fashion, it is clear that much of the substantive romance between Trump and big business remains. The White House has not made any meaningful progress on tax reform or infrastructure, two business-friendly issues he made promises about during the campaign. But after he promised to drain the swamp, he has installed dozens of lobbyists across the government: lobbyists for insurers and the pharmaceutical industry in the Department of Health and Human Services, lobbyists for defense contractors at the Pentagon, lobbyists for the construction industry at the Labor Department, and on and on. A lawyer who built a career helping banks skirt regulations now manages one of the country's most powerful financial regulators.
Indeed, regulatory policy might be the arena where Trump's pro-business tilt has been most apparent. His White House has quit enforcing a policy that stopped telecom businesses from charging prisoners and their families exorbitant rates for phone calls. It stopped pursuing loan relief for students defrauded by educational institutions, and made it easier for mining companies to pollute public waterways. It is gearing up to allow drilling on public lands, and trying to make it easier for businesses to stash profits overseas. It has promised to go after Dodd-Frank, the most substantial piece of legislation to be passed in the wake of the financial crisis. Even as Trump bashed Frazier and Merck for high drug prices, a leaked draft order suggests that the administration plans to strip back pharmaceutical regulations—something that would likely boost industry profits, potentially without lowering prices for consumers.
This "systemic"—to use the administration's own word—war on regulations will in many industries slash the cost of doing business and buoy profits. No wonder business optimism is surging and stock prices continue their upward march. Corporations might be an occasional force for social justice in public, but in private many remain remain a force for the conservative priorities of deregulation and low taxes, after all. Individual executives might repudiate Trump, but many of their shareholders are still cheering.