Restaurants Are the New Factories
Food-service jobs are eating the economy. Maybe that's not a good thing.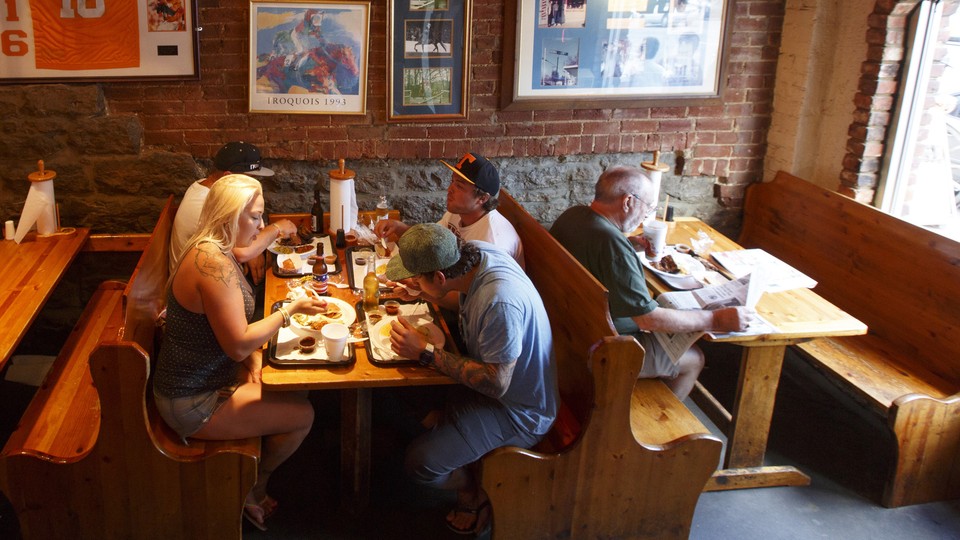 Donald Trump's ideal economy is defined by brawn. He praises steelworkers, speaks wistfully of coal mining, and tweets boastfully about new manufacturing factories. But 200 days into his presidency, the most promising sector of the U.S. labor market isn't steel-plating. It's dinner-plating.
Restaurant jobs are on fire in 2017, growing faster than health care, construction, or manufacturing. The Bureau of Labor Statistics calls this subsector "food services and drinking places," and the jobs are mostly at sit-down restaurants, which make up 50 percent of the category. Fast-food joints are the next-largest employer in the category, with 37 percent. Bars—wonderful, plentiful, but leanly staffed—account for just 3 percent. So, I'm just going to keep saying "restaurants" for short.
---
Restaurants > Health Care
---
In some metros, restaurants are powering the entire economy. More than a third of Cleveland's new jobs since 2015 are in restaurants, according to EMSI data. The same is true for New Orleans, but since 2010.
Unlike mining or manufacturing, which tends to cluster in a handful of regions, the restaurant boom is spread across the country. New fine-dining restaurants, which tend to require more waitstaff, are blooming in all the predictable places—San Francisco, Nashville, and Austin (the Texas capital leads the country in percent-growth of restaurant jobs). But restaurants are dominating local economies in a diverse range of places, from poor metros like Little Rock, to rich places like Washington, D.C., and military hubs like Virginia Beach.
---
The Restaurants Are Eating the Jobs
---
How did this happen? As Justin Fox points out, the trend didn't appear overnight. For the past three decades, restaurants have steadily grown, as part of the most fundamental shift in American work—from making things to serving people. Between 1990 and 2008, 98 percent of new jobs came from so-called "nontradable" industries that aren't sensitive to international trade, according to the economist Michael Spence.
In 1990, manufacturing was almost three times larger than the food-service industry. But restaurants have gradually closed the gap. At current rates of growth, more people will work at restaurants than in manufacturing in 2020. This mirrors the shift in consumer spending. Restaurants' share of America's food budget has doubled from 25 percent in the 1950s to 50 percent today.
---
---
The phenomenon is speeding up. Four of the five best years for restaurant growth on record have happened since 2011. Restaurant jobs have grown faster than the overall economy every month for the past seven years. It's not just a redundant artifact of the service-sector economy, either. Almost every month between 1996 and 2000—years when job creation soared in a booming economy—restaurant jobs grew slower than the rest of the labor market.
The trend is speeding up, but it's not clear that we should cheer it—or whether it's sustainable. Jobs are jobs, but these ones don't pay very well. The typical private-sector job pays about $22 an hour. The typical restaurant job pays about $12.50. That's one reason why the Fight for 15 movement to raise the minimum wage has targeted the restaurant industry. What's more, although it might feel like a golden age of restaurants in America, the truth is that the United States might have too many restaurants, particularly "family-casual" chains like Applebee's, which have struggled to keep up with rising labor costs.
But the most important feature of the restaurant-jobs boom is not what it may say about the future, but rather the fact that it is happening in the first place. Trump and other politicians often say they want to help the common worker. But then they talk about the economy as if it were cryogenically frozen sometime around 1957. The U.S. still makes stuff, but mostly it serves stuff. To help American workers, it helps to begin with an honest accounting of what Americans actually do.