When Prisoners Are a 'Revenue Opportunity'
As jails install systems that let inmates videochat with "visitors" no matter where they may be, it's private companies that appear to have the most to gain.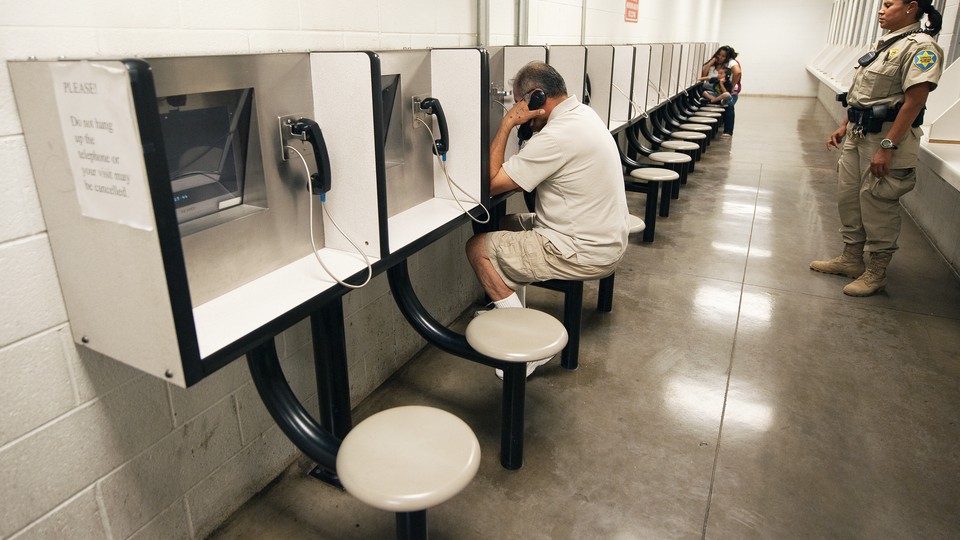 A new 384-bed jail opened in Lancaster, Ohio, earlier this summer. The building, which serves Fairfield County, replaces three smaller, antiquated facilities with a single modern one. The jail has high-tech security gadgetry, up-to-date living areas, and a controversial innovation that in recent years has spread across the country: video visitation.
Video visitation is a system in which visitors use a telephone-like handset, a camera, and a screen to communicate with an inmate using a similar setup elsewhere in the jail or prison. The two parties never see each other in person even when a visitor is physically inside the jail complex. And there's typically no fee to use the service as long as a visitor comes to the jail.
Though video-visitation technology was first used in jails and prisons about 20 years ago, it was slow to catch on because the operations were clunky and the upkeep a hassle. Over the past decade, however, instead of purchasing and having a contractor install a system the jail or prison would own, facilities have outsourced the systems to corporations, often as part of a package that includes phone services. As of 2014, according to a report by the nonprofit Prison Policy Initiative, over 500 jails and prisons in 43 states had adopted video visitation.
An unknown number of those 500-plus facilities have also adopted "remote" video visitation, something akin to Skype, in which a "visitor" can communicate with an inmate via a computer, from any location. Unlike the in-facility video visitation systems, these remote setups come with charges of up to a dollar per minute, not counting account-deposit fees and set-up charges—expenses that can be quite burdensome for the often-poor families of inmates.
Such systems make jailers—whether local governments or private corporations—the de-facto business partners of the companies, while enriching private-equity firms (which own many video-visitation providers) and their investors. "Video visitation is a link in the whole system that sees inmates as a revenue opportunity," says Daniel Hatcher, a law professor at the University of Baltimore and the author of The Poverty Industry: The Exploitation of America's Most Vulnerable Citizens. "It's part of a larger system that sees the broader vulnerable family as a revenue opportunity, too."
Fairfield County has followed a typical pattern. I used an old-style version of video visitation while reporting my book about Lancaster, Glass House: The 1% Economy and the Shattering of the All-American Town. When I wanted to "see" one of my sources for an interview, for example, I appeared at one of the jail buildings during regular visiting hours, showed my driver's license, and was then directed to a small, semi-enclosed booth. The quality of the video and the sound resembled the transmission of Neil Armstrong's first walk on the moon. Sometimes I could hear my interviewee, sometimes not. The line crackled; the picture was grainy. I spent several conversations mostly shouting. Family members of inmates frequently complained about having experiences like mine.
Marc Churchill, who runs the Fairfield County jail, says the county does not own the new video-visitation system, which he especially appreciates because he and his staff aren't responsible for maintaining it. It was installed by a company called ICSolutions, or ICS. ICS supplied the hardware (handsets, screens, cameras, wiring), the software, and the maintenance and troubleshooting, all free of charge. ICS made the process so easy, Churchill says, he didn't even know how much the installed equipment and services were worth. "I never got a bill. I have no clue," he says.
This operational smoothness seems to be something ICS uses to unseat existing inmate telecommunications providers. Fairfield County, for example, previously had an inmate-phone-service contract with another company, Securus. ICS offered a phone-and-video-visitation package, with the video system as an enticement. So Churchill terminated the contract with Securus early, he says. (ICS and its parent company, Keefe Group, did not respond to interview requests.) His jail hasn't implemented a remote video-visitation system yet, meaning those currently using the facility's in-jail video system aren't paying a thing; Churchill told me that per the terms of the county's deal with ICS, he has until the first day of next year to decide whether to enable remote videochatting. He says he'll make that determination based on how the new system is working and on ICS's rate structure.
Inmate-communication services have proven to be a very lucrative business, and expensive phone charges borne by the families of prisoners have stoked controversy for years. In response, the Federal Communications Commission (FCC) capped per-minute rates in 2015. Prison-telecom companies sued. President Trump's appointee to head the FCC, Ajit Pai, dropped the FCC's defense of the rate-cap rules, and, in June, a court struck them down. Even so, the phone charges became a scandal and some in Congress vowed to take action. Administrators began to feel queasy about the rates. As Churchill says, "I don't like the idea of price-gouging family members." So companies have begun offering lower (though still pricey) rates as part of phone-and-video packages, typically about 25 cents per minute for collect calls and 20 cents for prepaid calls, not counting a number of fees, like $2 for a bill statement.
The business model of video visitation can help cover this reduction in per-minute rates even if a company like ICS supplies on-premises services at no charge. How that's possible is a little complicated, and has to do with the fees that accompany remote video chats. While the new in-jail system in Fairfield County is free to use, there are hurdles when doing so. There's no more popping in during regular visiting hours, as I did. Would-be visitors have to go to the ICS website or a kiosk at the facility, provide personal information to the company in order to open an account, and reserve a visiting appointment at least 48 hours in advance. The reason for the 48-hour notice, Churchill says, is so inmates and jail staff can plan for the visits. "It makes better use of staff time," he says. While face-to-face visits could be arranged under the old regimen, Churchill says they will now be limited to attorneys, some clergy, and children of prisoners, supervised by child-service organizations.
At least one company has written bans of in-person visits into its contracts with facilities, which, of course, has the effect of driving more business to video visitation. For instance, a contract between Securus and Shawnee County, Kansas, signed in 2013 stipulated that the "Customer will eliminate all face-to-face visitation through glass or otherwise at the Facility and will utilize video visitation for all non-professional on-site visitors." Two years later, after this provision was exposed, Securus's CEO, Richard A. Smith, announced the company wouldn't push for such language in its contracts, and instead defer "to the rules that each facility has for video use by inmates."
This left facilities free to permit in-person visits, though many facilities with video-visitation systems have chosen to ban them anyway. The county jail in Elkhart, Indiana, a Securus customer, does that. There, even small children aren't allowed to visit their incarcerated mothers—not even separated by glass partitions. To justify the rule, Elkhart County's sheriff's department cites the risk of contraband smuggling. A post on the department's website notes, though, that on-site video visitation is free for the children of incarcerated parents. (A phone message and an email sent to the Elkhart County sheriff went unanswered.)
The procedural hurdles and the outright bans on in-person visitation seem designed to nudge visitors to stay home and visit remotely. This not only benefits providers, but jails, prisons, and local jurisdictions too, which can use income from company commissions or profit-sharing to benefit the facility, a county's general fund, or some other local cause. For example, the Prison Policy Initiative uncovered a contract between Securus and Maricopa County, Arizona, that provided for a 10 percent commission to the county of gross monthly revenues, but only if the number of paid video visits reached at least 8,000 for that month. If Securus grossed $2.6 million or more, the county's percentage rose to 20 percent.
Similarly, when Lorain County, Ohio, signed up with ICS this past spring for a phone-and-video package, ICS agreed to pay the county at least $300,000 per year in commissions, in exchange for hosting its system. The company's pitch to facilities administrators says the company "will deliver on our promise to increase your revenue." In a July 2016 letter to the FCC, ICS's president, Tim McAteer, argued that the FCC permits such commissions and that proposed FCC phone rate caps should "not limit how investors utilize their profits, such as sharing profits with facilities in the form of site commissions or providing other technologies." ICS has also made the argument that such commissions help jails and prisons recoup costs associated with hosting phone and video systems, though, as Churchill explains, his jail incurs almost no costs from them, since ICS did not charge the county for the system and has agreed to maintain it.
The hurdles of registering with the company, creating an account, and making a reservation are the same if a visitor uses the free service at the facility or visits remotely. So, as Churchill concedes, many visitors, already deprived of an in-person visit, may conclude that driving to the jail is a waste of time and gas, and opt to pay. And jailers like Churchill argue that video visitation has obvious security advantages and improves staff efficiency, as deputies don't have to remove a prisoner from a housing unit or check visitors in.
Which all sounds perfectly understandable, for jailers and for visitors. But video visitation is no replacement for in-person visits. As an oft-cited Minnesota Department of Corrections study from 2011 showed, "prison visitation can significantly improve the transition offenders make from the institution to the community. Any visit reduced the risk of recidivism by 13 percent for felony reconvictions and 25 percent for technical violation revocations." A report by the National Institute of Corrections (part of the U.S. Department of Justice) similarly concluded that video visitation "cannot replicate seeing someone in-person, and it is critical for a young child to visit his or her incarcerated parent in person to establish a secure attachment."
Meanwhile, because the largest inmate telecom-and-video providers generate a healthy flow of cash, they've attracted the interest of private equity, or PE. The fees that flow upward from prisoners and their families find their way to these firms and their investors. In 2013, for example, Global Tel Link, another major inmate phone-and-video provider, borrowed $885 million to fund dividend recapitalizations at the behest of its PE sponsor, American Securities; that debt would be paid back with the proceeds from inmate calls and video visitations.
PE firms have over the years traded provider companies among themselves. ICS, for example, is a subsidiary of Keefe Group, the largest prison-commissary provider in the country. Keefe Group is ultimately controlled by H.I.G. Capital, a $22 billion PE firm headquartered in Miami. H.I.G. once owned Securus. It sold it to another PE firm, Castle Harlan, in 2011. In 2013, Castle Harlan sold Securus to a third PE firm, Abry, for an estimated $640 million. In late July, a fourth, Platinum Equity, made a deal to acquire Securus for a reported $1.6 billion. This rise in valuation over a four-year period is indicative of how much money private equity thinks it can make from the industry.
The convoluted nature of PE ownership helps mask how such special dividends benefit the firms that own these companies. For example, the owner of record for Keefe Group and ICS is TKC Holdings, a company created by H.I.G. TKC carried about $1.35 billion in debt as of January, but took on even more debt last month in order to pay dividends to H.I.G. The credit-rating agency Moody's, citing this "very aggressive" financial policy, hit TKC with a debt-ratings downgrade. In other words, in order to pay itself dividends, H.I.G. engaged in financial engineering that, Moody's judged, damaged TKC's credit rating. (Two calls to H.I.G. were not returned.)
Even a critic like Hatcher, the author and law professor, believes that video visitation has the potential for good. Such a service can complement in-person visits. It could allow an inmate to see a child's school performance. It could substitute for an in-person visit when weather makes travel to a jail or prison hazardous. But Hatcher fears that it's being used to restrict contact and drain money from people who are often already poor.
In July, Democratic Senator Tammy Duckworth of Illinois reintroduced the Video Visitation and Inmate Calling in Prisons Act of 2017 in an attempt to regulate what is now a largely unregulated business. Duckworth's proposed legislation suggests that video visitation isn't being used merely to supplement in-person visits, but rather to supplant them. (Similarly, the Prison Policy Institute has charged that in-person visitation bans and other restrictions are "designed to drive people from what was traditionally a free service towards an inferior, paid replacement.") The law would make it clear that the FCC has authority to regulate video visitation, require the agency to make rules and assure reasonable rates, and restrict the banning of in-person visits in favor of video visitation. Duckworth's press secretary, Sean Savett, wrote in an email that the bill has been referred to the Senate Judiciary Committee, where its fate is uncertain.
Meanwhile, in Fairfield County, Churchill still has about five months' time to decide whether he'll implement remote video visitation. He knows ICS hopes he'll agree to do so—that free equipment wasn't installed out of the goodness of the company's heart. But he'll only do it, he says, if he's sure the "costs associated [with it] are not going to cause a family to have financial hardship. I think it should be fair to the other person, fiscally fair."
The last time I visited my source from Lancaster, we met in a state prison where he'd been transferred. We sat facing each other, each of us on a metal chair, with no partition between us. We shared a candy bar, had a nice talk, shook hands. As I was leaving, he thanked me for coming. He had not had any other visitors. "Man," he said, "you don't know what this means."