Uber Found the Opposite of Travis Kalanick to Be Its New CEO
Dara Khosrowshahi, the chief executive of Expedia, will be an even-keeled approach to the beleaguered ride-hailing company.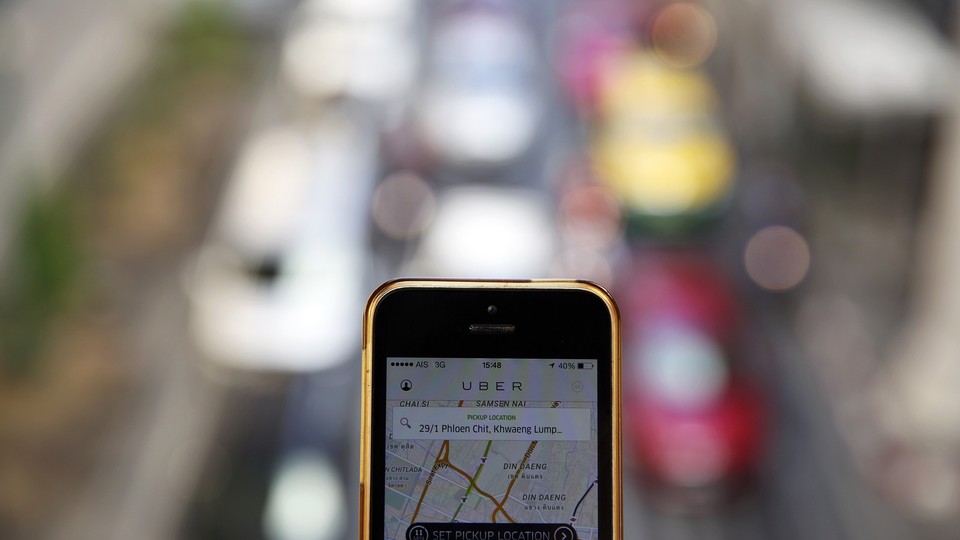 In a surprise move, Uber's board of directors has selected Dara Khosrowshahi, the CEO of Expedia, to be the company's next chief executive, ending a messy public battle over the future of the world's most valuable private company.
His selection represents a "truce" among rival coalitions on the dysfunctional Uber board. Some investors preferred Meg Whitman, the CEO of HP, according to reports in Recode. The selection of one of the world's most accomplished female business leaders might have sent a strong signal about Uber's reinvention following a scandal-ridden year rife with accusations of systemic sexism against the company's leaders. Other board members, including former CEO Travis Kalanick, are said to have preferred Jeff Immelt, the former chief executive of GE. Kalanick resigned from the company in June under intense pressure from investors, some of whom are still trying to minimize his involvement with the company.
In Khosrowshahi, Uber has selected a CEO who is both a logical successor to Kalanick and a reaction to his most obvious shortcomings. Like Kalanick, Khosrowshahi has presided over the dramatic growth of a digital platform company; Uber and Expedia are both, essentially, aggregator sites that connect consumers to clients. He has a sterling business record, having quadrupled Expedia's revenue since taking over in 2005, despite the sharp downturn in travel during the Great Recession.
But Khosrowshahi also represents a "Kalanick correction." Uber's former CEO gained a reputation as a prototypical tech bro who oversaw a culture of revolting sexism and was slow to take a stand against the White House travel ban until the #deleteUber movement forced his hand. He compounded his company's PR crisis when a video emerged of him chastising an Uber driver from the back seat of a car. Khosrowshahi, who was born in Iran, often plays the role of social activist on Twitter, where he has been an outspoken voice against the president's policies and rhetoric. He is an amiable leader, hailed by friends and competitors alike for his calm, no-drama approach to business, even in the fiercely competitive world of online travel booking.
There is no question that Khosrowshahi has a tough job ahead of him—he will have to rebuild Uber's C-suite, talent pipeline, and national reputation. Uber has suffered one of the most brutal stretches of any firm of its stature. It has been rocked by scandals that eviscerated its executive team. Investors have written down the company's value by as much as 15 percent. It is facing federal lawsuits over attempts to avoid regulation and a separate case involving Waymo, the self-driving car company under the Alphabet umbrella, which has accused Uber of stealing its technology.
But despite its tumultuous year, Uber's business is in fact growing—really, really quickly. The company's second-quarter revenue doubled from last year to $8.7 billion, according to financial documents obtained by Axios. Global trips grew by 150 percent compared to 2016. That's significant because, as a platform, Uber's strength comes from an ever-growing supply of users, which in turn attracts drivers, which in turn makes the product better for its users and attracts more of them.
This is where Khosrowshahi's background becomes particularly interesting. He may know little about self-driving technology, or international transportation regulations. But his tenure at Expedia imparts, in the broadest terms, the lesson of Uber's success, which is that the power of a platform depends on designing for end-users while accommodating merchants that you don't own or control. Travis Kalanick built an extraordinary business on top of a poisonous culture. Khosrowshahi's task is to prove that the former did not depend on the latter, and to lead an Uber that is both colossal and decent.