When Success Means Leaving Your Mentor
The chef Jeremiah Langhorne learned from one of his idols—and then decided to move on.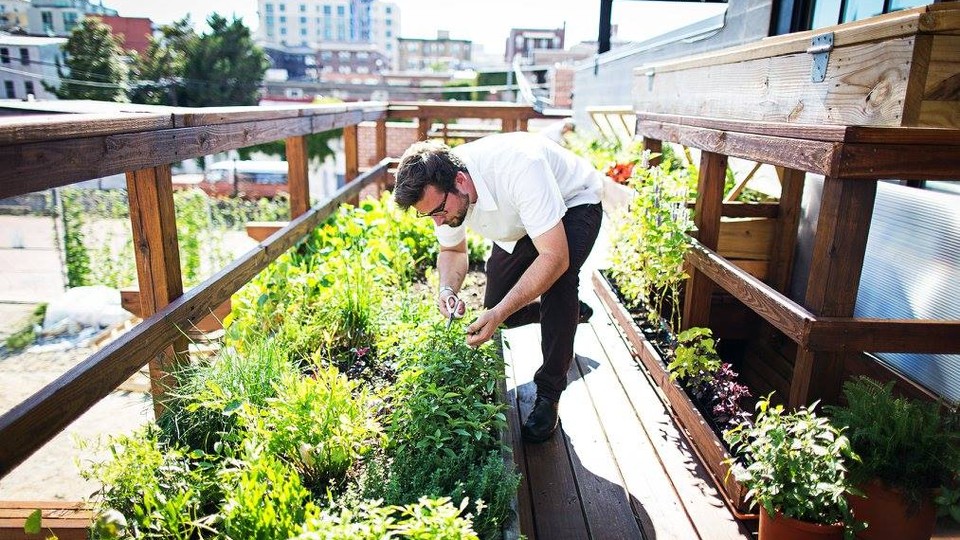 The natural evolution of mentorship isn't necessarily a lifetime of collaboration. Instead, mentorship is often considered most successful when mentees can take what they've learned and use it to branch out on their own.
The chef Jeremiah Langhorne spent five years learning from his mentor Sean Brock, the executive chef at the locally sourced Southern restaurant McCrady's in South Carolina, before he launched his own restaurant in Washington, D.C. That restaurant, The Dabney, has been lauded for its food and approach to cooking. Since its opening, it's received a string of awards, including a Michelin star.
For The Atlantic's series "On the Shoulders of Giants," I spoke with Langhorne about what he learned from Brock, launching a career, and what different phases of mentorship look like for a chef. The conversation that follows has been edited for length and clarity.
---
Belinda O'Donnell: When did you first get the sense that you wanted to be in the kitchen at McCrady's?
Jeremiah Langhorne: I knew I wanted to work with agriculture and produce and farms. Sean used to have a blog, so I'd go and read his blog every morning, and he had these posts—a picture of a technique that he was doing and an explanation of how he did it, and then updates of what he was doing at the restaurant—and I'd read it every morning.
O'Donnell: How did you transition from being a fan to working alongside him?
Langhorne: I went down there and staged [an unpaid internship in which a cook works in a kitchen for free] for a week. Walking into the kitchen at McCrady's was really special because it was the first time I had gone into a place where I felt like I legitimately was the dumbest person in the room. I mean that in the best possible way. It gave me that source of inspiration and drive, and a desire to prove myself, and I think all those characteristics are really great in forming somebody, especially a young person.
O'Donnell: Has Sean influenced the way you approach your career as a chef?
Langhorne: The number-one thing that Sean paid attention to was learning and seeking out knowledge. Whether it's a 500-year-old technique, or one that was created yesterday, I know that I can learn it, and then if I have all the information, I can choose to use or not use whatever I like. It's like creating a library in your mind.
O'Donnell: Was there a particular moment when you were working with Sean that you realized he was going to change the way you thought about what you do?
Langhorne: I still remember the very first time we were creating a recipe together. We started off with the simplest thing, a ramp, and we thought, "What flavors make sense with this? Should we put bay leaves in here, or garlic? Do you think that it needs a bit of heat, maybe a slice of jalapeño would be good?" And he just talked me through that process of making a recipe. To see somebody, especially a chef of Sean's caliber, just creating a recipe out of thin air, trusting what we tasted and what we liked—that was a moment for me.
O'Donnell: How did this working relationship evolve into mentorship?
Langhorne: I remember thinking, "I want to be his right hand man so I can get as much information and knowledge out of him as possible." And I think that started the process. From then on, I knew I needed to do all my restaurant work as quickly and as well as I possibly could so I could get free time to help him at the farm, or with a new charcuterie thing, or with a new technique. We started going out to the farm three days a week, spending an extra two to three hours in the morning pulling weeds and planting new things together. We started building that dialogue and that conversation a lot more, which really helped me to learn not just technical cooking, but the entire philosophy of how he approaches food in general, and making people happy. That's what we do as chefs: We cook food and try to make people happy with it.
O'Donnell: When did you know you were ready to open your own restaurant?
Langhorne: I got that ability and sense of empowerment from the time I spent running McCrady's for Sean. I was starting to get to a point where I felt like I was forming my own opinions. It's not that either of us was right or wrong; I was just maturing. I had a feeling that I was ready to open a restaurant.
O'Donnell: How does your mentor's influence show up in the culture of your own kitchen now?
Langhorne: A big part of Sean's influence is this: You should create a kitchen where you are constantly learning and moving forward and you are drawing from everybody's thoughts. So if a cook comes up and says, "I really want to learn how to make vinegar," you don't say, "I don't have time for that, we are doing other things." You say, "Okay, let's look at it. Let's do some research, let's see what we can do, and what kind of vinegar do you want to make?" And just through doing that, you build so much positive energy. It makes everybody better.