After Charlottesville, Business Leaders Are Dumping the Trump Administration
Several prominent executives have resigned their positions on the president's manufacturing council and issued statements decrying racism.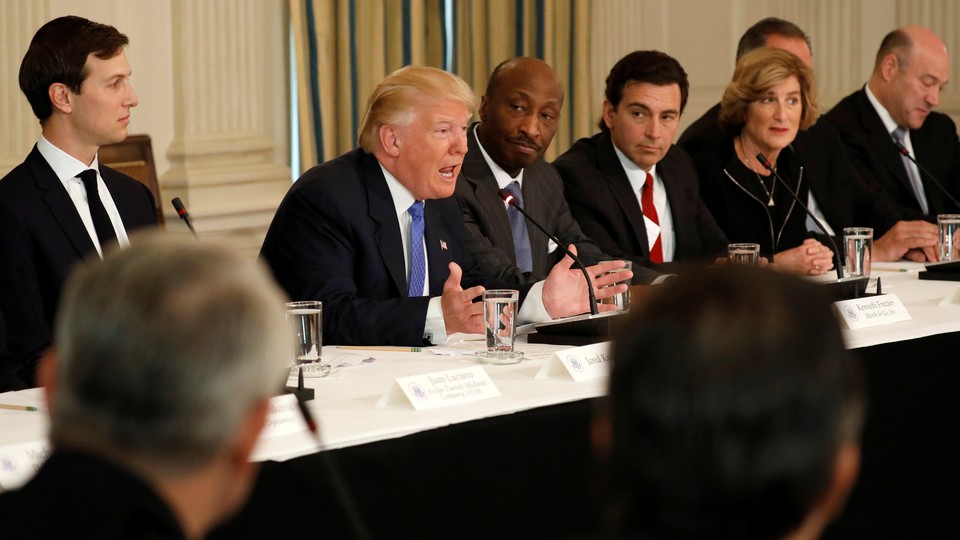 Updated on August 16 at 12:42 p.m. ET
Over the weekend, white supremacists gathered in Charlottesville for a rally that left one person dead and others severely injured. President Trump's response was tepid at first, pointing to violence on "many sides," a phrase he repeated for emphasis.
In the days since, several prominent business leaders have responded by repudiating the Trump administration—resigning from the president's manufacturing council and issuing statements. First to go was Kenneth Frazier, the chief executive officer of Merck Pharmaceuticals and one of the country's most prominent black executives. "Our country's strength stems from its diversity and the contributions made by men and women of different faiths, races, sexual orientations, and political beliefs," he wrote in a statement released on Twitter. "America's leaders must honor our fundamental values by clearly rejecting expressions of hatred, bigotry, and group supremacy." (Trump swiftly met Frazier's statement with an attack on Twitter.) Then, three more followed—the CEO of Intel, Brian Krzanich, the CEO of Under Armour, Kevin Plank, and the president of the Alliance for American Manufacturing, Scott Paul. They were joined Tuesday evening by the president of the AFL-CIO, Richard Trumka, and Wednesday afternoon by the CEO of 3M, Inge Thulin.
Granted, many businesses and executives have remained silent in the face of Trump's provocations, with one unnamed CEO telling Andrew Ross Sorkin of the New York Times, "Just look at what he did to Ken. I'm not sticking my head up." Still, the departures underscored corporations' willingness to critique the White House—and Trump personally—especially on issues of racial bias, equality, and sustainability. And it seems possible that executives will leave the White House's advisory councils en masse.
In decades past, it was rare for corporations to wade into politics in this way. Why risk alienating part of one's customer base, and why risk antagonizing the government? "When I first began studying the interactions between social movements and corporations 25 years ago, it was rare to see business take a public stand on social issues," wrote Jerry Davis, a professor of sociology and management at the University of Michigan. In recent years, he observed, it has become far more common. And on the issues of racism and equality, more companies now seem willing to take a strong stand.
One issue to see vocal corporate support was LGBT rights. Last year, for instance, more than 80 business leaders—from Bank of America, Apple, Facebook, and dozens of other companies—signed an open letter excoriating North Carolina for its so-called bathroom bill, which would have forced transgender students to use restrooms inconsistent with their gender identity. In 2015, Walmart weighed in against a bill in Arkansas that opponents said would have let businesses deny service to same-sex couples on religious grounds. "Every day, in our stores, we see firsthand the benefits diversity and inclusion have on our associates, customers, and communities, we serve," Doug McMillon, Walmart's chief executive, said in a public statement. "It all starts with our core basic belief of respect for the individual." (On the other hand, companies such as Chick-Fil-A and Hobby Lobby have advocated for conservative positions.)
With the Trump administration barring some immigrants and refugees, pulling away from consensus climate science, moving to prevent transgender people from serving in the military, and responding to racist incidents only slowly or not at all, businesses are getting bolder. The racial terror on display in Charlottesville, and Trump's subsequent handling, only added to the pressure for businesses to break with the administration.
Frazier, Krzanich, Plank, Paul, and Trumka join a number of other executives who have lashed out at the Trump administration after agreeing to advise it. In February, Travis Kalanick, then the chief executive officer of Uber, quit a White House council after the White House banned people from certain majority-Muslim countries from traveling to the United States. In June, after Trump announced a plan to withdraw from the Paris climate agreement, Elon Musk of Tesla and Robert Iger of Disney also publicly withdrew from their advisory roles.
Then there are the corporations that have chastised the White House in statements, internal memos, and their executives' interviews with the press. Coca-Cola, Ford, Microsoft, and Goldman Sachs, among many, many others, spoke up against the Muslim ban, for instance. More than two dozen major businesses took out full-page ads protesting Trump's abandoning the Paris agreement, and it prompted Lloyd Blankfein, Goldman's CEO, to tweet for the first time.
Some of the companies and business leaders remaining on Trump's business advisory councils now find themselves trying to navigate toward two increasingly distant shoals: repudiating racism and working with the Trump administration. In a statement released to The Atlantic, International Paper, for instance, said it "strongly condemns the violence that took place in Charlottesville over the weekend—there is no place for hatred, bigotry and racism in our society." At the same time, though, the company affirmed its CEO would stay on the manufacturing council. "Through our participation on the Manufacturing Jobs Council, we will work to strengthen the social and economic fabric of communities across the country by creating employment opportunities in manufacturing."
GE, Johnson & Johnson, Newell Brands, and the Campbell Soup Company took similar tacks in statements provided to The Atlantic and other outfits. (The remaining members of the manufacturing council—including representatives from United Technologies, 3M, Caterpillar, and others—did not immediately respond to The Atlantic's request for comment.)
On Tuesday afternoon, Walmart was more direct in its criticism. McMillon, its CEO, published a statement to employees stating that the president's failure to explicitly condemn white supremacists "missed a critical opportunity to help bring our country together," but that he would remain on Trump's Strategic and Policy Forum "to influence decisions in a positive way and help bring people together."
Going forward, it seems likely that more will choose to leave. Might that have an effect on Trump? On the one hand, corporations were helpful in getting states to pull back on anti-LGBT bills. And political scientists have shown that government tends to be far more responsive to the complaints of and pressure from economic elites and business interests than to those coming from average folks. That said, Trump has a long history of fighting against his critics and listening to himself.