The Best Business Reads of July
The month's most interesting stories about money and economics from around the web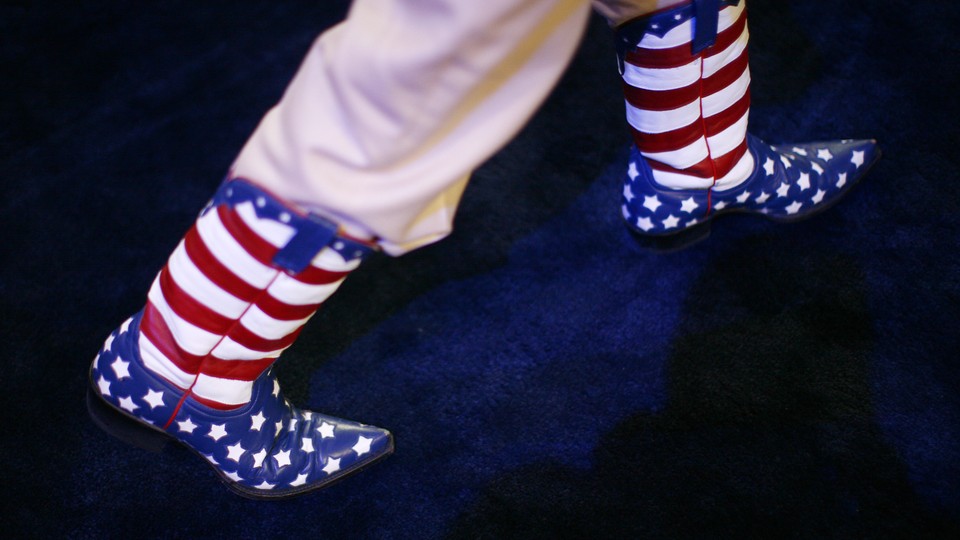 Each month, the editors of The Atlantic's Business Channel share the most interesting pieces of journalism about money and economics from around the web.
This month's picks include an investigation of Google's influence on academic research; the ongoing tension between working Americans and those without jobs; extreme commutes; and a look at Texas as a proxy for America's future in everything from voting to tax treatment to corporate power.
If you've missed previous roundups, you can find recent ones here and here.
---
"Paying Professors: Inside Google's Academic Influence Campaign"
Brody Mullins and Jack Nicas | The Wall Street Journal
Over the past decade, Google has helped finance hundreds of research papers to defend against regulatory challenges of its market dominance, paying $5,000 to $400,000 for the work, The Wall Street Journal found.

Some researchers share their papers before publication and let Google give suggestions, according to thousands of pages of emails obtained by the Journal in public-records requests of more than a dozen university professors. The professors don't always reveal Google's backing in their research, and few disclosed the financial ties in subsequent articles on the same or similar topics, the Journal found.

University of Illinois law professor Paul Heald pitched an idea on copyrights he thought would be useful to Google, and he received $18,830 to fund the work. The paper, published in 2012, didn't mention his sponsor.
* * *
"Who Wants to Run That Mom-and-Pop Market? Almost No One"
Julie Turkewitz | The New York Times
R&R Market—the oldest business in Colorado, built by descendants of Spanish conquistadors in the oldest town in the state—is in danger, at the edge of closing just as rural groceries from Maine to California face similar threats to their existence.

"If that little store closes, it's going to be catastrophic," said Bob Rael, director of the economic development council in Costilla County, where San Luis is the seat. "Reality is going to set in. Who let this happen?"

Across the country, mom-and-pop markets are among the most endangered of small-town businesses, with competition from corporations and the hurdles of timeworn infrastructure pricing owners out. In Minnesota, 14 percent of nonmetropolitan groceries have closed since 2000. In Kansas, more than 20 percent of rural markets have disappeared in the past decade. Iowa lost half of its groceries between 1995 and 2005.
* * *
"Are You Ready to Consider That Capitalism Is the Real Problem?"
Jason Hickel and Martin Kirk | Fast Company
A YouGov poll in 2015 found that 64 percent of Britons believe that capitalism is unfair, that it makes inequality worse. Even in the U.S., it's as high as 55 percent. In Germany, a solid 77 percent are skeptical of capitalism. Meanwhile, a full three-quarters of people in major capitalist economies believe that big businesses are basically corrupt.

Why do people feel this way? Probably not because they deny the abundant material benefits of modern life that many are able to enjoy. Or because they want to travel back in time and live in the U.S.S.R. It's because they realize—either consciously or at some gut level—that there's something fundamentally flawed about a system that has a prime directive to churn nature and humans into capital, and do it more and more each year, regardless of the costs to human well-being and to the environment we depend on.
* * *
Lawrence Wright | The New Yorker
I've lived in Texas for most of my life, and I've come to appreciate what the state symbolizes, both to people who live here and to those who view it from afar. Texans see themselves as a distillation of the best qualities of America: friendly, confident, hardworking, patriotic, neurosis-free. Outsiders see us as the nation's id, a place where rambunctious and disavowed impulses run wild. Texans, it is thought, mindlessly celebrate individualism, and view government as a kind of kryptonite that weakens the entrepreneurial muscles. We're reputed to be braggarts; careless with money and our personal lives; a little gullible, but dangerous if crossed; insecure, but obsessed with power and prestige.

…

Texas has been growing at a stupefying rate for decades. The only state with more residents is California, and the number of Texans is projected to double by 2050, to 54.4 million, almost as many people as in California and New York combined. Three Texas cities—Houston, Dallas, and San Antonio—are already among the top ten most populous in the country. The eleventh largest is Austin, the capital, where I live. For the past five years, it has been one of the fastest-growing large cities in America; it now has nearly a million people, dwarfing the college town I fell in love with almost forty years ago. Because Texas represents so much of modern America—the South, the West, the plains, the border, the Latino community, the divide between rural areas and cities—what happens here tends to disproportionately affect the rest of the nation. Illinois and New Jersey may be more corrupt, and Kansas and Louisiana more out of whack, but they don't bear the responsibility of being the future.
* * *
Bryan Miller | The New York Times
In 1492, after an arduous voyage aboard Columbus's vessel the Santa María, Rodrigo de Triana, a lookout, bellowed, "Tierra!"

This is pretty much how Corey Ferrell, a commuter, sometimes feels upon docking at his Manhattan office following a heroic three-and-a-half-hour, one-way commute—by bicycle, two trains, and on foot— from Oxford, Conn.
* * *
"Summer of Samsung: A Corruption Scandal, a Political Firestorm—and a Record Profit"
Brad Stone, Sam Kim, and Ian King | Bloomberg Businessweek
Regaining its technological footing has come easier to Samsung. The Galaxy S8 has been combustion-free, and in a remarkable sign of tenacity, the company just issued a refurbished Note 7 Fan Edition in South Korea. Where many companies would have abandoned a besmirched brand, Samsung charges ahead.

To appreciate how deeply such relentlessness is embedded in the company's makeup, you must drive 45 miles south of Seoul, to flat pastures that were once populated by pigs and cows. After navigating a well-manicured path up a small hill in a newly fashionable neighborhood, you arrive at an outcropping with an expansive view of a stupendously large construction site. Towering cranes dot the skyline above a 3 million-square-meter campus. Scattered buildings with unironic signs such as "disaster prevention center" and "fire station" ring two enormous structures decorated with colored squares in the style of the Dutch painter Piet Mondrian.
* * *
"Facebook Worker Living in Garage to Zuckerberg: Challenges Are Right Outside Your Door"
Julia Carrie Wong | The Guardian
Mark Zuckerberg's travels throughout the United States to fulfill his 2017 "personal challenge" to "learn about people's hopes and challenges" have seen him drive a tractor, meet recovering heroin addicts, don a hard hat and speak out against the staggering wealth inequality that his $68.5 billion fortune so clearly represents.

But to Nicole, a worker in one of Facebook's cafeterias, they have also raised an important question: "Is he going to come here?"

"Here" is just a few miles from Zuckerberg's five-house compound in Palo Alto and mere blocks from Facebook's sprawling Menlo Park headquarters. Here, on a quiet street of modest bungalows, Nicole and her husband Victor, who also works at a Facebook cafeteria, live in a two-car garage with their children, aged nine, eight and four.
* * *
Terrence McCoy | The Washington Post
Tyler would hold a sign on the side of the road and beg for money. He would go to a town 30 miles down the road and stand at one of the region's busiest intersections, where he prayed no one would recognize him, to plead for help from people whose lives seemed so far removed from his own.

To Tyler, the collapse of the coal industry had left two kinds of people in these mountains. There are those who work. And there are those who don't: the unemployed, the disabled, the addicted, and the people who, like his family, belonged to all three groups. Those who work rarely mix with those who don't, except in brief encounters at the grocery store, at the schools or, for Tyler, along the side of the road, where he knew he was likely to encounter acts of generosity as well as outbursts of resentment.

As he walked toward the car and got inside, he had so many hopes in his head. He hoped he would get enough money to feed his family. He hoped the cops wouldn't arrest him. But most of all, he hoped he wouldn't run into a man named David Hess.