Coaching Players for Life
University of Michigan's John Beilein reflects on 40 years of mentoring young athletes.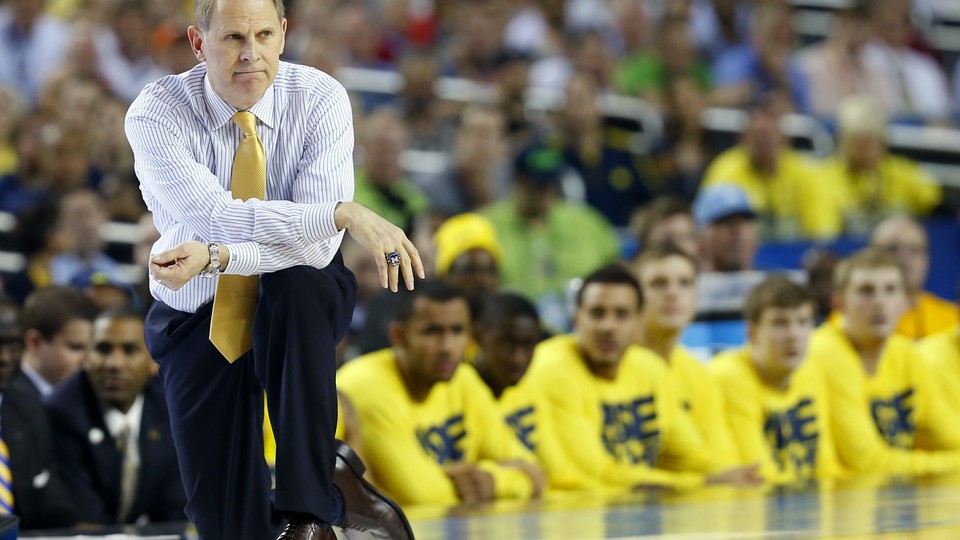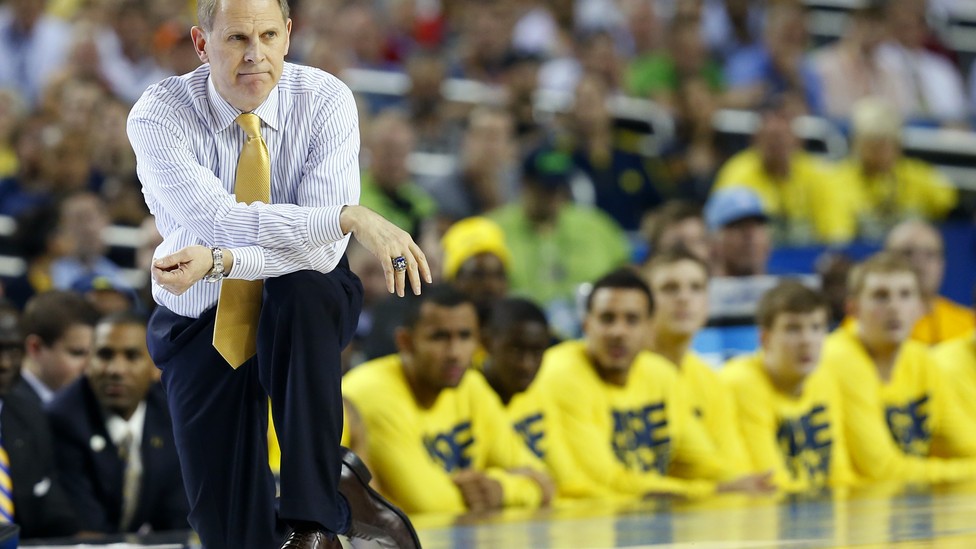 Over the course of a career that now spans four decades, University of Michigan's head basketball coach, John Beilein, has worked with over 100 student athletes. More than a dozen of them have found their way into the NBA.
Like many other coaches, Beilein has spent lots of time with the young men he coaches, and has tried to instill lessons not just about basketball, but about life and finding the path that's best for each person.
This year, Beilein's quest to empower his players to think critically about their decisions took a unique turn when he left it up to them to choose whether or not to continue their season. The airplane chartered to transport the team to the Big Ten Tournament took off in high winds, and the pilot made an emergency landing that left players shaken, and some injured. The team decided they would travel to Washington, D.C., anyway to play their first game of the tournament—a tournament they went on to win.
For The Atlantic's series, "On The Shoulders Of Giants," I spoke with Beilein about tailoring mentorship to each player and preparing them for life in college sports and beyond. The conversation that follows has been edited for length and clarity.
---
B.R.J. O'Donnell: You have six values that you try to instill in your team. Would you walk me through those?
John Beilein: When I got to Michigan we were struggling in those first three years, and I realized I couldn't just lead by example. I had to make an intentional effort to shape the culture of the team. So I sat down and I asked, "What are the five things you value the most?" And that's when we came up with unity, passion, appreciation, integrity, and diligence—in the form of a lot of hard work. So those are our core values, and then we added accountability, because we felt that our team held themselves accountable as individuals, but that didn't extend to others around them. Our players were so nice that they wouldn't step outside of their comfort zone to tell a teammate, "You need to talk more in practice, you're too quiet." Or, "You have a relationship that is toxic to you, and you have to end it." We were not good at that, so we added it.
O'Donnell: Every player has different interests and different styles on the court and off. How do you tailor your coaching and your guidance to each person? And what stays the same?
Beilein: They are all so unique in their personality, in their desires, and in their likes and their dislikes. And I have to make sure that I adapt my style to each player's self esteem, background, family, all kinds of things.That's why the relationships are so important. As you get to know a young person, you need to know as much as you can about them so you can talk to them about life outside of basketball. I need to do that more, and I work at it.
O'Donnell: What does mentorship within the team look like?
Beilein: It's very intentional. We pick their locker room positions around where we want mentorship to happen within the program. If you are dressing next to a guy every day, it's like you're his roommate. We do the same thing on the road. We hope that we are teaching our more experienced players how to teach the younger guys to make good decisions, whether it's on the court or off the court—something we say all the time is "Do the next right thing in your life." Once the young guys come in here, and they see the upperclassmen doing that, then they do it too.
O'Donnell: Can you tell me about a moment from your last season that reflects the exact kind of mentorship you are working toward?
Beilein: Derrick Walton Jr. was our starting point guard, had been a four-year starter, and his heir apparent is a young man named Xavier Simpson. Xavier, as most freshmen do, found college basketball to be a different animal, and he was still getting used to it.  I remember hearing Derrick say to Xavier one time, "Coach is going to be very demanding of you because he believes you can be a really good player, and this team needs you, so you can't get down at all. You have got to continue to push forward, because you're important, and Coach thinks you're important, and I think you're important." It's not an isolated incident. I would say every practice, the older guys are mentoring the younger guys. There is this attitude in our practice that we need the young guys to be as good as they can be, and a simple, short communication can really assist them in that.
O'Donnell: Derrick Walton Jr. is now on the roster of the Miami Heat. What kinds of conversations do you have with players when they are getting ready to approach the NBA, in terms of preparing them for that transition?
Beilein: We are very truthful with them. We come to them first, to be able to say, "I believe you should be looking at the NBA right now. I'm not saying you should do it, but let's do some research." That allows players to make their own decisions. For example, we did that this year for both D.J. Wilson and Moritz Wagner. The facts told D.J. that he wanted to become an NBA player this year, and for Mo, they told him he wanted to stay at Michigan. That's the only way you can do this, really—try and give them all the facts. That's the key to it.