From 'Not in My Backyard' to 'Yes in My Backyard'
Out of a desire for more-equitable housing policy, some city dwellers have started allying with developers instead of opposing them.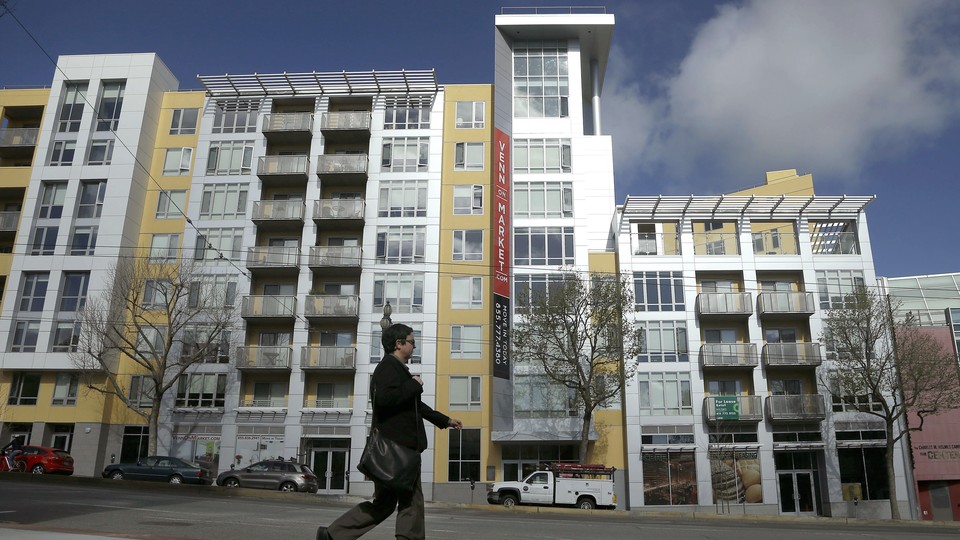 Real-estate developers are not popular with most of the American public. A recent Stanford paper found that people like developers only slightly more than they like corporate executives. Many progressives object to developers' business model, which depends on building new units and charging as much as possible for them, even if that makes them unaffordable for longtime residents.
But there are signs that this adversarial relationship is starting to give way to a more cooperative dynamic. In cities across the country, some residents that might once have protested new construction are welcoming developers, pushing governments to allow them to build more and more housing. "You can work to dismantle the system without demonizing developers," Laura Loe, a Seattle housing advocate, told me. With more housing, the thinking goes, the cost of rent in thriving cities like San Francisco, Boston, and Portland will not rise so quickly, which will allow more people from different economic backgrounds to live there and share in the prosperity of the local economy.
This type of thinking is the centerpiece of a progressivist movement called YIMBYism—referring to an abbreviation of "Yes In My Backyard"—which is increasingly notching successes in big cities. YIMBYs are a pointed contrast to NIMBYs, who are named for the phrase "Not In My Backyard," a derogative term for people who oppose development. This opposition grew, in many places, from a desire to keep populations down and property values up, but also as a way to perpetuate housing segregation. The developments that many didn't want in their backyards were housing complexes that would have brought poor and minority families into more-affluent areas, in hopes of giving them access to better schools, jobs, and opportunities.
Look around, and YIMBYs are a growing presence. There's a YIMBY group in Somerville, Massachusetts, and one in Los Angeles; there's a San Francisco YIMBY party and a YIMBY group in Portland. YIMBYtown, a national conference, will take place in Oakland this month; Helsinki is hosting Yimbycon in August.
"We're saying yes to opportunity, in contrast to the gloom-and-doom negativity of NIMBY," says Jesse Kanson-Benanav, who is the chair of A Better Cambridge, an advocacy group that works to get more housing built in Cambridge, Massachusetts, and who will be attending YIMBYtown along with a handful of other Boston organizers. A Better Cambridge, which was founded in 2012 to advocate for more housing, pushed back against concerns from the community about noise, height, and traffic. Kanson-Benanav's group was instrumental in getting a 19-story development approved in Cambridge's Central Square this year. "There's now a pro-housing, pro-density constituency in Cambridge that hadn't been at the table previously," he told me.
Similar groups have seen successes in other cities. In Colorado, Boulder Forward, a YIMBY group that organized the inaugural YIMBYtown conference last year, organized opposition to a ballot measure that would have restricted growth in town. Residents voted down the ballot initiatives by a 2-to-1 margin. And in Berkeley, East Bay Forward, a YIMBY group, protested at a city-council meeting at which downzoning—a change to zoning policy that would restrict the amount of housing that could be built—was on the agenda. The city council decided not to consider the measure at that meeting, which the YIMBYs considered a victory.
These housing advocates have fine-tuned their message as they've gained momentum. Many of them do not make a point of emphasizing that building housing increases affordability. What has been more successful, YIMBY groups are recognizing, is appealing to people's sense of equity and fairness. Economic mobility is stunted throughout much of the country, and one reason for this is that low-income people can't afford to live in high-opportunity cities such as San Francisco and New York. Taking pressure off of housing prices by building more units is one way to open up cities' economies to more people.
"I think there are more people understanding housing as a social-justice issue," Gabriel Metcalf, the president and CEO of SPUR, the San Francisco Bay Area Planning and Urban Research Association, told me. "While they might not like their communities changing with higher-density buildings, more people understand that they are necessary to live up to our values as progressives."
There's no doubt that affordability is an issue in some of the country's biggest metropolitan areas. But talking about affordability isn't necessarily what gets people to support building more housing, and research backs up this approach that many YIMBYs take. In a recent working paper, Clayton Nall, a professor of political science at Stanford, and William Marble, a graduate student there, found that most people are ambivalent when they're told that developments will reduce the cost of housing. In some cases, if they're homeowners, such information will make them less likely to support development, likely because they think the values of their own properties will go down.
But there's a group of people who will support housing developments if they're reminded of the redistributive effects of such construction. There's a high correlation, Nall told me, between people who believe in taxing the rich and those who believe in providing housing for all. "An economically progressive message tied with a pro-development message can potentially ameliorate the concerns of liberal homeowners," Nall said.
The idea of wealth redistribution was what helped convert Loe, the Seattle YIMBY, to the cause. She was raised by two art historians, she told me, who emphasized the importance of historic preservation, and so she used to support restrictions on building. She used to want to "wage a proxy war on capitalism," she told me, by not letting builders build. Loe was the campaign manager for a Seattle city-council candidate who opposed development, and as she knocked on doors during the campaign, she met a number of NIMBYs who didn't want their neighborhoods to be more diverse. It slowly dawned on Loe, who had been a member of the Green Party for 20 years, that building more housing was the way to make Seattle more equitable. "White homeowners have had so many advantages and subsidies and tax breaks—there's a fairness issue there," she said. "It's about sharing the city."
Many housing advocates echo this idea of sharing, and say that's why they've gotten involved in the YIMBY movement. Some say the election of Trump has also helped spur interest in their cause. Sonja Trauss, who founded the Bay Area Renters Federation (BARF) in 2013, told me that her group's most well attended meeting occurred right after the election. "Man, did we have a surge in interest for getting involved in politics after the election," she said. Generally, she says she's seeing more groups like hers in the Bay Area, and now some elected officials will disparage NIMBYism in a way they didn't before. "It seems like the tide has turned," she said. Laura Foote Clark formally started the group YIMBY Action six months before the November elections. Membership in the Bay Area group has doubled since the election, she told me. "We definitely got the initial Trump bump—people being like, 'Oh my God, the world is ending, we have to do something,'" she told me.
Few places have seen more of a surge in pro-building sentiment than the Bay Area, where development has traditionally been hampered by objections from neighbors concerned with the downsides of density. Silicon Valley added about 344,000 residents between 2007 and 2016, according to Stephen Levy of the Center for Continuing Study of the California Economy, but only 69,503 units were issued building permits in that time. (Levy calculates that 130,094 units of new housing would have been needed to keep pace with population growth.)
Some people in the Bay Area are changing their minds about developers, Clark, of YIMBY Action, told me. More and more of them are affected by rising housing prices, and so are becoming aware of the problem of a lack of inventory. Others are increasingly realizing their children won't be able to afford to live close by. "It is no longer just low-income folks who are housing-burdened—it's now moved well up the ladder," Levy said.
With a growing Bay Area pro-housing lobby have come victories for the movement. In May, San Francisco's Board of Supervisors passed a law called Home SF, which allows developers to build taller buildings and more units if they include affordable units in the project. (A prior version of the same housing law had died last year after an anti-development protest at which one housing activist decried the proposal as "ethnic cleansing.") Libby Schaaf, the mayor of Oakland, recently appointed an executive at a real-estate firm to the city's seven-member planning commission, and last year released a plan to build 17,000 more units in the city. Facebook is working with the city council of Menlo Park, where the company is based, to build 1,500 housing units for the general public. In March, the majority of speakers at a Sunnyvale Planning Commission meeting were pro-housing, which would have been unheard of just a few years ago, Jason Uhlenkott, the co-director of SouthBayYIMBY, told me. "There's a lot of evidence that voters who want more housing are turning out in large numbers," he said.
Perhaps the biggest change has come in the city of Mountain View, home to Google, which is located in the heart of the traditionally NIMBY Silicon Valley. The city is planning 9,850 new units near Google's campus, and wants to increase its housing stock of 36,000 by 50 percent in coming years, according to Lenny Siegel, a member of Mountain View's city council. In 2014, nine candidates ran for city council, and the pro-housing candidates, including Siegel, came in first, second, third, and fifth, he told me.
"There's this great sense that housing is a problem, not just for employers, but for the fabric of our community," Siegel told me. Siegel said that liberals like him have to make peace with developers. When he was running for office, a developer offered to donate to his campaign, and his wife urged him to turn the donation down. Now, he takes meetings with developers in his living room. "If we want housing, we have to work with developers," he told me. "I don't like their business model at all, but in some ways I'm their best ally because I want to build housing."
Of course, the rise of YIMBY sentiment doesn't mean that opposition to construction has disappeared. Throughout the Bay Area, and the country, there's still significant resistance to building housing in many expensive communities. For example, a May meeting in Menlo Park over a proposal to build 150 affordable housing units was met with typical NIMBYism. Housing "is not affordable in this whole Peninsula. To expect one little piece of Menlo Park to be responsible to correct that ... that's not fair," one local resident told The Almanac, a local newspaper. But pro-housing advocates say that now, there are voices pushing back against the NIMBYs where there once were not—an important shift, given that most decisions about housing and planning are made at the local level.
And there are growing signs of divide within the pro-housing movement. As Henry Grabar wrote last month at Slate, some progressives are skeptical about San Francisco YIMBYs' true aims. Left-leaning San Franciscans have called YIMBY advocacy "a libertarian, anti-poor campaign," and the San Francisco chapter of the Democratic Socialists of America recently protested a YIMBY panel in San Francisco, calling the organization "pro-gentrification."
Not everyone who currently opposes development has these reactions, but convincing people to support housing and equality in general is easier than getting them to back a project that's going up across the street from them. The work of Nall, the Stanford professor, shows that people who say they are in favor of development get skittish when they're asked about specific proposals, especially ones in their communities.
Even Siegel, the pro-housing city-council member in Mountain View, qualifies his success in getting more units built. His coalition won support from the community for a plan to build the 10,000 or so units in an area called North Bayshore because that area isn't near many homes in the community—it is currently home to an office park. Voters might have been more resistant if the project were to be more entwined in the community. He found success, he says, by tweaking the pro-development message from "Yes In My Backyard" to "Yes, In Your Backyard." It may not be a progressive rallying cry, but it is getting people to support building more housing units, he said, so it's a start.