How Venice Beach Became a Neighborhood for the Wealthy
... and what that means for affordable housing across the country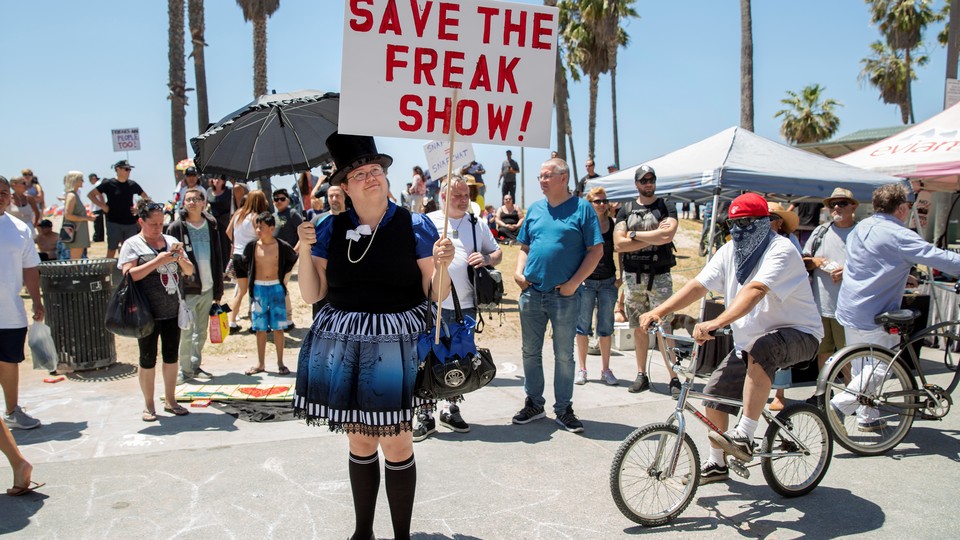 Just over a week ago, The Wall Street Journal called the neighborhood where I rent, Venice Beach, California, the toughest place in the United States to build new housing, pointing to it as an extreme example of what is happening in a lot of wealthy urban enclaves.
"Apartment developers have stepped up production focused largely on the inner cores of big U.S. cities, where millennials are flocking for high-paying jobs and easy commutes, and where development is often welcomed," the newspaper reported. "Meanwhile, surrounding low-rise neighborhoods—many filled with older structures and historical character—are keeping developers out. Residents of these older urban neighborhoods generally have resisted newcomers, complaining about congestion on roads and public transportation and seeking to preserve architecture, sunlight and views."
It's easy to understand what motivates anti-growth homeowners. Their financial interests are powerfully aligned against allowing the supply of residences to grow over time. And most of them moved to a given neighborhood because they liked it at the time. Of course, they changed Venice Beach when they arrived. And their failure to pay forward the ability to move here by preventing growth over several decades guarantees that over time this geographically small, highly desirable enclave by the ocean will lose its bohemian vibe, ending up as a neighborhood for the increasingly old and very rich, like Laguna Beach, La Jolla, and Carmel-by-the-Sea.
While that would suit a certain faction of Venice Beach homeowners, who have as much right as anyone to speak up for their preferences, their opposition to growth should not be presented as if it is morally or aesthetically enlightened rather than reactionary.
For example, consider a response to that Wall Street Journal article published in the L.A. Times under the headline, "They discover, they gentrify, they ruin: How 'progress' is wrecking Los Angeles neighborhoods." The columnist Robin Abcarian writes:
A few months ago, on a Sunday morning, I drove from my house near the Venice Pier over to Abbot Kinney Boulevard to meet my cousin for a cup of coffee at Blue Bottle, which is to coffee what the French Laundry is to dinner: peak fetishization. (But yes, of course, delicious!) I circled the block a few times, adamant that I would not pay $9 to park in order to buy a $5 cup of coffee.

Fortunately, I found a spot on the street, but not before getting yelled at twice by motorists who were mad at me for blocking them as I waited for the space. Abbot Kinney, as you undoubtedly know, was once a funky retail outpost that was forever on the verge of being discovered. Unfortunately, in 2012, GQ named it "the coolest block in America," and pretty much everything went to hell after that. Now you can spend 400 bucks on a pair of boots at John Fluevog Shoes, but you won't be able to get them repaired anywhere on the street. If you don't mind the gridlock and all the man buns (and if you squint hard), Abbot Kinney still maintains its old aesthetic: low-slung shops, coffeehouses and restaurants.
Scarce parking is among the foremost concerns of my anti-growth neighbors, so much so that, as above, the mere fear of being unable to find a spot is enough to elicit complaints.
But knowing Venice, I can't help but notice that a resident living near the Venice pier could take a $5 Uber, bike to that the coffee shop in about seven minutes, or walk on a 25-minute route largely comprised of the Venice boardwalk. Property values are high here in large part because Venice and Santa Monica are some of the biggest pedestrian-friendly cityscapes in greater Los Angeles, with almost perfect weather all year round.
One can usually find free parking on Abbot Kinney Boulevard itself, and free spots are always available to those willing to walk for five minutes, but it would not be a failure of urban planning if one of the most popular commercial strips in the world didn't guarantee free parking (or a shoe repair) to those close enough to walk there from home.
In fact, there are lots of off-Abbot Kinney coffee shops where an Angeleno can always find easy parking. But it is a failure to recognize the tradeoffs that reality imposes to patronize what may be the trendiest local coffee shop, the Bay Area transplant Blue Bottle, which wouldn't even be on Abbot Kinney but for the fact that it is a highly trafficked, cool-by-reputation boulevard, and to then complain about the crowds.
Another passage betrays a similar failure:
There is a reason neighbors have trigger tempers when confronted with new projects on streets like Abbot Kinney, which has become a gridlock-plagued tourist destination, rather than a neighborhood commercial district.

Developers seem characterologically unable to conceive projects that are sensitive from the get-go. It's always: burst through the door with a ridiculously overambitious plan, then scale back when the inevitable NIMBY explosion occurs. When developers proposed a first-ever hotel on Abbot Kinney, they roared in with a design for a four-story, 92-room monolith that would have taken up an entire block. Neighbors (naturally) objected, and the project, still on the drawing board, has been scaled back. Even so, 14,600 square feet of existing commercial space will more than quadruple to 64,000.
Many of my anti-growth neighbors are upset that Abbot Kinney boutiques are so expensive, and that whole categories of businesses are priced out; yet they regard it as self-evident that quadrupling the supply of commercial space is "ridiculously overambitious."
As for calling a four-story hotel a "monolith," there is a historical irony in complaining that Abbot Kinney Boulevard is a tourist destination. Abbot Kinney, the founder of Venice Beach, was an eccentric real estate developer who dug canals here in hopes of creating a pleasure resort for the rich, a Venice, Italy, of the Western United States. The street that bears his name is very much in keeping with the spirit of his plans for this community, which was inevitably going to be a tourist destination––it is, after all, a gorgeous stretch of coast in America's second biggest city, tucked between a resort at Santa Monica and a boat marina.
Indeed, the Venice Beach boardwalk has long been among the most visited tourist destinations in L.A. And for as long, there's been a severe shortage of Venice hotel rooms.
Again, reality imposes unavoidable tradeoffs. Absent more hotel rooms in Venice Beach, it's relatively more expensive to visit, foreclosing a travel destination to some and causing local businesses to cater more to the richer folks who can stay; meanwhile, more visitors drive here, exacerbating heavy beach traffic in the summer; and still others turn to vacation rental sites like AirBnB, which the anti-growth set despises for affecting the local rental market in ways more hotel rooms would mitigate.
Few anti-growth locals acknowledge these tradeoffs, especially when their preferences impose significant costs on folks less wealthy than they are. And when they do mention competing choices, they tend to exaggerate the options before Venice residents.
To the prospect of relaxed zoning restrictions that would allow tall new buildings in most Los Angeles neighborhoods, the column responding to the Wall Street Journal introduces Robin Rudisill, an activist who is okay with growth in some parts of Los Angeles, but not Venice or neighborhoods like it. The column characterizes her views as follows:
Rosenfeld thinks that the suburbs and neighborhoods such as Venice with special character should be treated very gingerly, but that the city core—ringed by the Harbor, Hollywood, Golden State and Santa Monica freeways—could absorb almost limitless growth.

"Single-family neighborhoods to me are sacred," said Rosenfeld, who would be comfortable with 100-story buildings inside the freeway ring, Tokyo-style. "We all admire the quality of, first, the bungalows, then the ranch houses. Life is too short, for me as a developer, to want to change the character of our pristine single-family neighborhoods."
Anyone who has visited Venice Beach lately is probably chuckling at the notion that it is "pristine." The neighborhood has multiple homeless encampments, stretches of people living in RVs and cars, with all the attendant waste disposal challenges, and lots of stretches of boardwalk where walking barefoot would be extremely ill-advised. But the bigger problem with the argument, as presented in the column, is the way it elides the vast middle ground between 100-story skyscrapers and nothing-but-bungalows-and-ranch-houses, structures no one proposes totally eliminating.
Now, if the choice really were Tokyo or the status quo, I'd pick Tokyo––I value giving millions of people more affordable places to live and the environmental benefits that density confers more than the aesthetic preferences of wealthy city dwellers.
But Venice could preserve many of its bungalows, grow much more dense, and do more to retain, rather than lose, its bohemian vibe in the process; for freezing development does not preserve neighborhood culture––it transforms it by radically changing the mix of who can afford to live here. As the journalist Hillel Aron put it in L.A. Weekly, "Anti-development activists like to argue that development fuels gentrification, that the construction of new, high-end apartment buildings makes the whole neighborhood more expensive. But the case of Venice is a counterpoint. For the last 50 years, Venice has successfully fought developers to a stalemate. The housing supply stayed constant, while demand grew. As a result, the value of property in Venice has soared."
When anti-growth folks complain about Venice today, they are lamenting the consequences of their own ideas successfully put into practice over many years. They would do better to reflect on the many lovely cities and towns on the coasts of Spain, Italy, Portugal, and beyond—places that prove it is possible to retain a beach vibe and traditional local color while offering residents apartment buildings of four, five, and even six stories, achieving density far beyond the status quo without resembling Tokyo.
So long as they affirmatively fight to make those projects easy to build, they can simultaneously opposing the replacement of rental units with mansions with a clear conscience.
A neighborhood can be vibrant and diverse, or it can be very low-growth, with easy parking for its aging population. It cannot be both. The anti-growth rich and their misguided allies may successfully indulge the illusion that they are preserving the neighborhood of bygone years. Those who can't afford admission to their museum know better.