What One Entrepreneur Learned From Hillary Clinton
Reshma Saujani is passing on the guidance she received while helping girls break into a male-dominated field.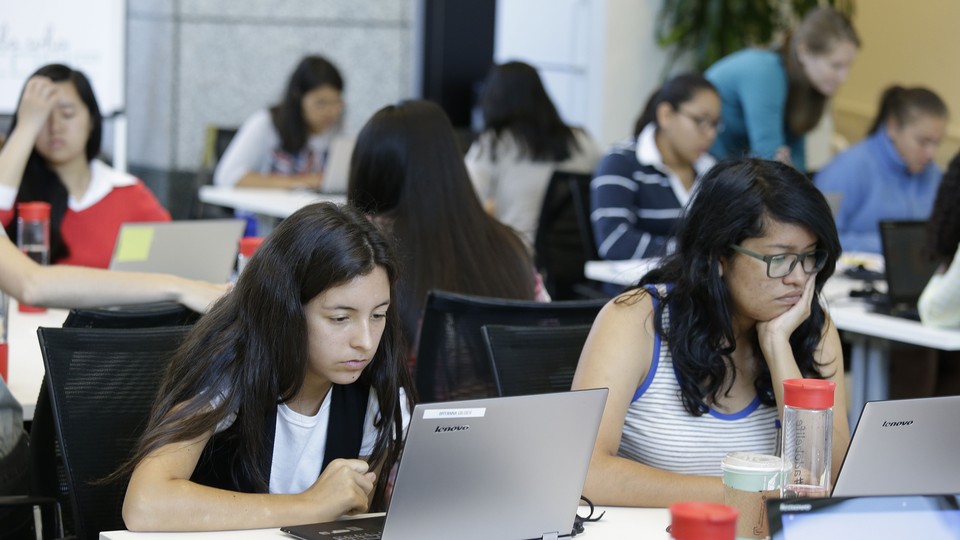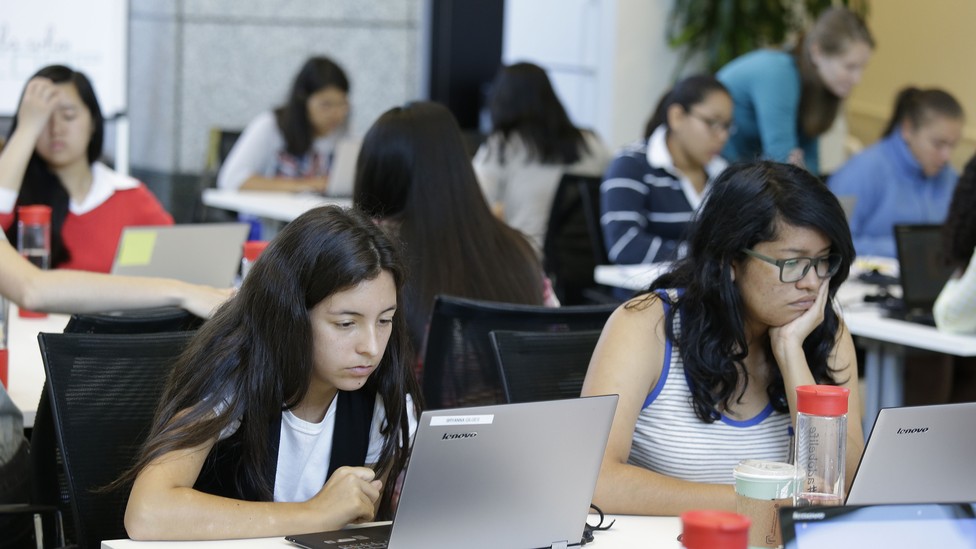 Reshma Saujani, the founder and CEO of the nonprofit, Girls Who Code, says she spends 25 percent of her time mentoring.
While many CEOs might think that's excessive, for Saujani, it makes sense. The organization she  founded promotes the importance of mentoring relationships in order to narrow the gender gap in technology. And that's no small task, given the size of the discrepancy— just 18 percent of today's computer science graduates are women.
Girls Who Code connects middle and high-school girls with employees at some of the most prominent tech companies in the United States. Those mentoring relationships are what have made Girls Who Code so successful. The organization now has over 30,000 alumnae, many of whom are majoring in computer science at top universities across the country.
I spoke with Saujani about mentorship and what it means to her as part of The Atlantic's series, "On the Shoulders of Giants." This interview has been edited for length and clarity.
---
Caroline Kitchener: Why do you spend so much time mentoring?
Reshma Saujani: I've always felt that, as a woman, and particularly as a woman of color, it's important to pay it forward. When I was growing up there were a lot of things my immigrant parents couldn't help me with: raising money, applying for school. We were new to this country and I had to figure out a lot by myself. I often felt like—wow, I wish I had someone I could talk to. I want to give people the knowledge that I didn't have.
Kitchener: Are there any mentors who helped you along your career path?
Saujani: Hillary Clinton was a hugely important mentor for me. I don't talk to her everyday, but sometimes mentorship means being able to watch somebody's leadership from afar. That person might pop into your life at a critical moment to give you some important piece of advice or word of encouragement.
Kitchener: How did your relationship start?
Saujani: I've known her since I was 18. She probably doesn't remember this, but I met her for the first time when I was an intern at the White House. After that, I introduced her at a fundraiser for John Kerry in 2004. And then I started working on her senate campaign, and got to know her. I worked on both of her presidential races. She came to Girls Who Code events and spoke to our girls. She's always been there, elevating my work. She has always been invested in my growth as a leader.
Kitchener: What's the biggest thing you learned from her?
Saujani: She taught me the power of resilience. She always gets up to fight another day.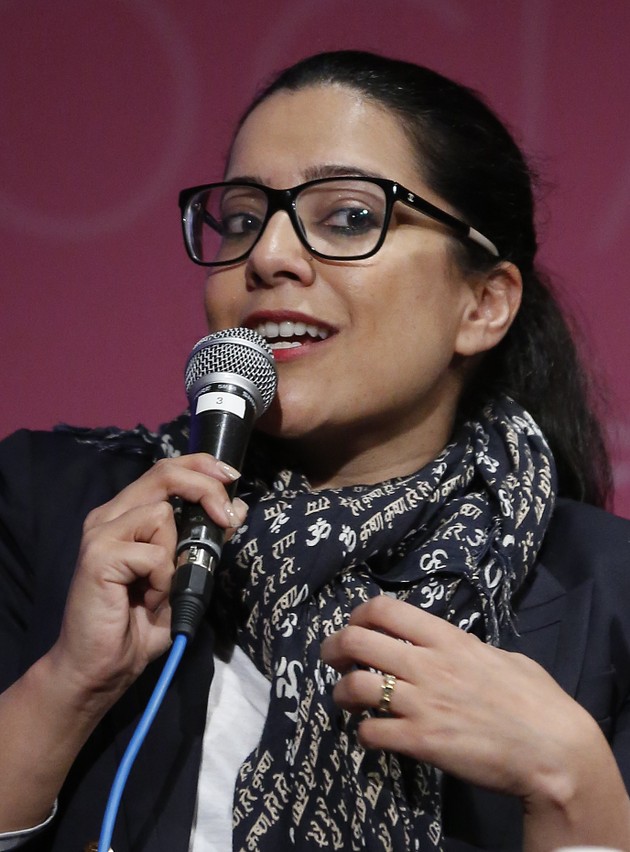 Kitchener: Who do you mentor?
Saujani: I have a series of different people who I mentor. Some are people who work for me, some are Girls Who Code alumni. I give my email out all the time—my team doesn't love that! People e-mail me or tweet at me or LinkedIn me. I've learned that oftentimes people just need five minutes. People just need to touch somebody real, and have a connection for a moment.
Kitchener: And you respond to all these people?
Saujani: I try to, yes.
Kitchener: I've heard a lot of mentors say that if they're going to take on a mentee, that mentee really has to prove herself. But that's not how you see it.
Saujani: No, it's not. If you took the effort to write me an email, I am going to respond. Though I will say this—if I get an email from someone asking to talk, I'll ask them to be more specific. People often don't have time for a chat, but they do have time to answer a question.
Kitchener: Do you also have people you've mentored over a long period of time?
Saujani: One sticks out. Charlotte Stone was an intern on my first campaign. She had just started working in communications, right out of Brown. I loved her spunk and her spirit. I thought she had a brilliant mind and a lot of potential. Next she joined my second public advocacy campaign, and then I brought her on at Girls Who Code. Now she works in the private sector, but we still have dinner once a month.
Kitchener: Why do you think you two have stayed so close?
Saujani: I think a good mentoring relationship is mutual. She will be like, "I saw you wrote that op-ed. I thought it sucked." Or she'll say, "Your hair is looking crazy today." Mentorship is a two-way street.
In my journey there has sometimes been so much pain. I didn't know what to do, I didn't have anyone to help me. When I'm able to impart a shortcut or a hack—to say, "I learned this, you should do that"—that's joyful.
Kitchener: What advice would you give to young people who are looking for mentors?
Saujani: I believe in the power of peer mentorship. When I learned how to ask for a raise, how to fire someone, how to deal with a board challenge—I didn't get that from mentors like Hillary Clinton. I got that from women who were my friends, and who had already done the thing that I was doing.
Kitchener: What can mentors like Hillary Clinton give you that peer mentors can't?
Saujani: Sometimes you need someone to use their power and their influence to help you. Or maybe you're at a crossroads in your career, and you need someone to give you perspective.
Kitchener: Do you see mentorship as a core part of the Girls Who Code mission?
Saujani: Yes. Girls Who Code is all about providing role models. You can't be what you can't see. We always make sure we share our journeys with the girls. When mentors come into the classroom, we encourage them to teach the girls about the things they have learned on their journeys so that the girls can know them, too.
Kitchener: Your organization focuses on mentorship for young women in particular, why that demographic?
Saujani:. Oftentimes women hesitate to ask questions because we think we're the only ones. Mentors make you feel like you're not crazy. It's incredible to hear that someone you admire felt exactly the same way you do, and now they're CEO of a major company. That's a powerful thing.