The Decline of the American Laundromat
The retreat of a longtime urban staple marks yet another way cities have changed after an influx of higher-earning residents.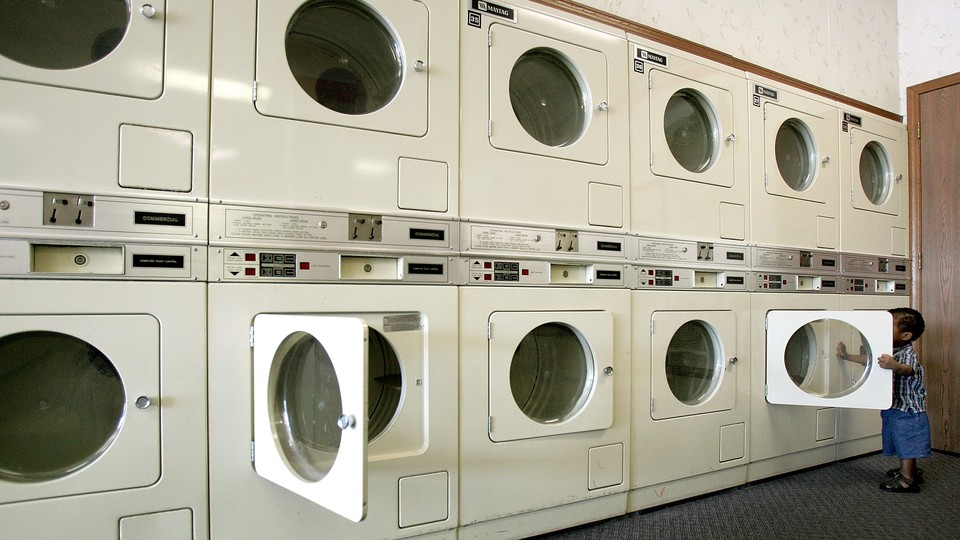 Lavanderia, one of San Francisco's largest laundromats, is an urban relic. Its peeling aquamarine walls house some 110 machines. Telenovelas play on a TV and arcade games from the 1990s are tucked into unexpected nooks. After opening in 1991, Lavanderia—like so many other laundromats in big cities—became a social hub in a neighborhood where renters lacked the space or funds for their own machines.
But, again like so many other laundromats in big cities, Lavanderia's future is uncertain. While families have been hauling their dirty towels, sheets, and underwear there for decades, the business's future earnings now pale in comparison to the value of the land it sits on—rents have skyrocketed in recent
years in the Mission District, the historically Latino neighborhood where Lavanderia, whose name means laundromat in Spanish, is located.
In its heyday, the 5,200-square-foot laundromat brought in over $1,000 a day in quarters. But in the past decade, its owner, a wealthy tech entrepreneur named Robert Tillman, has seen revenues dry up. Business was so bad at his nine other Bay Area laundromats that he sold them off over the years. Lavanderia is the only one Tillman has left, and he'd like to turn it into a 75-unit apartment building, with some units generating as much as $55,000 each year.
The erosion of Tillman's laundromat business is a side effect of a national trend: Developers are remaking urban neighborhoods across the country, constructing apartment buildings for waves of young, wealthy workers and installing washers and dryers in each unit, leaving local laundromats without clientele. "Offering a washer and dryer in-unit is a trend we're certainly seeing," says Paula Munger, the director of industry research for the National Apartment Association. A recent survey by the industry group found the addition of washers and dryers to be one of the most common upgrades to apartments in recent years.
That has posed a problem for laundromats. According to data from the Census Bureau, the number of laundry facilities in the U.S. has declined by almost 20 percent since 2005, with especially precipitous drops in metropolitan areas such as Los Angeles (17 percent) and Chicago (23 percent). (While that data includes both laundromats and dry cleaners, laundromats account for the bulk of the drop.) In the disappearance of laundromats, a longtime staple of urban living, one can detect yet another way that cities have changed in response to an influx of higher-earning residents.
Collectively earning $5 billion each year, as estimated by the Coin Laundry Association, the U.S.'s coin-operated laundromats are overwhelmingly mom-and-pop operations and share a tightly knit history with the American city. While the first self-serve laundromat opened in 1934 in Fort Worth, Texas, the industry didn't really take off until the '50s, after many cities became more densely populated. "Like our mantra goes, 'The more people, the more dirty clothes,'" Brian Wallace, the president of the Coin Laundry Association told me. Technological leaps in washer and dryer efficiency during the '80s allowed the industry to expand even more. Laundromats, communal spaces that brought people together to perform a mundane chore, became a fixture of the urban experience, with Hollywood using them to stage serendipitous meetings, as it did in the 1985 film The Laundromat.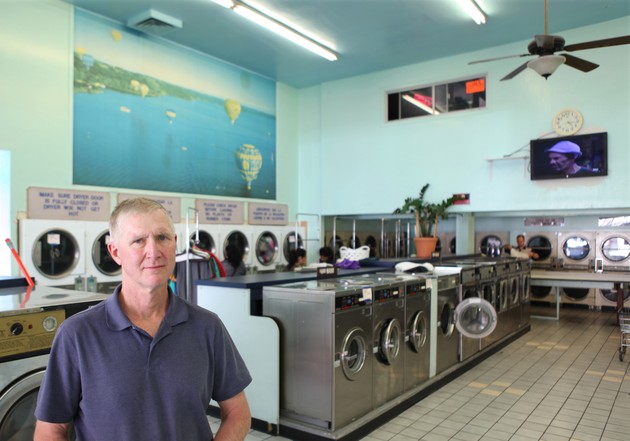 By the '90s, the industry was strong enough to attract Tillman's attention. Tillman, who's now 61, earned his first fortune from tech ventures—among other things, he was behind DigitalGlobe, a satellite-imaging company that has supplied orbital views of earth to Google and the U.S. government. Back on the ground, Tillman, a graduate of Stanford's business school, recognized that people still needed clean clothes, the age of satellites notwithstanding. Soon, he came to own 18 laundromats. "The '90s were a great time for the laundry business," Tillman recalls.
After the dot-com bubble burst, San Francisco's rapid inflow of wealth has hurt his businesses. Lavanderia's revenue has slid 33 percent since 2004, according to the business's accounting records. Terry Smith, who repairs machines and collects the quarters at Lavanderia and other Bay Area laundromats, anecdotally reports that lately he's been dumping fewer coins into his jingling collections sack as he makes his rounds. Even Tillman's eight laundromats in Albuquerque were impacted by the urban transformations seen across the country. "I saw where the business was headed," Tillman says. By 2007, he sold off all his laundromats except for Lavanderia—part of a 15-percent drop in the number of the Bay Area's laundry facilities since the early 2000s, according to Census Bureau data.
Laundromats' margins are further thinning as the price of water and sewage services have risen across the country. Utilities make up by far the heftiest of Lavanderia's expenses, costing over $100,000 each year. Add to that the roughly $30,000 Tillman spends fixing his aging washers and dryers, and the laundromat is left with about $140,000 of profit each year, a number that continues to dwindle.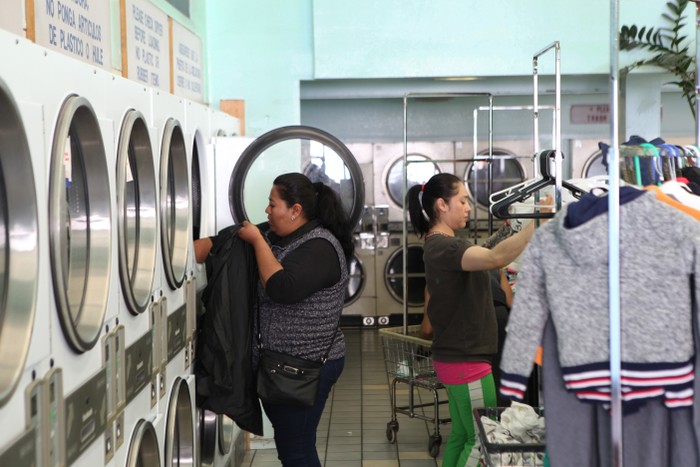 At the same time, laundromats were never a great bargain for low-income customers. Families can do multiple loads of laundry a week, and at a laundromat, that can cost $100 or more per month. There is rarely an alternative: Landlords are typically reluctant to install the right plumbing and hookups in already cramped apartments in what are often older buildings.
With this calculus in mind, Tillman would like to turn Lavanderia into a six-story apartment building that few of his current customers could likely afford to live in. He is hardly the first laundromat owner to conceive of such a plan. As Adam Lesser, the owner of Fiesta Laundromat, just a few blocks from Lavanderia, puts it, "I'm over here cleaning out lint. What the hell am I doing?"
Tillman filed a proposal with San Francisco's planning department outlining his intentions three and a half years ago, but the project has stalled in the face of anti-development activism. Erick Arguello, a longtime Mission resident, heads one of the groups opposing Tillman's project. He has seen one laundromat after another close in the neighborhood in the past several years: Super Lavar, where his family of seven used to go, turned into an upscale restaurant. Cleaner Wash, a small laundromat also in the Mission, was bought for over $1.5 million and turned into a high-end gym. "We have large families and you have to walk three or four blocks to go do your laundry," Arguello says. "You also lose that sense of community. The laundromat was a family affair growing up."
Meanwhile, as the project is on hold, Tillman has been putting off much-needed repairs. These days he's trying to drum up local support at community meetings in the Mission so he can finally raze Lavanderia. Not all laundromat owners are pursuing Tillman's route, though. In June, at the Coin Laundry Association's conference, held every two years in Las Vegas, owners explored ways to make laundromats more appealing to a hipper clientele, such as by offering wi-fi. "The representations have been more positive and younger—a place where young people meet," Wallace says, adding that the industry faces further challenges from on-demand laundry apps. Some laundromats have already morphed into cafes where customers can drink craft beer or sip a latte while waiting for their loads to finish. That may be a positive turn for the coin-laundry industry, but it does sound a whole lot like what's happening to Lavanderia's neighborhood anyway.