What on Earth Is Wrong With Connecticut?
Conservatives say the state has a tax problem. Liberals say it has an inequality problem. What it really has is a city problem.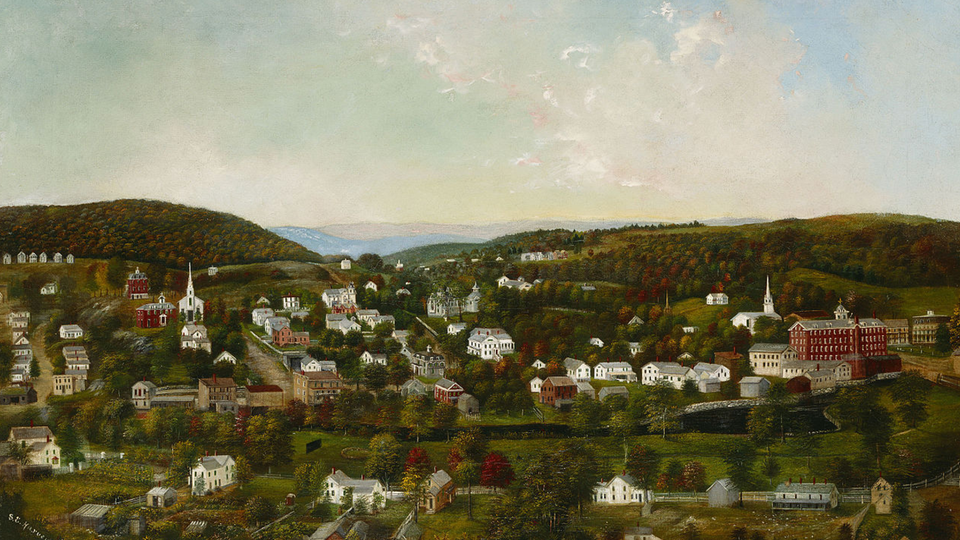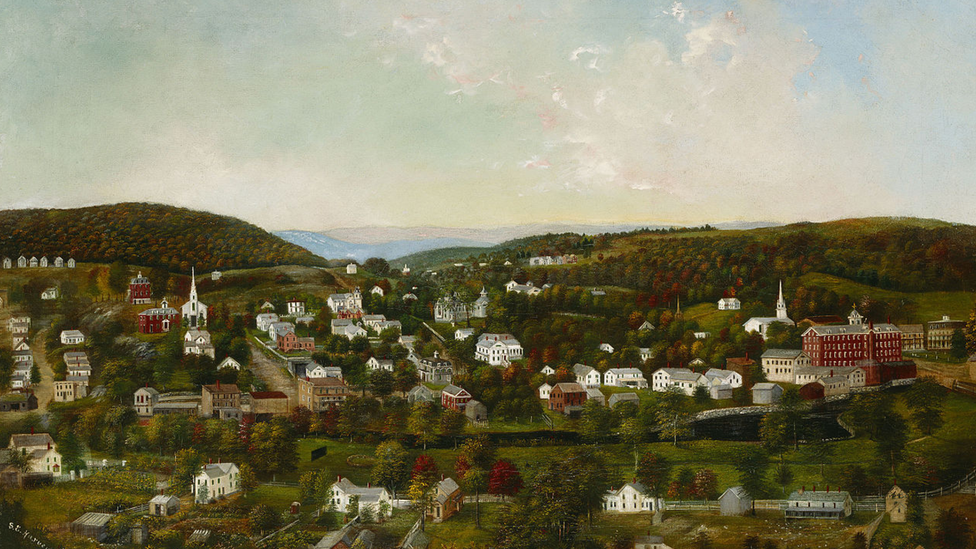 Updated on July 5 at 4:47 p.m. ET
The state of Connecticut has many nicknames. It is the Nutmeg State, the Constitution State, and America's Country Club, while Hartford, its capital city, has been called the Nation's Filing Cabinet. But as Connecticut grapples with a deep fiscal crisis, it might as well embrace another moniker: The Rorschach State. For the left and the right, it is the manifestation of each side's greatest fears.
Despite being the richest state in the country, by per-capita income, Connecticut's budget is a mess. Its pensions are woefully under-funded. Its deficit is projected to surpass $2 billion, or 12 percent of its total annual tax revenue. Hartford is approaching bankruptcy. Conservatives look at Connecticut and see a liberal dystopia, where high taxes have ruined the economy. Liberals, on the other hand, see a capitalist horror show, where the rich dwell in gilded mansions, ensconced in sylvan culs-de-sac, while nearby towns face rising poverty and bankruptcy. Why is America's richest state floundering?
The first answer is: Corporations are leaving. Aetna, the insurance giant, is leaving Hartford, where it was founded 150 years ago. In early 2016, General Electric announced that it would move its global headquarters from Fairfield, Connecticut, to Boston.*
The second answer is: People are leaving. It's rare for any state to actually shrink, but Connecticut's population has been falling for three straight years. Meanwhile, only Michigan, Ohio, and Mississippi had slower job growth than Connecticut did over the last two decades, according to Jed Kolko, the chief economist at Indeed, a job site.
---
The Incredible Shrinking State
---
Although Connecticut is one of the most reliably blue states in the country, liberals regard it as a microcosm of the national scourge of inequality. In the five years after the financial crisis, the incomes of the top 1 percent in Connecticut grew 17 percent, while the incomes of everyone else dropped about 2 percent, according to my colleague Alana Semuels. The so-called Gold Coast in southwest Connecticut is one of the richest places in the world. Meanwhile, the poverty rate in Connecticut's largest city, Bridgeport, is still rising.
For conservatives, the culprit is just as simple: It's big government run amok. The Wall Street Journal's editorial board holds up Connecticut as a poster child of the costs of high taxes. "Connecticut's progressive tax experiment has hit a wall," they wrote in April. Conservatives argue that Connecticut's income, property, and sales taxes have reached an altitude that cannot support economic life.
But Connecticut's budget shortfall isn't just about tax rates. It's about who is paying the taxes. The richest 0.02 percent of Connecticut households make more money than the bottom 48 percent, according to state reports. This 0.02 percent clusters along the Gold Coast and tends to work in finance.
In the last decade, Connecticut's millionaires have accounted for as much as 30 percent of the state's income-tax revenue. This is a problem, because the investment income of financiers is volatile. When hedge funds' earnings falter, as they have in the last few years, Connecticut feels the pain. Indeed, the state's income-tax revenue (the yellow bars in the graph below) tracks capital gains (the red line) so closely that Connecticut's tax coffers are essentially a barometer of the health of financial markets.
---
When Investments Falter, So Does Connecticut: Annual Percentage Change in State Income Tax (Yellow Bars) vs. Capital Gains (Red Lines)
---
There's no question that Connecticut's high cost of living might dissuade people from moving there. The typical resident pays both hefty state income taxes (among the 10 highest in the country) and high local property taxes (the third-highest). But two of the most common destinations for people moving out of Connecticut are New York City and Massachusetts—that is, one of the most expensive cities in the world and a state nicknamed "Taxachusetts." Meanwhile, the companies leaving Connecticut aren't exactly headed to El Paso. UBS has moved to Manhattan. GE has moved to Boston. Leaving Connecticut because of the high taxes and relocating to Boston is like leaving Connecticut because of the cold winters and moving to… well, Boston.
So, the complete story isn't just about the taxes being too high. In fact, Connecticut's recent rise and fall reflects the history of the entire United States—its industrial changes, the hollowing out of the middle class, and the migration patterns reshuffling the U.S. population.
Let's start with industry. Connecticut was not always a bastion of high finance. Like the U.S., it was once famous for building things. Manufacturing accounted for half of Connecticut's jobs in the 1950s. But the finance sector took off in the 1980s and 1990s, feeding on the migration of corporate offices from Boston and a bankrupt New York City. Even today, in Fairfield County, 15 percent of residents work in Manhattan, according to a state tax study.
Connecticut was a manufacturing state, which became a finance hub, which is now bleeding both manufacturing and finance, as bankers have moved to New York or shut down their operations in the wake of the Great Recession. The fastest-growing job opportunities are mostly for low-wage workers in health care, leisure, and retail, whose income and sales taxes cannot fund the state's expensive promises to teachers and pensioners. Connecticut is losing rich companies (and their tax revenues) while it's adding low-wage workers, like personal-care aides and retail salespeople. Yet it remains a high-tax state. That's a recipe for a budget crisis.
---
The Big Swap: Losing High-Wage Jobs, Adding Low-Wage Jobs
---
The rise and fall of Connecticut fits into the story of American cities. In the 1970s, American metros were suffering a terrible crime wave, and New York was dropping dead. That meant boom times for New York's suburbs and southwestern Connecticut.* Headquarters or major offices from more than 100 Fortune 500 companies fled New York City for leafy suburban campuses, according Aaron M. Renn, a senior fellow at the Manhattan Institute. But now many of those companies are moving back, lured by newly lower-crime cities and the hip urban neighborhoods where the most educated young workers increasingly want to live. At the end of the 20th century, New York City's pain was Connecticut's gain. Now, New York City's (and Boston's) gain is Connecticut's pain.
Finally, the hottest trend in American migration today is south, west, and cheap—that is, far away from Connecticut, both geographically and economically. Texas is growing rapidly, and seven of the 10 fastest-growing large metropolitan areas in 2016 were in the Carolinas and Florida. Of the 20 fastest-growing metros, none are in the northeast. So, Connecticut's prime-age population is in decline, as the state loses families to both nearby cold cities and faraway hot suburbs. In the graph below, the green and purple lines show the state's population change since 1994. The 35-to-44 population has declined by about 20 percent.
---
Connecticut's Prime-Age Valley: Bye-bye, 30-somethings
---
High taxes, or even the reputation of high taxes, might be accelerating this population shift. But it's just one variable among many—including temperature, cost of living, and proximity to cities—that's pushing the entire U.S. population away from the sort of suburbs that define Connecticut. As Henry Grabar writes in Slate, there are states without major cities that have added jobs recently. But Connecticut has neither "the sunny days of Arizona [nor] the regulatory nonchalance of Alabama."
In the biggest picture, Connecticut is a victim of two huge trends—first, the revitalization of America's great rich cities and second, the long-term rise of hot, cheap suburbs. But Connecticut's cities are not rich or great; its weather is not hot year-round; and its cost-of-living is not low. The state once benefited from the migration of corporations and their employees from grim and dangerous nearby metros, but now that wave is receding. To get rich, Connecticut offered a leafy haven where America's titans of finance could move. To stay rich, it will have to build cities where middle-class Americans actually want to stay.
---
* This article originally stated that Caterpillar, Motorola, and Kraft Heinz once had major offices in Connecticut. We regret the error.