Cars 3: A Children's Movie, and a Fable About Mentorship
The animated feature is a surprisingly thoughtful meditation on what professional achievement requires in the 21st century.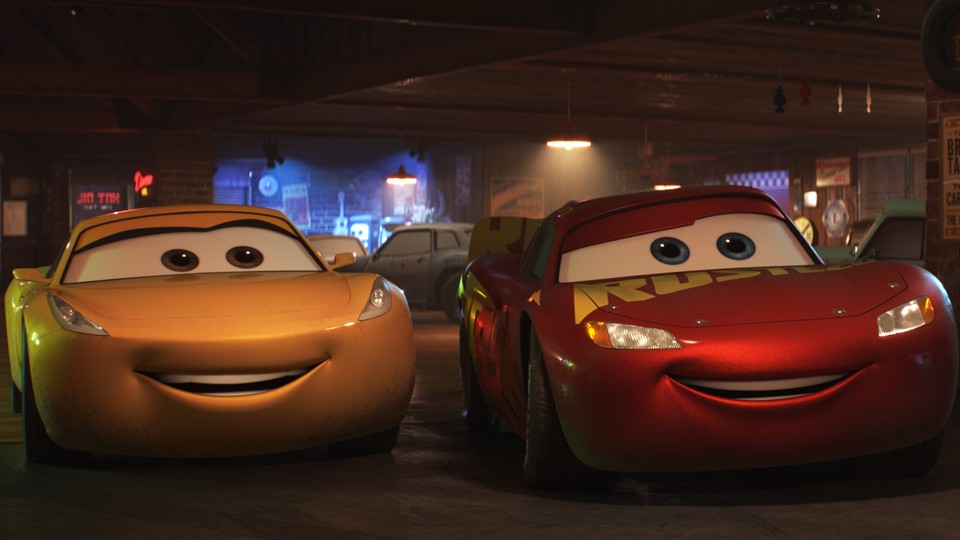 The Disney Pixar franchise Cars launched in 2006, telling the story of Lightning McQueen, a young rookie race car voiced by Owen Wilson who must learn that winning isn't everything. Even so, the franchise itself has done just that, making over $8 billion in merchandise alone. While Cars has long used its platform to teach its youngest audience members about the importance of nurturing personal relationships, the franchise never seriously tackled how tricky interpersonal relationships can be.
That is, until Cars 3. Though it's still nominally about anthropomorphic race cars, this year's contribution to the series offers a surprisingly thoughtful meditation on differences of identity, and when viewed through a certain lens, actually has a lot to say about professional success in the increasingly diverse workforce of the 21st century. While the next generation of racers is billed as "better, stronger, faster," reflecting the rise of a new tech-savvy generation of workers, the film suggests that everyone has something to learn about navigating the relationship between confidence and ability, and finding people to help along the way.
Like the original Cars, the third installment is a movie, at its core, about finding fulfillment in what one does, day in and day out. Cars 3 features a now-aging Lightning McQueen, who suddenly finds himself losing races and, consequently, his sense of self. But the movie's central story isn't one about getting back to form—as Lightning desperately wants to do—as much as it is recognizing that there is more than one way to prevent one's own obsolescence.
In many ways, Cars 3 promises a fairly straightforward narrative where the former student learns he must now become a teacher, but it also grapples with the challenges that come with this transition. After Lightning survives a spectacular crash early in the film, he gloomily watches footage of his mentor, the late Doc Hudson, voiced by Paul Newman in recordings that never made the first Cars film, in a career-ending crash. Facing down the threat of his own forced retirement, Lightning seeks out Doc's own mentor, Smokey. Smokey's advice about racing frames much of the film's general philosophy on mentorship as he instructs Lightning "to look for opportunities you never knew were there" and to seize those opportunities when they appear.
Those opportunities, however, are ones that Lightning fails to see for most of the movie. The film's new heroine, Cruz Ramirez, voiced by Cristela Alonzo, is earnest and eager, but lacks confidence. After Lightning's crash, Cruz Ramirez is assigned as Lightning's trainer to help him get back up to speed. But Lightning has little patience for her help: He may be older, but he's also more experienced. Although Cruz has the latest technology at her disposal, which Lightning is completely out of touch with, he knows "real racing," something that Cruz has little knowledge of. That lack of experience requires more of Lightning's patience than he's willing to give: "If you were a racer, you'd know what I'm talking about," he lashes out. "But you're not."
In the film's emotional turning point, Cruz reveals that training others  isn't the career she dreamed of. She too had wanted to be a racer, spending her younger years practicing, honing her talent, and idolizing Lightning in particular. Cruz admits that she gave up her opportunity to fulfill her big dream: "The other racers looked nothing like me ... It made me feel like it was a world in which I didn't belong." This is the primary dilemma of the Cars universe, in which personal identity and professional identity are inextricable from one another. While the franchise has generally played its stereotypes for laughs (with Larry the Cable Guy voicing a rusty old tow truck), Cars 3 finally gets serious about them: Lightning fails to see Cruz as a racer because she doesn't look like one.
Cruz's story surely resonates with many struggling to break into fields where they are underrepresented (Pixar drew upon Alonzo's own experiences as an actress for Cruz's backstory). But what's more, Cruz's story emphasizes the way that women, particularly young women of color, internalize external messages about not only what they can and can't do, but who they can or can't be.
Cruz's story embodies the well-documented confidence gap defined by both gender and race. The 1991 American Association of University Women's study "Shortchanging Girls, Shortchanging America" found that the gap between girls' and boys' self-esteem widens tremendously in adolescence. For Hispanic girls, self-esteem drops more than it does for any other group of girls, according to researchers. These anxieties and doubts seep into educational and career choices, the study found, as many girls believe that they are unqualified or unable to follow their dreams.
This leads to a dramatically unbalanced workforce, especially in the tech industry. As of 2016, Google reports that 19 percent of their employees in tech are women, while only 3 percent of employees identify as Latino or Hispanic. Apple boasts better numbers, with 32 percent women and 22 percent underrepresented minorities, but it's still a dramatic imbalance. Furthermore, it's not simply that women of color aren't going into STEM fields—it's also that many of them are choosing to leave. A 2017 study of "tech leavers" reveals that 24 percent of black and Latina women reported they had been stereotyped in the workplace (compared to 14 percent of white and Asian men), and 57 percent of all departees agreeing that "a more fair and inclusive culture" would have encouraged them to stay with their employer. It's a problem that the industry is now looking to tackle by recognizing the unique challenges that women and people of color face in the workforce.
Cars 3 presents these issues as common workplace misconceptions. Lightning makes assumptions about Cruz's career goals. And Cruz actively has to explain her anxieties in order for Lightning to understand how her professional and personal sense of worth are bound together. But it's not just about Cruz, having to explain the ways in which society can make her feel hampered, it's also about how society makes Lightning feel empowered. Lightning and Cruz are stand-ins for broader conceptions of white men and women of color in the workplace. In one of the more poignant moments in the film, Cruz asks Lightning how he knew he could be a racer; he responds, "I don't know—I never thought I couldn't." It's a revelation as much for Lightning as it is for Cruz, highlighting their fundamentally different mindsets.
The film's critique of the confidence of white men is relatively gentle. When Lightning and Cruz find Doc Hudson's mentor Smokey, they encounter a group of older racers, based on the real-life legends Walter Scott, the first black NASCAR driver, and Louise Smith, "the first lady of racing." As the two elder racers reminisce about their own breakthroughs into the sport, explaining the risks they had to take to get there, Scott notes that Hudson arrived on the scene "already calling himself the Fabulous Hudson Hornet" before he had even proven himself on the track. Like Lightning, Hudson's self-confidence was never in question, while his peers actively had to fight to justify their very presence. The movie doesn't scold Lightning or Doc Hudson for their bravado, but it does illustrate how similar Lightning and his mentor truly were.
Cars 3 thus offers a revision of the first film by focusing on the importance of difference. In the original Cars, Lightning starts out as a brash racer who declares that he is "a one-man show." When Doc Hudson tries to offer advice, Lightning initially dismisses him. Only when Lightning realizes that the grumpy Doc was the Fabulous Hudson Hornet is he willing to listen, gushing, "Under the hood, you and I are the same."
But it's often easier to both accept and give mentorship when the promise one sees in a mentee is similar to what they see in themselves. Mentoring relationships between similar people can be professionally beneficial to individuals, but they can also be professionally harmful to a field as a whole. The management professor Lauren A. Rivera's recent book Pedigree: How Elite Students Get Elite Jobs suggests that individuals often base their perceptions of talent, skill, and competency in others by using themselves as the metric for comparison. As a result, this can lead to educational and professional gatekeeping, rewarding those who resemble the current culture, while resisting those who have different perspectives to offer. The opportunity for sameness, though, can be helpful in some cases. A recent study suggests that women in STEM benefit greatly from having female mentors with whom they can identify.
The Cars franchise revolves around the ways that relationships can enrich both private and professional lives. In the first movie, Lightning learns to accept a mentor and gains a friend. In return, Doc realizes that the great joy of his life was not racing, but teaching Lightning. The third installment is similarly optimistic about the benefits of strong mentorship: When Lightning's chance to come back and prove himself on the track finally arrives, he realizes halfway through the race that it's his time to bow out and Cruz's time to take her chance. In the face of protests from his sponsor, and intimidation from the story's villain, Jackson Storm—which reignites Cruz's self doubt—Lightning realizes that he can be the mentor Cruz needs to win. He knows that while she may be, under the hood, a racer just like him, she still struggles to see herself as one, which is the final hurdle that she must overcome, with a little encouragement from her mentor. Seeing her opportunity, Cruz takes it and wins.
The movie's ending is quite literal in its championing of good mentorship; because Lightning started the race and Cruz finishes it, they get to share the title of winner. In Cars 3's allegory of the workplace, mentorship can transcend the differences of make and model—or age, race, and gender—with an active awareness of how these differences inform relationships and experiences. Cruz is the future, but Lightning's career doesn't have to end, even if it does have to shift gears.