The Best Business Reads of June
The month's most interesting stories about money and economics from around the web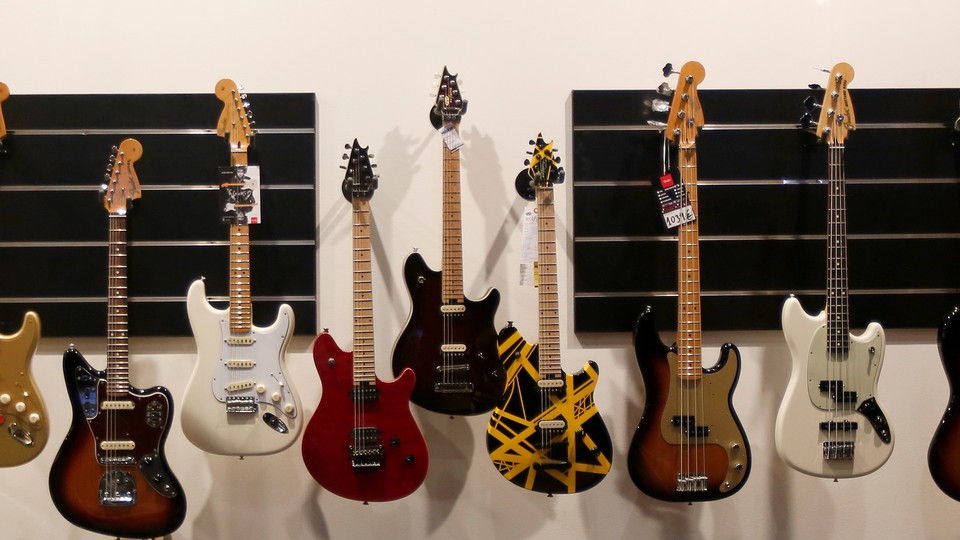 At the end of each month, the editors of The Atlantic's Business Channel shares the most interesting pieces of journalism about money and economics from around the web.
This month's picks include looks at how the vast economic divide between blacks and whites was spurred by property policy; a  peak inside a building that houses Washington D.C.'s past, present, and future; and a lamentation for the electric guitar.
If you've missed previous roundups, you can find recent ones here and here.
---
Jason Grotto | Chicago Tribue
Chicago has long been a city divided by race and class, a metropolis with starkly different crime rates, economic realities and educational opportunities depending on where you live. But there's another division in Chicago and Cook County, one that for years has gone unexamined even as it pits rich against poor.

An unprecedented analysis by the Tribune reveals that for years the county's property tax system created an unequal burden on residents, handing huge financial breaks to homeowners who are well-off while punishing those who have the least, particularly people living in minority communities.

The problem lies with the fundamentally flawed way the county assessor's office values property
* * *
Geoff Edgers | The Washington Post
In the past decade, electric guitar sales have plummeted, from about 1.5 million sold annually to just over 1 million. The two biggest companies, Gibson and Fender, are in debt, and a third, PRS Guitars, had to cut staff and expand production of cheaper guitars. In April, Moody's downgraded Guitar Center, the largest chain retailer, as it faces $1.6 billion in debt. And at Sweetwater.com, the online retailer, a brand-new, interest-free Fender can be had for as little as $8 a month.

What worries Gruhn is not simply that profits are down. That happens in business. He's concerned by the "why" behind the sales decline. When he opened his store 46 years ago, everyone wanted to be a guitar god, inspired by the men who roamed the concert stage, including Clapton, Jeff Beck, Jimi Hendrix, Carlos Santana and Jimmy Page. Now those boomers are retiring, downsizing and adjusting to fixed incomes. They're looking to shed, not add to, their collections, and the younger generation isn't stepping in to replace them.
* * *
"African Americans Have Lost Untold Acres of Land Over the Last Century"
Leah Douglas | The Nation
 It was Dennis Allen, Matthew's great-grandfather, who purchased the land on Hilton Head. The son of slaves, Dennis Allen bought his first parcel of nearly 20 acres in 1897, at a time when African Americans were purchasing land across the country. Today, the Allen family owns the largest undeveloped lot on Hilton Head.

But as the land enters its 120th year in the family, the Allens are struggling to hold on to it. Because of ambiguities surrounding the land's title, there is no primary owner of the property; all of the heirs of the original owners—and there are more than 100 known heirs—are legally co-owners. As such, the land is classified as "heirs' property," a designation that makes it vulnerable to being sold without the family's full consent. As the Allens attempt to overcome a stacked legal system—exacerbated by corrupt lawyers and predatory developers—they are at the center of a decades-long fight to retain black-owned land across the South.
* * *
"Women in Tech Speak Frankly on Culture of Harassment"
Katie Benner | The New York Times
More than two dozen women in the technology start-up industry spoke to The Times in recent days about being sexually harassed. Ten of them named the investors involved, often providing corroborating messages and emails, and pointed to high-profile venture capitalists such as Chris Sacca of Lowercase Capital and Dave McClure of 500 Startups.
* * *
"The Woodner: 65 Years Of D.C. History In A Single Building"
Brakkton Booker and Tanvi Misra | WAMU
In its heyday in the 1950s, The Woodner was a swanky apartment-hotel, where residents and guests entered the massive lobby through a door held open by a doorman and walked to the elevators over a carpet emblazoned with a cursive "W." Celebrities like Bob Hope and Jimmy Hoffa roamed its segregated lobby surrounded by women in glittering gowns. Today, the massive building at the northern tip of Mount Pleasant on 16th Street overlooking a branch of Rock Creek is one of the last bastions of affordable housing in the area.

Local historian Izetta Autumn Mobley calls The Woodner "an entire cultural landscape," a microcosm of the changes Washington has undergone in the last 65 years. As the area around the building transformed from upscale in the 1950s to crime-ridden after the 1968 riots to multi-ethnic and middle class in the 1980s, the community within the Woodner also changed. Now the neighborhood is gentrifying, and The Woodner is moving in the same direction, threatening the sense of community that makes this place unique.
* * *
"What Amazon's Purchase of Whole Foods Really Means"
Joshua Rothman | The New Yorker
It hasn't always been obvious that Amazon would transform the feeling of everyday life. At first, the company looked like a bookstore; next, it became a mass retailer; later, for somewhat obscure reasons, it transformed into a television and movie studio. It seemed to be growing horizontally, by learning to sell new kinds of products. But Amazon wasn't just getting wider; it was getting deeper, too. It wasn't just selling products but inventing a new method of selling; behind the scenes, it was using technology to vertically integrate nearly the entire process of consumption. This integration is Amazon's real product. It's what you purchase when you become a member of Amazon Prime. (According to some estimates, eighty million American households—more than sixty per cent of the total—have Prime memberships.)
* * *
Amy Larocca | The Cut
The mission became less about revealing the trappings of the good life and more about the notion that the really good life is internal. Rich and beautiful people don't just go to nicer places, their organs work better. They even know how to breathe better, with more oxygen per ounce. They're not afraid to try fecal transplants, with really top-notch, vegan-only feces.
* * *
"A Million Bottles a Minute: World's Plastic Binge 'As Dangerous As Climate Change'"
Sandra Laville and Matthew Taylor | The Guardian
More than 480 billion plastic drinking bottles were sold in 2016 across the world, up from about 300 billion a decade ago. If placed end to end, they would extend more than halfway to the sun. By 2021 this will increase to 583.3 billion, according to the most up-to-date estimates from Euromonitor International's global packaging trends report.
* * *
"Hard Life Among the Dead in the Philippines"
Adam Dean | The New York Times
The final resting place of presidents, movie stars and literary icons, the cemetery is also inhabited by some of Manila's poorest people. Many live in the crypts and mausoleums of wealthy families, who pay them a stipend to clean and watch over them.

. . .

As many as a quarter of Manila's 12 million people are "informal settlers." Those in the cemetery prefer its relative quiet and safety to the city's dangerous shantytowns. The resourcefulness needed to live a life of such insecurity is on full display here.

In mausoleums, and in makeshift structures built over tombs, families go about their days. They chat, play cards and watch soap operas on TVs mounted near headstones or ornamental crosses.