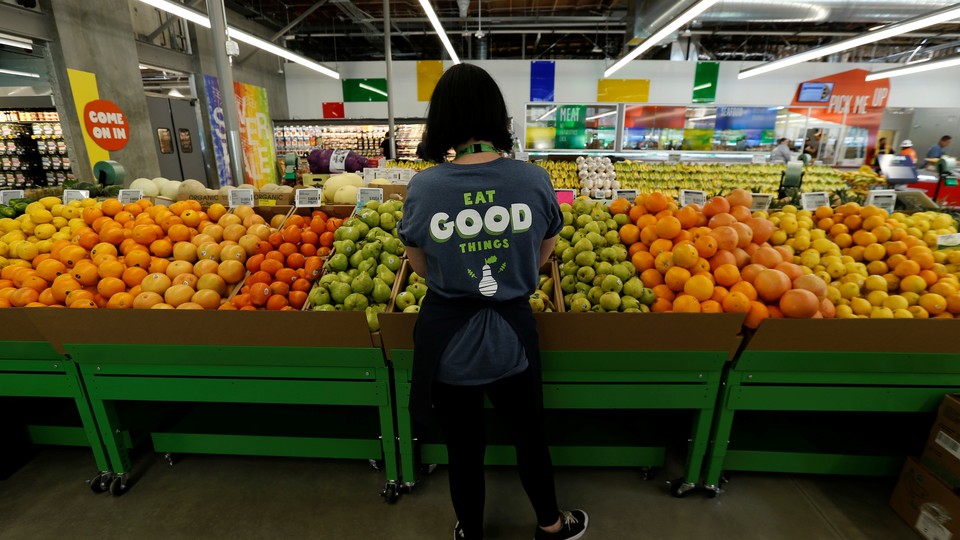 Editor's Note:
This article previously appeared in a different format as part of The Atlantic's Notes section, retired in 2021.
Last week, my Instagram feed was filled with photos of teenagers wearing blue leggings covered in white stars and tank tops decorated with American flags. It was Olympics Week at my former summer camp, and these counselors were not shy about their support for Team USA. I spent a total of 13 summers at camp—seven as a camper and six as a counselor—and though many of my campers are now counselors themselves, the photos still made me nostalgic for bug juice and tie-dye T-shirts. We asked readers to tell us about their summertime experiences, and both teens and former teens responded with stories of their warm-weather follies.
Like me, a number of readers turned to summer camp to make the most of the months between school years. Rosa cited her job as Camp Leader as the first step toward a kid-centric career: "Those early summer experiences made a tremendous difference to helping me become the educator I became." Abby, who spent six summers volunteering as a camp counselor,  described the selfless joy of making a child smile: "You don't do it for the glory, or the prestige, or the experience that's going to land you a C-level position, and certainly not for the money. We all do it for the kids." For Daniel Yadin, who will return as a counselor to his camp in the Catskills this summer, camp is a critical part of his religious identity:
Camp's most important role in my life is as my primary Jewish space. I don't have many. After my Bar Mitzvah, my family began attending synagogue less and less, to the point that we stopped maintaining a membership. So, Judaism-wise, I am left with this: a congregation of secular Jews in the mountains of New York State, spending the summer living and educating according to Jewish values, if not law.
I certainly relate to Daniel's response, not only because my camp is overseen by a Jewish nonprofit, but also because so many of my most vibrant summer memories are tied to that religiosity—making challah over a campfire; walking past older girls practicing their bat mitzvah Torah portions; and learning from our Israeli counselors. These experiences strengthened my religious identity because, quite simply, they were fun and social—a balance to my Hebrew school education, where I learned the nuts and bolts of the Old Testament and how to read Hebrew.
Of course, not everyone spends their summers canoeing and making friendship bracelets with campers. Nell, a 17-year-old from Massachusetts, will be wearing many different hats this summer:
I will be working on a huge research paper for an institute at my school. I will also be an intern at my state house of representatives. And currently, I'm in the second of three weeks in Russia, where I'm living with a host family and seeing lots of Putin imagery. Each of these activities is strategic. It allows colleges to know more about me just by looking at my activities list. And everyone at my school has a strategic summer planned out.

Last year, I worked at my local grocery store. I didn't hate my job, but I felt so astoundingly bored. My summer this year promises not only to be intellectually engaging, but also will give me more free time and ability to see friends.
But Clover, who grew up in rural Idaho in the 1980s, learned a lot from her less-than-glamorous experiences working at a grocery store—part-time during the school year, and full-time in the summer:
My primary job was to clean the meat department each night. I scraped the floor, bleached the butcher blocks and cutting boards, and disassembled the hamburger grinder, carefully scouring each part. I also dismantled the chicken rotisserie and cleaned each part. I bagged up all the scraps, knotting the trash bags securely so they wouldn't attract vermin to the dumpster area.
It was a great first job. It taught me to cheerfully perform objectively disgusting work, an invaluable career asset. It wiped out all traces of teenage vanity; when the best-looking boy in my class came in to buy a bag of chips and saw me—hair frizzy from the steam of the sanitizer, hands red and raw from bleach solution, ugly store apron proudly advertising my membership in the working class—I still had to look him in the eye and ask, "Are you finding what you're looking for?"
The juxtaposition of months spent in the classroom with months spent cleaning up a meat department is stark. For a teenager with aspirations of becoming a lawyer, for instance, it might not be easy to elect a job in manual labor over a summer course on criminal justice or a chance to intern at a local law office. Still, a number of readers described how physically grueling experiences can prove to be emotionally and mentally formative. Take Jesse, who spent the summer between his freshman and sophomore year of college earning rent money at his father's concrete business:
I ended up working almost every day of the week—we couldn't work in rain so those were the only off days—for 8-13 hours. I regularly handled heavy-duty grinding equipment and toxic chemicals regularly, and I was constantly carrying 80-180 pounds of equipment around in the hot sun. I had never had to do anything near this demanding or difficult in my life.

I dreaded waking up almost every day of that summer, especially with how beat up my body was near the end. After it all, though, I'm thankful for the experience. It landed me with several thousand dollars in my pocket, and I learned a lot of hard lessons that summer—some things I would have never learned otherwise. It will probably be one of the most character-defining moments in my life, and I wouldn't have gotten that at an internship.
These unexpected lessons learned while working a temporary job permeated nearly every response we received—and some of those lessons last for decades. From 1960-1965, Harry Freiberg worked for a large ice maker and deliverer in New Orleans, where he brushed elbows with the city's most eccentric characters and establishments. He also began to develop his own ideology:
I was the only white driver, the only high-school kid driver, and the only college-kid driver. For a nice upper-middle-class Jewish boy, each summer was a learning experience. It was long, hard work for little pay, but the experiences more than compensated. It was  how I became a liberal, socially and politically. And those summers are still some of my fondest memories.
It's not just the big life lessons that last, either. Sometimes an unexpected gem found during a summer job can sparkle for a lifetime—as Ron Palmquist, a longtime reader from Maine, knows:
While working as a soda jerk at a local pharmacy paying for incidentals prior to graduation in 1947, I saw Atlantic Monthly on the newsstand and took a copy to read during breaks behind the soda fountain. I was hooked.