Trump Starts Raising Money for His 2020 Campaign (and His Company)
The president's decision to hold his first big reelection fundraiser at his own hotel indicates he intends to keep making money off of his political career.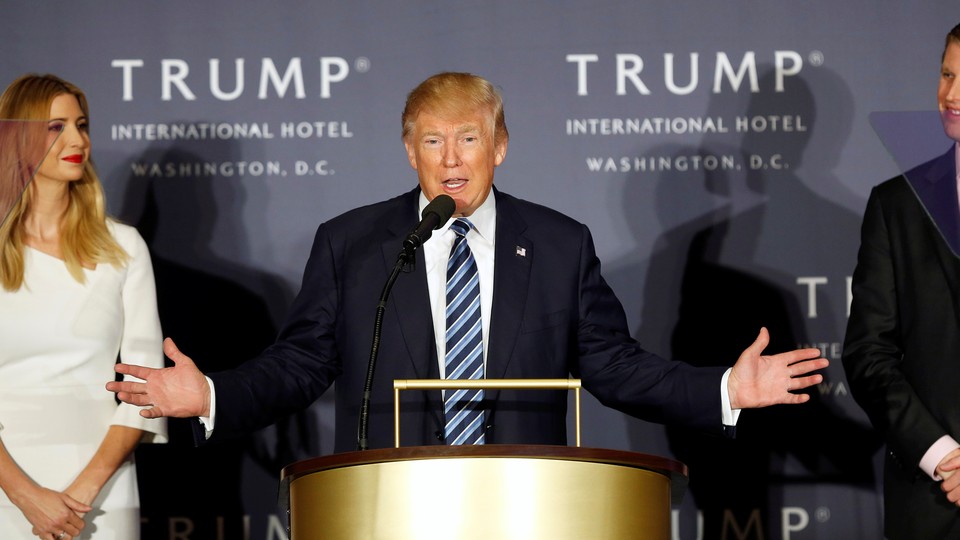 For President Donald Trump, the campaign never ended. Since filing paperwork within hours of his inauguration declaring eligibility for 2020, he's been holding rallies in the states he won in November and constantly rehashing his Electoral College victory.
In keeping with this theme, Trump will be officially kicking off his reelection bid with a major fundraiser next week, less than six months into his first term. (For comparison, President Obama didn't headline his first reelection fundraiser until April 2011.) Trump is holding his first fundraiser in the Trump International Hotel in Washington, D.C., which he has refused to give up ownership of while in office. That ensures that every advertisement for (and article about) the fundraiser doubles as a promotion for the hotel, and likely means that those attending will be spending money that goes to his company, the Trump Organization.
This is far from the first time that Trump has visited one of his businesses since taking office. The president has spent many of his weekends as president—even those during which he was meeting with foreign dignitaries—at one of his properties. For the first several weeks, his destination of choice was Mar-a-Lago, his resort in Palm Beach, where he posed for several pictures with paying guests, including once while reading classified briefing materials in an outdoor dining area. More recently, he's been spending time at his golf course in Bedminster, New Jersey, which at one point was actively advertising the president's presence as an attraction for couples considering getting married on the property. This tendency has made it difficult to separate Trump's behavior as president from his role as owner of the Trump Organization, with the former sometimes seeming to be a means of advertising the latter.
Nor is it the first time Trump used his own properties for election-related purposes. Throughout the 2016 presidential race, his campaign (and, ultimately, transition) headquarters were in Trump Tower; he raised the rent by nearly a factor of five once he became the GOP's nominee and the funds were coming not from his own pocket but from the Republican Party's. He also memorably held an event at his hotel in Washington, D.C., last September, at which he both promoted the property's amenities and halfheartedly renounced his participation in the "birtherism" smear campaign against President Obama.
An analysis from CNN concluded that, overall, the Trump campaign spent $12.5 million at Trump properties in the run-up to the election—and that's just funds from the Trump campaign itself. There are also assorted other expenditures that went to the Trump Organization, such as the money the Secret Service spent (and is in all likelihood still spending) booking flights on Trump's personal airplanes to accompany the president and his family on their trips around the country. Since taking office, he has directed an additional $6.3 million that was raised for his reelection campaign to the Trump Organization as well. That money is company revenue, so it may not all go into Trump's own bank account, but some of it almost certainly will.
The notion that Trump could make money running for president (let alone being president) goes back at least 17 years, to when he was considering running for office on the Reform Party ticket. In fact, he himself was the one to suggest it: In a 2000 interview with Forbes, Trump mused that, by planning his campaign stops around a set of appearances he was contracted to make with the motivational speaker Tony Robbins, "it's very possible that I could be the first presidential candidate to run and make money on it." He also added that "there's no way a good businessman" would lose a large sum running for office, as Steve Forbes had done in his 1996 and 2000 bids for the Republican nomination.
Whether Trump actually has made money running for president and during his time in office so far, however, is harder to determine. Based on the financial-disclosure forms he filed with the Office of Government Ethics this year and the Federal Election Commission in prior years, some of Trump's properties, most notably Mar-a-Lago, have seen increased revenues since he took office. That would certainly suggest he's making money off of his presidency.
Other indicators, though, seem to suggest that Trump's new political position is serving as a drag on his business prospects. As I wrote in April, several of Trump's properties are facing high vacancy rates, declining property values, or both, to the extent that his sons, whom he put in charge of his business when he took office, have reportedly worried that Trump's controversial tenure will alienate the urbanites who make up his most valuable clientele. Indeed, Scion and American Idea, the two new brands the Trump Organization launched last year in what looks like an attempt to shed associations with its owner's political baggage, have struggled to get off the ground: After failing to find footholds in St. Louis and Dallas, the imprints' first locations will be in Cleveland, Mississippi, hardly a tourist mecca.
And whether he's profited from his office is not just about how his businesses are faring. Running a presidential campaign costs an enormous amount of money. As Philip Bump of The Washington Post has noted, "Trump himself put about $66 million into the race—a bit shy of the $100 million he pledged to spend, but more than five times what his companies took in" during the campaign. And while Trump regularly claims to be worth in excess of $10 billion, estimates from both Forbes and Bloomberg both suggest that Trump's fortune, while in the billions, is significantly lower than that, and has declined slightly over the past 12 months.
By holding his first big reelection fundraiser at his hotel in Washington, D.C., next week, Trump will be kicking off his second campaign in much the same spirit as his first. Ultimately, though, whether he actually profits from this second campaign is immaterial to the broader considerations of how his finances play into his presidency. That he redirected money into his own business at all, and continues to do so, can only reinforce concerns that he will act on one of his growing number of conflicts of interest and compromise his decisionmaking as president.