The Camp Counselor's Commitment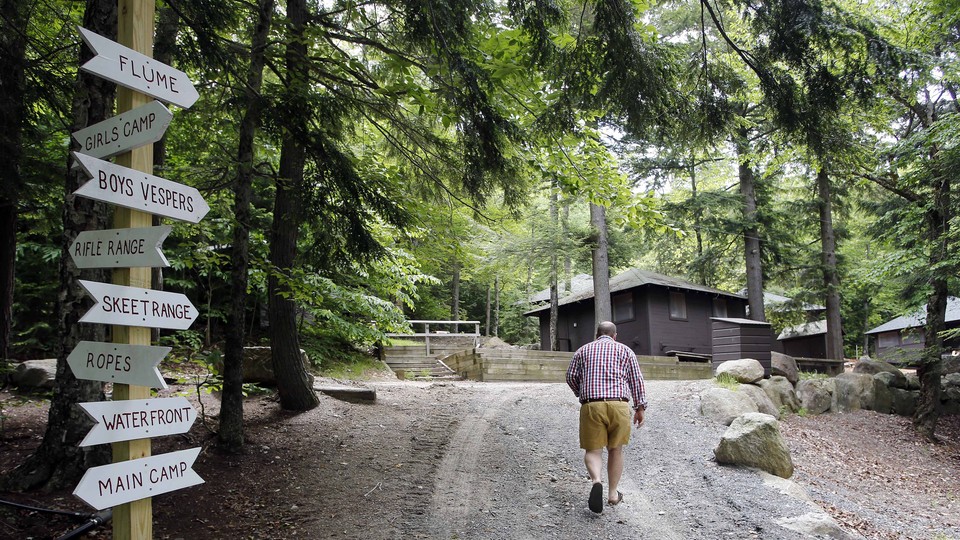 Editor's Note:
This article previously appeared in a different format as part of The Atlantic's Notes section, retired in 2021.
Neutrogena spray sunscreen smells the best. Coppertone face sticks are waxy and heavy. And if a parent insists on the old-fashioned lotion, hopefully it's not store-brand, because that stuff takes forever to rub in. Sun protection is very nuanced.
I'm a bit of an expert on the subject, having spent spent six summers mastering sunscreen—that most necessary of hot-weather evils—as a camp counselor. While some of my teenage pals scooped ice cream, sat in lifeguard chairs, and lugged around other people's golf clubs, I spent my days shepherding a group of 15 third-grade girls around 100 acres of land in northern Illinois.
But our experiences are becoming increasingly rare. As my colleague Derek Thompson reported earlier this month, fewer and fewer teens are working paid summer jobs—the days of simultaneously earning a tan and minimum wage are being traded for hours spent studying and working unpaid internships. The explanation for why, as Derek notes, is multifold, ranging from an increasing drive to prep for the academic year during the summer to a decline in the "cool" factor associated with working a short-term gig.
That today's young people are looking for ways to maximize their time and are choosing more academic ways to do so—or, in the case of internships, more explicitly future-oriented ones—isn't shocking. Since 2000, the number of students expected to attend higher education in the United States has grown by 5.2 million, according to the Education Department. But those applicants haven't necessarily brought 5.2 million additional spots at selective universities with them. And so as admissions rates plummet and the application pressure-cooker heats up, taking SAT prep classes instead of babysitting can seem less like an option and more like an obligation.
I grew up in a competitive public school district where a premium was placed on club leadership positions, community-service hours, and AP classes. Many of my peers spent their summers bolstering their resumes, and I certainly considered alternative ways to spend the summer, especially once I was in college and my peers were securing coveted internships at banks and consulting firms. At the end of three consecutive summers, I said I wouldn't return to camp in favor of more professional pursuits—but every time, when summer came again, I was back at camp. Ultimately,  the camaraderie I felt there, along with the unique freedoms and joys of spending weeks in the woods, was something I didn't think a desk job could replace.
Not only was camp my first paying job, but it was also the first time I was truly responsible for someone other than myself. Camp counselors do more than kick soccer balls and create wacky dance routines: I taught dozens of kids to swim, I know what to do if someone goes into anaphylactic shock, and hopefully I was a positive role model for my campers in the same way my counselors were for me. I also met some of my best friends (one of whom I still live with) at summer camp, and we're bonded together by memories of sticky s'mores and incessant Color Wars cheers.
The middle of nowhere is filled with hot bonfires, deep lakes, and the occasional tick, and being entrusted with the safety of others amid legitimate risk is incredibly empowering for a young adult. Explaining how to make a lanyard keychain to a second-grader and speaking to a parent whose child has misbehaved taught me to respectfully communicate with people of all ages. At camp, I didn't just learn how to steer a canoe. I learned to be independent, accountable, and just the right dose of weird. These lessons form the bedrock of who I am as an employee and as a human being, and that kind of social-emotional growth simply isn't found inside a summer-school classroom.
For the adults out there: What was your most formative summer job? For the teens: How are you choosing to spend the summer, and why? To share your story, send us an email at hello@theatlantic.com.