The Poverty Just Over the Hills From Silicon Valley
The South Coast, a 30-mile drive from Palo Alto, is facing an affordable-housing shortage that is jeopardizing its agricultural heritage.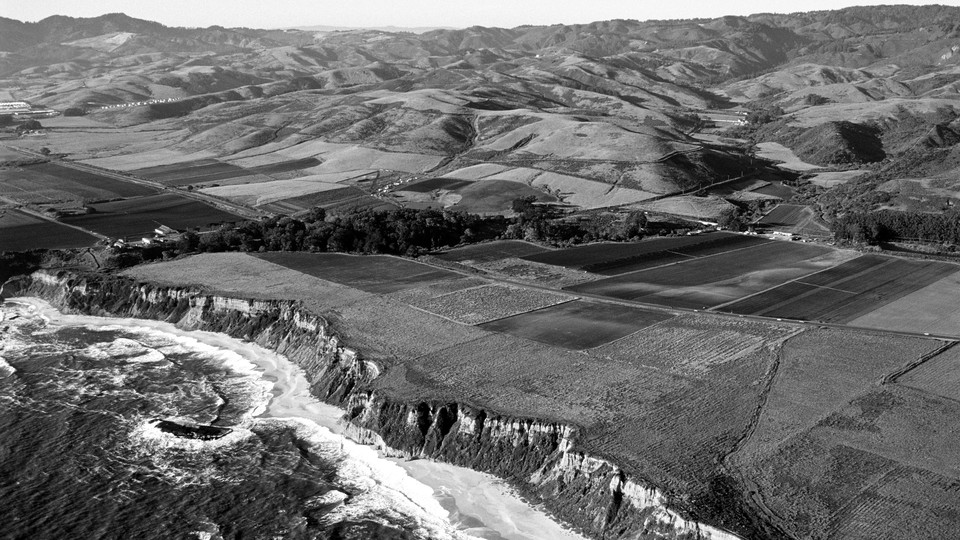 On the drive up the coast from the southernmost part of Northern California's San Mateo County, Highway 1's two lanes are surrounded by wind-whipped seas on one side and redwood forests on the other. The landscape is dotted with wild yellow mustard in the spring and pumpkins in the fall. A popular place for day-trippers to picnic, go wine-tasting, and shop at roadside farm stands, the region—affectionately nicknamed "the Slowcoast" for its unhurried pace—is a balm to the busyness nearby in Silicon Valley, to the east, and San Francisco, to the north.
Home to fewer than 3,000 people, the South Coast is the least densely populated part of the Bay Area. While it feels like a region unto itself, it is part of San Mateo County, which is where—just over the Santa Cruz Mountains—several big tech companies, such as Facebook and Oracle, are based. South of those firms' campuses (in Santa Clara County) are the well-known tech hubs of Mountain View, Cupertino, and Palo Alto. San Mateo County is also the home of some of the wealthiest tech executives: The city of Atherton, about a 30-mile drive from the South Coast, was, according to Forbes, the country's most expensive zip code in 2015 and the third-most expensive in 2016. The countywide median price for a single-family home reached $1.2 million last year.
The coast, whose heritage is defined by farming rather than tech, has become more expensive by proximity, but the area shares little in Silicon Valley's wealth. As a recent report from the Mountain View-based nonprofit Silicon Valley Community Foundation (SVCF) described, "The affluence of Silicon Valley—located just 'over the hill,' as many residents say—has not touched [people on the South Coast] except by making their lives more expensive: fog rolls over from the coast and cost rolls the other way."
The report profiles local families, including one couple and their three school-age children who live in a rusted, insect-infested trailer that has a leaky roof and no heat. The parents make less than $11 an hour working for a local flower nursery and pay $1,100 a month for their housing. According to the report, the family's situation isn't an exception—it's the reality for hundreds of South Coast residents, mostly Latino farmworker families. "We have people living in Third World conditions in the heart of the First World, affluent prosperity that comes with Silicon Valley," says Erica Wood, the chief of community impact for the foundation, which last year had a budget of $22.4 million.
The report also focused on how the coast's four tiny, unincorporated towns—Pescadero, La Honda, San Gregorio, and Loma Mar—are remarkably isolated considering how close they are to Silicon Valley. These communities have no public transit linking them together and lack basic infrastructure, such as a sewer system, drainage ditches, or internet service. They have no laundromat, emergency room, medical professionals, or licensed daycare centers, and—even though many residents work in the fields—little to no access to affordable food. The water at two of the area's three schools is too contaminated to drink, although one is hoping to turn its faucets back on soon. Many families drive to Watsonville, over an hour's drive to the south, to do laundry and shop for food.
The road from Highway 1 to downtown Pescadero passes the Pescadero Marsh, a picturesque 235-acre nature preserve. One recent soggy Monday afternoon, on the town's main strip, cyclists in spandex with expensive bikes congregated in front of a hip coffee shop and tourists stopped to buy artichoke bread and taste local wine. This small patch of development—which is home to about a dozen businesses and 250 residents—is one of only two small areas that benefit from county water services, and has Pescadero's lone corner of broadband internet availability.
On the outskirts of town, next to Pescadero Elementary and set against a backdrop of cows grazing on rolling hills, is Puente de la Costa Sur, or simply "Puente," the community center that has come to provide many of residents' basic needs. (In English, its name means "South Coast Bridge.") Puente, founded in 1998 and funded by the county, private foundations, and individual donors, tries to fill in some of the gaps in necessities. For example, the South Coast has no hospitals, doctors, nurses, dentists, pediatricians, or ob-gyns, so Puente hosts a health clinic for two hours once a week.
Perhaps the area's most urgent problem is a shortage of affordable places to live. Housing prices and rents have famously skyrocketed across the Bay Area in recent years due, in part, to spillover effects of restrictive housing policies in San Francisco. The consequences of those policies, which have limited density and the addition of affordable housing units, have been felt even in communities that don't offer the same booming economies as, say, Mountain View or San Francisco. For instance, demand for housing from people working in Silicon Valley has helped make Santa Cruz, where residents who work locally now find it hard to compete with tech commuters for housing, the "least affordable city in California," and, some have argued, contributed to a rise in homelessness in California's Central Valley. Rents on the South Coast have similarly spiked: Last October, a five-person family that Puente works with lost their housing and, unable to find a new home, slept in their SUV throughout the winter. Rita Mancera, Puente's executive director, helped by scouring rental listings for them, but small two-bedrooms were asking $2,500 a month, which was out of reach on the parents' farmworker incomes.
As housing prices have swelled, incomes on the South Coast haven't risen accordingly. In San Mateo County, the median household income for a family of four is currently $115,300, according to the county's Department of Housing. For South Coast farmworker families, according to SVCF, it's $26,000. A third of the area's farmworkers live in employer-provided farmworker housing—much of which is badly in need of improvement or replacement—and the rest must compete for extremely limited market-rate housing. As a result, hundreds of families end up crowding into rundown trailers, where children often sleep on couches and floors.
If history had unfolded differently, it's possible that the South Coast would now look like much of Southern California, where development canvasses the land right up to the seaside bluffs. Things seemed to be heading that way in the 1970s, when Silicon Valley expanded to cover a larger swath of the Bay Area. But a small group of activists made sure the sprawl didn't continue west: "[They said], 'We don't want our coastline to look like Orange County, filled with starter mansions and big subdivisions and a ton of population,'" says Marti Tedesco, the vice president of marketing for the Peninsula Open Space Trust, or POST. The nonprofit was founded in 1977 and has protected 75,000 acres in the years since, 24,000 of which are within the boundaries of the school district covering La Honda and Pescadero. Typically, POST transfers ownership of the land it buys to a public agency, such as a local, state, or national park. Still, with about 12,000 acres currently in its ownership, it is the largest landowner on the South Coast.
Other private land trusts and The Midpeninsula Regional Open Space District, an independent, voter-formed group that has preserved more than 63,000 acres in the Bay Area in the past 45 years, contribute to the vast network of protected acreage along the coast. Over the years, these organizations have purchased swaths of farmland from private landowners in order to prevent development, often then selling or leasing it back to local farmers at lower prices. Some of Silicon Valley's richest residents have already bought up thousands of acres of land themselves, often to use for ranches. As more look into doing the same, POST has launched an initiative to protect 2,250 additional acres of land.
Don Horsley, the county supervisor whose district includes the South Coast, is pleased with such efforts. "There are wealthy people who look at the South Coast and think, 'Oh my, it's bucolic and beautiful and wonderful and I think I'm going to buy this land, and there's this farmer on it so I want him off,'" he says. "Land that's traditionally agricultural gets bought up by wealthy people who don't see any value in it, and just want it to be an estate. … That's the value of having these [preservation groups] grabbing up those farms."
Compared to the economic output of San Mateo County's most well-known industry, agriculture's barely registers. "The amount of money that's generated is somewhere around about $140 million annually, which sounds like a lot—but when you have Facebook with billions, it's not a lot," Horsley says.
He adds that that $140 million is worth safeguarding, but money is just one reason locals and other officials like him want to preserve the coast's agriculture. Farming has been a way of life on the coast for hundreds of years, and for the last several decades, protecting land from development has kept the region's beauty, culture, and history intact. "We've been able to preserve our coastside in San Mateo County, I think, like no other," says Horsley. "It is good stewardship of the land, [and] it preserves our agricultural heritage in the county." And although San Mateo County's food output is smaller than that of many other California counties—the produce for sale at the Bay Area's farmers' markets is grown throughout the region—Horsley says the growing demand for local and organic foods provides further grounds for conserving a local source of meat, fruits and vegetables.
Farmland, however, is of limited use without enough workers to tend to it. The South Coast's lack of affordable housing makes it hard to support a population of farmworkers, without whom the county's already struggling agriculture sector would collapse. Agricultural production in the county suffered a record loss of $20 million in 2015, and POST has found that the county has lost 35 percent of its farmland over the last 30 years. This decline is due to competition from overseas (particularly cheap flowers), a lack of readily available water, and the state's worsening farm-labor shortage.
Based on a county assessment released last fall, more than 1,000 units of farmworker housing are needed to remedy the coast's housing situation. So that families don't have to compete with other residents for market-rate housing, the need could be met through on-site housing provided by the growers or independent housing intended only for farmworker families (and funded by county loans set aside for these developments). The latter is the preferred solution, because, with the former, Horsley explains, "If you decided you wanted to go work for someone else, you might lose your housing."
Puente is making some headway on this problem. It is planning a program that matches farmworkers with empty vacation rentals. POST too is trying to help, by facilitating a project, with funding from the county, that will upgrade the housing available on a farm in San Gregorio.
But there are serious obstacles to building new housing on the South Coast. "The land is one thing. But does it have water and does it have septic?" asks Horsley. Everything from the possibility of adding affordable housing to the likelihood of building a laundromat hinges on that question and the answer, most often, is no. There is the additional complication that Pescadero, the largest of the four unincorporated communities on the South Coast, is close to marshland and thus prone to flooding, which means that some of the complaints townspeople have brought up—including needs described in the SVCF report such as sidewalks and new buildings—would be difficult and expensive to address. And even the area's dedication to open space—the thing that gives it its characteristic appeal—to some extent stands in the way to building housing: Open-space districts aren't in the business of allowing new development, including housing, on their lands.
Add in an "astonishing number of state and federally protected species," says Kellyx Nelson, the executive director of the San Mateo County Resource Conservation District, and getting anything done on the South Coast becomes even more difficult; regulations there have evolved in a piecemeal fashion, with a throng of agencies, from the California Coastal Commission to the U.S. Fish and Wildlife Service, staking out jurisdiction.
Nelson and others on the South Coast hope that people in Silicon Valley will be moved to pitch in. "There have been tremendous changes and pressures on a place that to a visitor looks like Brigadoon—that's sort of captured in time. It looks quaint. It's rural," she says. "But that belies the tremendous accelerated changes and pressures on that area."
Mancera, the director of Puente, remains focused on the gap between the South Coast and the thriving economy just over the hills. She hopes tech companies or their employees might consider investing in broadband in the area or setting up internship programs for local high-schoolers. If the workers at the biggest tech companies' campuses, located about 20 miles east as the crow flies, deserve laundry facilities (and, for some, even employer-provided laundry service), she thinks, the farmworkers of the South Coast should have access to a laundromat that isn't more than an hour's drive away.