'If We Employ Somebody Who Wants to Leave, and Can't ...'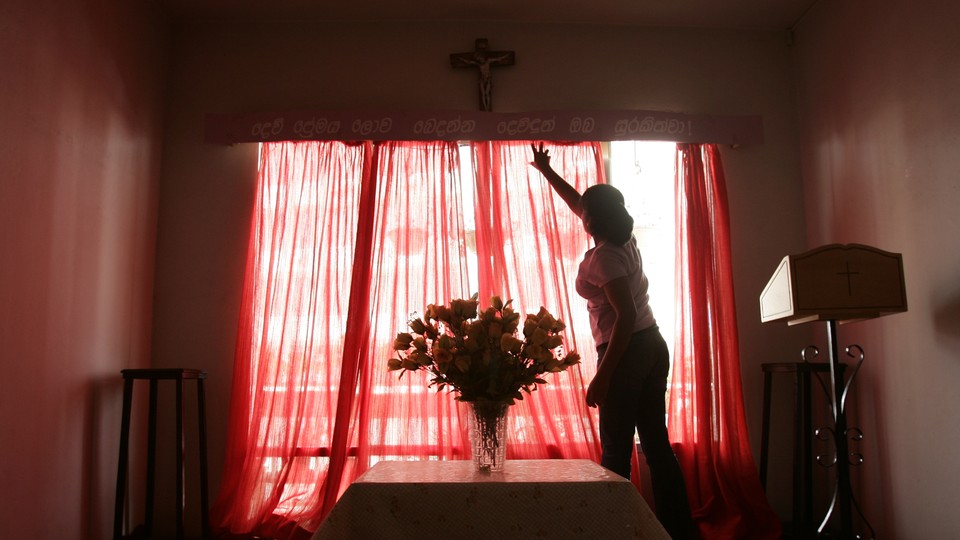 Editor's Note:
This article previously appeared in a different format as part of The Atlantic's Notes section, retired in 2021.
In our ongoing series of responses to "My Family's Slave," we've heard from a number of readers who saw aspects of their own lives in Eudocia "Lola" Pulido's situation, as well as some who recognized her story in arrangements made by their own families. Another reader, Dina, affirms:
The kind of "slavery" the author narrated is not news to me. Even nowadays, if you are poor here in the Philippines, enslaving oneself in another person or family's household is very common, especially for poor people from the province who are uneducated and have no other skills but to do household chores. But what would be uncommon in this story is the maltreatment and the lack of remuneration for decades. In the Philippine setting, such practice is so backward and it is shocking to know it happened in the 20th century in an educated family residing in the world of the free.

Lola represents modern-day Filipino slaves—the overseas foreign workers who would work as domestic helpers, mostly in Asian countries like Singapore, Hong Kong, Taiwan, and the Middle East.  Some of these women would themselves be mothers sacrificing to leave their small children behind under the care of others (sometimes strangers) so they would be able to give them their basic material needs. Unlike Lola, they are paid but some would experience the same abuse, verbal or physical sometimes both. There could be multiple horror stories published about these women, and it would not be limited to Filipinas only.
Ai-Jen Poo, director of the National Domestic Workers Alliance, told the stories of women enslaved in homes across America in her own essay "Lola Wasn't Alone." And Alice Su, who has spent several months reporting on migrant domestic labor in the Middle East, covered several more. From Alice:
Jordan has about 50,000 migrant domestic workers, of whom the largest subgroup are from the Philippines. Lebanon had nearly 170,000 registered domestic migrants in 2016. Most of them—about 105,000—are from Ethiopia, but Filipinas are the second-biggest group, at roughly 18,300.

In Lebanon, migrant domestic workers are specifically excluded from labor laws, which means they have no legal guarantee for basic rights like a minimum wage and maximum work hours or days off, and nowhere to appeal when they are verbally or physically abused. Their work contracts require that they live in their employers' homes. When abuse happens, they have nowhere to go.
For Ihab, a reader from Lebanon, these articles hit close to home:
Alex Tizon's essay on Lola was one of the most powerful, personal reads I've had in recent memory. I immediately asked the rest of my family to read it—hoping that, like me, they would make the connection between Lola and the domestic workers in our home country of Lebanon. Then, The Atlantic published Alice Su's piece making that connection explicit.

The problems with Lebanon's migrant domestic worker industry are well documented, and I wanted to share my personal experiences with it. I wish I could offer more of the victim's perspective, but can only reflect on my own role and, like Tizon showed, on how cowardice can take over when facing shame in your own family.
My family visited Lebanon every few years after immigrating to the States when I was an infant. Even on those childhood visits, I found myself distant and uncomfortable around my grandparents when we stayed in their home. I was regularly chided by my Teta (grandmother) when I cleared the table after a meal: "No, let the girl do it."

"The girl" was a different person every time I returned to Lebanon. But she was always a young Ethiopian woman who lived in the pantry until being summoned with a bell to my Teta.

The first one I can remember was Jaddah. She called my grandparents mama and baba. This suggested tenderness; a look into her cramped, windowless living quarters (in a flat with two large spare bedrooms) suggested otherwise. Once, at my parents' prodding, my grandparents allowed her to come sightseeing with us. The fact that we allowed her this small joy was, to us, evidence that we were the "good" kind of employers. The awareness of our power to deny this joy, at any moment, was unimportant. Until she left, Jaddah's passport was kept locked away in a box in my Teta's room.

This repeated itself in visits throughout the years. Moral questions were deflected by comparison to other Lebanese households. We pay her, and she came voluntarily. I should hope so. We'd never lay a hand on her. A high bar, indeed. People say we spoil them. True, and a damning statement on domestic worker conditions in the Arab world. On my last trip to Lebanon, I made as many excuses as I could to find other places to stay. But out of respect for my father, I found myself at his parents' flat multiple times. As I had done when I was a child, I ignored my Teta's complaints while I cleared the table after dinner. "Let the girl do it."

"What's the new girl's name?" I asked.

"Oh, it was something strange that started with F," said Teta, exasperated, "so I told her that her name was Fifi."

Fitfida, as I learned after some sign-language introductions, spoke no Arabic, no French, and no English; some failed attempts with Google Translate told me that she did not seem to speak Oromo, either. We got by on nonverbal communication. My sister and I pooled resources to give Fitfida a couple hundred dollars and some phone cards. It was plausibly as much cash as she'd ever had at one time. I didn't feel like it was enough. If I had benefited from my family's prosperity (and surely I had), then so too was I implicated in my family's wrongdoings.

That night my Teta made it clear that she did not approve of our small gift. My father attempted to act as a mediator between the two sides, though clearly he was troubled by his mother's reaction. He explained that the girl wouldn't know how to use the phone cards and would waste them; my sister countered that she had gone through the process with her and seen her do it successfully. He told us that a previous house girl had taken some money from my grandparents and run off, and my Teta was still on edge about it; I replied that if they didn't trust this new girl, then they shouldn't have hired her. (I had heard about the previous girl from my other sister, and how she had been locked in the house when my grandparents were both out.)

My Teta then made her most staggering claim: "Once they get their phones and some money, they start scheming with each other about ways to escape." I saw the pain in my father's face as she said this. He was torn between the values he'd instilled in us and his devotion to his mother. Could I blame him? I articulated what I knew he was already thinking. "If we employ somebody who wants to leave, and can't... that's not a worker. That's a slave."

The next morning, before leaving for the airport, I gave Fitfida a paper with my name and contact information and tried to explain that she should call me if she needed something. Considering we had no shared language, it was a feeble gesture to address my debt; more for myself than for her. But in the diasporan tangle of culture, familial love, and familial cowardice, you tell yourself that the feeble gestures are at least something.

Hours later, I was boarding my plane in Beirut and saw a text message from my father:

"Bought Fifi a cell phone. Love you, safe flight."