Are Pharmaceutical Companies to Blame for the Opioid Epidemic?
Recent lawsuits are asking courts whether the current crisis is comparable to the one over tobacco in the '90s.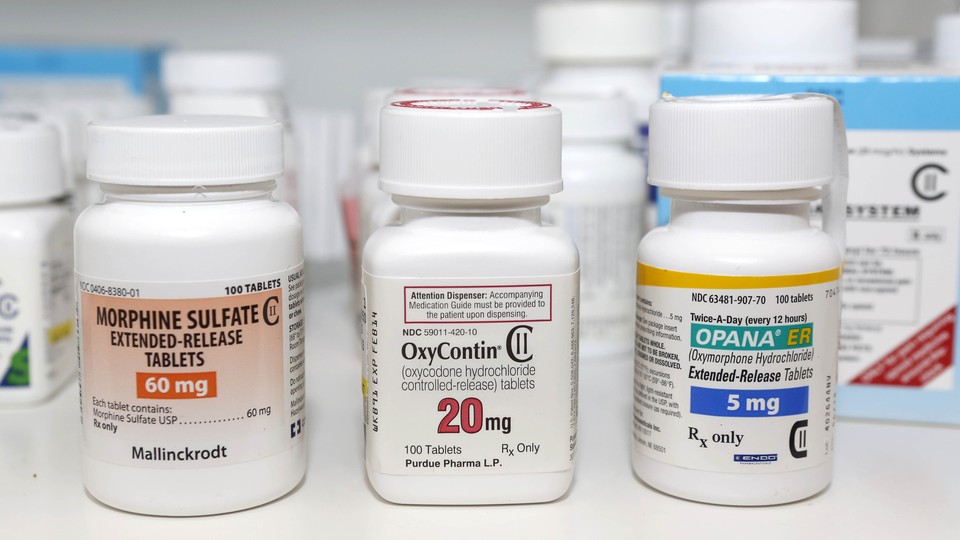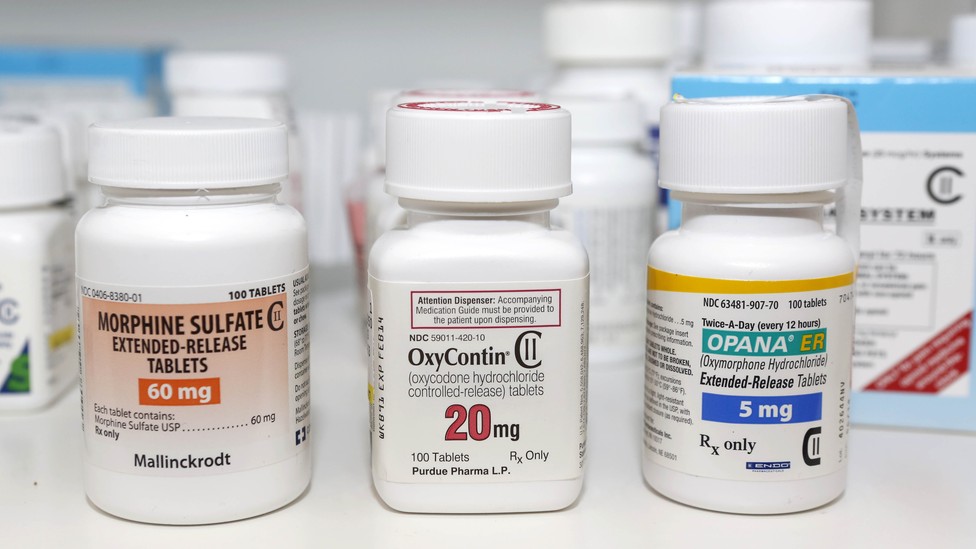 Opioid abuse is rampant in states like Ohio, where paramedics are increasingly spending time responding to overdoses and where coroners' offices are running out of room to store bodies. In 2012, there were 793 million doses of opioids prescribed in the state, enough to supply every man, woman, and child, with 68 pills each. Roughly 20 percent of the state's population was prescribed an opioid in 2016. And Ohio leads the nation in overdose deaths.
Who is responsible for this? Some attorneys general and advocates are now asking in court whether the pharmaceutical companies who marketed the drugs and downplayed their addictive nature can be held legally responsible for—and made to pay for the consequences of—the crisis. This may not be such an outlandish idea; in fact, there's a good precedent. In 1998, the tobacco industry, 46 states, and six other jurisdictions entered into the largest civil-litigation settlement agreement in U.S. history. State attorneys general had sued tobacco companies, arguing that the companies should take up the burden of paying for the costs of treating smoking-related diseases. In the settlement, which left the tobacco industry immune from future state and federal suits, the companies agreed to make annual payments to the states, in perpetuity, to fund public-health programs and anti-smoking campaigns.
Now, as a new public-health crisis ravages states, Ohio's Attorney General Mike DeWine filed a lawsuit Wednesday against a handful of pharmaceutical companies, including Purdue Pharma, Teva Pharmaceuticals, and Johnson & Johnson. The lawsuit accuses the companies of spending millions on marketing campaigns that "trivialize the risks of opioids while overstating the benefits of using them for chronic pain." The companies, the lawsuit alleges, lobbied doctors to influence their opinions about the safety of opioids, "borrowing a page from Big Tobacco."
The lawsuit follows similar recent lawsuits in Illinois, Mississippi, four counties in New York, and Santa Clara and Orange Counties in California. Last month, the Cherokee Nation filed a lawsuit against distributors and pharmacies in tribal court over the opioid epidemic. In January, the city of Everett, Washington, filed a lawsuit against Purdue Pharma, the makers of OxyContin, alleging that the company knew the drug was being funneled into the black market but did nothing to stop it.
"What you're getting now is a lot more legal minds across the country focusing on this, and figuring out how to pay these huge bills," Sam Quinones, the author of Dreamland: The True Tale of America's Opiate Epidemic, told me. "Everyone is groping for a legal theory that will work in court."
There is some significant evidence that pharmaceutical companies may have engaged in some activities that led to the opioid crisis. A Los Angeles Times investigation into Purdue Pharma, for instance, found that the drug maker, which marketed OxyContin as relieving pain for 12 hours, knew that the drug wore off before that time period. Since the drug didn't last as long as promised, some patients suffered withdrawal, which led them to become addicted. (Purdue responded that OxyContin had been approved by the FDA as a 12-hour drug, and said it was working to "address our nation's opioid epidemic.")
But the situation differs in significant ways from the tobacco example, and proving the pharmaceutical companies are responsible will be difficult. Individual plaintiffs who have sued pharmaceutical companies over how opioids have been marketed have rarely been successful, according to Richard Ausness, a professor at the University of Kentucky College of Law. Courts have made clear that they believe that individual victims are largely responsible for their addiction. People who die of overdoses are often using the pills not as they were prescribed, but are obtaining the pills on the black market. They are disregarding doctors' prescriptions and taking more than is safe. "It is difficult to persuade courts that FDA-approved prescription drugs are defective and that their warnings are inadequate," Ausness told me.
With the tobacco-industry lawsuits, customers were using the product as instructed and got sick. With opioids it's a different story: Customers are not using the pills as directed, and so it is harder to blame the pharmaceutical companies for the effects of that misuse, according to Lars Noah, a professor of law at the University of Florida. In addition, doctors, not consumers, were the ones targeted by the aggressive marketing campaigns undertaken by pharmaceutical companies, so it can be difficult to link consumer deaths with aggressive marketing.
State entities have been only a little more successful than individuals at suing pharmaceutical companies, according to Ausness. The most successful government lawsuits have taken a page from tobacco litigation, arguing that companies created financial costs for the state because of the widespread addiction. That tactic was what led to the 1998 settlement with the tobacco industry. The Ohio lawsuit, for instance, alleges that pharmaceutical companies created a "public nuisance" because they misrepresented their opioid drugs, downplaying their addictive nature. It seeks restitution for Ohio consumers and compensation for the state's Department of Medicaid, which paid for "excessive" opioid prescriptions. States are more sympathetic defendants than individual patients because they cannot be blamed for misusing pills, but still suffer financial consequences.
Yet using the "public nuisance" tactic against pharmaceutical companies has a similar flaw to the lawsuits brought by individuals. Pharmaceutical companies may be able to argue that they are not to blame because individuals misused the drug, and eventually used more than any doctor prescribed. The mere prescribing of opioids is not usually the problem, after all. Pharmaceutical companies are often able, in court, to shift the blame to doctors who prescribed the pills, absolving themselves of responsibility. "The overall effectiveness of civil litigation in this area is highly questionable," Ausness wrote, in a 2014 article about the role of litigation in fighting drug abuse. When the West Virginia attorney general sued Purdue Pharma in 2001 for creating a "public nuisance" because of its marketing and distribution of OxyContin, for example, the case settled for $10 million in 2004, a relatively small sum, which indicates that the state thought it was not likely to prevail in a trial, Ausness says.
It may be even more difficult to legally hold pharmaceutical companies accountable in 2017, according to Noah. Purdue, which was allegedly the most aggressive marketer of opioids, admitted wrongdoing and entered into a multi-million-dollar settlement with the federal government in 2007. (Three executives also pled guilty to criminal charges.) In the years since it has taken steps to reduce abuse, according to Noah of the University of Florida. Purdue changed its policies and made clearer warnings about how addictive the pills were, and also came out with a less-easily-abused version of Oxycontin, Noah said. That could make it difficult to allege that the company is still behaving in a way that creates a nuisance. "These strike me as an even longer shot than the handgun lawsuits," he said, referring to lawsuits filed against gun manufacturers after mass shootings such as Sandy Hook.
The companies say they work hard to deter abuse. They emphasize that some Americans who suffer from chronic pain depend on opioids to manage that pain.
"We share the attorney general's concerns about the opioid crisis and we are committed to working collaboratively to find solutions," Purdue Pharma said in a statement provided to The Atlantic. "We are an industry leader in abuse-deterrent technology."
Another company, Janssen Pharmaceuticals, said in response to the lawsuit that the company has acted "appropriately, responsibly, and in the best interests of patients" regarding opioid pain medications.
There are a lot of different parties that can be blamed for the opioid epidemic, Noah argues. Doctors were too loose with their prescribing practices. The scientific community published and depended on letters and papers that downplayed the risk of addiction from opioids. (Many doctors depended on a five-sentence letter from 1980 that said that the majority of a sample of hospital patients who had been prescribed opioids did not get addicted.) Pharmacies and distributors allegedly failed to report suspicious orders for controlled substances from patients or doctors. (One distributor, McKesson, entered into a $150 million settlement with the Justice Department in January over this issue.) The FDA approved new, more powerful opioids but did not demand further restrictions on how they were distributed. The DEA did not impose quotas on how many opioids were manufactured. "There are any number of actors who could have tried harder," Noah said.
What's more, the settlements from the tobacco industry were not particularly effective in preventing smoking. Very little of the money allocated actually went to tobacco prevention—states often used the money for unrelated expenditures. There's reason to believe that the windfall, if there is any, from the recent spate of opioid lawsuits may also not be helpful in stopping abuse. Such lawsuits take a long time to wind their way through the courts, and there may be no way to guarantee that states are using the money to address opioid addiction. Skeptics also say that the Ohio lawsuit is mostly political—DeWine is running for governor, and his Democratic opponents have made opioid abuse a central issue to their campaigns.
A better strategy than casting around for blame, then, may be to focus state efforts on how to curb the opioid epidemic before it gets any worse. They could adopt programs that monitor doctor's prescriptions of opioids, or try to prevent doctor-shopping, or collect unused prescription drugs. In the end, looking for someone to blame for the epidemic might be less useful than figuring out how to stop it.