Will China Save the American Economy?
Though Trump is skeptical of globalization, more investors from overseas are building factories and creating jobs. Will they find the U.S. a hospitable place for business?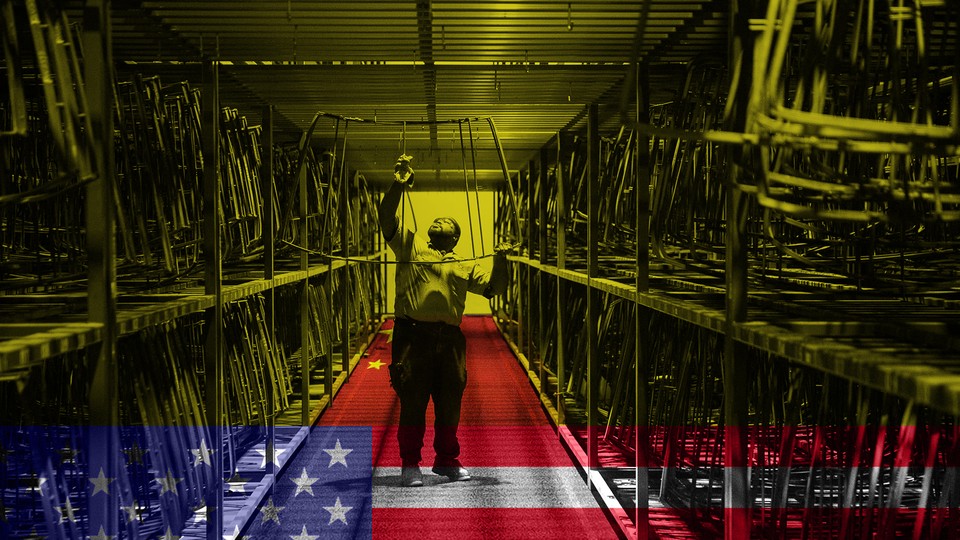 MORAINE, Ohio—For years, Donjian Xu and her husband operated a sleepy Chinese restaurant in this industrial suburb of Dayton, cooking up American-style Chinese food like sweet-and-sour chicken and beef with broccoli for customers who would stop in on their lunch break.
Then, three years ago, a new crowd started coming into Dragon China: Chinese natives who missed home and were craving something different than the hamburgers and pasta that everybody seemed to eat in Ohio. The Chinese, mostly businessmen, would come in and order things not on the menu—noodle soup with vegetables and fish balls, for example. Sometimes, Cao Dewang, a famous self-made billionaire from China, would come in and sit at the corner table with his deputies, and "that's when we [would] need to make something really special," Xu told me.
Dewang visits this Ohio town because it's the home of the American factory he built for his Chinese company, Fuyao Glass. He spent $700 million in 2014 to rehabilitate a shuttered General Motors plant, where Fuyao now makes automotive glass that it sells to U.S. automakers. Fuyao employs 2,000, the majority of whom are Americans. "This place could be the next General Motors if it's done right," an employee named Larry Yates, who worked at the GM plant for 25 years, told me. "I want to see them do well and succeed." Hundreds of Chinese executives work here, too, and, having brought their families from China, are buying homes and cars and enrolling their children in local schools.
Chinese investors are investing heavily in the United States. In 2016, Chinese businesses spent $46 billion on foreign direct investment in the United States, a threefold increase from the $15 billion they spent in 2015, according to the Rhodium Group, a research firm that analyzes global investment trends. Chinese-owned firms now support more than 140,000 jobs nationwide, nine times as many as in 2009.
President Trump has made reversing or resisting globalization a cornerstone of his economic policies and ideology, issuing executive orders directing the executive branch to hire and buy American, pulling out of trade deals such as the Trans Pacific Partnership, and promising to renegotiate NAFTA. But much of the economic activity being generated around the country comes because of globalization, not in spite of it. Globalization helped bolster economies around the world, including China's, and is now allowing a class of wealthy people and companies from those economies to invest in the United States, creating jobs in depressed regions like Ohio.
Foreign companies are responsible for many of the jobs in states like Ohio today—they employ 18.5 percent of manufacturing workers in the U.S., according to the Brookings Institution. Other foreign companies creating jobs in Ohio include the Danish firm Xellia Pharmaceuticals and the German auto-parts supplier Borgers. "People typically think of trade or globalization as a one-way street in which they're on the losing end—if you listen to the president talk about this, you would come away thinking that we've only lost in this equation," Joseph Parilla, a fellow at the Brookings Institution, told me. "Nobody has talked about the infusion of capital that comes from foreign companies that are supporting a ton of jobs in the U.S."
But the increased investment comes with some growing pains. Chinese executives told me it's hard to get American factories to become as efficient as Chinese ones, partly because Americans work fewer hours than Chinese workers do—on average, the Chinese work 2,200 hours a year, compared to 1,790 for the United States. They also say there are not enough qualified workers in manufacturing in Ohio, and that workers are unreliable.
Workers have their own complaints, as The New York Times reported recently. Workers say that Chinese companies operating in the U.S. don't adhere to American labor standards and working hours. The workers complain about poor treatment, and one worker recently sued Fuyao on behalf of herself and others, alleging that the company didn't pay them overtime. Another man alleges that Fuyao exposed him to chemicals that gave him blisters and made it difficult to breathe. The workers also say that Fuyao isn't investing in training them, which is leading to low productivity at the factory. Fuyao disagreed with the criticisms, telling me that the Occupational Safety and Health Administration (OSHA) had investigated the claim of chemical use and found no violations, and that its policies on overtime and paid leave are straightforward.
Dayton—and Ohio—needs plants like Fuyao to succeed. New-business creation is faltering in America, with the number of new start-ups at 40-year lows. Foreign investment could be a key to creating new jobs for Americans. The question is whether foreign companies will continue to find America worth their investment.
* * *
In the cavernous white lobby of the Fuyao factory on a recent morning, a handful of people in suits sat under a Chinese flag, filling out job applications. They were seeking open positions at Fuyao, which had just announced that it was raising its hourly wage by $2 in order to attract new workers and decrease turnover. That drew in people like William Oliver, 31, who has an associate's degree and was applying for a position on third shift (11 p.m. to 7 a.m.) so he could work at Fuyao while he attended school. Once he heard about the raise, he told me, "I knew I had to come down here."
Not long ago, companies were decamping for overseas locations like China and Mexico, where they could save millions in labor costs. In 2004, factory workers in China made $4.35 an hour, compared to $17.54 that the average factory worker made in the U.S., according to the Boston Consulting Group.
But labor expenses are rising in China. According to the Chinese Business Climate Survey, put out by the American Chamber of Commerce in China and the consulting firm Bain & Company, businesses there cite rising labor costs as their top problem. That's in part because worker organizations are gaining strength, and strikes and labor disputes are becoming more common. Today, Chinese manufacturing wages adjusted for productivity are $12.47 an hour, compared to $22.32 in the United States, according to the Boston Consulting Group.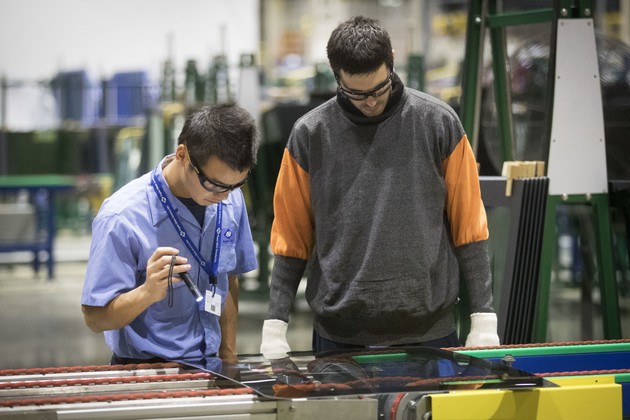 Wages aren't the only costs in China that are rising. The price of electricity has increased 15 percent since 2010, and industrial land is becoming more expensive too. Taxes are high as well: Dewang, the head of Fuyao Glass, said in an interview late last year that he had moved his plant to the U.S. because China had the "world's highest taxes." (Actually, income taxes are higher in many Scandinavian countries than in China, and the corporate income-tax rate in China is 25 percent, which is lower than in the U.S.) "Apart from labor costs, everything else is cheaper in the U.S. than in China," he has said.
These factors alone would be enough reason to give companies pause about locating factories in China. But there are other reasons Chinese businessmen are looking outside of their own country for investment opportunities. There are so many cash-flush investors in China that there are fewer good opportunities to buy companies, and so people with money have fewer places to put it, said Eswar Prasad, a professor of trade policy at Cornell. Such investors might have once put their money into U.S. securities, but the rate of return is low, so they're turning their attention to buying foreign companies instead. (Most Chinese investment abroad comes in the form of outright purchases of other companies; the Fuyao factory stands out in that the company decided to build its own products there, rather than acquire an existing business.)
Many investors also want to diversify their portfolio by investing in companies outside of China, said Daniel Rosen, a founding partner at the Rhodium Group. And investors are worried about a weaker Chinese currency in the future, so they are making big bets while their money still goes relatively far. It's not just in the U.S.: Chinese outbound foreign direct investment reached $200 billion in 2016, with deals in Europe, Africa, and South America as well. In total, the Rhodium Group calculates that China invested $46 billion in the U.S. in 2016, almost three times as much as the U.S. invested in China that year.
"The U.S. is seeing the same pattern of increasing Chinese investment that is taking place worldwide," Rosen told me. Often, investors buy existing companies overseas simply as an investment—96 percent of Chinese investments in the U.S. in 2016 were in acquisitions, according to the Rhodium Group. The Chinese manufacturer Haier bought General Electric's appliance division last year, for instance, and a consortium of Chinese investors bought the printer company Lexmark. Plants like Fuyao are different. They are what Rhodium calls "greenfield" investments, which means the company builds a new plant from the ground up and hires new people. These have represented a small share of Chinese investments in advanced economies like the United States, but are "likely to continue rising significantly in the year ahead," Rosen said.
With greenfield investments, Chinese companies often bring their own executives to come in and run operations. I met one such person, a 35-year-old named Wei Liu, at the Dragon China restaurant on a recent weekday, where he had stopped for a quick lunch. Liu had brought his wife and daughter to Dayton, a town he'd never heard of, to improve his career prospects, he told me. "If I work here, I will have more chances," he said, as he waited for his food. He likes living in America, though he says Dayton isn't as diverse as other American cities he's been to, and he doesn't love the winters.
Fuyao made a greenfield investment in Ohio because it wanted to be closer to its customers, which are auto companies building cars in the United States, Jeff Liu, the president of Fuyao Glass America, told me. The U.S. auto market is currently booming, setting a new record for sales last year, and Fuyao wants to become a bigger part of the distribution chain. Shipping glass from China was expensive and dicey, as the product would sometimes break, which in turn made the process more costly, he said.
Fuyao spent around $700 million to get the plant up and running, bringing hundreds of Chinese workers to Dayton to set up the plant and supervise new hires. Now, it's turning its attention to hiring more Americans, and to becoming a "truly American company," Liu told me. "We want to be the best employer in this town," he said.
* * *
To be the best employer in town, though, Fuyao needs to be able to stay open, and so far, the factory isn't making money. Fuyao has been working on its factory since 2014, but it still isn't running at full capacity. Fuyao Glass America posted a $41 million loss in 2016, the company said in its annual report.
Some of the losses were because the company had to spend so much money on equipment to get the plant running, Liu told me. But productivity per worker in Moraine is 10 to 15 percent lower than it is in China, he said, adding "We have a big gap to catch up to China, but we'll get there."
Chinese companies also struggle to operate in an environment where there are a network of safety regulations that do not exist to the same extent in China. "It's an example of the challenges of working on a more advanced economy where workers have much broader protections and safety standards and rights than is normal back in China," says Rosen, of the Rhodium Group.
The company says it can't find enough skilled people to fill open positions, Liu said, even when it raised the wages by $2 an hour. Most workers aren't trained in automotive glass in the Dayton area, and many aren't accustomed to working in the heat of the factory. Turnover has been high at the Fuyao plant so far, with workers quitting, and managers complain that American workers often show up late and take too much time off.
Upper-level management is mostly Chinese, and two American managers were fired from the plant in November, according to The New York Times. Dewang, the Fuyao chairman, told the Times that the workers "didn't do their jobs but squandered my money." (One of the managers has since filed a lawsuit alleging that he was fired because he wasn't Chinese.) Dewang responded to the Times story in Chinese national media, calling it "false," and saying that the company invests in technology to make the plant safer, that it trains its workers, and that most of the management and administration is American. Fuyao told me that no one has been terminated based on their nationality, and that only one of the two managers was terminated; the other left on his own accord.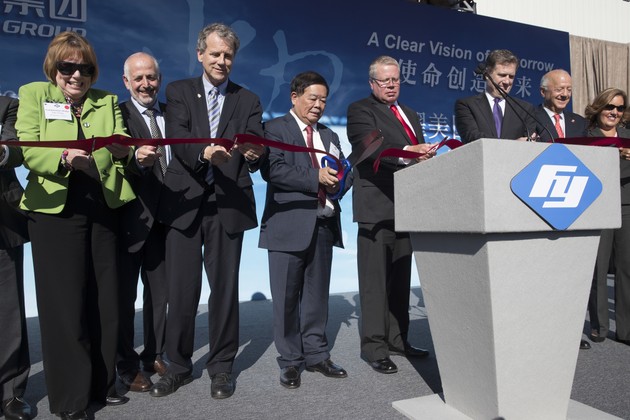 U.S. workers have a different work ethic than Chinese workers do, said Daniel Curran, a former president of the University of Dayton who serves on Fuyao's board. "Many of the Chinese workers are used to longer hours. It's not uncommon to see over time," he said. "U.S. workers are used to essentially an eight-hour day. Not all American workers want to be working on the weekends. That's part of our culture."
It's possible that the U.S. workforce is not as skilled at manufacturing as it used to be. Many of the people who worked in manufacturing in the 1980s, before the wave of offshoring, have since retired, and younger people don't have as much experience in factories. The economist Tyler Cowen has argued that Americans are more averse to adjusting to change than they were in the past, which potentially makes them less likely to take jobs in new fields. "You could say we got a little spoiled" as America created better and better jobs, Cowen told me. While Cowen sees this as a negative, it's the result of a positive development: American workers are no longer interested in low-paying, backbreaking jobs like picking crops, for example. "People are not willing to become a wreck by age 60 or 65 anymore," he said. But it makes life more difficult for employers who don't want to (or can't) pay workers more or improve the jobs that are available.
Cowen also pointed me to a study published last year in the Journal of Hand Therapy that indicates that today's workers might be physically weaker than American workers of the past, which would explain some of why it's harder to find good factory workers. Men younger than 30 have weaker hand grips than their counterparts in 1985 did, the study found. Grips might have gotten weaker because men are no longer accustomed to working in manufacturing or farming, but are instead prepared to sit at desks and work on computers.
For their part, workers say that Fuyao isn't as productive in the U.S. as it is in China because the jobs are dangerous and unpleasant, and because Chinese supervisors have trouble communicating with U.S. workers. (Having the Google Translate app is a must for anyone who interacts with Chinese supervisors. "They understand English—they just can't communicate comfortably," one worker, Tim Jernigan told me. "So we pull out [Google Translate] and we start typing and they look over your shoulder, and that's how we communicate.") Additionally, U.S. labor standards prohibit some of the behavior that is commonplace in Chinese factories that may make them more efficient there. "There's two sets of safety standards at play here," said Yates, the Fuyao worker, who is 49 and thin. "I wouldn't want my worst enemy working here now."
For example, American and Chinese supervisors discipline American workers who fail to wear safety glasses, while Chinese supervisors frequently ignore the rules. Jernigan, who was among the first of the workers hired by Fuyao, told me some Chinese workers climb over equipment like furnaces without safety harnesses attached, which American workers wouldn't do. Chinese workers often don't use protective shields when they are supposed to. "They're just so used to doing it that way," he said.
I briefly visited the plant floor, where forklifts carried sheets of glass between blue and yellow machines. Numerous posters reminded workers to follow the "5 S's: Sort, Straighten, Shine, Standardize, and Sustain," which is a Japanese process for workplace organization. The whole plant was extremely hot—a result of the furnace that heats the glass—and there's not much ventilation. I saw many more machines on the plant floor than I saw people.
After OSHA visited Fuyao in eight separate inspections, it proposed $226,937 in penalties. OSHA found machine-safety violations that potentially exposed workers to amputation, as well as electrical hazards, and a lack of personal protective equipment. It also said that the company failed to train workers about hazardous chemicals in use, and that it had unmarked exits. Fuyao settled with OSHA in March, agreeing to pay penalties of $100,000, the government said.
Workers say safety hazards exist because Fuyao doesn't bother to invest in training workers. Another worker, a 57-year-old named Ronald Blake, said he had expected to get in-depth training once he was hired at Fuyao, even though he'd worked at a car plant previously for 13 years. But he has learned very little about how to do his job. "You have to be real persistent about asking questions, to get you to tell you why they're doing what they're doing," he said, about learning on the plant floor. "I want to do things the right way."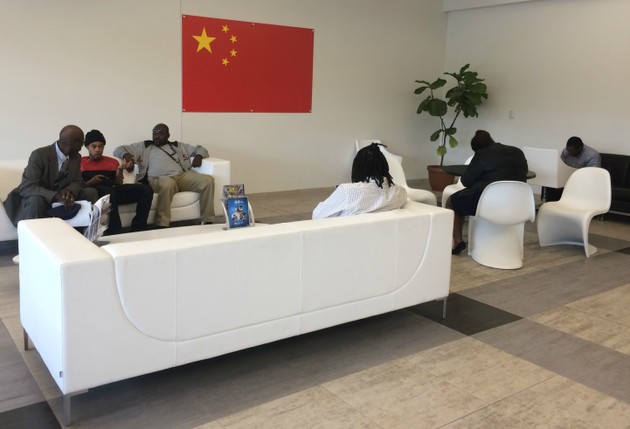 There are other complaints: Fuyao recently changed its vacation policy so that people earn time off with every hour they work, rather than guaranteeing workers a certain number of days a year. It also changed the attendance policy so that people don't get the bonuses they once did for coming to work every day. "Every time I get close to reaching the maximum, they change it," another worker, Teodore Searcey, told me.
These types of complaints aren't uncommon among American workers who are employed by Chinese firms. A Chinese copper company set up a factory called Golden Dragon Precise Copper Tube Group in Alabama in 2014. The company had similar complaints about workers: the company's chairman told The Washington Post that the quality of the workers there "is not very good." The plant was, at first, unsafe, with oil leaks that made the ground slippery, and a lack of safety guards on machines, and so in December of 2014, the workers voted, 75 to 74, to form a union, according to Dan Flippo, the director of the United Steelworkers' District 9, which now represents Golden Dragon. "It was a sea change for a Chinese company to come in and start from scratch," he told me. "There are just cultural differences."
* * *
Foreign companies operating in the U.S. have long had to adjust to methods of doing business here. In the 1980s, when Japanese firms first started making cars in the United States, the Japanese firms worried about a lack of American efficiency, with one Japanese senior politician saying that American workers were "too lazy" compared with those in Japan. American workers complained about not having enough input into the way the factory worked, according to Harley Shaiken, a professor at the University of California Berkeley. "There is clearly a learning curve when you're moving to a new place," he said.
Initial Japanese forays into the U.S. market had mixed results. Toyota launched its first major manufacturing investment in the U.S. in a joint venture with General Motors that was called NUMMI. Initially, the U.S. workers struggled to adapt to the Japanese "lean production" model, but over time, the collaboration began to work well, said Shaiken, who authored a white paper on Nummi in California for a state commission after the plant shut down during the recession.
The plant became one of the most productive in the country, and U.S. companies learned from Japan's manufacturing techniques. But one of the biggest reasons NUMMI worked was that U.S. workers were able to give input to Japanese managers about how they thought the factory should be run, Shaiken said. That made the workers more invested in the manufacturing process—and it made the manufacturing process better as well. Japanese automakers learned from this experience, Shaiken said—even when companies opened non-union plants, they established ways for workers to be involved in the production process.
Chinese companies have generally not yet made the effort to incorporate U.S. workers into decision-making, Shaiken said. "They are saying the plant is not as productive, yet they are using techniques that almost assuredly will result in it not being productive," he said. "In effect, the Chinese are ignoring a quarter-century worth of extensive experience in manufacturing."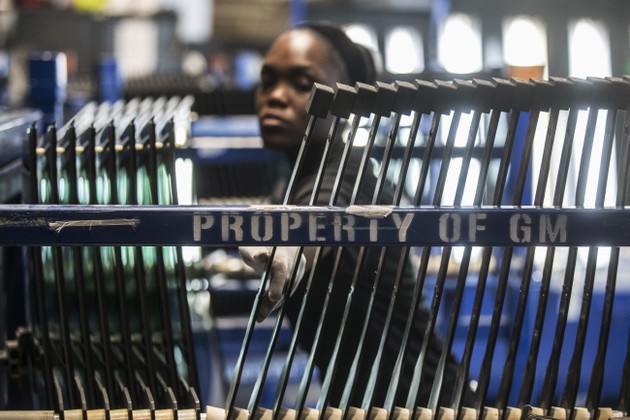 Workers at the Fuyao plant have an idea for how to fix some of these problems: They want to form a union. They say they want to have more input into the process of making automotive glass. That way, they can push back against unsafe orders, and can contribute to making the plant more efficient. Yates and other workers meet on Wednesdays after their shifts at a United Auto Workers (UAW) office a few blocks from the plant, which shares a building with a carpet-cleaning company. I met Yates and a few other workers there close to midnight, where they sat around a table and talked about how to get their message out to other Fuyao workers. "What it boils down to is that we don't have a say-so in any of this," Yates said. "If we had guidance from someone to show us how to do it right, like the UAW, this place would be an amazing place to work," he said.
Dan Flippo, of the United Steelworkers, said that his workers' relationship with their Chinese employers improved significantly after the union was formed. "Golden Dragon has been much more cooperative after we got the election behind us and a contract in place," he said. "We honestly have a decent relationship with them now."
The UAW doesn't yet have enough support to hold a vote at the Fuyao plant. A recent union meeting attracted just about 100 workers—the plant employs about 1,500 production workers. But forming a union isn't the only way that workers could get more of a voice at Fuyao. German car companies operating in the U.S. have supported the idea of "works councils," in which workers and management meet and discuss operations, for example. At NUMMI, the Japanese company, workers were expected to speak up whenever they saw a problem that prevented them from doing their jobs properly, according to John Shook, who is now an industrial anthropologist, but who then worked for Toyota.
All of the American workers I talked to said they wanted to Fuyao to succeed. They understand the value of having manufacturing jobs in today's economy, and that many communities would fight for a large plant of Fuyao's size. But they say Fuyao needs to better adjust to being in America. "Are they going to try to run this like it's in China, or like it's in America?" Jernigan, the worker, said. "Americans are used to doing it a certain way, and Chinese are used to doing it a certain way. We have to meet in between."
It could be difficult for Fuyao to make such wholesale changes to the way it does business, especially with continued pressures from China to turn a profit. But investors like Dewang need plants like Fuyao to be profitable, if they are going to make money in the United States. They still haven't figured out how to make the factory work. In the end, it may come down to understanding how to operate these American plants with Chinese characteristics. Listening to the American workers may be a start.