The Best Business Reads of May
The month's most interesting stories about money and economics from around the web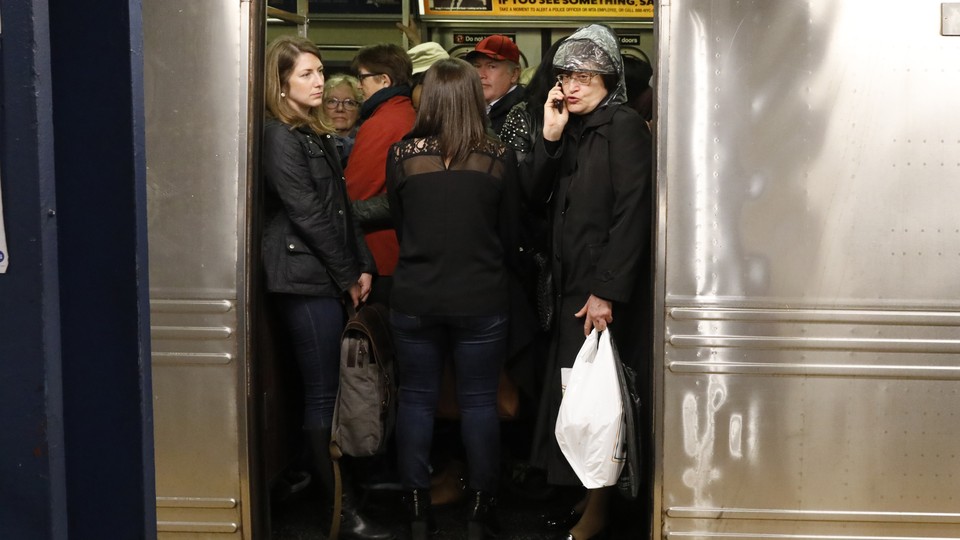 Every month, the editors of The Atlantic's Business Channel put together a collection of the most interesting pieces of journalism about money and economics from around the web.
This month's picks include a look at how tax policy helps produce inequality, a story about the struggle to keep family farms running, an investigation into the economic toll of service disruptions on public transit, and a conversation with a man who became a billionaire making cheese for pizza chains.
If you've missed previous roundups, you can find recent ones here and here.
---
"How Homeownership Became the Engine of American Inequality"
Matthew Desmond | The New York Times Magazine
Almost a decade removed from the foreclosure crisis that began in 2008, the nation is facing one of the worst affordable-housing shortages in generations. The standard of "affordable" housing is that which costs roughly 30 percent or less of a family's income. Because of rising housing costs and stagnant wages, slightly more than half of all poor renting families in the country spend more than 50 percent of their income on housing costs, and at least one in four spends more than 70 percent. Yet America's national housing policy gives affluent homeowners large benefits; middle-class homeowners, smaller benefits; and most renters, who are disproportionately poor, nothing. It is difficult to think of another social policy that more successfully multiplies America's inequality in such a sweeping fashion.
* * *
"Asian-Americans Have Highest Poverty Rate In NYC, But Stereotypes Make The Issue Invisible"
Kimberly Yam | Huffington Post
"The model-minority myth chooses to highlight the successful immigrant examples and brush aside the high rates of poverty," Yoo [Jo-Ann Yoo, the director of the Asian American Federation] explained. "The myth assumes that we somehow have the capacity to work ourselves out of poverty without any help."

More than one-quarter of Asian-Americans live in poverty in New York City. An estimated 26.6 percent live below the city's poverty threshold in 2014—an increase from the year before, the NYC Center for Economic Opportunity reported.

The circumstances of poor Asian-Americans are diverse. Asian-American seniors are the most financially vulnerable of the group, with almost 1 in 4 living in poverty, a report from the Asian American Federation noted. Those from refugee communities, including Cambodians and Vietnamese, also experience higher rates of poverty. Recent immigrants, including Bangladeshi-Americans, have high poverty rates as well, Yoo said. And many of those in need are not proficient in English.
* * *
"Leveling the Field for Family Farms"
Jodi Cash | The Bitter Southerner
"I never ever wanted to be anywhere but here," she says. "Ever ... I've seen places that I've thought, 'Wouldn't it be interesting to live here? Wouldn't it be nice to live here?' But I've never wanted to live anywhere else, ever."

Mary began helping farm at an early age, cutting tobacco with her grandfather, Big John. But in her time working the land, as tobacco farming toppled, she witnessed a drastic change in the farming culture that once defined her community.
* * *
Reeves Wiedeman | New York
In its brief history, Uber has morphed from a simple service that allowed users to press a button to summon a car into what is on paper the most valuable start-up of all time. It also spawned an entire category of start-up pitch—Uber, but for doctors, for cookies, for private jets—bent on solving First World problems via app. Uber has created vast theoretical fortunes and helped remake the American economy. Its most recent valuation, of $68 billion in 2015, was the highest ever given to a private company. Silicon Valley's obsession with "unicorns"—companies valued north of a billion dollars—was very 2012. We had entered the era of the "decacorn."

Uber itself, however, has lately become a monument not only to the power of technology and confidence in the face of adversarial forces but possibly to the dangers of hubris: When you're worth that much money on imaginary paper, and buoyed by the belief that you're on a mission to change the world, it can be easy to sweep aside concerns like "rampant sexual harassment" and "public relations" and "profits."
* * *
"This Secretive Billionaire Makes The Cheese For Pizza Hut, Domino's, And Papa John's"
Chloe Sorvino | Forbes
In all, Leprino Foods sells more than a billion pounds of cheese a year, to the tune of $3 billion in revenue.

The little-known Leprino (he declined to be photographed for this article) rates as one of America's all-time monopolists. He lets others worry about fresh mozzarella balls and pizzas that taste like they were made in the old country. His laser focus on large pizza chains has allowed him to control as much as 85% of the market for pizza cheese and somehow sell simultaneously to a set of customers—Pizza Hut, Domino's, Papa John's and Little Caesars—that try to cut each others' throat in every way that doesn't involve where they buy their milk products. Dominating the market has its advantages: He's able to invest in technology that no run-of-the-mill dairy farmer ever could, resulting in more than 50 patents—and an estimated 7% net margin, which dwarfs the dairy-industry average.
* * *
"Is the Gig Economy Working?"
Nathan Heller | The New Yorker
TaskRabbit, which was founded in 2008, is one of several companies that, in the past few years, have collectively helped create a novel form of business. The model goes by many names—the sharing economy; the gig economy; the on-demand, peer, or platform economy—but the companies share certain premises. They typically have ratings-based marketplaces and in-app payment systems. They give workers the chance to earn money on their own schedules, rather than through professional accession. And they find toeholds in sclerotic industries. Beyond TaskRabbit, service platforms include Thumbtack, for professional projects; Postmates, for delivery; Handy, for housework; Dogvacay, for pets; and countless others. Home-sharing services, such as Airbnb and its upmarket cousin onefinestay, supplant hotels and agencies. Ride-hailing apps—Uber, Lyft, Juno—replace taxis. Some on-demand workers are part-timers seeking survival work, akin to the comedian who waits tables on the side. For growing numbers, though, gigging is not only a living but a life. Many observers see it as something more: the future of American work.
* * *
"Top 20 Percent Of Americans 'Hoard The American Dream'"
Steve Inskeep and Rachel Martin | Morning Edition
There's a hidden force shaping our politics, says author Richard Reeves, a senior fellow at the Brookings Institution, and it's hidden in plain sight.

In his forthcoming book, Dream Hoarders, Reeves argues that the top 20 percent of Americans—those with six-figure incomes and above—dominate the best schools, live in the best-located homes and pass on the best futures to their kids.

"They are members of the American upper-middle class, who, through various ways of rigging the market ... are essentially hoarding the American dream," he tells NPR's Steve Inskeep.
* * *
"'Money Out of Your Pocket': New Yorkers Tell of Subway Delay Woes"
Emma G. Fitzsimmons | The New York Times
One woman never made it to housing court and now faces eviction. Another missed a doctor appointment made months earlier. A graphic designer lost $100 in wages. A computer technician paid more than $50 for an Uber car to make a meeting. A lawyer was late for a sentencing. A pastry chef who needs every hour of work he can scrounge lost an hour and a half of pay. A psychoanalyst never made it to her session with a patient. Neither did her patient.

These are the very real human costs, financial and otherwise, of a single subway disruption—just one painful delay in what has become a season of transit misery.